Development
Featured
Features
News
Female Hawkers In Abuja Risk Task Force's Wrath To Avoid Hunger
Female hawkers in Abuja, Northcentral Nigeria, engage in petty trading to help their families feed. Hawking is illegal in the city; yet these women take daily risks, evading Abuja Environmental Protection Board (AEPB).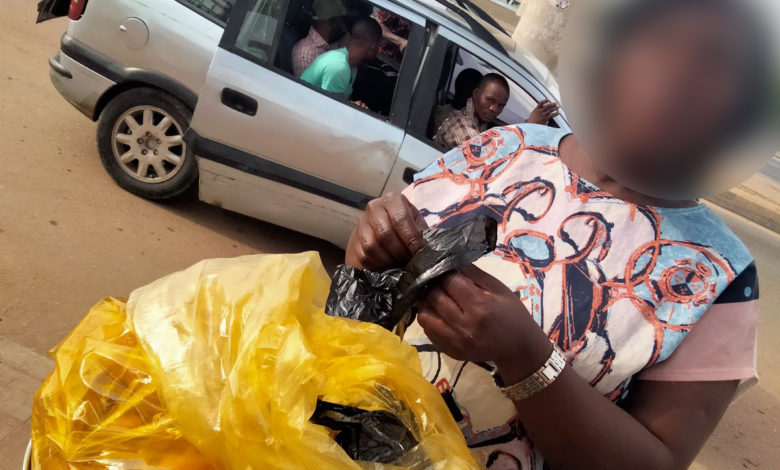 Standing at a corner of the popular Wuse-Berger Park, a group of women selling cold, soft drinks, are beckoning on passersby for patronage. The women, sweating under the scorching Abuja sun, look like they need a gulp of their products for rehydration. 
Toyin Akinmba, a dark-skinned middle-aged woman with her headgear loosely tied around her head, is standing away from the other women, jealously guarding her small green bowl of now-tepid drinks, as fear of an imminent shakedown and possible arrest by the Abuja Environmental Protection Board (AEPB) – colloquially referred to as "task force" – occupies her mind.
She does this every day of the week, under the sun or rain, while also trying to sell her goods to intending customers.
"I have to be fully alert and ready to run with my goods to avoid being caught. If they catch me now, my goods are gone, and I will pay the people that gave me things to sell, they don't want to know if the task force caught you or not, it's not their problem," she told HumAngle.
Toyin, like the other women, gets her goods from a Police barrack opposite the Wuse-Berger Park and usually makes a profit of ten to twenty naira on each bottle of drink sold.
"It is this pure water and mineral I use to manage myself. We manage to collect these goods on credit, and they know this; yet they don't have mercy on us. The task force comes every day to chase us away and whisk away our stuff. Anything else they take from you, you say bye bye to. It is just ten and twenty naira, that is our gain. If I collect ten bottles of Pepsi and sell only five, my gain is hundred naira on all of them," she said.
The women get their goods on credit and at the end of every business day, they remit the cost of goods taken on credit to their creditors. They go home with whatever profit they made on the goods, or pay their creditors out of their own purse should they fall into the snares of the Task Force. 
The last time Toyin was caught by the task force from Area 3, they took away her big black bowl that she had just filled with drinks worth about 18,000 naira. She went to their office three times after to reclaim her bowl to no avail.
"If these ones here…" she said, nodding her head in the direction of a black container across the road where the officials set up their office, "…carry your goods, they may give you back but that will be in the evening or after the park chairman may have gone to beg them, but you see those ones from Area 3 or 8, they don't pity us."
Toyin started hawking at Berger in 2015 after her shop, where she sold food and drinks in Lugbe, was demolished in 2013 by the task force.
"It is the task force that brought me here, I used to have a shop in Lugbe Federal Housing where I sold food, beer, anything edible. They came one morning by 5 a.m., demolished everything and burnt them. Since then life has not remained the same for me, having nowhere to go, I sat at home for two years living from hand to mouth until I decided to come to Berger in 2015," she said. 
"We know it's bad but we need to feed"
Toyin admits they have been warned not to hawk around the axis but blames it on the destruction of her shop by the task force. 
"Task force keeps taking me back to square one. I can't count how many times they have ruined my business, or how many shops I have erected that they have demolished. I just want to survive for my son and take care of him. I am a businesswoman and that is all I know how to do," she said.
Her story resonates with some of the other female hawkers interviewed by HumAngle. Onome, in her mid-thirties, started hawking sausage rolls at the Galadima pedestrian bridge in 2019, after she moved to Abuja for greener pastures.
She said she has been caught several times and her goods seized. Sometimes, she begs for days and on fortunate days, she can retrieve the wares within an hour or two. 
On some occasions, she pays a little fine to the task force and sometimes, they are merciful and she gets her goods for free.  Twice, she has been brought before the AEPB mobile court and fined.
Despite receiving several warnings from the task force for hawkers to vacate the premises on or before 9 a.m., Onome says she takes the risk to still hawk her goods after her allocated time.
"I have been caught plenty of times and they have taken me to court. They told us to be leaving this place by 9 a.m., but sometimes if I don't get to sell enough, I will still be here and see if anyone will buy. That is the only way I can eat, there is no gain in this gala business but there is nothing else I can do for now."
"I've never been caught but I don't make enough money"
Mrs Esther also hawks for sustenance but unlike most of her counterparts, she has never been caught.  While she has been able to navigate the time task force comes out, it comes with some costs. The mother of two, whose husband is a contract staff in Kaduna, has had to reduce the quantity of Okpa she sells to meet the 9 a.m. deadline. This means her family has significantly lesser income to survive on. 
"They have never caught me, I obey the rules and regulations they give us. They told us to always leave by 9 a.m., whether I sell or not, I leave. I don't like to play with people's business because that's where they feed from," she said. 
She told HumAngle that while the previous task force team was gracious enough to let them stay till 10 a.m., the new team is stricter.  
"The new team is tough but because I don't want trouble and we cooperate with them, I leave when they tell us to leave. I now cook small so that I can be able to sell, but if I don't finish I will go and hawk around the streets. When I make N3,500 in a day, my gain would be seven to eight hundred naira, I will then remove N500 for feeding and return the rest to the business," she said. 
"Abuja is not for everybody" – Park Union 
In an interview with HumAngle, spokesperson of the park union, Emmanuel Onoja, empathised with the hawkers but strongly upheld the need for compliance with guidelines and prohibitions governing trading and small scale businesses in the Federal Capital Territory (FCT).
According to Onoja, the city has established rules and regulations which prohibits hawking, especially in places like Berger, justifying the roles of the task force in ensuring the rules are obeyed.
"This is Abuja now, and it has a map, rules and regulation, everything happening here is in the Abuja master plan, if you allow everyone to do as they wish, they will become nuisance and everywhere will be littered, don't you see how this place is littered?  This is FCT. It is like our London in Nigeria, Abuja is not for everyone."
"That is why you see task force doing what they are doing, if not, people without plans will come from the villages to Abuja because they feel they can, and if you don't regulate them, there will be a problem," Onoja told the HumAngle.
He mentioned that those allowed to hawk in that axis take turns and they also ensure the place is kept clean by constantly sweeping the place. However, Onoja revealed that the officials of the task force only disturb "the illegal ones".
Kaka Bello, the Director of Monitoring and Enforcement, AEPB, agrees with Onoja on his position. "Everything we do is the position of the law, it is not our own doing, and anybody caught is charged to court, and the appropriate penalty is given by the magistrate of the court," he explained.
The Director stated that the board was established to protect biodiversity and control human activities and its actions are guided by the law enshrined in the Abuja Environmental Protection Board Acts of 1997, Section 35, 1d.
"It prohibits the sales of items on the road and intersection around the city. Hawking is a civil offence that is seriously frowned at by the law, and it's disheartening when you find children Hawking and even more pathetic when you see these children and their mothers hawk into the night, sometimes midnight," Bello said. 
He added that children, when caught, are not charged to court but are handed over to social welfare. He advised the hawkers to get shops. The hawkers told HumAngle that shops are either not available or too expensive where they are available. 
Innocent Amaechina, a top official at the Abuja Market Management Limited told HumAngle that shops are not for everyone. "Shops are a fixed factor of production, and it cannot just be increased because there is an increase in demand, shops cannot be there for everyone even if they have all the money in the world."
"There is a limited space allocated for every market and it cannot expand because people are flowing into Abuja looking for spaces in the market," he added. 
The solution for these hawkers
Speaking to HumAngle on ways to help transition hawkers from the streets to a more viable source of livelihood that does not involve endangering their lives, women development expert, Tracy Okoro, said the mindset of the women had to be re-oriented first. 
"We have to understand that whatever a person does is a result of their mindset and what they know, because for those hawking on the streets, that is because that is all they know and not what they choose. We have to start by changing their mindset then proceed from there."
She added that the hawkers can be part of a programme that sends them to formal schools or training to acquire skills that can get them better jobs, so they do not see hawking as their only choice. 
She also advocated for the introduction of community-driven businesses that can help traders in their neighbourhoods.  
---
Support Our Journalism
There are millions of ordinary people affected by conflict in Africa whose stories are missing in the mainstream media. HumAngle is determined to tell those challenging and under-reported stories, hoping that the people impacted by these conflicts will find the safety and security they deserve.
To ensure that we continue to provide public service coverage, we have a small favour to ask you. We want you to be part of our journalistic endeavour by contributing a token to us.
Your donation will further promote a robust, free, and independent media.
Donate Here