Armed Violence
Features
News
Fears, Hopes … After Series Of Abductions In Kuje
Kuje Area Council has been the epicentre of kidnappings in the Federal Capital Territory (FCT), Abuja. In this report, HumAngle takes a peep into the lives of residents, before and after abductions changed their story.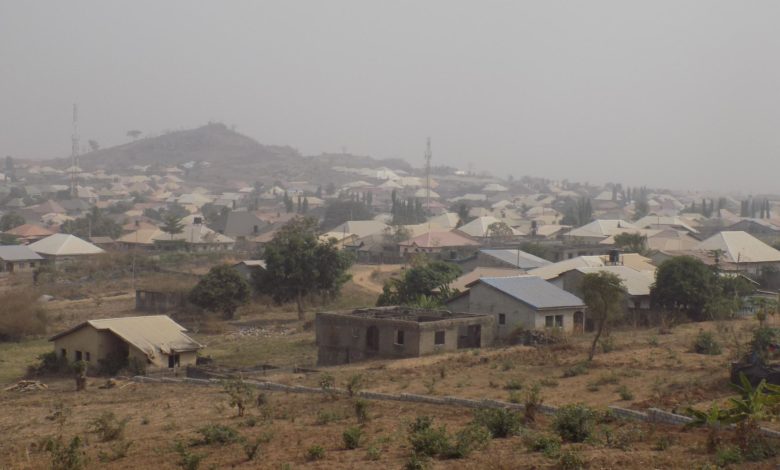 Mustapha Abubakar, a retired hotelier, was one of those resettled years ago by the government from Karimo, a town in the Federal Capital Territory (FCT ), to Abuja at 30 Estate in Pegi, a community in Gaube Ward of Kuje Area Council, also in the FCT. Located about 13 kilometres away from Kuje's bustling town centre, the relatively quiet area fit into his retirement plan, but that was before events took a turn.
A civil engineer, Clement Felix, who has lived in Pegi for 16 years, was also resettled from Karimo. A bookworm, he loved the solitude his then-new abode in Pegi provided. Now, seated outside his barbershop which also serves as a POS point, a side job for when he has no construction works to handle, he described almost dreamily what the estate, known to be second in size only to Gwarinpa Estate, used to be like.
"It was peaceful and people came from around Abuja to buy foodstuff and farm implements. You could leave your door open and return to find everything intact. Also, we plied the road from town to here at any time," he said. But this was before crime changed everything.
Crime rate
Theft, burglaries and some cases of armed robbery were not entirely new to Kuje before kidnappings began.
Yakubu (not real name) talked about how his home was visited by burglars each time he moved, first in Kayarda in 2015, then Low Cost in 2016, and Senior Staff Quarters, within the area council in 2019. As a result of this trend, some shops around Kuje Main Market were built with metal reinforcements against the walls to make forced entry difficult. Still, Kuje was abuzz with the crime rate in Pegi when it became notorious for motorcycle snatching, carried out in a style alien to the entire council.
"Before the abductions, we had motorcycle snatchers who used ropes or sticks to hit riders and then steal their bikes. That was it. In Pegi, there was no breaking and entering and we knew ourselves," Felix said.
Then the kidnappings started, first on the road residents popularly called Bush Road, and then within the 'Abuja at 30' Estate itself, Abubakar recalled.
"It started in 2018 when Alhaji and two others were kidnapped," Felix said more specifically.
Afolabi Abdulazeez also traced the beginning of abductions in Pegi to when he was returning home one night and noticed that a torchlight flashed from among the trees at 7:30 pm sometime in 2018. Since there was no incidence of kidnapping at that time, he thought nothing of it.  
On the right side of the Abuja at 30 Estate is what residents traditionally call 1000 units, because of the type of houses there, and on the left is Pegi. The simple way to get to the estate is to ask for "1000 units."
The old and popular route to Pegi is what residents call Bush Road, and this is where the first case of kidnapping took place according to residents.
"Before then, I was used to driving through the Bush Road very late at night. Sometimes at 1 am or even 3 am," Abdulazeez explained. Then he described how men from the Navy Barracks, neighbours of the estate, swung into action when they heard gunshots. "They kidnapped three people. One who was wounded and dumped was rescued by a single Navy man while the others covered him with bursts of gunfire," he recalled, narrating how he and some members of the Pegi community mobilised themselves and went to the scene of the crime.
How they left
Many residents have left Pegi due to the kidnapping incidents on the Bush Road and within the estate. Standing near one of the deserted homes, a new house at the end of Area A that is closest to the bush, an access point for criminals, a voluntary refuse collector, Ayodele Arowolo narrated how a seven-year-old boy and his visiting uncle were kidnapped on the street. The father, he said, was left behind because the culprits needed someone to negotiate ransom with. They had packed in not more than six months before and their abductors asked questions about their neighbours to which they gave negative responses. 
"They were released 10 days after and have since packed out of the neighbourhood," he said. "Three weeks later, occupants of another house just a stone's throw away became victims too." 
When Christopher Godwin was kidnapped in 2020 and released after five days, he was traumatised and fled to Lagos. But eventually, he returned, because as a carpenter, he had already built his business in Pegi and there was no source of livelihood for him elsewhere.
Godwin admitted that each time he remembered the incident, a wave of fear washed over him. The memory of men in army uniform waving their motorcycle to stop is still vivid, how they thought it was a routine check only to hear "get down, get down!" and that they were not alone. "They started collecting our phones and other items," he said. "We discovered that they were handing people over to their colleagues in the bush. We were nine. I didn't have money and was released after a ransom of N50,000 was paid by my brother."
Abductions create fear, anxiety and stress that accumulates over a period of time, explained Dagona Zubairu, a professor of psychology and the immediate past director of Peace and Conflict, University of Jos. This leads to Post Traumatic Stress Disorder (PTSD), a clinical syndrome that brings about sleep difficulty among other troubles. "The thoughts of the abduction, aggression involved, and isolation haunts the victim," he said. It comes in the form of flashes and nightmares and, with time, the individual becomes hypervigilant, which brings about sleeplessness and later increased aggression. If this is not managed effectively, it could lead to hypertension or affect organs such as the kidney or liver. Some victims are also likely to experience paralysis.
Prof. Zubairu pointed out that the aftermath of a kidnapping incident could make family members and the victim isolate themselves from society. "They would most likely live with the fear that one of them may be next and cut off from social activities," he said. He added that abductors are terrorists because they push people into isolation and the solution is to remain calm and seek immediate help from clinical psychologists who are available in the departments of psychology and psychiatry.
Those Who Stayed
"If I had my way I would not be in this country right now," Godwin said. Like many other victims, he has not undergone any kind of therapy to help him with the PTSD he suffers. Today, whenever he gets to that point where he was whisked away, he gets tensed and remains watchful. The memory of his abductors in full army uniform is something he may never get over, he admitted. "We have been believing that things will get better, but I think it is only God that can help us," he added dejectedly.
Among those who left Pegi when the kidnappings began, according to Abdulazeez, was a man who owned a farm in Danfara community. But once, when he was returning there with his driver, he was kidnapped too, a sign that the abductors may have responded to a tip-off.
Abdulazeez pointed out that it would be difficult to get the exact number of kidnap cases or those abducted because, in a village called Dukuba, people were kidnapped randomly. "I know of two people picked from Danfara. One was in the Civil Defence. The kidnappers said they heard he held a birthday party for his wife. In another incident, a man's wife was taken because the kidnappers said his shop was the biggest in the locality," he said.
Effect of kidnappings on everyday living
Life has changed for some Kuje residents, socially and economically, since the abductions.
Yakubu Garba, a mechanical engineer who lives at Low Cost, just after the popular Tipper Garage junction, is in the business of buying plots of land in government layouts which he then resells. But now he cannot show them to customers because of the reputation Kuje has when it comes to insecurity.
"And when it comes to lumbering of wood, most operators don't like going to the bush anymore. As a result of this, there is a rise in the price of wood." 
Like Garba, Felix who is also an engineer is into the buying and selling of properties. He sells plots of land and is most times actively involved in its development. He explained that many of his clients keep their land documents with him. But all these have changed as land costs have dropped dramatically. "I sold a customer's land worth over a million for half its price, as low as N700,000," Felix said. "Many people are leaving, especially those close to the Bush Road. Landlords abandon their properties. So, we do other things to survive and hope things will get better."
The crime rate in Kuje has also affected residents' social life. Abdulazeez said there was a growing lack of trust in Pegi because there were signs that kidnappers were tipped-off before they hit their targets. "I'm very careful about everything I do. After all, you don't know who is watching," he pointed out. "It's the reason why I prefer to drive a modest car."
Aminu Haruna Isa, a civil servant, was supervising the building of a fence around his house when he spoke to this reporter.
"I have lived here for five years. There have been robberies, followed by the kidnappings. This has affected my entire family. We have nightmares. My wife's family keeps pressuring us to leave the house," Isa said. "God has given us a house and then we now have to leave? It's expensive renting a house in Abuja."
Although Isa's neighbour, Abubakar, has done everything possible to ensure his family's safety, like owning a dog and being part of the security members in Pegi, it is still difficult to come to terms with the way things have drastically changed. Some of his children now live with his elder sister in a less remote part of Kuje and many people have parked away from his neighbourhood, including his close neighbours.
"It has weighed down our way of life. Workers now return very early because of fear. We live in fear, there's no doubt about it," Abubakar said. Retired, he now farms, but even that has its restrictions. In 2020, he almost cut down his guinea corn crops because it was agreed that residents should not plant anything that could enable criminals to lurk around.
A cart pusher, Ibrahim Isa, who makes a living fetching and selling water in jerry cans from boreholes within his neighbourhood in Kuje's Senior Staff Quarters, popularly called 'quarters,' told the story of how he has had to contribute money twice to liberate two relatives who had been kidnapped. "One of them was taken on the road to Pegi along with about thirty others," he said. "I had to cough out N15,000 as my ransom contribution."
He further lamented the decrease in number of customers since abductions began in the area council and said he hoped to relocate.
Beefed security
For some months now, there has not been a fresh kidnapping report in Kuje Area Council. One of the last recorded cases was in October 2020, when gunmen abducted a former Vice Chairman of Kuje Area Council, Alhaji Mohammed Baba, two councillors representing Kwaku and Kabi wards, Alhassan Afado and Moses Samson, and nine other people along the Kabbi-Kuje road and Pegi. There was also the reported abduction of a man, Nwaluo Victor, and his son, in Pegi among others.
Now there is a police division in Pegi where there was once a police post, Abdulazeez said. But when HumAngle visited the Divisional Headquarters, it was scanty with a few policemen in sight. One policeman in full uniform manned the gate and there was little activity within the premises. Only the Divisional Police Officer could respond to any question, the policemen on duty said. When this reporter placed a call to the DPO later on, he was told only the Police Command in Abuja city centre could make a comment.
Zone A in Pegi, which is closest to the Bush Road, has had a couple of kidnapping incidents and locals have come together to build a police station in the area to facilitate quick response by security agents.
Currently, police are stationed at a temporary post from where they patrol the neighbourhood. In addition, the Bush Road, which was the access point to Pegi before a new road was constructed is constantly patrolled by the police who have given residents specifics on when not to use the route. Aside from these measures, Arowolo said the neighbourhood has hired local hunters. Since then, there has not been a fresh case.
The FCT Police Public Relations Officer (PPRO), ASP Matilda, told HumAngle on the telephone that the police have deployed several counter-kidnapping strategies to ensure Kuje residents are safe, including the launch of covert operations.
---
Support Our Journalism
There are millions of ordinary people affected by conflict in Africa whose stories are missing in the mainstream media. HumAngle is determined to tell those challenging and under-reported stories, hoping that the people impacted by these conflicts will find the safety and security they deserve.
To ensure that we continue to provide public service coverage, we have a small favour to ask you. We want you to be part of our journalistic endeavour by contributing a token to us.
Your donation will further promote a robust, free, and independent media.
Donate Here