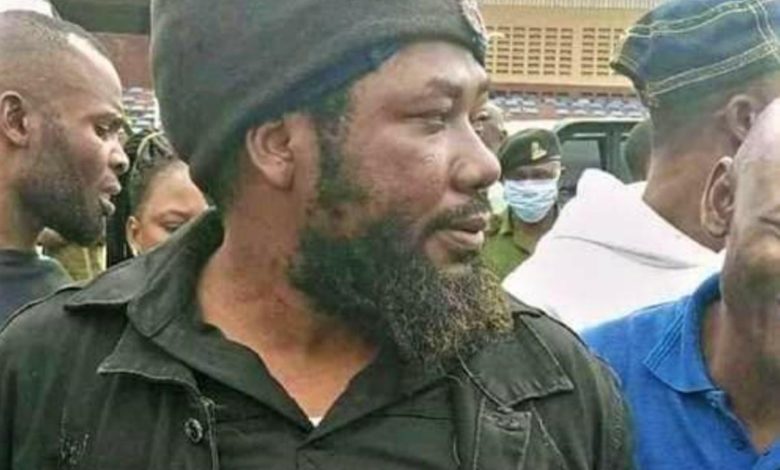 A spectre of impunity and violence hangs over Nigeria. On September 8, 2020, what seemed a replay of the costly extra-judicial killing of Mohammed Yusuf, the founder of Jammatu'atu Ahlul Sunnah Lidda'awati Wal Jihad, also known as Boko Haram in Police custody in Maiduguri, Northeast Nigeria was re-enacted by state actors on a highway, few kilometres away from Makurdi, Benue state in North Central Nigeria.
Only that this time, the perpetrators are troops of the Nigeria Army deployed to field operations in Benue state. And there was open drama to this too. There had been a long search by the government for Terwase Akwaza, also known as Gana, for suspected criminal activities.
He was the leader of a deadly, vicious militia group operating mostly in Benue state but with capacity and structure for out-sourced criminal roles in other states in the North Central as well as in Taraba state, Northeast Nigeria. Akwaza hailed from a sleepy village known as Shitile in Katsina-Ala Local Government Area of Benue State.
His militia group was entrenched in that locality and diligently recruited youths from communities around Sankera which consists of Logo, Katsina –Ala and Ukum Local Government Areas of Benue State. His gang was suspected to be behind several terror activities in communities within that part of the state.
People who are familiar with the militia leader's upbringing informed HumAngle in Katsina-Ala that Akwaza was raised in Taraba state among some Fulani tribesmen. HumAngle further learned that a criminal Fulani gang allegedly used Akwaza as a mercenary early in life in several armed raids on communities across parts of northern Nigeria.
Raised and tutored in the ways of violence and terror, Akwaza's show of his coming of age was to cast the communities within range of his control in fear. His militia levied taxes on communities. People familiar with his terror activities in the state informed HumAngle that Akwaza's goons allegedly committed such trademark atrocities as burying his victims alive.
Several residents that HumAngle spoke with alleged that Akwaza was most likely responsible for the killing of Chiefs Aloo Aleve, district head of Mbayongo and Chiahemba Livinus Shom in 2018 in Katsina-Ala Local Government Area. The Police do not corroborate this but have yet to conclude investigations.
The Benue State Governor, Samuel Ortom, in a bid to rid the state of violent criminalities, in 2015 offered amnesty to Akwaza and his militiamen in return for embracing peace and surrendering their weapons. Akwaza, HumAngle was told, surrendered 84 assorted firearms. Elated by his cooperation, the state governor appointed Akwaza the youth leader and chairman of the state produce board.
But it would appear that with Akwaza, the leopard doesn't change its spots. He soon fell out with the state government and returned to the wild. Before this, there had been brewing tension between Akwaza and Mr Denen Igbana, the Senior Special Assistant to Governor Ortom on Special Security. Amid the simmering uncertainty, Igbana was assassinated.
HumAngle sought to crack the source of the tension between Akwaza and Igbana. Officials of the state government are maintaining sealed lips and the Police in Makurdi is yet to solve that riddle either. A pointer, however, was perhaps, that the Benue state security council announced a ransom of N10 million on information that could lead to the arrest of Akwaza. The amount was shortly scaled up to N50 million.
Former Governor of Benue state, Senator Gabriel Suswam, led other prominent people in the state to seek to broker peace. Reaching out to the militia, Akwaza was offered peace if he could turn himself and his militiamen in as repentant terrorists to law enforcement agencies. HumAngle was informed by people who participated in the negotiation that it involved traditional leaders, clerics and political leaders.
The negotiations, HumAngle was told, were long-drawn and intricate. It is believed that Akwaza demanded assurances of state actors and was told that the Police were involved in the consultations. It was understood that he apologised for his atrocities against his kin and had assured the community leaders during the negotiations that he would subsequently channel his energies to rebuilding the areas he once destroyed.
In the watchful eyes of clerics, political leaders and traditional rulers, Akwaza came out publicly at a function organised at the Akume Atongo stadium in Katsina-Ala to embrace his people and sue for peace. The people, in return, expressed joy as Akwaza and his militiamen surrendered arms and renounced terrorism.
He promised his people never again to allow his homeland to become ruined and desolate.
Most people who attended the function believed him and saw his submission as the end of terror and uncertainties in their communities.
Renewed Apprehension
Then came the ugly twist to the tale. Driven in a convoy that was led by the Police to Makurdi, soldiers on military roadblock seized Akwaza. Life bullets were pumped into him. He never made it alive to Makurdi. HumAngle was informed that in that convoy were local political leaders, traditional rulers, clerics and the chairman of Katsina-Ala Local Government Area.
The Nigerian Army later issued a statement claiming that Akwaza was killed in a gun duel between his militia and soldiers. It was a chilling development. People were worried that a pattern of state criminality was evolving with rampant extra-judicial killings by state actors across the country.
Yusuf's Boko Haram may have been radicalised by the high-handed response of state actors, particularly the extra-judicial killing of its leader and several others. Similarly, in 2016, the Nigeria Army, in a most chilling display of brutality, killed over 350 Shiite Muslims in Zaria and buried them in a mass grave overnight.
There have been reported extra-judicial killings by the Army and members of other state forces of members of the Indigenous Peoples of Biafra, (IPOB) in 2017 in Aba, Abia state and recently in Emene, Enugu state in Southeast Nigeria. Several extra-judicial killings by state forces in Nigeria have been documented by Amnesty International, a development that frequently puts the organisation at cross with the Nigerian Army.
People within and outside Benue State have been reacting to the development and possible implication for the area. HumAngle findings indicate that anxiety and apprehension have heightened following the killing of Akwaza. The extent of the reaction of his militiamen is difficult to fathom.
Already, some local chiefs and traditional rulers in Katsina-Ala are evacuating their ancestral homes, unsure of how the militia would react. Residents of the Chito community in Ukum Local Government Area are fleeing for fear of militia target killings, kidnapping and dehumanising treatment.
Suswam who toiled to de-escalate the growing terror in the state was miffed at the conduct of the troops. He questioned a situation where state actors would extra-judicially kill a suspect who had surrendered after extensive persuasion. He said that notwithstanding that Akwaza's terror activities had traumatised the people in the state, yet it was not a justification for his extra-judicial killing.
He argued that even war criminals captured alive were entitled to certain rights, contending that the claim by the Army that Akwaza was killed in a gunfight with soldiers was suspect. He maintained that those who accompanied him and who watched him being taken away state that the suspect did not have any arms.
He called for an independent judicial inquiry into the conduct of the soldiers. People in Benue that HumAngle spoke with condemn the killing and fear that it was capable of escalating tensions. A resident of Ukum Local Government who prefers to be addressed as Solos differs, however. According to him, Akwaza deserved what happened to him. He said that the blood of those he killed had been crying for vengeance.
He referred to the killing of another criminal gangster Mr Terngwa Igbakuwa popularly known as Ojundo by the army, recently describing it as the right step in the right direction. HumAngle finds that Akwaza and Ojundo were together in the same militia but went their separate ways over time.
The rivalry between the two grew when allegedly, Ojundo received unofficial recognition by officials of the state government over Akwaza following Akwaza's estrangement with the government. Officials were said to have trusted that Ojundo could lead state officials into tracking down Akwaza. HumAngle was further informed that the rivalry between the two was also responsible for the mayhem witnessed in the Sankara area of the state in the recent past.
---
Support Our Journalism
There are millions of ordinary people affected by conflict in Africa whose stories are missing in the mainstream media. HumAngle is determined to tell those challenging and under-reported stories, hoping that the people impacted by these conflicts will find the safety and security they deserve.
To ensure that we continue to provide public service coverage, we have a small favour to ask you. We want you to be part of our journalistic endeavour by contributing a token to us.
Your donation will further promote a robust, free, and independent media.
Donate Here