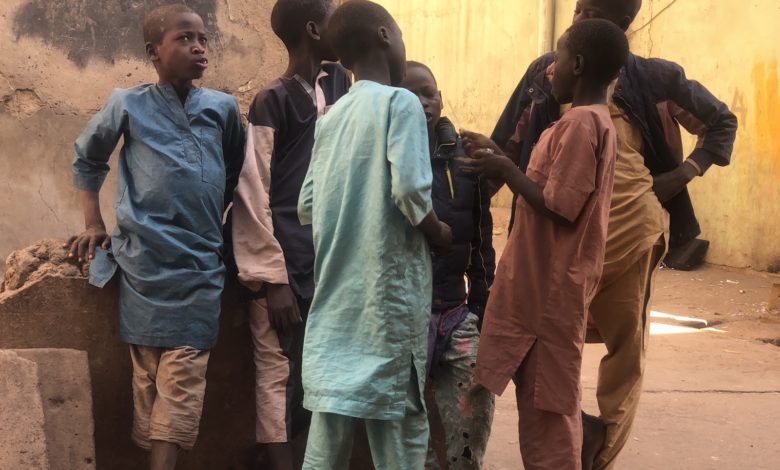 A video clip recently circulated on WhatsApp showing an unkempt toddler with a begging bowl being interviewed. The boy, who could be no older than four or five, said he was an Almajiri sent to Kano from Batsari in Katsina State. 
Like millions of Almajirai in Nigeria, scruffy Tukur Habu* is left to roam and earn a living at a tender age. Some of Habu's schoolmates were separated from their parents when they were as young as four.
For Habu and other Almajirai in Kano State, Northwest Nigeria, hunger is a constant, even in the Muslim holy month of Ramadan when families enjoy large dishes of delicacies during iftar — the time after sundown when Muslims break their fast.
During daytime in Ramadan, adult Muslims abstain from eating, drinking, and sexual activities. Children who have attained puberty are also encouraged to fast, and younger ones sometimes participate for a few hours in preparation for adulthood. 
But for Habu, fasting during Ramadan has become almost unavoidable despite his young age, not because it is obligatory but because he often has nowhere to eat during the day. When HumAngle met him, he had observed the fast during seven of the first eight days in the month. 
Breaking the fast was another challenge. On some days, he had to wait for other people to give him leftovers and, on other days, he drank only water before continuing with the fast the next day, an unavoidable medically harmful practice. 
Despite religious encouragement for Muslims to feed the poor especially during Ramadan, many do not prioritise Almajirai when giving alms, arguing that feeding them encourages their parents in the rural areas to send more children to the streets.
Understanding Almajiri
Almajiri (plural: Almajirai) is a Hausa term for referring to young boys in an informal education system where the boys acquire Islamic knowledge from scholars. The students are sent to faraway cities for this acquisition.
The practice is done across the Muslim majority in West African communities. The state and emirs adequately funded it, alongside parents of the children, and other organised platforms, and this covered shelter, clothing, and feeding for the students. The system has since deteriorated after the British invasion.
A 2018 survey from UNICEF and the Nigerian government revealed that 69% of Nigeria's nine million out-of-school children are from Northern Nigeria. The number shot up exponentially following the COVID-19 pandemic and recurrent attack on educational facilities in the region. 
The Almajirai are considered a social nuisance but many attempts to ban the system have failed. At the height of the COVID-19 pandemic in 2020, the Kano state government, Northwest Nigeria, extradited most of the Almajirai back to their villages and towns. They, however, found their way back to the city. 
Almajiri schools resisted the imposition of a ban. They enjoy the sympathy of some clerics, who claim that dismantling the system is the same as destroying the old-age system of Quranic education in Northern Nigeria. 
Surviving as an Almajiri
Some of Habu's friends who work as errand boys in homes —a form of child labour with many reported cases of abuse— are able to get what they eat easily after labouring under the sun. 
"If you don't work as an errand boy you may not get the food to eat," Habu told HumAngle. But getting a house to work for is challenging. Few homes take Almajirai as errand boys as most prefer young village girls who, unlike Almajiri boys, will have no Quranic school to attend. 
Almajirai like Habu wake up around 4:00 a.m. and start looking for what to stuff in their bellies as sahur —the pre-dawn meal taken during Ramadan to prepare for the fast. Their wahidi, a cry used to beg for food, echoes to many houses through the streets as they pass. 
Some households respond and give them sahur leftovers, but many do not bother. If sahur lapses on an empty stomach, it means another day of foodless fasting. 
"I get more food to eat while at home," 12-year-old Inuwa* told HumAngle. "Here it is difficult to get what can fill your belly," he said softly.
Inuwa was brought to the city last year from Danbatta, a local government area in Northwest Kano. His parents' intention was to have him study the Qur'an but, like many other Almajirai, he was rather exposed to begging and child labour in the city. 
The Kano state government has a mass feeding programme in the month of Ramadan but Inuwa said he had never benefited from it. According to the government, about 75,000 poor people in the state benefit daily from it in 150 centres across the state. 
The number of beneficiaries is, however, low compared to the number of Almajirai, estimated to be approximately 300,000 in the state. Findings showed that the centres, usually local mosques, are mostly not Almajiri-inclusive places. 
According to Inuwa, even the Almajirai who work as errand boys do not always get what they can take before sunrise and have to find a way to sustain themselves till dusk. 
"We get food from the house only at night," he said, adding that they sometimes keep the leftovers so they can have it again for sahur. When the food is little, there will be nothing to leave. 
While many families abstain from eating local dishes of cereal porridge (tuwo) and stew (miya), Almajirai fight to get the food, which has less essential nutrients and vitamins, to sustain themselves in the daylight hours of Ramadan. 
They gather to get such local food with difficulty in places such as the house of Hajiya Mariya Dantata — mother of business tycoon Alhaji Aliko Dangote. They bruise shoulders with older beggars to get the food. 
For 14-year-old Usman who has spent some years in the city, finding what to break the fast with is relatively easy. As is the case for other grownups, it is only sahur that is the problem. Usman, however, admitted that fasting with his family would have been better for him. 
"I could be eating what I like unrestricted," he said, suggesting that food was abundant back at home. 
The turmoil persists
Medical doctors encourage fasting Muslims to consume food with essential nutrients such as fruits and vegetables. But the Almajiri cannot afford them especially with food inflation and increased demand in Ramadan. 
"I can't give fruit to Almajiri unless I'm satisfied with what's in front of me," said Lawal Yunusa. "These things are so expensive that what you bought for yourself hardly suffices your craving." 
Mallam Sadi Dahiru Aikawa, a Kano-based Muslim cleric, advised residents to stop discriminating against Almajiri children when giving alms or food in Ramadan. 
"These children are victims of neglect from their parents who are oblivious of their experiences in the city. They didn't bring themselves to this situation by themselves," he said. "If we are to help a poor for the sake of God, we should never separate an Almajiri child. He is also among the people who deserved to be fed and helped."
Abdussamad Ahmad contributed to this article. 
_________________
*Not real names 
---
Support Our Journalism
There are millions of ordinary people affected by conflict in Africa whose stories are missing in the mainstream media. HumAngle is determined to tell those challenging and under-reported stories, hoping that the people impacted by these conflicts will find the safety and security they deserve.
To ensure that we continue to provide public service coverage, we have a small favour to ask you. We want you to be part of our journalistic endeavour by contributing a token to us.
Your donation will further promote a robust, free, and independent media.
Donate Here