News
Farmers In Northeast Nigeria Turn To Irrigation Farming After 2022 Flood Disaster
Last year, flooding swept through parts of Nigeria's northeast, destroying farmlands and aggravating food insecurity. Local farmers are hoping to recover losses using irrigation.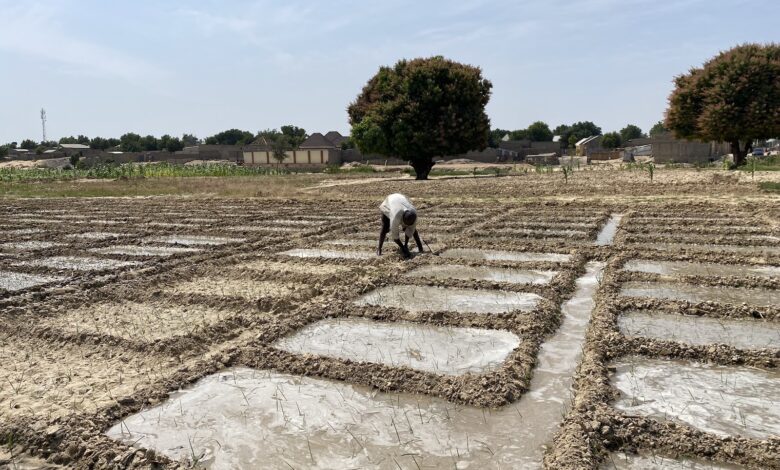 When the flood submerged his rice farmland located on the outskirts of Maiduguri, Northeast Nigeria, and with no sign that the crops would survive, Mari Bulama decided to leave for Monguno Local Government Area in northern Borno, despite the higher security threat there.
"My rice farm was destroyed completely by rain, and I don't have any other source of income to take care of my family, so I travelled to Monguno to do petty labour despite my family cautioning me of insecurity," Mari said while narrating his ordeal.
The 41-year-old farmer was responsible for ten family members, including his mother. A task he executes using the farm inherited from his father. It was a generational occupation that his grandfather passed down.
Mari believes last year's flooding was worse than the 1994 flood that was experienced in Maiduguri. The three bags of rice seedlings he planted were destroyed.
"Our rice had already germinated, but the water was too much and damaged everything." He expected to harvest 40 bags of rice, but could compensate for the losses through irrigation farming.
"I didn't harvest anything last year," Mari lamented.
For Daniel Bala, a nurse in the civil service, it was his first attempt, and the flood washed away the effort. But, he tells me, "I witnessed what risk simply meant last year because aside from the passion I have, people encouraged me to start farming".
"I went farming with full force. Unfortunately, the flood damaged everything I planted, which was a huge personal investment."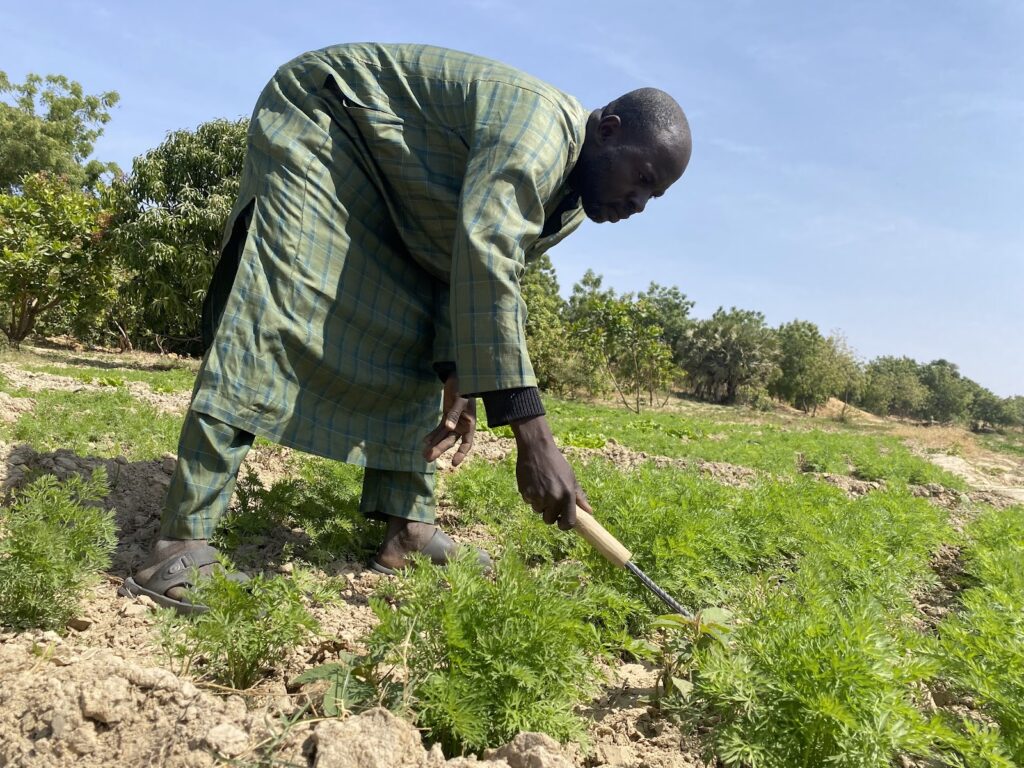 Irrigation farming could help with recovery.
"Even though irrigation is costly and hard to manage, this is another opportunity from God to revive what I lost."
The path to recovery for the farmers is still bumpy. They are struggling with a lack of water pumping machines, adequate fertilisers and the lack of specialised farming implements.
"I hire a fuel pump machine every week, and it is costly. We will be excited if we can get support for these needs," Mari says.
Daniel is also exploring the option to recover from his loss. "This system requires a lot of energy and resources. I pay for manpower to help me manage the farm because I only visit the farm when I am not at office work."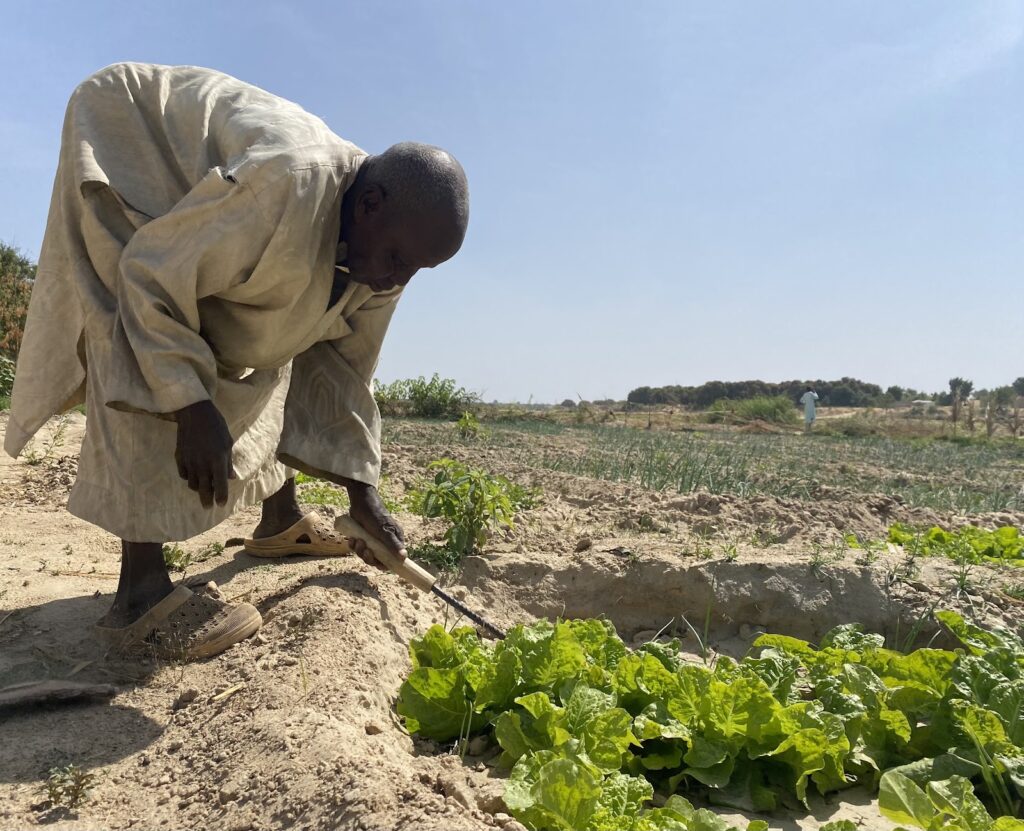 Tijjani Fannami has been farming for over 50 years. This year, he adopted irrigation farming to catch up for the damages. The husband to two wives and father to 20 children described the torrential rainfall as something he had not experienced before.
It was a challenging year for him due to his family's size and needs.
"We exhausted the savings, and this is why I am holding the irrigation very hard. During the hard times, I had food support from neighbours and friends," Tijjani said.
The expectation of dry season farming is not isolated to Borno. In neighbouring Adamawa, Muhammad Abubakar, a farmer and businessman living in the Ganye community in Yola North local government area, is hoping for a better outcome after losing over eight hundred thousand naira (N800,000).
He was hoping to use the proceeds to cater to his wife, four children, and other extended family members.
"I lost about 80 per cent of that investment, but I believed it was fate and accepted it with one heart. The rainfall was unusual, and plenty of our crops got damaged. We were encouraged to farm, and therefore, what happened will not discourage me at all. I am taking this irrigation opportunity to do more and pray for a successful harvest," Muhammad told HumAngle.
Another farmer, Auwalu Basiru, from the Alkalawa area in Jimeta local government of the State, also incurred significant damages worth over a million naira, stating that he had never experienced such in his 20 years of practising farming. "I cultivated two large farms, but water submerged them both," He said.
He added, "The water started earlier than expected, and it took us by surprise,".
Auwal hopes to make some gains by irrigating his farms this year, but the requirements to successfully do that are expensive for poor farmers like him.
"I wish I could. I lost my savings last year and I don't have money to carry on the irrigation despite the fact that I really want to recover the loss. Aside from that challenge, to get fertile land for this operation is also a challenge".
In Oct. 2022, Adamawa, the State Emergency Management Agency executive secretary, blamed the flood in the State on the release of water from the Lagdo Dam in Cameroon. He also disclosed that the flood destroyed 172,000 farmlands and food crops worth millions of naira in the communities.
Local farmers in the Northeast experienced the severe impact of climate variability last year. It was characterised by early rainfall and flooding.
In an interview with local farmers, the reporter found out that the impact of the flood had a prolonged effect on the farmlands. This is because it washes away soil fertility, which is why the local farmers need fertilisers to supplement.
In an interview with HumAngle, a soil science expert from the University of Maiduguri's Faculty of Agriculture, Prof Adam Lawan Ngala, said that flood affects land fertility.
"Like in the Lake Chad region, we have two effects of flooding on the soil. You can find a situation when the flood carries away soil nutrients from one place to deposit it another while sometimes it is otherwise.".
"In a situation where a particular soil nutrient or fertility is washed away as a result of flooding, people can simply replenish or supplement by either adding organic matter, fertiliser or improving the soil using surplus water," he explained.
HumAngle had previously reported that flood water had washed away farmlands in Borno, which led to poor harvest and food scarcity last year.
"The 2022 rainy season was accompanied by an unprecedented volume of water that led to extreme flooding in Nigeria. Parts of the northeast, particularly the floodplains near river bodies, were affected by the disaster," said Murtala Abdullahi, HumAngle's climate security specialist.
Irrigation has historically supported farming in the region.
Irrigation has been practised by locals for a long time to manage rainfall deficiency and enhance production, especially during the dry season. It involves using machines or manual pumps to channel water from rivers or boreholes.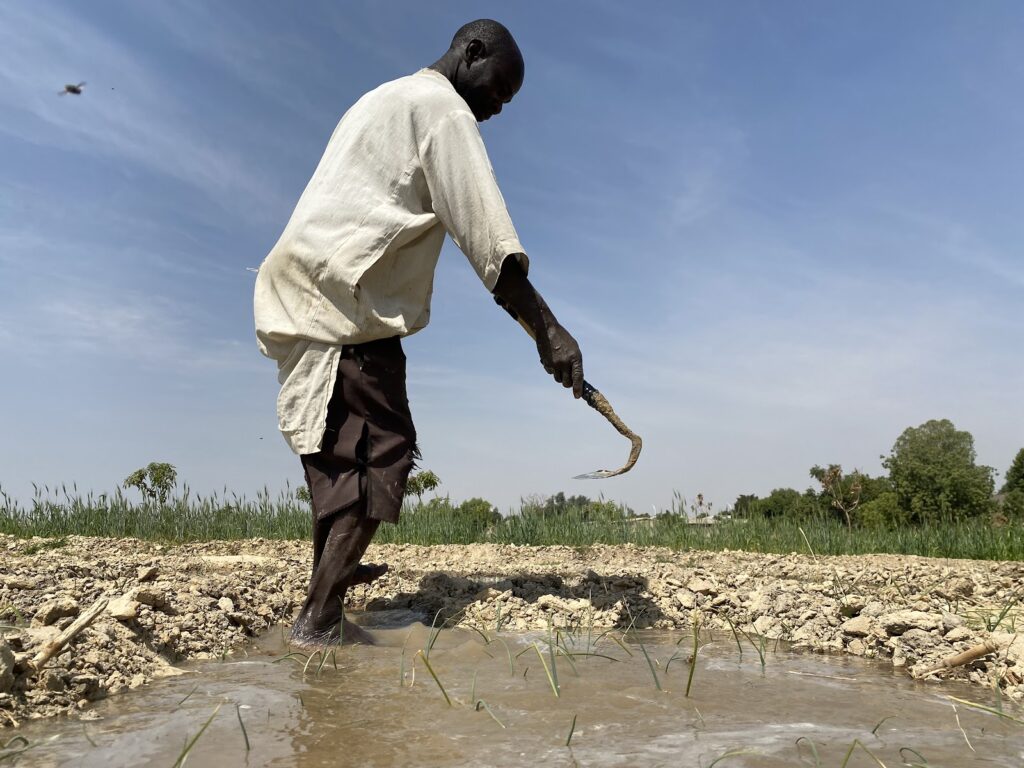 "First of all, we clear the farm, develop beds for planting any crops which come in the form of seeds or seedlings [plants maise, onion, rice, vegetables, sweet potatoes, and other cash crops]", says Abubakar Umar while describing the process. The next stage involves providing water regularly using a pump machine until they germinate. At this point, the plant will require periodic watering.
"Applying fertilisers comes either at the beginning or later while the plants are growing. Also, due to the high rate of diseases, we regularly spray chemicals to kill some of the diseases that affect our plantations." Abubakar explained.
He was also affected by the torrential rainfall that local farmers across the Northeast experienced. "I was expecting a harvest worth over a million naira, but the flood just washed away everything. My prayer is to get something in this irrigation despite facing difficulties," he said.
The 48 years old who fled his home town in Bama local government of Borno State about seven years ago used to cultivate a large farm until he ran away because of constant attacks by Boko Haram insurgents.
"I built a house, got married, gave birth to 12 children, took care of them, and all with the benefit of farming I do," Abubakar says with nostalgia about his previous life. He had adopted the practice from his elder brother seventeen years ago.
Now, He lives as a displaced person in Galtimari in Maiduguri and operates a farm along Bama road to cater for his family's needs. "I don't feel happy depending on humanitarian assistance, and this is why I work hard on my farm", he added.
Abubakar also faces challenges, including crop diseases and the high cost of fertilisers, fuel, and generator. Lamenting that "for example, the quality fertiliser products we used to buy at the rate of N7,000 about three years ago are now almost N40,000. The hike is just too much, and this is why our crops are hard to manage".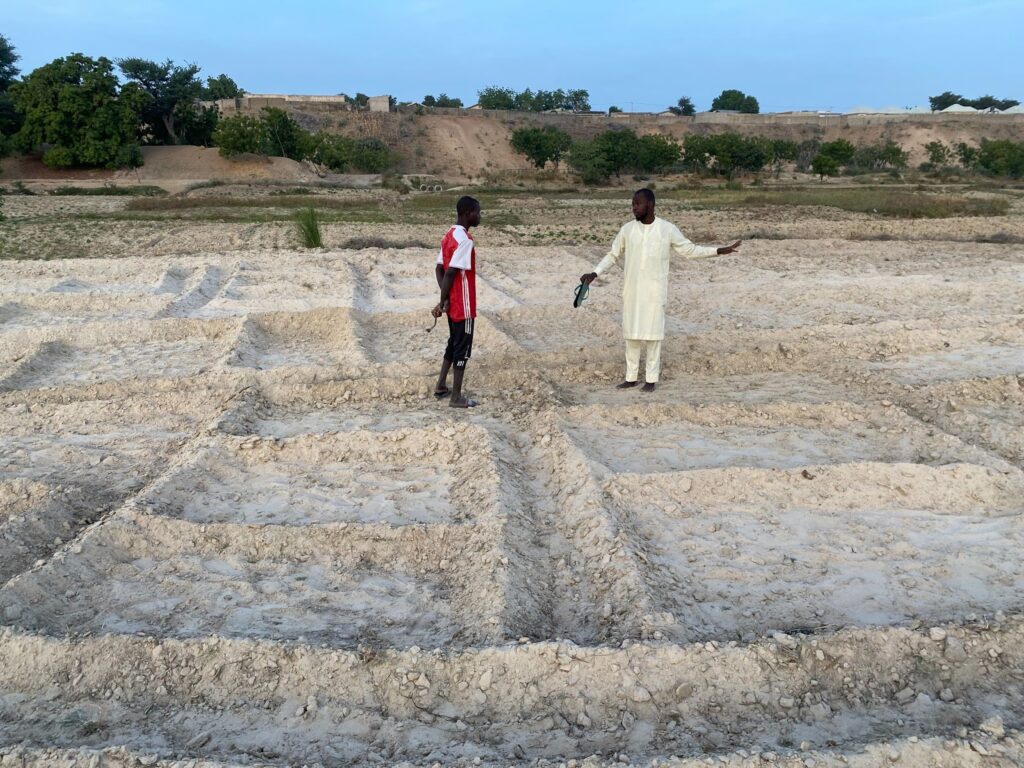 Apart from localised projects used by farmers, Borno state hosts extensive projects of varying degrees of size. An example is the South Chad Irrigation Project (SCIP), which channels water from Lake Chad to fields in northern Borno.
In January 2022, the Borno state government announced a rollout of an irrigation scheme during an inspection tour of a 35-hectare irrigated farm in Mafa town.
"This is a pilot scheme, and after the success of this, many more irrigation schemes will be established in Borno State so that we will be able to provide crops and grasses for our animals consumption", the State Governor Babagana Zulum was quoted to have said.
---
Support Our Journalism
There are millions of ordinary people affected by conflict in Africa whose stories are missing in the mainstream media. HumAngle is determined to tell those challenging and under-reported stories, hoping that the people impacted by these conflicts will find the safety and security they deserve.
To ensure that we continue to provide public service coverage, we have a small favour to ask you. We want you to be part of our journalistic endeavour by contributing a token to us.
Your donation will further promote a robust, free, and independent media.
Donate Here