Armed Violence
Featured
Features
News
Farmers-Herders Crisis: Killings, Reprisals Persist In Ogun Communities
In Ogun state, Southwest Nigeria, killings and reprisals are happening between the Fulani community and the host Yoruba community, due to a repeated farmers-herders crisis in the area. While the government has promised to intervene, the problem has persisted.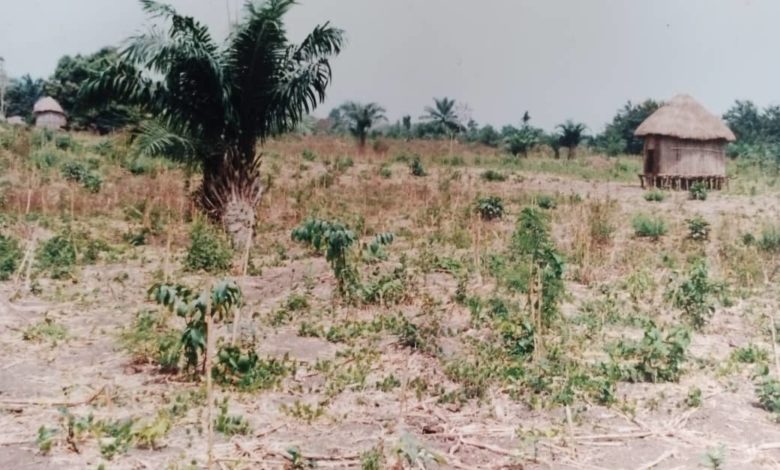 Some farming communities in Ogun State, Southwest Nigeria, have been enveloped by tension, fear and cries of many whose children, parents, siblings or friends have been allegedly killed by criminal herdsmen.
In some communities in Yewa North Local Government Area of the state, farmers' smell of clotted blood on abandoned farmlands and sounds of silent cries from river banks plead for justice.
From Eselu to Owode through Oja-Odan to Ketuland, Ayetoro, Eggua and other communities in Yewa North Local Government Area, farmers and their relatives have endured years of brutal killings, rape, assault and destruction of farmlands by killer herdsmen in collaboration with indigenous criminal groups, and the authorities have done little or nothing to address the problem, HumAngle learnt.
For many years, terrorised communities have tried in vain to attract the government's attention to their plight, but little has been achieved, the people said.
HumAngle tracked some victims of recent attacks and spoke with the Fulani community members, who also counted heavy losses in reprisal attacks by some Yorubas. 
The Fulani settlements deny links with the alleged criminal groups that are also profiled as Fulani and urged the government to find a lasting solution to the crisis between them and their hosts.
Forty-year-old Abidemi Ilo, a resident of Eselu community, went to the river close to his father's farm sometime in 2019 but returned home with broken fingers and his father's corpse.
Suspected herdsmen attacked them and killed his father, but he was lucky to have survived with three fingers of his left hand damaged as he dodged a sword aimed at him, Ilo said.
"We went to the river; I didn't know they were at the back of the river; then trouble started." 
"I didn't know what was going on until I was hit with a heavy stick. There were about eight of them. I took to my heels, but one of them flung his sword, and my fingers were cut." 
"I told my dad to run, but they caught up with him and killed him," he narrated to HumAngle.
Samuel, who resides in Agbon Ojodu village of Ketuland, said he lost his younger brother and nephew to killer herdsmen three years ago.
"They killed my younger brother and his son. It happened three years ago. My younger brother was 30 and the son 10," Samuel said.
"They went to the farm, and they [herdsmen] came to kill them there." 
"We are farmers here. The Fulani have denied us peace. We don't want them again so that we can have peace," he continued.
Killing spree after Igboho's visit to Ogun
The government's neglect is responsible for the rise of an unexpected crusader in a man called Sunday Adeyemo, popularly known as Sunday Igboho, some people say.
Fed up with continuous attacks on farmers by criminal herders in remote border communities in Ogun, Oyo and other Southwest states, Adeyemo, a man who rose to affluence through political thuggery and land grabbing, declared himself the defender of the Yoruba race and started a revolt against all herdsmen in the region.
First, he issued a seven-day ultimatum to all Fulani herdsmen in Ibarapa, a community in Oyo State facing persistent bloody clashes between farmers and herders. 
At the expiration of the seven days, Adeyemo moved into Ibarapa to sack Fulanis from their settlements, which resulted in violence, arson, and property destruction.
The house of the Seriki Fulani of Ibarapa-land, Alhaji Abdukabir, was reported burnt by violent protesters who accompanied Adeyemo to the community. The protesters also destroyed vehicles and properties worth millions of naira.
A week after, Adeyemo moved to Ogun State on a similar mission. He claimed the state government permitted him to sack Fulani herdsmen in the state, but the government denied the claim.
His visit also culminated in an invasion of a Fulani settlement in Eggua community of Ogun State and the burning of Kara Market where the Fulani breed and sell cattle.
Reliable sources told HumAngle that one person was burnt to death on the occasion and houses of  Fulani community members were razed, while several cows were also killed.
Suleimon Adamu, the son of the Seriki Fulani in Eggualand, whose house was razed, recounted the event to HumAngle in a telephone discussion.
He alleged that the assailants also stole motorcycles belonging to Fulani traders in Kara Market.
"The day Sunday Igboho came, they burnt my father's house, and they burnt Kara. They killed a lot of cows too, and they stole some motorcycles – about four Bajaj."
"I don't know if anyone has been arrested, but we reported the case to the police," Adamu said.
He identified the person allegedly killed in the attack as Alhaji Jiji.
Since the Fulani settlement invasion, there have been a series of attacks on farmers and residents of some farming communities in the state by herdsmen, HumAngle learnt.
On Thursday, two persons were reported killed in Owode-Ketu, a village close to Eggua in Yewa North Local Government Area.
According to a newspaper report, the suspected herdsmen killed two villagers in an ambush on the Owode Ketu-Ijoun-Tata Road around 5 a.m. on the day.
Two days later, killer herdsmen invaded villages in the Yewa North Local Government Area, killed at least four persons and wounded many others. 
Some concerned persons in the area allege that the attacks were reprisals by the Fulani community whose houses were burnt by hoodlums following Igboho's visit. But Adamu said the killers were not from his settlement.
"Wahalai, we don't know those that carried out the attack. It was our house that was burnt, but we did not take any retaliatory steps apart from the official report to the police, and we did not make trouble with anyone." 
"Our only concern is how we are going to return to our business. That is what we are after," he told HumAngle.
Adamu said he was born in Ogun State and that his family never had any problem with the host community until the invasion that followed Igboho's visit.
He also expressed surprise at the spate of killings in remote communities in the state.
"We – I and my brothers – were born here and there is no one that would say we have done any wrong to them. We are also surprised about the attacks because we have had no problem with the host community. We don't know where these assailants come from because we don't understand and we are surprised," he said.
Govt should provide land for herders, farmers to stop clashes – Miyetti Allah Chairman
Abdulmumini Ibraheem, Chairman of Miyetti Allah Cattle Breeders Association of Nigeria, Ogun State branch, in a telephone interview with HumAngle, suggested that the government allocate portions of land to both farmers and herders to stop open grazing and end clashes between both parties.
"They can't purchase land because the flocks are many. I would suggest that the government give farmers portions of land for farming and give herders some land to graze their cattle. Then, if one trespass to the other, we would know," Ibrahim said.
He denied his community members' involvement in the killings and suggested that a committee be set up to investigate and resolve clashes between farmers and herders.
 "I also heard about the attacks just as you said you heard. It happened in the border area, on the Cotonou side. You said in Yewa. The Yewa areas close to us are Ayetoro, Igan Okoto and so on. Those are the places our people are, and there are no problems in those places."
"We heard about the attacks, whether it is true or they are playing politics, I don't know, but it is not from us."
"What the government needs to do is to set up a committee that would address grievances, the committee would also give true information and not fake news," Ibrahim said.
He added: "The security, the traditional rulers and even the Fulanis should be part of the committee. If they hear that something happens, they should go there and find out what the problem is." 
"Fights don't just occur haphazardly; something must be responsible. They should go and find out."
"The committee should be available at local government level." 
"There are some communities like Odeda, Imeko, without police presence, but there is peace because there is mutual understanding between the traditional rulers and us. Even in Abeokuta and Ayetoro, there is no problem."
"So, a committee should be created to hear disagreements between farmers and herders. That is the way forward. Retaliations would not solve it; cutting off the head would not cure headache."
When asked if the association has a register of its members in the state, Ibrahim said it only had the executive members' records.
"We only have a register for excos, those holding positions in local governments and the state but we have ID cards for herders," he said.
Ogun State Government sets up an investigation team, a taskforce
Mr Dapo Abiodun, the Ogun State Governor, has announced the constitution of an investigation team and the deployment of a task force to deal with the crisis.
The team comprises the police and other security agencies, including the State Security Service and local vigilance groups, with representatives of other stakeholders in the crisis-prone areas of Yewa-North, Imeko-Afon and Yewa South local government areas of the state.
In a statement issued in Abeokuta by Kunle Somorin, the Chief Press Secretary to the Governor, the government promised to safeguard lives and property on Thursday.
He said the "government will leave no stone unturned in checking the activities of brigands and criminals in this state."
"Our first priority in Ogun is the safety of lives and property of everyone, and we will not compromise on that."
"We will not condone any act of criminality in the state, no matter who is involved."
"The police and other security agencies have been directed to go after the perpetrators of these acts and bring them to book."
"We will not allow anybody to disrupt the peace in Ogun, and anyone who tries to test our resolve to maintain peace in our state will have himself or herself to blame."
The governor commiserated with the deceased's families in the attacks and expressed sympathy to those who lost their farmlands and cows in the crisis.
---
Support Our Journalism
There are millions of ordinary people affected by conflict in Africa whose stories are missing in the mainstream media. HumAngle is determined to tell those challenging and under-reported stories, hoping that the people impacted by these conflicts will find the safety and security they deserve.
To ensure that we continue to provide public service coverage, we have a small favour to ask you. We want you to be part of our journalistic endeavour by contributing a token to us.
Your donation will further promote a robust, free, and independent media.
Donate Here