Analyses
Featured
News
Security & Tech
Eyes In The Sky: Why Nigeria Needs To Replace CCTVs With UAVs For Better Security
Northwest Nigerian States have come under concurrent terrorist attacks, forcing one to question security apparatus in those states. Kaduna, however, took steps by installing CCTVs across the state, but these have proven to be almost useless. There is a better solution in UAVs.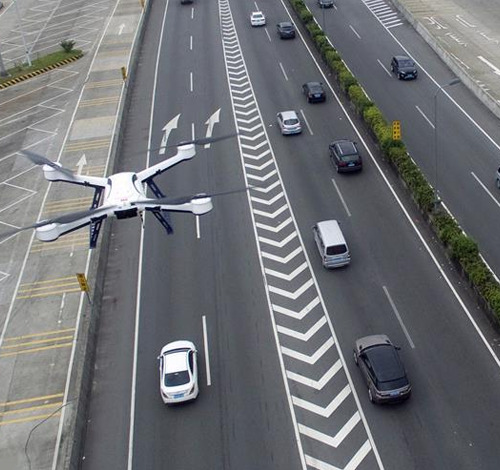 Around midnight on March 12, 2021, terrorists attacked the Federal College of Forestry Mechanisation, Afaka, in Kaduna State, Northwest Nigeria. By March 13, it was confirmed that over 30 people were kidnapped. 
The abduction happened close to the Nigerian Defence Academy (NDA) —Nigeria's foremost military institution— which was 26 minutes (18.2 kilometres) away. This did not deter the terrorists from operating for over 30 minutes before having an unhinged exit. 
The terrorists have since demanded N500 million for the release of their victims. This was not the first abduction in Kaduna in March, and it was not the last one. Between Feb. 28 and March 1, Kaduna witnessed terrorist attacks in different parts of the state.  
On March 3, the state government promised to deal with the terrorists without an option of negotiation. On March 6, Kaduna Airport Staff Quarters was attacked, with a toddler and 11 others kidnapped. Terrorists attacked again on March 15, and then on March 19.
While the attacks in March have become overwhelming, terrorist attacks and other insecurity challenges in Kaduna have been a recurring tragedy for years now. The Nasir El-Rufai government which has been in power since 2015 has known a song of sorrows.
But the government has not been silent.
El-Rufai launches CCTV
In 2016, the Kaduna State government promised to embark on a project to launch Close Circuit Televisions (CCTVs) at crime flashpoints in the state; to monitor crime and apprehend criminals. The project has since been launched in different phases up till Feb. 2021. 
The project also included a "Command & Control" centre. Despite Kaduna increasing CCTV installations, attacks between 2016 and 2021 have only increased, with more intensity from 2020 till now. 
Kaduna State has a landmass of 46,053 km2 and as at the last population census in Nigeria (2006), it was the 4th most populous state in the country with over six million inhabitants. 
The large landmass in Kaduna has proven to be problematic in the face of security challenges, and CCTVs, although minimally useful, are not enough to protect the large State. There is a solution in the sky.
Eyes in the sky
While CCTVs may be a useful tool for boosting security apparatus, they offer limited covers. CCTVs cover a smaller landscape and can be easily avoided by criminals. This is why more security-conscious governments and organisations are looking elsewhere for large scale security coverage through Unmanned Aerial Vehicles (UAVs). 
UAVs  —commonly known as drones— are small aircrafts with no humans on board, used for various aerial activities including surveying, image capturing, security detailing, and in some cases, military offensives. 
UAVs have developed from a simple tool for taking pictures or delivering emergency kits to a more sophisticated tool for mapping territories, knowing when there are activities in certain areas, and being able to track criminals without putting civilians at risk.
Fly guys, an international drone service provider, say that "aerial drone services are an ideal tool for upgrading your security force. They are able to 'walk' a route more quickly and effectively than a person, moving over obstructions easily and being able to view rooftops." 
The company further mentioned that "by combining tethered drones to keep consistent surveillance and deployable drones to investigate disturbances, your team will maximize its potential to identify and de-escalate problems early on in their timeline. The added situational awareness provided to security forces will help minimize risk to personnel, and thermal tracking software can be used to ensure intruders are apprehended."
Using drones to monitor areas for security has many components, one of them is GIS mapping.
GIS mapping for aerial surveillance
According to ESRI, a GIS company, "Geographic Information System (GIS) is a framework for gathering, managing, and analysing data. Rooted in the science of geography, GIS integrates many types of data." 
GIS "analyses spatial location and organises layers of information into visualizations using maps and 3D scenes. ​With this unique capability, GIS reveals deeper insights into data, such as patterns, relationships, and situations—helping users make smarter decisions."
These GIS mapping models help to provide near-accurate maps on footprint and other human activities in places of interest.
After the attack at the Federal College of Forestry Mechanisation, GIS mapping would have given data to aptly track the path used by the terrorists and possibly provide information on where they took the abductees. 
GIS mapping goes hand in hand with UAVs.
The security of UAVs
HumAngle spoke with a GIS analyst, Kayode Adeniyi, who mentioned the multiple security options that UAVs provide. Adeniyi said, "I don't think it is possible to tackle security issues without maps."
"Nowadays we have UAVs that the payload (the camera) can be accessed using different AI (Artificial Intelligence) models. For instance, if UAVs fly over regions where there are issues of kidnapping or insurgency, that drone will take images of sections of those places, then the software will mosaic everything together and when the model analyses the image, you can get to know areas with irregular footpaths." 
Using these mapping tools, Adeniyi said, "the AI models are intelligent enough to know where there are roads and where new roads have been created. The new information can also be compared to older satellite images." 
With this information, "you can use the data gathered to compare new activities in remote areas, which helps to narrow down possible spheres of influence. The use of UAVs makes things easy. By the time the security agencies go on a raid to the location, it becomes easier and they become more precise."
One of the systems used for high-precision operations is LIDAR. LIDAR, which stands for Light Detection and Ranging, is a method that uses light in the form of a pulsed laser to measure ranges (variable distances) to the Earth. These light pulses—combined with other data recorded by the airborne system— generate precise, three-dimensional information about the shape of the Earth and its surface characteristics.
Adeniyi adds that "if there are people in the bush, LIDAR can help to analyse underground activities, in thick forests, and the likes. It uses light reflection to analyse imagery."
Concerned about the possible financial implication of UAVs, Adeniyi clarified that "even the smallest drones can do anything. It's all about the payloader and the AI model. These things are so easy to use, even the Nigerian Police can use it." 
"When kidnapping happens, using UAVs that are deployed immediately, with some GIS maps, you can map out where they are taking the abductees to. I don't know why Nigeria is not using it. Some of these UAVs can fly so high that people on the ground won't even see it, so there are no risks at all."
LIDAR and other mapping tools are so effective that they are also used to monitor waterways and protect porous borders.
More work, better delivery, lesser expenditure
In a recent interview with Joachim MacEbong, Senior Analyst at SBM Intelligence, on the rise of armed groups in Nigeria, he mentioned that "through our borders, a lot of small arms pass through, particularly after the fall of Gaddafi." 
MacEbong lamented that "the situation is even worse because the police are lacking enough manpower and weapons."
With UAVs for security mapping, Nigeria's porous borders can be more protected and illegal entries can be curtailed. UAVs also provide better defences for remote areas where CCTVs can't penetrate.
Asides from accuracy and efficiency, UAVs will also reduce the expendability of security officers in Nigeria. Better equipment for the Police also reduces the chances of terrorists having more sophistication.
With UAVs, Nigeria can save more human and financial resources and tackle insecurity more efficiently.
First step, not the only step
While UAVs are effective for monitoring and tackling large scale crimes, they do not work by themselves. The operation of UAVs needs expertise, equipment purchase, and retraining of security operatives. 
While this might look seemingly herculean, they have long term cost-effectiveness that the other available options cannot provide. CCTVs do little work and take large amounts, and paying terrorists have proven to have dire consequences. 
The long-term benefits of UAVs definitely outweigh their shortcomings. With UAVs, the Kaduna state government would be better positioned to rescue the Federal College of Forestry Mechanisation, Afaka, students, instead of looking to negotiate a N500 million ransom.
---
Support Our Journalism
There are millions of ordinary people affected by conflict in Africa whose stories are missing in the mainstream media. HumAngle is determined to tell those challenging and under-reported stories, hoping that the people impacted by these conflicts will find the safety and security they deserve.
To ensure that we continue to provide public service coverage, we have a small favour to ask you. We want you to be part of our journalistic endeavour by contributing a token to us.
Your donation will further promote a robust, free, and independent media.
Donate Here