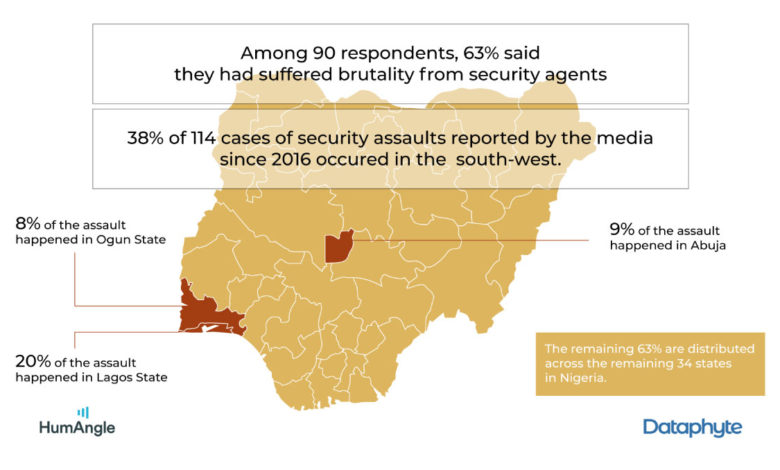 The right to move freely without a care has become a luxury most Nigerian youths cannot afford.
Worse, though, is the fact that the law enforcement agencies are part of those responsible for the uncertainty and unrest in the minds of young people.
In recent times, there have been several reports of policemen and other security agents taking advantage of young people as they go about their businesses.
In 2014, Michael Akudo was on his way to discuss some issues with his landlord when he met a roadblock. Policemen had blocked the road immediately after the Old River Benue Bridge in Makurdi.
After stopping him and his friend, the officers asked for some money before they could proceed.
Akudo recounted that he had no money and the policemen then tried to remove the key of the motorcycle he was riding.
When they failed, they ordered the young men to park and turn back without the motorcycle.He ended up missing his meeting and had to pay to get his bike back.
The incident and various other similar occurrences have made him wary of the police, the would-be custodians of justice.
He said, "I ran from them to avoid getting arrested for no reason. At the time, they would come to a street and arrest any boy they see.
"Then they will demand a huge amount of money as bail. If the families of these people do not meet up their financial expectations, they frame the young men for crimes and send them to prison wrongfully.
"I always run from them when I see them. No one is safe," Akudo said.
Another instance was Adam who simply stepped out to purchase water, but the law enforcement in Asaba saw it differently.
"We were rounded up from all sides along with some other youths around Zenith Hotel beside St. Patrick's Westend in Asaba.
"We were asked to sit on the floor and we obeyed. I tried to explain to the team lead that we just left our kids to get water from about five to 10 blocks away. It fell on deaf ears.
"We were told that it was the order of the Police commissioner to raid the area. We were then thrown into the van and driven to the Divisional Police Station beside Grand Hotel Asaba.
"It took the intervention of the mobile policemen attached to the nearby bank in Nigel branch and ASP Prince of the Area Command Asaba for us to be released that night.
"While on transit to the station, the police officers called my wife a witch and other unprintable names.
"They said it served me right because I appeared to be a stingy man who does not want the house help to 'eat' my money so I decided to go on errands that a house help could have run for me.
"It was one horrible night I can't forget in a hurry," Edegwa told HumAngle.
For Lagos-based Deji Olugbenga, he "regrets" returning to Nigeria after studying abroad.
He told HumAngle that besides battling unemployment, he constantly dealt with harassment and extortion from security agents, especially as an Uber driver.
"One morning, on my way to hustle, I was stopped by three armed men with IGP STS written on their uniform around 11 a.m.
"They stopped me and told me to come down from my car and enter their vehicle. I was worried and scared for my life.
"I doubted if they were real police officers and asked for some form of identification because of the way they treated me.
"They immediately opened my door, pulled me out and called me a yahoo boy (an internet fraudster) and that I was a suspected kidnapper.
"It was shocking and before I could challenge the accusation, I was slapped heavily and dragged into their vehicle.
"They drove me from Ikola Ipaja to Ayetoro Mopol Junction. I was beaten and told to confess what I didn't do.
"I was in the same uncompleted building as two other guys and a lady. I was thoroughly beaten with two-by-two plywood and my clothes were seized so I had only my underwear on.
"Luckily, a friend of my family noticed my car at the police station entrance and called my old parents who came to bail me at about 9 a.m.
"I was tortured and starved and that was my first experience with the policemen who are called SARS," he narrated.
What does the data say?
From the recent mini-survey HumAngle conducted among 90 respondents, 63 per cent said they had suffered brutality from security agents.
Some 25 per cent in Lagos attested to assault from law enforcement; Abuja respondents corresponds to 12 per cent.
The remaining respondents, distributed across the other 35 states, accounted for 63 per cent.
Forty-six per cent of respondents were between 28 and 37 years; 32 percent were between 18 and 27 years and 22 per cent were 38 years and above.
Thirty-two per cent said they had had their properties seized by the police and other security agents.
Furthermore, 62 per cent said they paid for bail and a majority (30.9 per cent) said they were arrested in the afternoon.
Night (29.1 per cent) was the second most popular time that people were apprehended.
Thirty-seven per cent said they were beaten while 17.8 per cent were accused of internet fraud.
Armed robbery was the second highest crime victims were wrongly accused of.
Dataphyte's content analysis of the number of times news of brutality by security agents appeared in the media showed that 20 percent of the assault happened in Lagos, nine per cent in Abuja and eight per cent in Ogun State. The other 63 per cent were distributed across the other 34 states in Nigeria.
Furthermore, the majority of the brutality was meted on persons between 10 and 31 years of age. The numbers show that 47.4 percent of them were between 10 and 31 years, 31.5 per cent between 41 and 50 years of age, 13.2 per cent between 41 and 50 years of age, and 7.9 per cent were aged 51 years above.
Dataphyte's review of security agents' brutality on Nigerians shows that the act is mostly common when there is Federal Government authorised restriction such as border closure or a curfew.
The norm for these security agents is to pretend to be ensuring law and order to extort persons that fail to comply with the restrictions. Any form of resistance most times leads to assault and sometimes death.
In one of Dataphyte's reports it was noted that the various COVID-19 pandemic lockdown directives by the federal and state governments in Nigeria resulted in undesired violent incidents and extortions.
During the lockdown, a video of a police officer, Taloju Martins, allegedly counting the proceeds from his extortion, emerged on social media.
It was alleged that the officer extorted N40,000 from a motorist for violating the Lagos State government stay-at-home order to halt the spread of the novel coronavirus.
As much as the motorist violated an order, the fine was far too much without charging the offender to any law court. Within the same period this happened, violators of lockdown orders were sentenced to community services and a fine of N10,000 each.
Moreso, there was an alleged killing of a petrol station attendant by a police officer in Abia State, Southeast Nigeria, during the lockdown.
The trigger-happy officer identified as Stanley Azu allegedly tried stopping a vehicle that violated the lockdown order, but the driver defied the instruction and was shot.
Witnesses said the police inspector chased the driver and fired at him, but the bullet strayed and hit Chibuisi, who was in his business centre.
In yet the most horrendous of the cases, a man was killed by an armed Nigerian Army officer for allegedly violating the lockdown order on April 3.
Acquaintances of the 30-year-old victim said he went out to buy food items for his family. A similar case of military-related civilian death was also reported in Calabar on April 8.
There were also several reports that a taxi driver was allegedly killed by soldiers for carrying passengers who were not wearing face masks.
The number of cases of assault, extortion, and killing of innocent citizens masterminded by security agents are countless, but the majority are not uninvestigated or resolved.
---
Support Our Journalism
There are millions of ordinary people affected by conflict in Africa whose stories are missing in the mainstream media. HumAngle is determined to tell those challenging and under-reported stories, hoping that the people impacted by these conflicts will find the safety and security they deserve.
To ensure that we continue to provide public service coverage, we have a small favour to ask you. We want you to be part of our journalistic endeavour by contributing a token to us.
Your donation will further promote a robust, free, and independent media.
Donate Here