Armed Violence
News
Explainer: Drawing A Line Between Nigeria's Two Miyetti Allah Groups
Miyetti Allah Cattle Breeders Association of Nigeria (MACBAN) and Miyetti Allah Kautal Hore are two herder groups in Nigeria which are often treated as one. However, both groups differ in their operations, although they also share some similarities.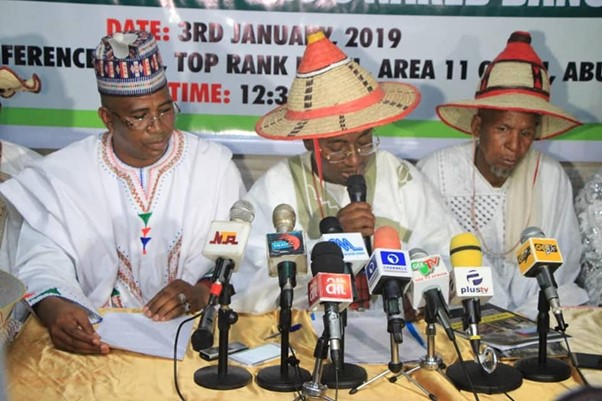 Between January and February, different interest groups in Nigeria have asked Nigeria's government to label the Miyetti Allah association a terrorist group and arrest its leaders. But the question remains: which one? Because two major associations are fronting for the Fulani community and herders in the country.
Scarce land and water resources partly due to desertification and exponential population growth have led to sustained clashes between Nigeria's mainly Fulani pastoralists and farming communities, mostly from other ethnic groups. As death tolls continue to rise, many people have pointed accusatory fingers at two 'Miyetti Allah' groups, both of which represent the interests of Fulanis and herders.
One is the Miyetti Allah Cattle Breeders Association of Nigeria (MACBAN) and the second is Miyetti Allah Kautal Hore. Not many people know the difference — indeed, the two are not the same.
Formed in the 1970s and headquartered in Kaduna State, Northwest Nigeria, MACBAN has served as an advocacy group for Fulani herders for many decades. The president is Muhammadu Kirowa, and vice president and national secretary are Husaini Yusuf Bosso and Baba Othman Ngelzarma.
Former Central Bank governor and one-time emir of Kano, Muhammadu Sanusi, said in 2018 that he was a patron of the organisation alongside other major traditional rulers in the north.
Less information is publicly available about Miyetti Allah Kautal Hore's history and structure. Bello Abdullahi Bodejo currently heads the association with Saleh Alhassan as national secretary.
Similarities and Differences
In a 2018 interview with Channels Television, Alhassan stressed there was a difference between MACBAN and his organisation. Garus Gololo, a "leader of Miyetti Allah cattle breeders in Benue," had reportedly justified an attack by herdsmen as revenge for the rustling of about 1,000 cows. Reacting to this, Alhassan said Gololo was not a member of his group but instead belonged to MACBAN.
"We are a sociocultural organisation that promotes peace and unity, ensures the survival of the pastoralist culture. We are an advocacy organisation and have never been involved in any violence," he insisted.
He further described his group as "purely Fulani," whereas "anybody breeding cows" could become a member of MACBAN. "That is why today you have members in the leadership of the Cattle Breeders that are not even Fulanis, they don't understand the culture of the pastoralist people," he alleged.
Alhassan went on to accuse MACBAN officials of receiving a N6 million bribe from Samuel Ortom, Governor of Benue State, to support its anti-open grazing law.
There have also been occasions when MACBAN denounced Kautal Hore officials' statements, demonstrating that even though they have similar objectives, the groups do not take kindly to each other.
"We tried to ensure that they were not registered because of the similarities in names, but politicians who wanted to use them against us ensured they were registered by force," a MACBAN official said in 2019 referring to the sister organisation.
Both MACBAN and Miyetti Allah Kautal Hore have repeatedly presented themselves as law-abiding and peace-loving organisations, despite widespread negative perceptions.
"Any herder that is armed, one, I want to say he is not a member of our association because we abhor violence, we preach peace … We as an organisation we register our members," Alhassan insisted in 2018. "We are not hidden; we are not a secret organisation. In fact, we are partners in progress for peace in this country."
He said what the organisation wants is for the conflict between pastoralists and farmers to be addressed holistically, citing instances of attacks against its members.
MACBAN similarly said in 2019 and previous years that it was "only interested in actions and discussions that will improve Nigeria's peace and stability". The group recently agreed in a meeting with governments in the southwest to ban night grazing, grazing by underage herders, and the illegal occupation of state forest reserves.
There are, however, areas where they seem to be at loggerheads. For instance, following the introduction of the Western Nigeria Security Network (Operation Amotekun) in 2020, while MACBAN was tactful in its criticism, Miyetti Kautal Hore was less so.
MACBAN's chairman in the southwest zone, Mohammed Labar, said during an interview in Jan. 2020 that his organisation did not oppose the launch of Amotekun but only craved more synergy between the organisers and residing communities from other ethnic groups.
About a week later, Miyetti Allah Kautal Hore's national secretary described Amotekun as a tribal militia promoted by "ethnic irredentists". He stood by an earlier statement where he said southwest political leaders should not expect to produce a president in 2023 if they continued to push for the security project.
"Despite the education of the Yoruba people, they still remain the most primitive in terms of political culture," he started saying before the host interrupted.
Alhassan's group also hinted at the idea of forming a counter-security outfit to protect its members.
Another point of divergence is that while MACBAN describes itself as non-political, the Miyetti Allah Kautal Hore group has often meddled in socio-political issues such as anti-police brutality demonstrations and the endorsement of presidential candidates.
Despite portraying themselves as peace-loving organisations, officials of the two groups, especially–it appears–Kautal Hore, have often found themselves taking fire from the public after making controversial, sometimes inflammatory, statements.
In July 2019, Alhassan reportedly encouraged herdsmen grazing in Nigeria's south to defend themselves against "any ethnic militia … in a manner that nobody would try such again".
In January, Miyetti Allah Kautal Hore's president said no herdsman in Ondo State would obey the government's directive ejecting them from the forest areas. "The herdsmen will not step an inch out of Ondo forests; they are going nowhere. We won't obey the governor; it is only the constitution of Nigeria that we obey," he said.
When, two years ago, the Federal Government floated the idea of establishing exclusive communities for herders known as Ruga settlements, both Miyetti Allah groups said any state governor who opposed the plan "wanted crisis to continue" and should be "held responsible for any further bloodshed".
In some other instances, the groups have denied statements attributed to it by journalists. In June 2o20, the president of Miyetti Allah Kautal Hore stated that he never said Nigeria belonged to the Fulanis and that his group would form a militia of 100,000 fighters. He further described the report as a "blatant fabricated lie".
Similarly, in July 2018, a MACBAN chief in Plateau State, Danladi Ciroma, denied justifying an attack by herders as a reaction to the rustling of over 300 cowsㅡthough the reporter stood by his story.
Unresolved Economic and Security Challenges
In the middle of these back-and-forths, Nigeria has continued to record alarming death tolls due to unaddressed economic and security challenges relating to herders clashes with farming communities across the country.
Amnesty International stated that, between Jan. 2016 and Oct. 2018 alone, at least 3,641 lives were lost to clashes between herders and farmers. It urged the government to investigate the killings and ensure that all parties enjoy their human rights, especially to land, water, and pasture.
Security analysts and commentators have also urged the government to be more proactive, accusing the Muhammadu Buhari-led administration of not doing enough to call herders to order.
Cheta Nwanze, the lead analyst at SBM Intelligence, said in 2019 that Miyetti Allah Kautal Hore officials' statements were "dangerous to national security" and that the perception that the government was being partial to some groups over others was not helping the situation.
Nobel laureate, Professor Wole Soyinka, likewise warned earlier this month that the country could enter a more violent phase of "serial skirmishes," which could eventually lead to a messy civil war.
"Address the nation," Soyinka advised Buhari during a BBC interview. "Address the nation in very stern, unambiguous terms… 'I am warning all business people in the food commodity, all you cattle rearers, whatever comes to you for illegal occupation or for trespassing on other people's properties is your business, and I am ordering the army, all the security forces, to back citizen efforts in forcing you out.' I expect nothing less. This is the language I expect from President Buhari."
---
Support Our Journalism
There are millions of ordinary people affected by conflict in Africa whose stories are missing in the mainstream media. HumAngle is determined to tell those challenging and under-reported stories, hoping that the people impacted by these conflicts will find the safety and security they deserve.
To ensure that we continue to provide public service coverage, we have a small favour to ask you. We want you to be part of our journalistic endeavour by contributing a token to us.
Your donation will further promote a robust, free, and independent media.
Donate Here