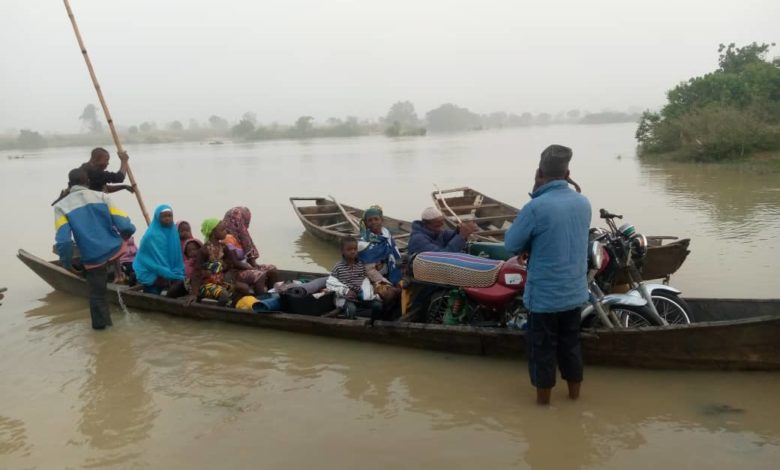 Perturbed over the safest means of transportation to the epicentres of armed violence and kidnapping spurring insecurity in Niger State, this reporter 'Mohammed Yakubu', convinced by an insider, resorts to take the deadly voyage by motorcycle – a dangerous alternative, yet most workable to actualise the goal.
In no time, a 22-kilometre journey from Kuta to Kwatai in Shiroro Local Government Area began with an affiliate who facilitated my bike trip. But I said my prayers inwardly. "Something must kill a man," I thought, summoning enough courage to get the job done.
From buildings to farmlands then deserts, it got scary, considering the mind-boggling banditry and kidnapping reports from these stony routes linking the killing hotspots – Kokki, Magami and Sarkin Zama (all in  Shiroro Local Government Area) and then to Uguwan Magero of Kagara Rafi Local Government Area.
Nigeria's security lacuna widens as different insurgent groups majestically hold the country hostage – Boko Haram sect in the Northeast, spreading to other parts of the country, kidnapping and violent gangs jeopardising the North Central and Northwest regions.
According to the 2019 mass atrocities report, banditry caused  the highest number of deaths – 1,075, Boko Haram had 702, electoral violence also claimed 605 followed by 343 cases of isolated killings, 167 gang clashes, 117 killings from abductions and 62 deaths caused by pastoral/farmers conflicts.
Niger, a North Central state, over two years now has been caught by  cycles of kidnapping and banditry attacks with Shiroro being the headquarters of the crimes.
Over 7,000 villagers are reported to have lost their homes due to bandits' attacks in Shiroro Local Government Area, while more than 47 have died in the homicidal violence which started in June 2019. This has not only confiscated Shororo's beautiful yesterdays but has surprisingly escalated to other local governments such as Rafi Kagara, and Tafa.
These people's rights to life as enshrined  in Chapter Four, Section 33 (1) of the amended 1999 Nigerian Constitution have not only been infringed upon but written off.
Taking refuge in the bush
On arrival at Kokki village, after crossing Kwatai River (an 8-kilometre ride), I was greeted with some expensive jokes. A lanky, dark-skinned man in his early 40s, Yussuf Bello, asked, more to frighten:   "Are you sleeping here with us?" I answered in the affirmative on the ground that we'll all sleep together in the village.
Apart from him and a few members of his household who spoke to HumAngle, other neighbours showed apathy, as they hastily picked their things up. "Do you see them?" Bello asked. "They are running to the bush before any uninformed but expected attack."
The atmosphere in Kokki can best be described as a war terrain, unfit for humankind.
It was some minutes past 4p.m. yet another 6-kilometre/ride from Kokki to Magami, started. Not only humans but animals were vigilant of motorcycles coming towards them. Some turned sharply in defence and others rushed into corners to hide.
Magami in a lull due to frequent attacks,  has become an empty neighbourhood in the semblance of a graveyard,  quiet as a desert.
A resident, Hassan Abdullahi, who had lost no fewer than eight persons to the wanton carnage, said the village was no more home for the people but a place for animals. "We now sleep in the bush, perhaps it's our haven," Hassan said.
He added: At "moments we hear ascending sounds of motorcycles or gunshots, we make way for the bush with our innocent children."
Recounting his sufferings, the fidgeting Chief Imam of the village, Halidu Umar, said: "we have nothing left but horrid tales of dispersed families scattered around refugee camps –  fathers living in isolation of children and mothers – all seeking shelter in the bush."
Leaning against a bullet-punctured door to his shop, his quavering voice deepened as he further narrated his can't-forget adventure.
The imam recalled a day that bandits came and found their houses empty. "They slept in our rooms and disorganised our settings. They also entertained themselves with our foods and livestock." His mood changed in recollection of a huge loss.  "They didn't leave our village until 5a.m.," he added.
HumAngle learnt that Magami since last year had been attacked 15 times. The community also suffered 15 fatalities with 25 persons kidnapped.
In the bush where refugees are, some healthy lads sleep few metres away from the river bank, In an open field, some couples and their large families sleep in huts made of dried grass.
According to them, wild reptiles have killed some of their children and few adults.
'We trekked miles in the bush for two days on empty stomachs'
A kidnap victim,  Suwaibah Umar, with pain written all over her, narrated her inhumane experience with her abductors. "Two days journey on empty stomachs, mun sha'a wahala (We suffered)," she recounted.  "No water, no food except for inevitable stops and rest.
Suwaibah, who was in company of her son, was abducted on a sunny Wednesday towards the end of August, when bandits attacked her community 'Uguwan Magero',  a second time.
Describing what  happened, Suwaibah said:  "I had run, run out of strength. I could no longer lift myself."
In what seemed like hindsight, Suwaibah added, "I could have run farther and faster, but I couldn't. So I was jerked alongside my months' old son, that was how we trekked like never before in my life."
Released a few weeks back, Suwaibah on her arrival to the community was taken to the hospital as prompted by her health conditions.
"She could not walk on her arrival," a man standing adjacent to her declared. "Her limbs are not supportive anymore to even stand still, she was just discharged yesternight." And her demeanour confirmed  the man's statement.
The underreported: Excruciating ransom, humongous airtimes, seasonings and cigarettes
HumAngle learned that bandits remain focused on these areas as a result of large money they amass from the people.
According to Umar Baws, the District Head of Unguwan Magero, Kagara Rafi Local Government Area, N4 million has so far been lost to kidnapping and banditry in the community.
The first raid on the district led to the abduction of one Musa, who was later freed on the payment of N1.2 million ransom, including N200,000 airtime.
In the second attack, the attackers took away 15 people and some weeks after, the community paid N6 million ransom alongside recharge cards and cooking ingredients to secure their freedom.
On the third raid, the attackers took six persons to their den and after hard negotiations, received N4 million ransom to release them.
In the meantime, the subsequent attacks were hinged on looting and wanton destruction.
In Magami where 25 people were reportedly kidnapped, a source who pleaded anonymity,  told HumAngle that apart from multi-million naira paid to secure the freedom of victims, airtime and cigarettes worth over N5 million have also been offered as ransom to the criminals.
"We've also sacrificed our farm produce like rice, millets, beans and groundnut oil, in each negotiation for freedom of captives," the source said.
"I don't have any clothes except this one I'm wearing, we have lost everything to this crisis," the source added.
River Niger: a bottleneck for bandits, red-sea for residents
At Kaduna-Niger confluence of the third longest river in Africa, River Niger, which separates Kokki and Kwatai, where displaced persons seek sanctuary, bandits find it difficult to cross to Kwata because of their poor maritime skills and the caution by sailors who berth the boats just at Kwatai River bank.
Saminu, a nattive of Kokki,  said,  "Here happens to be our haven for now because those bloodthirsty bandits cannot cross this river without boats and shipmen."  With a temporary sigh of relief, he said, "Thanks to this river."
Unfortunately, the constricting river that prevents banditry on displaced persons in Kwatai bush, seems to be a cause for tears for many families therein.
In the wake of pandemonium where people are being hunted by bandits, countless lives are lost in the river. "Boats conveying fleeing people had times without number capsized including the driver" a young boat driver said.
'Death awaits us at home'
Despite taking refuge in the bush, across the sea to avert being killed, residents told HumAngle that death often awaited them at home.
On several occasions, bandits have invaded villages like Magami, Kokki and Madaki and found empty houses.  A source who pleaded anonymity, amidst ocean-like tears, said, "if they meet our houses empty, they'll sleep over in anticipation of our return to kill and loot from us.
"This has happened several times. We run from death but still go home to die unwillingly."
---
Support Our Journalism
There are millions of ordinary people affected by conflict in Africa whose stories are missing in the mainstream media. HumAngle is determined to tell those challenging and under-reported stories, hoping that the people impacted by these conflicts will find the safety and security they deserve.
To ensure that we continue to provide public service coverage, we have a small favour to ask you. We want you to be part of our journalistic endeavour by contributing a token to us.
Your donation will further promote a robust, free, and independent media.
Donate Here