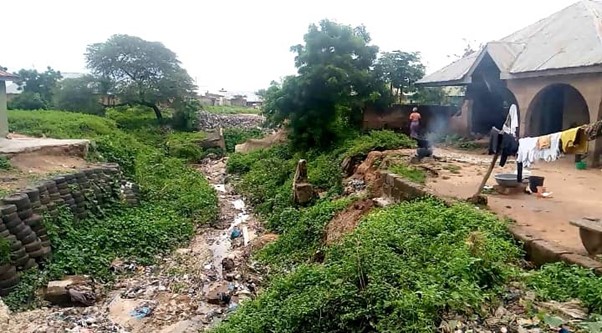 It was a sunny Thursday morning, 46-year-old Owolabi, a widow and a resident of Isalẹ Ijagun community, Ilorin East Local Government Area  in Kwara State, North Central Nigeria,  walked briskly towards her boiling pot of soup, to arrange the smouldering firewood to generate more flame as a gust of thick smoke filled the air.
Owolabi was unconcerned as smoke from the firewood forced solitary tears down her eyes even when her hope only hung by a thread. It is just a matter of years or a twinkle, that the only house left for her by her late husband will be consumed by erosion.
Twelve years ago,  her joy knew no bounds when her late husband told her they would be moving to their newly completed apartment- a bungalow that locals call ' face-me-I- face-you'. The couples and their children had spent several years in a rented apartment.
Unknown to her, however, her joy would not last long.
Three years after the life-changing migration, her husband gave up the ghost. Her business also nosedived. Despite all her losses, she is now contending with a greater challenge because of an expanding gully that is already threatening to consume her only inheritance from her husband. The mother of four lives with her children and some tenants in the house, yet she is every inch helpless on the fate of her house.
In The Shallow Of Death 
That Thursday afternoon when HumAngle was her guest, Owolabi kept staring at the deep gully that lies below her house.  A section of her house is already taken by the environmental threat – years of frequent rainfall and attendant erosion have led to a side of the house to collapse.
"This place is getting worse everyday. We never knew it would turn out this way," she said with a tone of uncertainty.
"A part of the house fell during the last rainy season. I've done all I could do, it is just getting out of control," Owolabi added, pointing to the collapsed side of her uncompleted house.
According to her, residents of Ijagun community have been pooling resources to salvage the situation but it is just like a drop in the ocean – their efforts are never enough- erosion is a real concern to the community.
The once motorable road that leads to the house is what has now become a huge gully site and Owolabi said adults and children could be swept away by erosion each time it rained.
"This road leads to Karuma Secondary School. When we were constructing this house, trucks plied the way to the community," she said.
"It was the flood from the main road that worsened the situation for us. When it rains, we dare not stay outside or allow our children to stay out because of the gully."
"Even while inside, we would still be praying to God. It is getting beyond our control. The community is really trying, we contributed money to fill the gully but once it rains, it expands again."
So, for residents of Isale Ijagun community, life with erosion is a daily aching chapter.
Helpless People 
An erosion gully site  which stretches several many metres has not only claimed the only motorable road in the community but it is sweeping the foundation of their houses –  it sprawls unevenly and divides the community into two.
The bridge linking the community to Akerebiata, a neighbouring community has also been swallowed by  erosion.
The community's devastating tale started after the diversion of a drainage into the community, residents said. The surge of floodwater from the drainage which runs through the community created the gully that has turned to a huge valley.
It now puts the lives of members of the community at risk, forcing residents out of their homes.
To minimize the spread of the gully, residents have resorted to self-help –  implementing control measures by mounting heaps of tyres and planting of trees to prevent further erosion of the community but these have yielded little results.
All through their fear, residents also said they had written to the government without any intervention, even as the deep gully is creeping closer to more residential apartments.
Umaru Lasisi, a resident, told HumAngle that the community had been locked in the environmental crisis for over about 10 years. Like Owolabi, Lasisi blamed the current challenges on the diversion of floodwater into the community.
"We have been facing this problem for about 10 years," he said in a cracked voice, suggesting frustration and disappointment.
"And the community has been doing everything within its reach to ensure that the gully does not wreak more havoc, but we're wrong.  We have written to the government, to lawmakers, without any reprieve. It seems the government has forgotten us."
In Nigeria, gullies are prominently caused by surface runoff when erosion occurs, which thus expands wider and deeper with each rainfall among other factors, such as poor road design, construction and abrupt termination of drainage, especially when they are not properly terminated.
This could disperse the earth below causing gullies rather than flow to lower catchment areas.
In 1981, the Nigerian Government created the Ecological Fund Office (EFO) to address environmental concerns such as erosion, flooding, landslides amongst other natural or man-made disasters that put human lives and properties at risk across the country.
The EFO receives two per cent of Nigeria's total fiscal budget yearly and does not disclose its annual budget publicly. This is in clear violation of the provision of the Fiscal Responsibility Act, FRA, of 2007, which mandates government agencies to make their budget public.
However, over the past years, there has been a growing trend  of misuse and misappropriation of funds from EFO.
A check shows that projects approved and funded by the Ecological Fund Office from the year 2005 to 2015 were either abandoned, poorly executed or not done at all.
Within this period, 25 projects approved and funded by EFO in the North Central states of  Niger, Nassarawa, Benue, Plateau, Kwara, Kogi and the Federal Capital Territory (FCT), Abuja, cost a total sum of ₦3.7 billion.
It was observed that some of these projects were approved for purposes not relevant to the aims and objectives of the fund.
For example, money was approved by the Federal government on March 4, 2003 through the Ecological Fund account of the Secretary to the Government of the Federation (SGF) for the construction of an abattoir in Bida, Niger State with Lower Niger River Basin  Development Authority (LNRBA) as the executing agency.
Also, an audit report by NEITI revealed among others, how the Federal Government led by Goodluck Jonathan, and then Muhammadu Buhari, diverted N93.7 billion meant for the Derivation and Ecology Fund.
Since September 2013, the Nigerian Government has been receiving support from the World Bank to reduce vulnerability to soil erosion, while also carrying out remedial measures in erosion-affected states under the eight-year, $500-million Nigeria Erosion and Watershed Management Project (NEW MAP).
However, these efforts have not reached residents of the community who still long for the government's intervention.
…Endless Letters
On November 19, 2019, the community submitted a letter to Kwara State Government, urging the Governor, Abdulrahman Abdulrasaq, to come to their rescue. But the letter fell on deaf ears.
Unruffled, the community wrote another letter on July 16, 2020, this time around, to the Permanent Secretary, Kwara State Ministry of Environment. But, nothing came out of that for the community.
While it seems the State Government has failed them, the community did not give up. It sent another letter to the lawmakers representing the Constituency at the National Assembly- Oloriegbe Yusuf, a senator and Senate Spokesperson (Kwara Central) and Abdulganiy Olododo (Ilorin East/South Federal Constituency) to help present their case before the Federal Government.
The utmost subject of all their letters has been: "urgent control of dangerous erosion from Ondoko to Akerebiata; urgent control of erosion from Ijagun to Abata Olorunbasiri; construction of two sides road gutter; construction of the collapsed bridge".
Saliu Ariyo, the Chairman of the community association,  said the people had beenspent an estimated sum of N800,000 in an attempt to fill the gully but says anytime it rains, it also washes the land away.
"We have been with this place for over 10 years, using our resources to control it. But it has snowballed into a big issue beyond our control," Ariyo said.
"We wrote to the state government, and even lawmakers, we were told they would come to inspect it, but we have never seen anyone. It has now gotten to a point that we can no longer drive-in. We pack our vehicles along main roads. The government should come to our rescue, it's getting out of hands."
More Sorrow And Pain
For Lukman Bankole, another resident of the community, living with erosion is another chapter they contend with. With a voice too heavy to capture the ordeal of the community, Lukman said residents were moving out in droves as a result of the growing gully.
"The gully is expanding by each rainfall and it's seriously disturbing the community. In fact, some residents have been forced to leave their homes because the gully has already eaten deep into the foundation of their homes. Last year, a part of this house also fell to the pressure from the gully," Bankole said.
"The landlord had to construct concrete drainage to control the gully, even so, it's started cracking again. The community has visited the state government, but it seems we're not in their plan."
Another resident who simply identified herself as Kafayat, shared a similar hought with Lukman.
Kafayat said the gully had been expanding wider and deeper by each rainfall, adding that the community was sitting on a time bomb as most buildings in the community have started crumbling which makes it look like a deserted war-ravaged zone.
---
Support Our Journalism
There are millions of ordinary people affected by conflict in Africa whose stories are missing in the mainstream media. HumAngle is determined to tell those challenging and under-reported stories, hoping that the people impacted by these conflicts will find the safety and security they deserve.
To ensure that we continue to provide public service coverage, we have a small favour to ask you. We want you to be part of our journalistic endeavour by contributing a token to us.
Your donation will further promote a robust, free, and independent media.
Donate Here