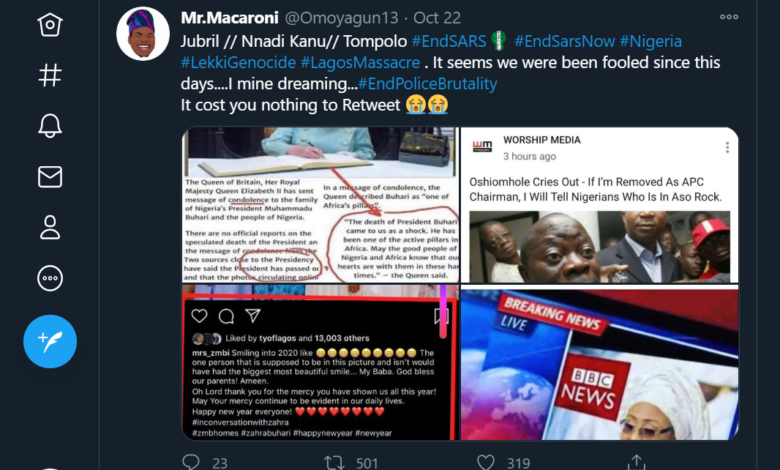 There are 33 million active monthly users of Facebook in Nigeria. There are also many millions of people exchanging information on Twitter, 280 characters at a time. But just like the country's population of phone subscribers cannot be determined using only the number of SIM cards in circulation, it is also hard to say for sure because not all these accounts on social media are authentic.
There are a number of reasons for this. One, it is easier for the information you share to be spread widely and presumed to be true if it is believed to come from a public figure. Second, people sometimes assume false identities in order to mimic certain personalities for the sake of humour or satire. Third, in large numbers, fake accounts can be used to spread all forms of propaganda. And then, there are those who just want to make some money off any activity within their competence.
The sale of social media accounts, from Twitter to Facebook and Instagram, appears to be a thriving industry. For Facebook, personal accounts that have a long history are preferred, largely because new accounts raise suspicion when used by scammers. The prices of Twitter accounts and Facebook pages often range between one naira and two naira per follower.
The many #EndSARS impersonations
This practice provides an incentive for people to create multiple accounts on social media and assume false identities in order to gain followers. The trend was especially noticeable on Twitter during the recent campaign for reforms in the Nigeria Police. In the first two weeks, the EndSARS hashtag had 173 billion impressions and nearly 100 million mentions. 
While many of the fake accounts helped amplify the #EndSARS message, contributing to the advocacy for police reforms and an end to brutalityㅡtheir motives regardless, they have also contributed to the spread of misinformation.
In one instance, this account shared fake news about the supposed death of President Muhammadu Buhari, a statement falsely attributed to First Lady Aisha Buhari, an unverifiable quote linked to former All Progressives Congress party Chairman, Adams Oshiomole, and another misleading picture.
Another fake account on October 21 shared a video of a military officer firing into the night, thus suggesting that was how "shootings were being coordinated" against peaceful protesters. A fact-check by AFP, however, showed that the clip predated the EndSARS campaign.
The same video was shared by another fake account impersonating DJ Switch, Obianuju Udeh, and has been watched over 34,000 times.
On October 23, the verified handle of the All Progressives Congress branch in the United Kingdom shared two pictures supporting the claim that DJ Switch gave contradictory death tolls from the shooting at Lekki tollgate. "DJ Switch reduced 'confirmed dead' from 78 to 15 within 2 days and maybe 0 by next week. This is reckless and silly," the account stated.
The only problem was while one of the figures was given by Udeh through her official Instagram account, the second one originated from a fake Twitter account registered in her name. The tweet was deleted after this was pointed out by AFP fact-checker Tijani Mayowa.
When fake accounts make attempts to be humorous, often such attempts go too far.  A young Nigerian, Okechukwu Obi-Enadhuze, was killed on October 21 after thugs attacked a police station in Oshodi, Lagos. Following the incident, his girlfriend took to Twitter to express her anguish. The same day, an account (now deleted) (re)named "Oke" and with the same picture on the late Oke's account, replied the girlfriend's tweet with the words: "My love, trust I'm in a better place. I'll be watching you from the skies." The account user then added trending hashtags "#unarmed #EndSARS".
Impersonation against Facebook, Twitter rules
According to the former's policies, "Your account should represent you, and only you should have access to your account. If someone gains access to your account, or creates an account to pretend to be you or someone else, we want to help. We also encourage you to let us know about accounts that represent fake or fictional people, pets, celebrities or organizations."
Twitter also states that impersonation is a violation of its rules. "Accounts that pose as another person, brand, or organization in a confusing or deceptive manner may be permanently suspended under Twitter's impersonation policy," it warns.
However, in spite of their rigid positions, fake accounts continue to proliferate on the platforms in their thousands. In any case, here are some tips to guide you while surfing the murky waters of social media and prevent you from falling prey:
Check for verification
If the account appears to belong to a prominent figure or celebrity, then there is a good chance it would have been verified by the platform to prevent people from getting scammed by imposters.
 The verification is represented by a blue tick placed beside the profile name. So, in confirming if one account is authentic or fake, do a quick check to see if other accounts are linked to the same name and if any of them has been so verified. For example, while this account of popular musician Burna Boy is verified, this other one is not.
View post history for consistency
If you find one tweet that is a hard nut to crack, check the account's other tweets for consistency. You might find uploads of pictures of another person or accounts of events that just do not add up. You might even see tweets from the account dropping bank account numbers for freebies.
Check bio for keywords
There are certain keywords that, if found in an account's bio, already indicate they are not being run by the person named. These include "parody", "stan", "fan", "prodigy" or "backup" account. It is especially easy on Twitter and Facebook to view (summaries of) people's profiles just by hovering the mouse over their names or pictures on a personal computer.
As part of its fair use policy, Facebook allows the use of accounts for the purpose of parody, satire, commentary and education. Twitter also allows parody and fan accounts but the profile must clearly state that "it is not affiliated with or connected to any similarly-named individuals or brands." Also, only the names should be borrowed to avoid confusion.
Thirst traps
If the pictures appear too good to be true, they probably are. Check if there are signs they are screenshots from other platforms such as the Instagram heart sign here or other details suggesting they are likely not original.
Other red flags
There are other red flags you ought to be on the lookout for. These include the frequency of impersonal posts that share nothing about the personality's life or views, frequency of claimed or actual "giveaways", an obsessive use of trend hashtags, and the sharing of sensational posts.
Others are very small numbers of followers despite the celebrity's standing, inconsistent IDs and usernames, and, unabashed pleas for engagement like in this instance where someone disguising as famous singer, "Falz", can be seen asking his followers to "retweet aggressively to save lives". 
Oftentimes, the bio also holds a lot of clues. One account claiming to belong to famous comedian, Debo Macaroni, states as its bio, "Click on the link below to watch my new video," with a link to a YouTube upload. Whereas, the video and channel are those of a different skit-maker, who identified himself as Crownprince Idowu James.
Conclusion
A great chunk of the information disorder currently plaguing the world can be traced to the wide use and abuse of social media. While many share information without really knowing them to be false, there are also those who are more deliberate for one selfish reason or the other. Till the administrators of these social platforms become more effective in targeting fake accounts, it is necessary for users to be more careful about what and who they believe.
The researcher produced this article per the Dubawa 2020 Fellowship partnership with HumAngle to facilitate the ethos of "truth" in journalism and enhance media literacy in the country.
---
Support Our Journalism
There are millions of ordinary people affected by conflict in Africa whose stories are missing in the mainstream media. HumAngle is determined to tell those challenging and under-reported stories, hoping that the people impacted by these conflicts will find the safety and security they deserve.
To ensure that we continue to provide public service coverage, we have a small favour to ask you. We want you to be part of our journalistic endeavour by contributing a token to us.
Your donation will further promote a robust, free, and independent media.
Donate Here