Analyses
Development
News
#EndSARS: The Role Of Food Donation, Inflation, Unemployment In Nigerian Protests
Nigeria's towering food inflation and economic recession were compounded by COVID-19 lockdowns. When a nationwide protest on police brutality started, the economic situation might have played an important role.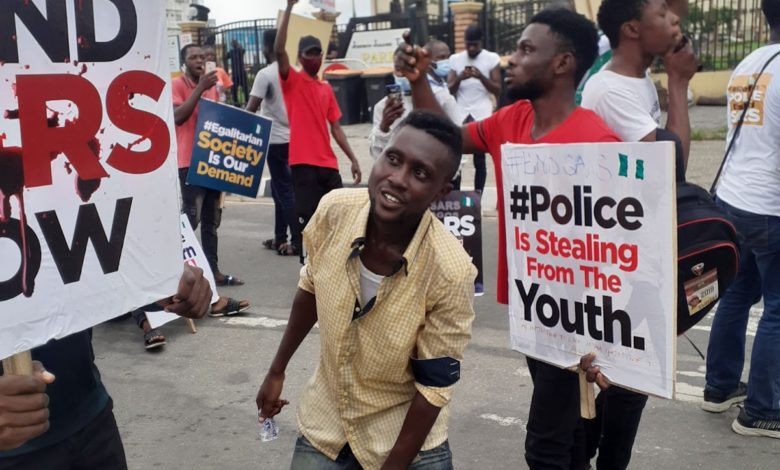 When many Nigerians trooped out in Oct. 2020 to protest Police brutality in the country, nobody knew for how long it would last, or what its driving forces would be. But what all protesters knew was that police brutality had to be addressed, somehow.
SARS — Special Anti-Robbery Squad, was established specifically to tackle armed robbery in Nigeria. But it soon became a violently armed force for citizen oppression, extortion, extra-judicial killings, and forced disappearance. 
While Nigerians had endured the pangs of the dreaded squad, one incident in Ughelli, Delta State, South-south Nigeria in Oct. 2020 was the catalyst for the nationwide protest that attracted international attention.
SARS operatives had allegedly killed a young man at a hotel, driving his vehicle away, in a manner akin to their style. The video of the incident went viral, sparking a protest against police brutality leading to about 26 demonstrations nationwide by Oct. 13. Although that death itself was proven to be untrue.
There were renewed clamours for the proscription of the unit —an agitation which was largely ignored by the government for a long time until 2020. But this was not the first time.
A bloody history
In 2013, 35 bodies of missing people were discovered in a river in Akwuzu Anambra State – Southeastern Nigeria, a massacre SARS was complicit in. Between 2017 and 2020, SARS operatives were found to have committed at least 82 acts of torture or extrajudicial execution, with their victims mostly being between the ages of 18 and 35, a demographic 60 per cent of the Nigerian population.
Straw attempts by the government to address these excesses were largely unsuccessful. The government, for example, had disbanded the Special Anti-Robbery Squad multiple times within the last five years — first in 2014, then in 2015, and again in 2017.
So, not many Nigerians were convinced of the government's seriousness when it announced yet another disbandment of SARS on Oct. 11, 2020, during the protests.
Hunger, tears, and the protest 
In the 2020 Global Hunger Index (GHI), Nigeria ranked 98th out of the 107 countries, getting a GHI score of 29.2 out of a 100-point scale. This places Nigeria at a hunger level that is considered serious. This is according to the Jollof Index by SBM.
As the protests gained traction, a food vendor in Lagos made an appeal for the donation of money on Twitter for the group of protesters camped at the premises of the Lagos State House of Assembly. 
Donations came from within and outside Nigeria — the tweet was targeted initially at raising about N50,000; it grossed over N200,000. As the protest climbed into weeks, the donations rose — support from Jack Dorsey, the CEO of Twitter, also added to it.
With donations pouring in, more food and refreshments were available, attracting all 'classes' of Nigerians.
While the anger towards Police brutality was valid, the sustainability of that anger depended on several factors, including availability of food. The #EndSARS protests happened as Nigeria was dealing with a biting economic recession, along with the impact of COVID-19 and lockdowns.
Wole Olubanji, the Organising Secretary at Movement for a Socialist Alternative, who was also a protester, said "providing food or other forms of welfare for protesters may actually have served as an incentive for certain social groups to participate in protests, especially Nigeria's teeming poor."
He submitted that it would be demeaning to their self-dignity and intellect to say the prospect of food mobilised them to protest more than the passion to fight the lack of food and ruling class that created it. "People's poverty will drive them to the protest ground with or without the promise of food," Olubanji argued.
Despite clampdown and brute force deployed by the government and its agencies, the demonstrations remain very historical as the biggest youth-led demonstration in the country since 1999, when Nigeria returned to democracy.
The very frustrated citizens, many of whom had been thrown out of their jobs at the beginning of the lockdown, channeled their frustrations towards the protest.
Food inflation and availability of food at protest grounds, have fuelled protests in other places too. Globally, there have been protests which have been driven by escalation in food prices. During a protest in Lebanon over WhatsApp ban, a Lebanese citizen, Abdullah, said with inflamed passion that: "We are not here over WhatsApp, we are here over everything: over fuel, food, bread, over everything."
Similarly, in 2008 and 2009, the world witnessed one of the oldest forms of collective action —the food riot. The demonstrations ranged from Italy where  pasta protests were directed at the government for failing to prevent a 3 per cent increase in the price of pasta to Haiti where President Preval was berated for his impassive response to the doubling in the price of rice over the course of a single week.
That food was surplus, was therefore a bonus for #EndSARS —so much was in abundance that at different protest grounds, they would send tweets informing people that food was sufficiently in abundance. 
The National Bureau of Statistics (NBS) in a report on poverty and inequality from Sept. 2018 to Oct. 2019, said 40 per cent of people in the continent's most populous country lived below its poverty line of N137.430 ($381.75) per year. It said that represents 82.9 billion people.
There have been a number of predictions by experts about a looming food crisis. A situation the United Nations World Food Program says the COVID-19 pandemic contributed largely to.
It is imperative that the government seeks measures of economic advancement by ensuring, as a matter of urgency, that crises are abated, food prices stabilised and Nigerians get the dividends of democracy that they have been clamouring for.
Wole Olubanji, however, mentioned that the trend is not new in Nigeria's protest history to have protesters served food items during protests. "In Nigeria's first general strike of 1945, Madam Adunni Oluwole, a Lagos socialite, donated money and prepared food for the workers protesting the colonial authorities; should we say her food brought Railway workers out or the Cost of Living Allowance that was the immediate demand of the protest?"
A system united in chaos
According to Addah Tamuno, a psychology expert, there were a lot of things that pulled the crowd during the #EndSARS protest. He said parts of those basic things were the incentives. "The rewards, not too much of the food but the rewards matter," explaining that the feeling of accomplishment and victory were important too.
In Lagos, for instance, there were food and drinks, ambulances for the injured, there were medics offering services, and there were solar panels to provide electricity and many charging points for mobile phones.
Tamuno pointed out that everyone got one reward or the other from the protests. According to him, it increased popularity and 'street credibility' for some people, and for those that are poor and vulnerable, it gave them the opportunity to feed and even associate with some influencers that they only saw on TV and on the internet.
"Their presence at those protest centres is the major crowd mover, not because there is food for people to eat and water for people to drink."
"The crowd was also facilitated by some other factors: like the fact that there was a lockdown, ASUU was on strike, schools were closed. The young people were home with their parents, doing virtually nothing. The protest timing was so nice that everybody was angry, not hungry, but angry with the government," the psychologist said.
"We had a lot of agitation, the economy was down because of bad markets caused by the lockdown, and the protest allowed people to come out to vent their anger on the society or the government."
He emphasised that there were many rewards that can't be attributed to the coming out of people to poverty. Tamuno argued that there were no significant findings that can pinpoint that the #EndSARS alleviated poverty.
"I think people are still poor as it is but they succeeded in reducing the brutality. The police are now looking inward to tie all loose ends," he said.
"They are working hard to bridge the gap between them and the public through lots of means that they are using but the hungry side of it. They were cooking and selling and distributing food but I don't think that should be enough reason for people to actually pull up for the past protest."
He added that civil rights protests were there mainly to check the excesses of the government and demand for good governance, demand for equality, demand for development.
Why food may not pull crowd again
Tamuno highlighted that a lot of other protests had taken place but they did not pull crowds the way the #EndSARS protests did because, according to him, #EndSARS was about the police; a common problem.
"You find police everywhere and the police are doing whatever they do in Lagos, they also do it in Sokoto, Maiduguri, Calabar and all over the country and everybody seems to be angered by their operations," he said.
He emphasised that the factors that  angered people were there, warning that if the next civil society organisations want to bring about protest and they want to use this process —the employment of food and giving out money may not actually give them the kind of crowd that was seen during the #EndSARS protest.
He pointed out that subsequently, such a crowd will emerge because of the common cause being fought for, which is to protect their interest and demand good governance. The reason for rise in crime rates across the country is not far fetched from the high poverty rate.
"If there are no better economic policies that are aimed at improving the living conditions of the teeming Nigeiran populace, there might just be yet another set of demonstrations that might be more disruptive than the previous ones."
---
Support Our Journalism
There are millions of ordinary people affected by conflict in Africa whose stories are missing in the mainstream media. HumAngle is determined to tell those challenging and under-reported stories, hoping that the people impacted by these conflicts will find the safety and security they deserve.
To ensure that we continue to provide public service coverage, we have a small favour to ask you. We want you to be part of our journalistic endeavour by contributing a token to us.
Your donation will further promote a robust, free, and independent media.
Donate Here