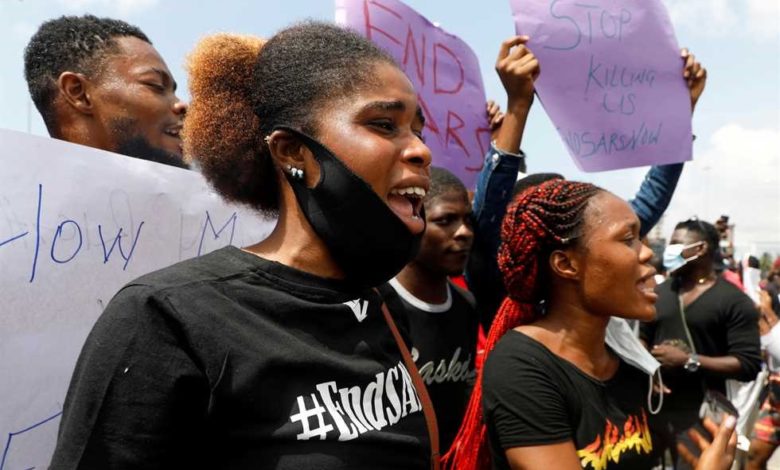 The #EndSARS protest which commenced nearly one month ago has gained attention from people both young and old, at home and abroad. And after the events which shook the foundation of Nigeria over three weeks after celebrating its 60th Independence Day, the youth are relentless to ensure a better future for their generation.
Some youth told HumAngle after the events which led #EndSARS protesters to withdraw from the streets that they had not given up and would return to the streets if necessary.
The protest began on October 4, 2020, on social media and called for an end to police brutality and the disbandment of the rogue police Special Anti-Robbery Squad (SARS) unit, linked to the inhuman treatment of citizens.
It further metamorphosed to demand for better governance, total reform of the Nigerian security system and justice for victims of police brutality.
The Tuesday, October 20, 2020, shooting of protesters by soldiers at Lekki Toll Plaza in Lagos, and subsequent deaths and injuries changed the course of events. The protests, which remained peaceful until the shooting incident, was hijacked by hoodlums who took advantage to unleash mayhem on the society.
The hoodlums killed, maimed, looted and destroyed private property across the country and made life unsafe for the citizens, including security agents.
After one week of a total breakdown of law and order, calm has returned to many places but some the original #EndSARS protesters narrated their experiences to HumAngle and said the struggle was not over.
Shaun Lochi Kalu, a 24-year-old filmmaker, said a friend of his convinced him to go to the protests on October 10 despite his initial reluctance to attend.
"When I went to my first protest at the Lekki tollgate, the spirits were very high. That day something woke up in me, I realised that young people like me actually have what it takes to call for change, so I couldn't afford to be reluctant or indifferent about it.
"I have had a few experiences with the police, not SARS, and they've extorted me, they've threatened me and gone through my phone.
"So, eventhough I have had my own fair share of harassment from the police, I was initially still reluctant to join the protests but after going for the first time, something in me changed," Kalu said.
He said the celebrities at the protest ground who tried to highjack the protest failed and it was made clear to them it was about everyone's voice.
The #EndSARS movement made it clear from the beginning that it had no known figurehead, individual or organisational leader nor an identifiable spokesperson.
It is a movement that is being championed by young Nigerians for the safety of other young Nigerians, the group had emphasised.
Kalu was lucky to have missed the evening protest at Lekki when the shooting incident occurred. He was at the place in the morning and earlier in the day.
"I was telling my friend the day the shooting happened how I missed it by sheer luck as my friend and I had kept trying to book a ride but the drivers kept cancelling, and that's how we ended up not going. Then we heard of the shooting.
"It could have been me. It could have been someone I know. One of my friends, Ugonna, is still very traumatised. He was there when it happened and had to run and jump a fence to go to the other side of the Palms Mall to get to his car and quickly get home.
"Till today, he is still suffering from the ordeal he witnessed. He saw people get shot, he heard the bullets, he saw the army.
"People shared their experiences and stories and it further fueled us to continue what we were doing.
"So many people had suffered from some kind of ordeal from SARS or other security operatives. We protested peacefully, everything was well coordinated and there were people from all walks of life and of different ages.
"Our voices became more amplified every single day and our will also became stronger every morning we woke up and headed out to the protests and on social media as well," Kalu said.
Oladele Owodina, 25, said being part of the protest was non-negotiable for him after the brutalisation he suffered in the hands of the police.
"Apart from myself, I also know people who suffered police brutality. When I got to the protests in Lagos, I saw unity of purpose among Nigerians that boosted my motivation to join.
"Joining the protest took a lot from almost all the protesters. For one, I had to pause my work and spend money.
"We walked and shouted a lot and sapped our energy. And there was this constant thing in my mind that I was exposed to harm every time I was out.
"There was this night that the head of the security unit at Alausa told us to all go home or else we were exposing ourselves to harm from the police. We stayed still," said Owodina.
Also, a 23-year-old female protester whose name has been withheld because of her family's stance on the protest, said she joined because she did not believe violence was the way forward, especially from those mandated to protect all. She said that it did not need to hit close to home before people would feel like they needed to take action.
"I went for the protest on the 15th October on a Thursday around Banex Plaza in Abuja. I don't also condone the behaviour and the way some security officials treat citizens or people they feel are below them.
"Before then, the stories and the videos I saw of parents crying about the children they lost at the hands of SARS and how they threaten to kill and boldly say that nothing will happen after, just shows you how our system is," she said.
"Almost every person you ask has had some sort of experience with them. And the thing is most parents don't really understand the magnitude of the problem.
"My own parents did not support me going to join the protest in the slightest and threw a fit over it but I had to rebel and show them that this is something I have to do. It can happen to anyone's child. So, is it until it happens to yours or it hits close to home that you will accept it's a problem that needs to be addressed?
"The fact that the very same people that are mandated to protect you are the ones you need protection from is something that can't be left unchecked any longer. Your privilege will not save you either. Anyone and everyone can be a victim," she added.
Nwakamma Obiora Gabriel, a 32-year-old businessman, said enough excuses had been made for the police force and being underpaid should not be a reason for their behaviour.
"Where I stay in Lagos, even a traffic warden extorts money from road users. It is now the norm. When you stay in countries outside Nigeria, especially in the Western world, you will realise we actually don't have a functional police force," Gabriel said.
The protests in Ikeja were disrupted twice when the police came and the protesters had to run for their lives.
So what next?
Now that the streets are vacant and the protests have been threatened with violence, wondering what next the youth would take.
Gabriel said the government had itself to blame for hoodlums hijacking the protest and causing havoc.
"We had to mobilise ourselves to retaliate after the second time. Whatever is happening in Nigeria is caused by the government and not the protesters. For now, we are out of the streets because of the risks and we don't want to mix up with hoodlums.
"So, when they are done dealing with the hoodlums, we shall return to the streets to continue protesting. Within that period, if they don't meet up with our demands, we come back to protest," Gabriel added.
Kalu told HumAngle that for now, he felt uncertain after seeing the length the military were willing to go to stop the protest.
"Now, I don't really know how I feel. Look at how much it has cost those who lost their lives simply for asking not to be killed.
"But moving forward for me, being online and talking about the cause and still pushing the #EndSARS hashtag, especially since we got the endorsement of Twitter founder, Jack, we can't afford to lose momentum online.
"I also think that this serves as an awakening for me and many others as well. We have all come to accept we have a general governance problem in Nigeria and SARS is just one of the bad things that needs to change.
"While our voices on the street have been taken away from us, I truly feel like that was just an opener for more action. Now it's just a matter of re-strategising and putting more effort in ensuring changes are implemented," Kalu added.
The female protester from Abuja agreed with Kalu and said, Twitter and other social media platforms were now key in ensuring their voices were heard.
"I think now that our safety isn't guaranteed on the streets, we should continue using our voices on Twitter and all other platforms.
"The support and compassion we got from people everywhere, both in Nigeria and around the globe, has left the government without an option but to address us.
" It was very impressive, and it made me cry at a point because of how happy I was. We're still using the hashtag #EndSARS and #EndSWAT because they are basically the same thing, just different uniforms and different names.
"Nobody deserves to go through such brutality, no matter the provocation. The next line of action shouldn't be shooting them or assaulting them. I hope the older people understand that the protests are not for violence or destruction of property because that isn't us. The people against us are the ones bringing in these factors to disrupt it," she added.
Gabriel said it was only a matter of time before the protests would return to the streets.
"We want the security agencies to tackle the hoodlums they created to attack us and chase us away. We have not given up and we haven't lost the zeal. We are just giving them the benefit of the doubt to do all they said they will do. It has already started and no amount of killing or intimidation will stop this," he said.
Owodina said there were many other forms of protesting. Being more active in politics he said, was one of them.
"We should document the things that have happened so far. Go offline and communicate with as many people as we can and let them know what happened in the past weeks.
"We should hold the government accountable for their reactions and make sure the protests are not revised as violent. We should put pressure on the government till they complete our demands."
---
Support Our Journalism
There are millions of ordinary people affected by conflict in Africa whose stories are missing in the mainstream media. HumAngle is determined to tell those challenging and under-reported stories, hoping that the people impacted by these conflicts will find the safety and security they deserve.
To ensure that we continue to provide public service coverage, we have a small favour to ask you. We want you to be part of our journalistic endeavour by contributing a token to us.
Your donation will further promote a robust, free, and independent media.
Donate Here