Displacement & Migration
Features
News
Displaced Nigerians Suffer As Scam Worsens Hardship In Zamfara Camp
IDPs in the Anka area of Zamfara, Northwest Nigeria, narrate how they were swindled by fraudsters disguised as helpers.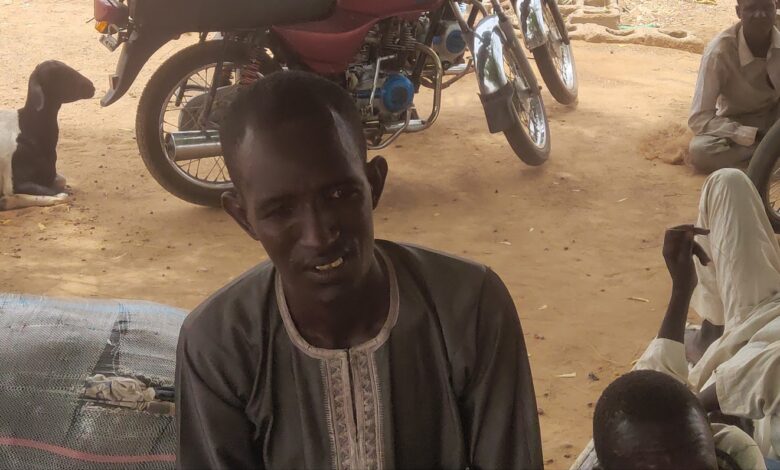 Abubakar Abdulquadri never thought he would be alive to share his story. For him, giving the accounts of how he survived gunshot injuries after a terror attack is miraculous. He was shot two years ago during an attack on Tangaran, a village in the Anka area of Zamfara, Northwest Nigeria.
He had gone to the market to buy foodstuff for his wife and two children when he sighted dozens of motorcycles with armed men shooting at the crowd. It was his second time witnessing the deadly operations of the terrorists, often locally addressed as bandits.
Like others, he took to his heels. While many people ran towards their farmlands, others ran into the buildings close to the market. Abdulquadri was among the latter. He was, however, caught when the terrorists broke into houses in the vicinity and subsequently got shot.
Though the five people caught in the room with Abdulquadri died immediately, he survived the gunshot that pierced his back. "It was just grace. Only God knew the reason why I did not die because others did immediately," he said, showing HumAngle the scars from the incident.
His parents had to sell their farmlands to pay his hospital bill for the six months spent receiving treatment. The entire family has since been living in hardship.
Life in camp
Weeks after he returned home, the terrorists invaded their village again, killing no fewer than 35 people and looting their belongings. Since his community became too dangerous to live in, Abdulquadri moved to an IDP camp in Anka, where he now lives with his relatives.
The 31-year-old man is one of over 379,000 people who have been displaced within the northwestern region of Nigeria state as of Feb. 2021, giving rise to an alarming humanitarian crisis.
Zamfara is the epicentre of the terror groups' activities in the Northwest and, since the upsurge of violence, many people have abandoned their homes to seek safety at IDP camps in the Anka, Shinkafi, and Zurmi areas of the state.
"My village is still unsafe. No one can go there because the bandits govern the place and they have not ceased attacks on people and their properties. Someone who went to the community a few months ago did not return. Farmers cannot operate and vigilantes do not have the power to protect people," Abdulquadri said.
HumAngle observed that the IDP camp in Anka houses hundreds of residents who have fled their homes in response to extreme violence rocking the state. Like every other place where the displaced are present, people in the camp are in desperate need of essentials such as good shelter, clean drinking water, and enough to eat. Since most of them have lost their means of livelihood, getting income to feed their children is a major concern.
"Our biggest problem here is food," Abdulquadri told HumAngle. "No one dares return to the farm, yet we have to feed our families." He is currently involved in different kinds of jobs including working as a labourer at different sites in the Anka area.
Sharp practices
Despite struggling to access humanitarian assistance, IDPs in Anka are also being defrauded by people purporting to be NGO members, who make false promises and then vanish with what little money they have. Abdulquadri was a victim.
HumAngle learnt that a group of people came to the camp in late January with a story. According to them, they were working with the state authorities on a project to provide money for people displaced by terrorists in Zamfara. They told the IDPs that, to access the fund, they would have to open an account with them with the sum of ₦1,200. Their account details would be sent to them after a week, they promised, and then they would be able to receive monthly stipends.
Since many of them desperately needed support, they agreed with the group. But months later, they are yet to receive the account details promised and all the people who came to the camp have failed to respond to calls. Meanwhile, the incident has made those in the camp lose interest in non-governmental organisations and journalists visiting them for genuine reasons.
"How are we sure that you are not one of those who came to collect our money and never returned?" Abdulquadri queried our reporter during a visit in April. He said most of them have resolved not to speak except there is an order from the town's monarch.
"The people who came in January swindled us after they lied that they were going to give us money if we opened an account with them. They said the government was helping IDPs but we need an account with a unified bank to get the money. I went to the bush to cut trees, and worked as a labourer on sites; instead of using the money to feed my family, I gave it to the fraudsters and they allowed my children to live in hunger."
Since the insecurity in the state displaced his family from Tangaran, he could not send his children to school. "I am still struggling with their food and shelter, so there is no way I would think of putting them in school. My hope was to use the money the fraudsters promised us to cater for their education but that dream appears to be impossible."
More painful stories
About two years ago, Rabiu Musa, 55, was also displaced from Tangaran, where he worked as a tailor. He had his life well planned until terrorists started attacking the village. In a bid to ensure the safety of his family, he ran to Gombe and returned a year later when he could not survive in the state.
"I was forced back to my village when I could not cope in Gombe because I have no relatives there. On getting back to Tangaran, bandits attacked us again and I could not leave with anything other than my sewing machine.
"The machine has been useless since I got here because there is no one to make clothes for. I have four wives and 12 children struggling to stay alive at the camp because nobody cares. Some people are even taking advantage of our problem to cheat us," he said.
Since he got to the camp, Rabiu has had a rough time. He travels far distances like the others to fetch firewood in the bush and returns with profits ranging from ₦300 to ₦500. This is only enough for him to prepare a meal daily, a large portion of which goes to feeding the children who "need it more".
"After cutting firewood from the bush, I will display them here for people interested to buy. It is from this that I make money to feed my family."
He had just sold some logs of firewood when those that extorted them arrived in January. He later paid them ₦6,000 for opening accounts for himself and his four wives. "We haven't heard from them since then. They only came to extort us and my sweat will judge them."
He was yet to recover the money he lost to the fraudsters when HumAngle visited him. The incident made Rabiu's family starve for days until he was able to make another sale.
Speaking of his experience after his encounter with the fraudsters, he said, "I could not feed my family for about a week because I gave them all my savings, hoping that they would return with good news for us. I bought a bag of guinea corn before then and that is what we have been surviving on. Most days we eat once and there are days we don't eat at all."
Abdullahi Muhammed, 35, had, in fact, borrowed money to open the phantom account. As of the time HumAngle visited the camp, he had not completed the refund. He had left Tangaran after terrorists burnt his car, which he operated as a taxi driver, and his house during a deadly operation last year. He also had to cut trees in the bush to sell as firewood in order to feed two wives and seven children.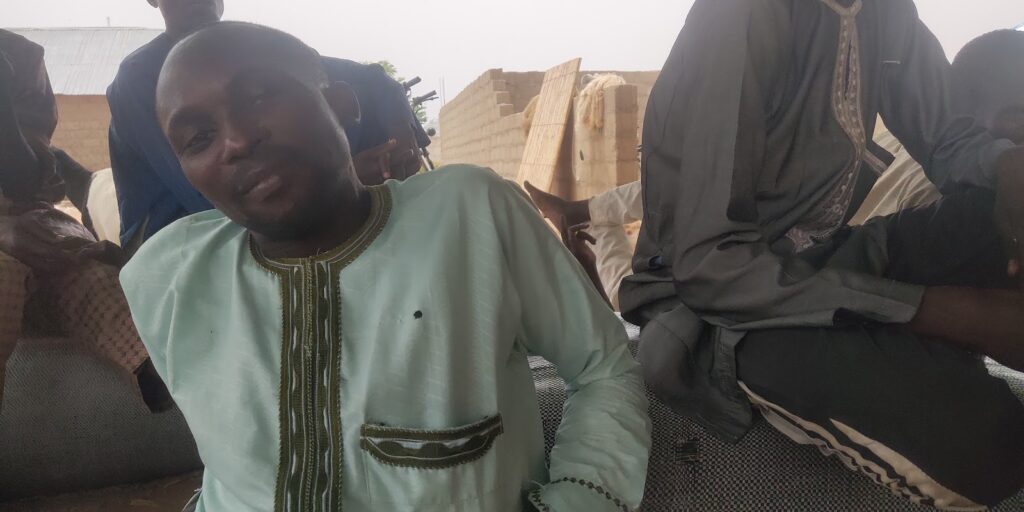 "I had to borrow money from a friend when those that duped us came. I am yet to pay back what I borrowed as I speak to you. There were days that I paid my friend ₦300 as part of the refund because he also needs money to take care of his family. This is the kind of life I have been living. We thought you were one of the thieves when you came and that's why we never wanted to speak with you.
"We are aware that journalists communicate our worries to the public but how do we differentiate the good people from those extorting us?"
HumAngle contacted the office of the National Commission for Refugees, Migrants and Internally Displaced Persons for comments on our findings but the telephone number on its website was not reachable. The office is, however, yet to respond to our email on the matter.
---
Support Our Journalism
There are millions of ordinary people affected by conflict in Africa whose stories are missing in the mainstream media. HumAngle is determined to tell those challenging and under-reported stories, hoping that the people impacted by these conflicts will find the safety and security they deserve.
To ensure that we continue to provide public service coverage, we have a small favour to ask you. We want you to be part of our journalistic endeavour by contributing a token to us.
Your donation will further promote a robust, free, and independent media.
Donate Here