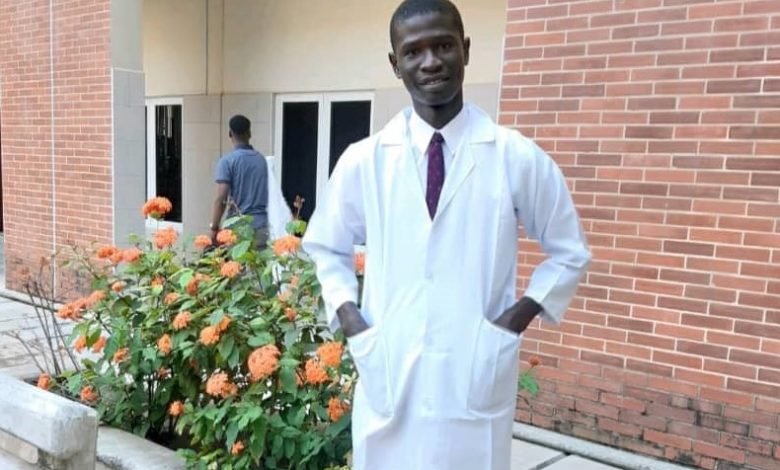 Nightmares and fear of the unknown were part of the issues that plagued teenagers who managed to escape Boko Haram insurgency in Nigeria's Northeast region and found solace at the International Christian Centre (ICC) Camp, Edo State, South-South region.
According to officials, over 4, 000 displaced children and teenagers have been assisted by the camp in Uhogua.
At least 50 of them are presently in tertiary institutions across Edo State on various scholarships and spoke with HumAngle.
While the displaced persons are proud of their educational achievements, they relive their insurgency experiences each time they hear news from home.
However, this does not deter them from making the efforts to move forward, especially with healing from trauma.
Many, like John Ayuba, had lost hope of ever seeing a classroom again or his mother who was captured by the insurgents.
He told HumAngle that all he saw when he slept, after being rescued by the camp, was blood and horrors from the attacks.
"So many times, Boko Haram attacked my village in Gwosa Local Government Area of Borno State.
"My house was burnt down and two of my younger siblings were burnt alive.
"My mother was captured by them and I don't know whether she is still alive. I witnessed multiple attacks.
"I stayed in more than four places and each of the places was attacked. I narrowly escaped being hit by a bullet," Ayuba painfully recounted.
When asked how he got to the IDPs camp, he said he found his way to Adamawa State and from there boarded a bus sent by the camp to pick displaced persons.
"When I got here, I still did not have a sense of safety and school was not on my mind.
"I was not sleeping well because of the trauma and everything. It was war because from 2014 to 2015, the trauma was still affecting me.
"The only thing I was seeing in my head was blood. It was like a battle from the beginning and after I calmed down, I picked up my education again.
"I passed the exams and I am now in 200 level (in) Business Administration at the University of Benin," he added.
Bazhilga Haruna is currently studying Medicine and Surgery at Edo University, Iyamho, but it feels surreal to him when he remembers the times he used to sleep in the mountains.
During the attacks, he and other survivors camped on mountains around Borno State where they stayed alert in case of more attacks.
"I lost family and friends; and for five years, I could not contact my mother who fled to Cameroon.
"I suffered a lot of trauma. However, I am so happy now that I am getting to have a degree and start a profession where I can give back to society," Haruna said.
More attacks, more loss of family connections
Most of the displaced persons who spoke with HumAngle had lost contact with their families.
While some were able to locate their families later, others do not have hope of reconnecting with relations.
The thought of possible locations where these family members could be are parts of the psychological pressures that weigh them down.
They told HumAngle that they had found new families in the camp or at school but still thought of their lost biological relatives from time to time.
Nathan Ibrahim is one of the lucky few who havw their families living with them in the camp, through the help of camp officials.
He said, "When Boko Haram invaded my community, all of us at that time, lost contact with our families.
"My family ran to Cameroon and I remained in Nigeria, roaming around trying to make a living on my own before I was discovered by the camp."
Ibrahim was 15 years old when the attack happened. He had lost his father years earlier and his mother was a smallholder farmer until the insurgency.
After he got to the IDPs camp in 2015, he sought the assistance of the officials and by sheer luck, was able to reunite with his siblings.
His brother and two sisters now reside in the camp at Uhogua, Edo State.
On the reunion he said, "I am so happy that my siblings are now here with me. I was really worried and wondered about their whereabouts and safety."
The 200 level student of law at Edo University, Iyamho, also expressed joy at being able to get university education.
"I feel very happy because before now, I did not have the hope of going to school. This is a new hope that I have found.
"I never imagined that I would go to university," he said.
Rifkatu Ali was about 17 years old when the attacks started in her community in Gwosa Local Government Area of Borno State.
The attacks forced her to move to the mountains and she was separated from her parents who ran in different directions.
She said, "They attacked us and we were just running up and down. After some weeks, they came back and burnt many houses, including our house. We could not even take out anything from it – clothes or anything.
"We did not know where to go and we got attacked over and over again till we could no longer stay.
"We had to move to the mountains and later to Adamawa State. They still attacked us there and during that period, the only thing I had left was the cloth on my body.
"I was separated from my parents as we all were running in different directions," she said.
Ali is presently studying the law at Edo University, Iyamho. She told HumAngle that she was grateful for the progress she had made since she got to the camp.
Attacks away Borno State
While some of the displaced persons are from Borno State, a few others hail from Adamawa State.
One of them, Blessing Moses, was a victim of the 2014 attack in Michika, Adamawa State.
Blessing and her family were asleep when they were woken up by gunshots at about 10p.m.
The insurgents were shooting sporadically, announcing their presence in the town.
She said, "They were shooting and our neighbours alerted us that the insurgents had entered our place. We entered the backyard and hid ourselves.
"My father and the neighbour climbed a tree to check the place. We moved and started looking for another place.
"We got a house that was abandoned by people who were pursued by other attackers.
"We were there and could not sleep because the sound of explosion was very obvious.
"The next morning, we returned to our house and we received a notice that they were coming back to slaughter people. We then ran to a mountain.
"In September, they returned and I ran to another local government area. Everybody in my family ran in different directions and the insurgents were still pursuing us."
In September, Boko Haram captured the key town of Michika. People fled into bushes as gunfire rang out in the town.
The terrorist group, at the time, had changed tactics by holding on to territory rather than launching hit-and-run attacks.
Michika is a trading centre in Adamawa State not far from the Cameroon border.
Following the attacks, Blessing ran to Yola but lost touch with her family as they all ran in different directions.
She said, "We started running to Yola. I got to Yola and was worried about the whereabouts of my mother.
"This was until I got a call one day and my family said they were trekking to Yola from our local government area.
"They had been trekking for three days with no food or water.
"We were staying in Yola and then we noticed that the insurgents were coming.
"My younger siblings ran to Jos and my aunty said we needed to run. We left the next day to Jos and it was a little calm."
Trauma and solution
For Blessing, hope came when a friend of her father's referenced the ICC Camp in Edo State and advised her to locate it.
She got there on April 15, 2015. The first thing that brought her peace was the absence of the sound of gunshots, she told HumAngle.
"I was finally able to sleep without hearing gunshots and from that moment, I started to feel safe," she said.
After finishing from the College of Education, Ekiadolor in 2017, she is currently studying Nursing Services at Edo University, Iyamho.
The other displaced persons interviewed echoed Blessing's feelings of safety, adding that they felt the same way when they got to the camp.
Ayuba said, "When I got here, the first thing that was affecting me was the trauma but they took us like their own biological children.
"During the insurgency, it was hard to find food to eat but when we got here, we got food and good treatment.
"We also got a lot of encouragement. There was no more gunshot sound."
Speaking on the work that has gone into helping the IDPs, the camp administrator, Pastor Solomon Folorunsho, said it was a combination of several factors.
"It was the combination of several factors and we had been dealing with vulnerable children before they came.
"However, nothing prepared us for persons who have gone through war situations, bloodshed and their case was different.
"The first thing we decided was to show them love, play with them and all kinds of activities to make them feel at home and let them know they still had their future ahead of them.
"The second part is that at the University of Benin, there are different departments that help people suffering from trauma and all that.
"They were always coming from the university and the teaching hospital. The doctors, psychologists and trauma specialists," he said.
Folorunsho added a mobile hospital in the camp for three months with experts handling different issues.
He said, "These were backed up with prayers and great work. Another one was the different visitors that would come from different places and people from the bank.
"Professors and vice-chancellors that will make speeches and inspire them and give them hope, telling them that they still had great futures and they could be somebody.
"These things together helped them. It was not just one thing.
"We just created the environment and the platform but different people played great roles."
Speaking on their educational achievements, Folorunsho told HumAngle that when the IDPs first got to the camp, it was difficult to communicate with them.
"We had to use translators sometimes but I noticed that they were determined to do better.
"Even when the resources like textbooks were not sufficient, they wanted to learn.
"They did not do well in school at the beginning and they found it hard to cope. They are doing well in school today," he added.
---
Support Our Journalism
There are millions of ordinary people affected by conflict in Africa whose stories are missing in the mainstream media. HumAngle is determined to tell those challenging and under-reported stories, hoping that the people impacted by these conflicts will find the safety and security they deserve.
To ensure that we continue to provide public service coverage, we have a small favour to ask you. We want you to be part of our journalistic endeavour by contributing a token to us.
Your donation will further promote a robust, free, and independent media.
Donate Here