Environment
Features
Disappearing Trees: A Glimpse Into Adamawa's Deforestation Problem
The vegetation cover in parts of Adamawa is disappearing due to high energy prices and demand for timber and space.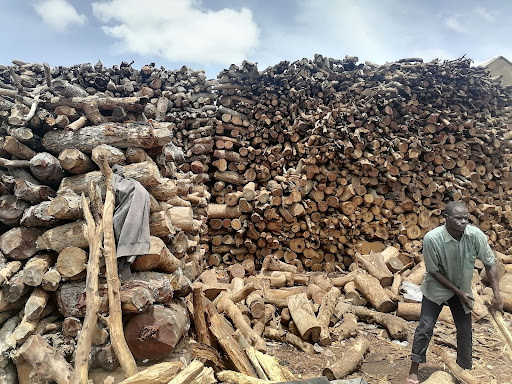 The indiscriminate cutting down of trees in Nigeria's northeastern state of Adamawa contributes to a pyramid of environmental and economic challenges, including flood and loss of livelihood. The leader of the farmers' associations, Malam Umar Suleiman, describes it as a significant problem for farmers because it leads to erosion, "which is severely affecting our farming activities."
Energy needs, poverty, housing demand, and appetite for timber have encouraged uncontrolled deforestation across Adamawa. The government has also been complacent in the loss of vegetation due to poor conservation regulations and adverse effects of infrastructure construction.
Similar factors are contributing to the trend in other parts of the country. For example, between 1990 and 2005 alone, Nigeria was reported to have lost 21 per cent of its forest area.
"Apart from the direct impacts, unrestrained removal of trees without adequate reforestation also diminishes climate change mitigation. It has a duo effect of reducing carbon dioxide absorption and increasing emissions," says HumAngle's Head of Climate Security desk, Murtala Abdullahi.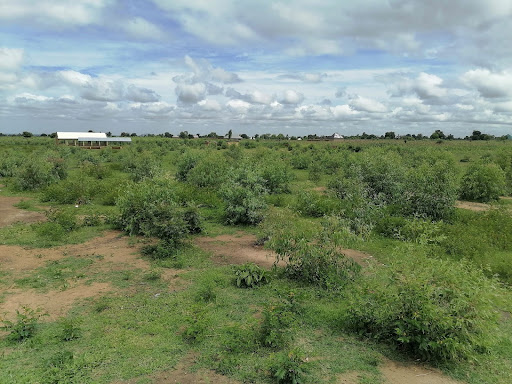 In Michika, parts of the Bazza forest were destroyed by the Local Government Authority to pave the way for the construction of a housing estate. According to Joseph Daniel, a forest staff in the department of agricultural resources, Michika, in 2009, the local authorities took half of the about 100 hectares of forest area to build a five-housing unit, which remains uncompleted.
Joseph further revealed that after a few years, the remaining portion of the forest was cleared to build a market that he says will not generate revenue nor be helpful to Michika Local Government as a forest. "That is how we lost the Bazza forest plantation."
"When these trees were not cleared, it served as a windbreak to our community, but with the absence of these trees now, our houses are in danger of the wind storm that usually occurs between March and April every year," said a resident of the Bazza community, Godwin Clement.
In 2017, another forest area, Jiddle, which occupied about 50 hectares of land, was put up for sale with the aim of development. Fortunately, the initial landowners took the Local Government to court, stating that they gave the land for afforestation.
A resident of the Jiddle community, Sini Zira, blames the loss of the forest for the destruction of houses caused by a heavy wind storm around April this year.
"As the Government authorities have taken a very wrong step and decision to clear and plot the forest land for sale, the land owners have now won the court case," Joseph said. "That is how we also lost the Jiddle forest plantation."
He wants the government to take measures to protect forest plantations in Kwabapale, Moda, and Mbororo, Lamenting that "a lot of encroachment and illegal logging is happening around those forests."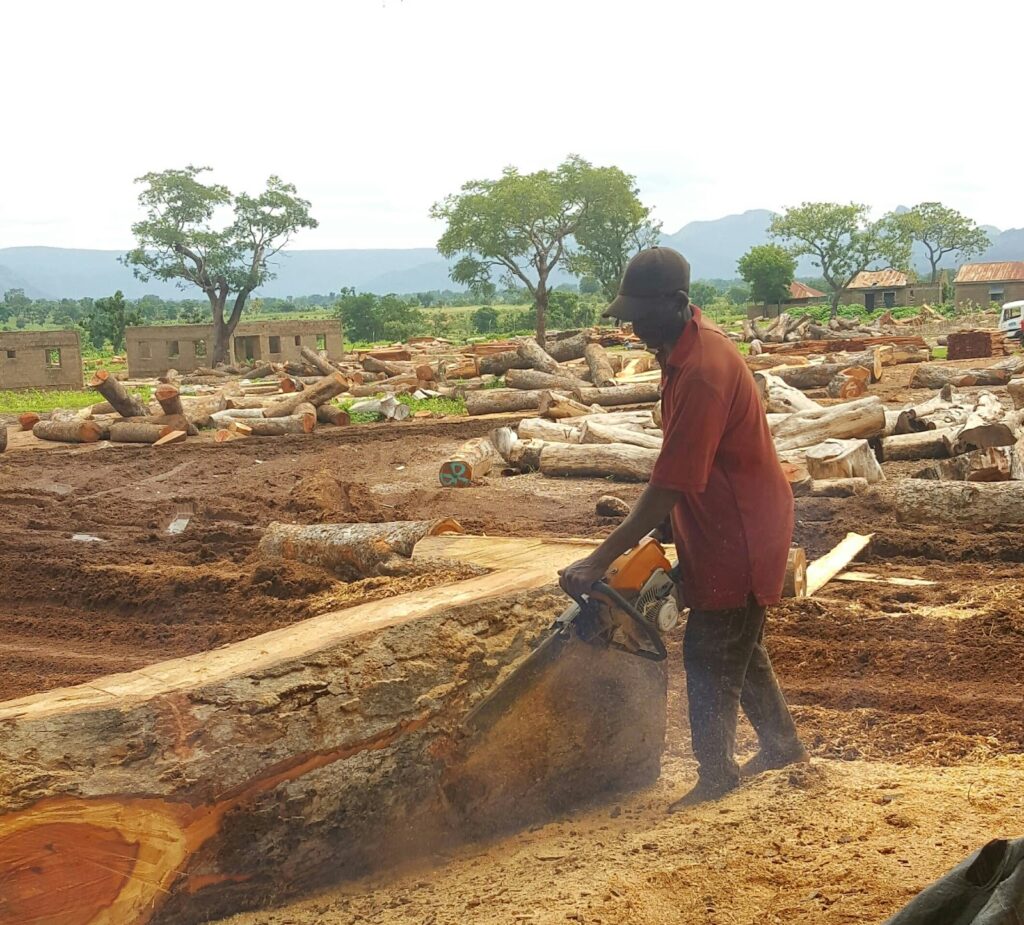 While traders and users of firewood count gains, others count losses
"I have been in this business for over 15 years now, and that is one of the reasons I was chosen to be a chief of the firewood businessmen," says Ezekiel Nihanta, the leader of the firewood sellers in Mubi north Local Government Area of Adamawa.
According to him, population growth has led to increased use of wood as cooking fuel. He adds that with the rise in the cost of kerosene and cooking gas, almost 90 per cent of Mubi north and south residents depend on firewood and charcoal to meet their daily cooking needs.
Nigeria is struggling with inflation and high energy costs, with rural and low-income communities bearing a significant brunt of the crisis. An August report showed that data from the National Bureau of Statistics revealed that between January and July this year, the price of a litre of kerosene increased from ₦437 (around $1) in January to ₦790 (almost $2) in July.
According to a firewood seller in Mubi South Local Government, Mohammed Buba, the high demand for the commodity has put pressure on sellers. He reveals that the loggers now have to travel far into the bushes to cut down firewood due to its growing shortage.
Mal. Mohammed Maude, a transporter and firewood seller, tells HumAngle that the "firewood business is quite booming in the area of Sangasumi, Ganye Local Government". He says about 98 per cent of the households in the area depend on firewood for cooking and other uses, and because of this demand, the business yields good returns.
Depending on the nature or quality of the firewood, a fully loaded pickup van in Mubi South local government goes for as high as ₦35,000 ($81) during the rainy season and ₦25,000 ($58) in the dry season, when it's easier to fetch the commodity.
50-year-old Asta Audi Hamman depends on firewood to process and sell groundnut oil. "Firewood has been an essential constituent of the groundnut processing because that is what I use as a source of fuel for frying.
"As a housewife, I also use the firewood for cooking food and other domestic purposes," she says. Asta complains that the lack of industrial electric facilities to carry out her production has compelled her to use firewood despite knowing the impact of deforestation.
She narrates, "For example, in our community, cutting down trees provokes Jinn, which in turn disturbs the peace of the community."
Not everyone is aware of the potential negative impact of using firewood.
A local rice businesswoman, 35-year-old Malama Asmau, says, "I have used firewood since childhood, and it is what I have been using as a source of fuel for my rice milling processes. I buy the firewood from roadside sellers and have no idea whatsoever on the effects of cutting down trees."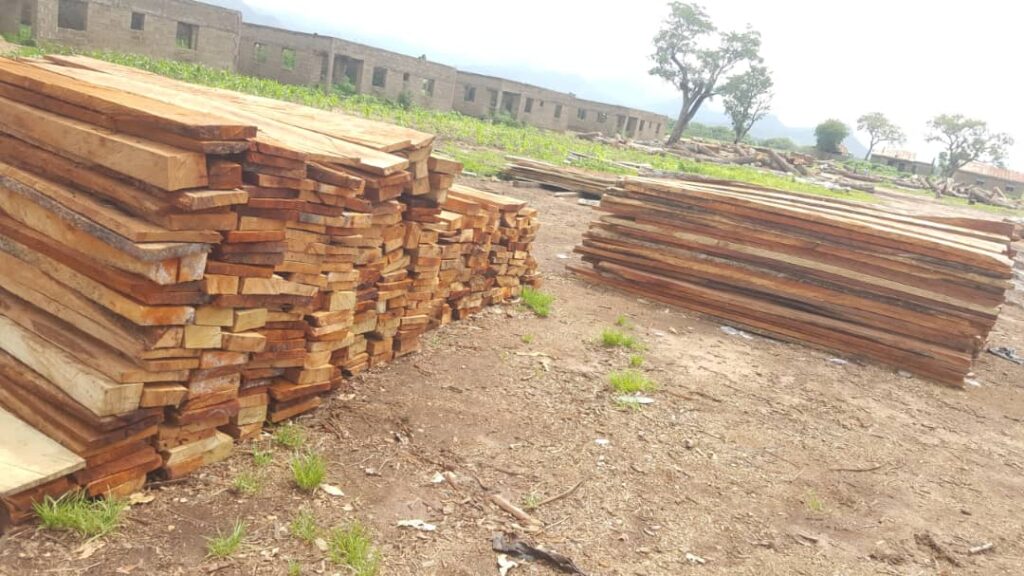 Domestic users make up a segment of the market; however, the merchants' biggest customers include bakery operators and sellers of suya (roasted beef) makers, who also depend on firewood.
"We sell the larger woods that are very hard and slow to burn to the bakery and suya proprietors because almost all of them depend on local use of wood to bake or roast," said Mohammed.
Foreigners, mainly Chinese nationals looking for valuable species of trees, have also contributed to deforestation in Adamawa. African Rosewood, also known as Madrid, is one of the casualties of the rush for exotic trees used in making luxurious furniture.
"I make a minimum income of ₦20,000 ($46) daily, which I use to support myself and my family. Although the job is lucrative, there are negative impacts of logging activities in the land," says Alex Ayuba, a log debarker at the Toungo depot where rosewood is also sold.
Malam Umar, the leader of the farmers association, recalls that some years ago, his community, Ganye Local Government, enjoyed the fruits around them until the logging activities destroyed the natural benefits of the trees.
"There are trees that produce some fruits that people eat, but nowadays even those trees are being cut down, even mango trees are being cut down, including the likes of Madrid, which is in high demand," he lamented.
A sectional head in Agricultural and Natural Resources at Toungo Local Government, Ruben Nathan, is also concerned about the impact of deforestation on rainfall. "The forest helped the community to have 4 to 5 rainfall periods, which helps the people to have more harvest every year. But due to deforestation, it has fallen to 3 to 4 periods which is not even persistent."
Addressing the problem
A lot of conservation efforts from the government and civil society would be required to slow down deforestation and its associated impact on the local environment and communities, says Murtala Abdullahi.
"These measures would range from increasing awareness on the importance of forest conservation alongside logging regulations and supporting the population to access alternative cooking fuel."
The president of timber contractors and Madrid producers in Adamawa, Alh. Sani Yahya says the association is playing a role in forestry protection and reforestation.
"Our association has recently launched a special campaign where we planted several trees in the Mubi Local Government Area," said Sani.
He adds that several trees were planted in the local government areas in the state in collaboration with the ministry of environment.
---
This report was produced under the HumAngle Accountability Fellowship, with the support of the MacArthur Foundation.
---
Support Our Journalism
There are millions of ordinary people affected by conflict in Africa whose stories are missing in the mainstream media. HumAngle is determined to tell those challenging and under-reported stories, hoping that the people impacted by these conflicts will find the safety and security they deserve.
To ensure that we continue to provide public service coverage, we have a small favour to ask you. We want you to be part of our journalistic endeavour by contributing a token to us.
Your donation will further promote a robust, free, and independent media.
Donate Here