Emergencies
Features
News
Despite Months Of 'Preparation', Nigeria's Tertiary Institutions Fail To Uphold Covid-19 Protocols (Part 2)
Nigerian tertiary institutions are making a mockery of COVID-19 protocols despite claims that efforts were made to comply with them.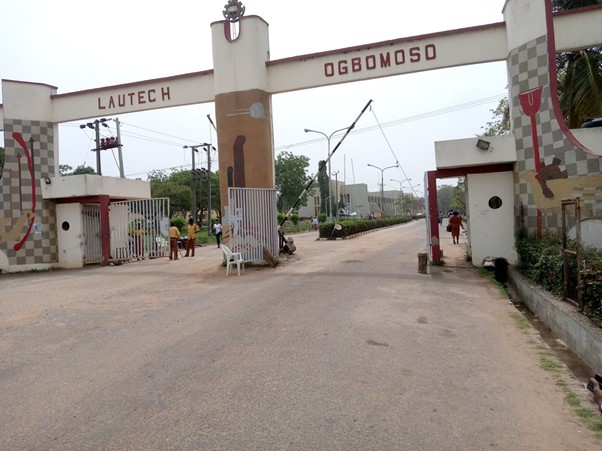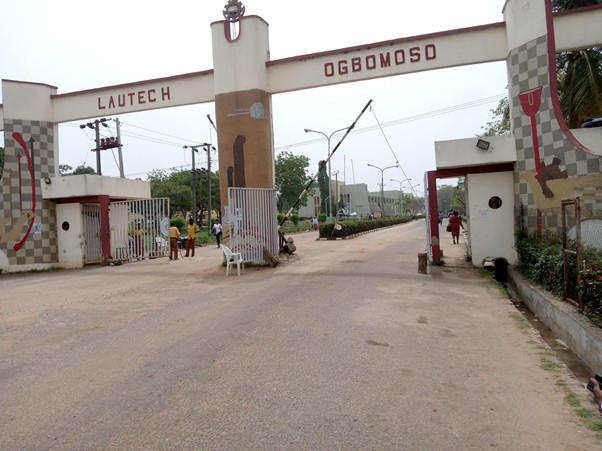 "Why are you not wearing your mask properly?" this reporter asked a female student at Abraham Adesanya Polytechnic (AAPOLY), Ijebu-Igbo, Ogun State, Southwest Nigeria, who had a facemask bunch down to her chin.
"They [the security officials] only want to be sure we have it, how you wear it is no one's business," she retorted.
The facilities at the entrance of the main campus of this polytechnic gave the impression that it was serious with compliance but revelations within the campus proved otherwise.
Once inside, one soon discovered that the nose mask was only a gate pass to enter the campus. Once students pass the security officers, they push the mask down to the chin or yank them off to keep in their pockets or bags.
While the NCDC continues to record new cases daily, this reporter visited five tertiary institutions in Ogun and Oyo states, Southwest Nigeria, to find out how much of the protocols have been put in place as instructed by the centre.
After a tour of these institutions, this reporter observed that the protocols were mere charades – there were no enforcements or efforts to enforce them. Managements set up hand-washing facilities without providing running water; billboards were erected to instruct students to wear nose masks, but the masks are in the students' bags/pockets and not on their noses; classes are overcrowded, and temperature checks are not available.
At AAPOLY, the management provided handwashing facilities in all the three faculties in the polytechnic but it was impossible for the students to observe physical distancing as the classes were overcrowded. This reporter entered some of the classes disguised as a student.
At the main entrance of the polytechnic, there were two plastic basins provided for hand washing, both, complemented with hand sanitisers. Water was running but many students did not bother washing their hands. Two students joined this reporter in using the facilities while others breezed in, perhaps late for lectures.
While handwashing facilities and sanitisers were made available at the main campus, the annex which is located about five kilometres from the main campus had no measures in place at all, although nose masks and school identity cards were entry passes.
At the annex campus where students of Mass Communication receive lectures, this reporter observed total disregard for safety protocols by both students and the management.
The classes were more crowded than was observed at the main campus and hand washing facilities were not available. A message sent to the contact email address of the polytechnic for reaction to our findings was not responded to.
The Polytechnic, Ibadan (TPI), Oyo State
The situation at TPI was no different from others when this reporter visited on April 6, 2021. There was no handwashing facility at the entrance, no temperature checks, and the use of a nose mask was not a requirement for entry.
In about five classrooms where the students were waiting for their lecturers, there were large crowds and a few students had masks on their chins.
"You want me to cover my nose in this hot room?" One of them retorted when asked why her mask was on her chin.
Against the guideline of the NCDC, many students moved around in groups without their nose masks. It was observed that handwashing facilities were provided at the male and female hostels but there was no water in them.
The hostel potters at the female hostel said the water had finished before the reporter's arrival; this was confirmed by a female student who said the facilities supplied water the day before. However, it was gathered that the water facilities at the male hostels had not been completed.
Covid-19 Task Forces, Committees fail to monitor compliance
The federal ministry of education had instructed managements of schools to create committees that would monitor compliance with safety guidelines among students, but there was no form of monitoring in all the schools visited
For instance, at The Polytechnic, Ibadan, the management reportedly announced the creation of a task force, but sources among students and staff say the task force never operated.
Ibraheem Adekunle, the Chairman of the Non-academic Staff Union in the Polytechnic, said the management could not fulfill the financial requests of the task force.
"If you go around, you will see that students are not putting on the nose mask, because the taskforce that was set up, when they submitted their proposal to the management, the management didn't call them because they know that they cannot fulfill all that was listed in the proposal. The task force did not work at all," Adekunle said.
Similarly, at MoshoodAbiola Polytechnic, Mr Yemi Ajibola, the Public Relations Officer disclosed that a task force was created to monitor compliance to safety guidelines in the polytechnic campus, but students who spoke with this reporter say they were not aware of the existence of such a task force.
Although some of the students acknowledged that the Rector and some officers used to stand at the gate to turn back students without nose masks, they noted that it was only for the first two or three weeks of resumption.
However, Dr WasiuTejuoso, a lecturer in the Polytechnic said members of the task force may be saddled with other responsibilities, hence their ineffectiveness in monitoring compliance to safety guidelines.
"If there should be stricter compliance, there is a need for a task force, but who are those that will constitute the task force? Lecturers that will be lecturing and invigilating exams? Or the security men that are concerned with the safety of lives and properties in the polytechnic? So, it becomes difficult."
He said the school had tried its best in putting some measures in place but argued that compliance would only be achieved through individual resolve.
Ladoke Akintola University of Technology (LAUTECH)
Meanwhile, students of LAUTECH were having their semester examination when this reporter visited the institution on March 31.
It was observed that the use of nose masks was a compulsory requirement to enter the university campus. Multiple taps with running water were available at the entrance of the main campus, but they were not available at the College of Health Science which is located less than two kilometres from the main campus.
Temperature checks were also not conducted.
Ige Oladiran, who is the Chairman of the institution's COVID-19 committee disclosed that upon resumption, each student, including staff, was provided with at least a customised nose mask. This was confirmed by some students. However, none of the students seen had the mask on.
While HumAngle could not sight a single water basin at class entrances, Oladiran insisted that they were provided. A student said the enforcement of safety protocols was relaxed when the examination started.
Abiodun Olaniran, the University's ASUU chairman refused to comment on the subject.
Students show apathy, say wearing nose masks is not convenient
While authorities in various tertiary institutions may have done very little in ensuring that safety protocols are in place, students are also culpable for refusing to follow instructions on the existing protocols in their schools and by showing apathy to safety guidelines that have been propagated by the government.
It is surprising that even in tertiary institutions some students think that CoVID-19  – despite available scientific evidence and effects on global economies – is a hoax.
One of them is a student leader at The Polytechnic Ibadan who preferred anonymity. He argued that the virus did not infect as many people as claimed by the NCDC. He went on to describe the daily announcement of cases by the NCDC as "fake live scores."
"See, we, student leaders in Oyo state, travelled a lot during the lockdown but we did not contact it. If this virus is as contagious as they want us to believe, everybody in Oyo state would have contacted it. You know Oyo did not lockdown when other states announced lockdown," he said justifying his refusal to wear a nose mask.
Also, Yusuf Adekola, an executive at the Students Union of the Polytechnic Ibadan (TPI) said, "some category of students cannot be forced to wear the nose mask, no matter how much the management tries."
"We are about 180 in my class. There cannot be social distancing and it can never be conducive to wear nose masks in such class. The lecturer can only mandate it (the use of nose masks) if the class is conducive."
At the Federal University of Agriculture, Abeokuta, this reporter saw students gathered together in different areas on campus without regard for physical distance.
"We are collecting course forms and some other files for our exam," one of the students said. When asked why he was not wearing the nose mask, he dismissed the question saying he was more concerned about the first semester examination that was underway.
Mr Yemi Ajibade, the PRO of Moshood Abiola Polytechnic berated the attitude of students towards the disease.
He said the government embarked on public enlightenment before reopening schools, but many students chose not to comply with safety guidelines.
"One, many people did not believe that we have Covid-19 or Covid-19 exist, some people believe that it does not exist in Nigeria because of the climate," he noted.
"The problem is how many of these youths follow the news. What they are after is Whatsapp, Twitter where they won't get the needed information. Of course, information is on social media too but there is selective perception. How many of our youths share information about Covid? So, there is apathy from the youths and from the people generally."
"They will use it [face mask] at the gate because if you don't have it you can't come in. By the time they come inside, they pull it off and that is the problem. We had done enough enlightenment before resumption. But it is stubbornness that makes people behave the way they behave and it is the same thing you have in the market; it is the same thing in some institutions and establishments. Compliance to the prevention of Covid-19 is not a thing that is peculiar to an institution."
According to the World Health Organisation (WHO), the use of nose masks is one of the key measures in combating the virus. WHO stated in a detailed explanation on the use of nose masks, that masks should be worn in any crowded place where it may be impossible to maintain at least one meter distance from others.
"Masks should be used as part of a comprehensive 'Do it all!' approach including physical distancing, avoiding crowded, closed and close-contact settings, good ventilation, cleaning hands, covering sneezes and coughs, and more. For indoor public settings such as busy shopping centres, religious buildings, restaurants, schools and public transport, you should wear a mask if you cannot maintain physical distance from others," WHO explains.
---
NB: The students whose full names were mentioned consented to it; others preferred their first names or anonymity for fear of victimization by school authorities.
---
"This report is part of a series facilitated by the Wole Soyinka Centre for Investigative Journalism (WSCIJ) under its Free to Share project."
---
Support Our Journalism
There are millions of ordinary people affected by conflict in Africa whose stories are missing in the mainstream media. HumAngle is determined to tell those challenging and under-reported stories, hoping that the people impacted by these conflicts will find the safety and security they deserve.
To ensure that we continue to provide public service coverage, we have a small favour to ask you. We want you to be part of our journalistic endeavour by contributing a token to us.
Your donation will further promote a robust, free, and independent media.
Donate Here