Emergencies
Features
News
Despite Months Of 'Preparation,' Nigeria's Tertiary Institutions Fail To Uphold COVID-19 Protocols (Part 1)
Nigerian tertiary institutions are making a mockery of COVID-19 protocols despite claims that efforts were made to comply with them. In this first part, the reporter documents the situation in two institutions.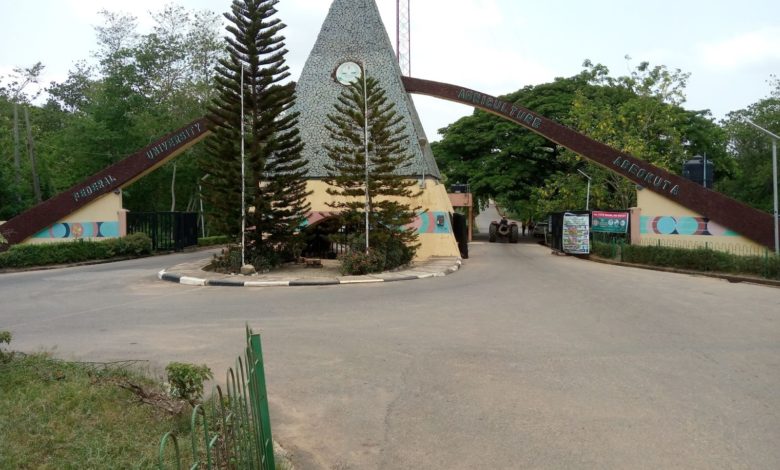 When Sanusi Adekunle, a Mass Communication student at Moshood Abiola Polytechnic, Abeokuta in Ogun state, Southwest Nigeria, was asked why he was without a facemask on the campus, his excuses pointed to poor or absence of compliance to COVID-19 protocols within the campus. 
Adekunle's response was an indictment of the authorities that ought to enforce the protocols. "The security that wants to harass you for not wearing a nose mask too is not wearing one," he said.
"He who comes to equity must come with clean hands. The Rector, Heads of Departments (HODs), and lecturers should lead by example. They should stop at the gate to wash their hands. The moment students see them doing that, they too would follow; there would not be excuses," he noted.  
When queried about the exhibition of apathy towards the use of nose masks by students, he blamed it on lack of enforcement, inadequate sensitisation and "hypocritical protocols" put up by his school authority.
Meanwhile, an investigation by HumAngle has revealed that while school authorities have failed to put safety measures in place to prevent the spread of COVID-19, defiant students also throw caution to the winds by refusing to wear nose masks or wash their hands where hand washing facilities are made available.
The beginning 
When COVID-19 was declared a pandemic by the World Health Organisation (WHO) on March 11, 2020, the world started to wear a semblance of inertia, as various socio-economic sectors began to shut down. Businesses were suspended, tourists were asked to forbid jaunting, aviation was grounded, and schools were closed.
Nigeria's ministry of education, on March 19, 2020, announced that all schools be closed till further notice. At that time, the country had only recorded 12 cases of the virus. The decision was a precautionary move aimed at curtailing further spread.
Before that, the Academic Staff Union of Universities (ASUU) had gone on strike in Feb. 2020 and the industrial action was observed simultaneously with the COVID-19-occasioned lockdown. The union suspended the strike on Dec. 24, 2020 and tertiary institutions were eventually reopened in Jan. 2021.
By Dec. 2020, the country had plunged into a second wave of the pandemic. Yet, the Federal Government directed all tertiary institutions in the country to re-open on Jan. 18, 2021. This directive was greeted with rejection from academic unions.
ASUU asked the government to review the decision, arguing that it was unsafe to reopen that period. At the time, Nigeria had recorded over 99,000 cases and over 1,000 deaths.
"Our concern is rooted in the safety of our members. What happens to congested hostels, crowded classrooms? What flexible arrangements are in place? It is a situation of emergency. I'm not sure the universities can cope," Biodun Ogunyemi, the National President of ASUU, had said in a statement.
This argument was corroborated by the Academic Staff Union of Polytechnics (ASUP) that also argued that the government had not demonstrated full preparedness for the safe reopening of higher institutions of learning.
After the back and forth on if it was safe for schools to reopen, the government gave assurance that there would be modifications in learning approach and full compliance to safety guidelines as recommended by the Nigeria Centre for Disease Control (NCDC).
According to the NCDC, schools were expected to comply with the following guidelines: "Ensure that a triage point is identified and well-marked at the entrance where everyone gaining access to the school is screened for high temperature, requested to wear masks and perform hand hygiene."
"Ensure that classrooms are well ventilated with a minimum of one metre sitting arrangement. Ensure that all staff, visitors and students above 6 years wear face masks at all times. All schools must ensure that there is sufficient access to running water, soap and handwashing facilities."
Federal University of Agriculture, Abeokuta (FUNAAB)
While the NCDC continues to record new cases daily, this reporter visited five tertiary institutions in Ogun and Oyo states, Southwest Nigeria, to find out how much of the protocols have been put in place as instructed by the centre.
After a tour of these institutions, this reporter observed that the protocols were mere charades – there were no enforcements or efforts to enforce them. Managements set up hand-washing facilities without providing running water; billboards were erected to instruct students to wear nose masks, but the masks are in the students' bags/pockets and not on their noses; classes are overcrowded, and temperature checks are not available.
In the Federal University of Agriculture, Abeokuta (FUNAAB), this reporter took off his nose mask and strolled through the gate but he was not stopped by the security officials. There was no hand-washing facility at the entrance, so he could not wash his hands, he was not summoned for temperature check even though he saluted the security officials to be sure they saw him.
"That poster is just there for fashion. Though, they make the use of nose masks compulsory sometimes," said Michael, an undergraduate student of the university. 
During the deliberation phase preceding reopening of schools, Prof. Felix Salako the Vice Chancellor (VC) of the university, and the immediate past Chairman of ASUU in the school, Dr Adebayo Oni, expressed dissenting views in the media on the preparedness of the university for safe reopening. Dr Oni had cried out that the university had no safety measures in place.
"The lecture halls are overcrowded.  As of today, in my own campus, I have not seen any facility for hand washing. Who is to provide sanitisers? Do you expect lecturers to provide sanitisers for themselves?" Oni said in an interview with The PUNCH.
He expressed fear over the surge in cases of the COVID-19 and argued that conducting physical lectures with students "would be more disastrous." 
However, the VC described Oni's assertion as "misinformation" and an act of "personalised unionism." He argued that all facilities necessary for safe reopening had been provided.
Salako said the university had procured buckets for hand washing, soap, and sanitisers.
He added that the university would commence academic activities through what he described as "hybrid teaching" – a mix of physical and virtual learning.
"The university is ready to receive students both online and physically and we are going to ensure that all the students adhere to COVID-19 protocols," he declared in a press conference ahead of the school's resumption in January.
Meanwhile, this reporter, after going round the university, confirmed that the VC's assurance of full preparedness has been poorly implemented and in some cases, not at all.  
At the university health centre, there was no running for the lavatory basin installed at the entrance although there was a small poster that said, "Wash your hands before entry." 
Unlike other schools where he was denied entry into the health centres because he could not identify himself as a student, this reporter entered FUNAAB health centre unchecked and sat at the reception hall for about five minutes.
Patients were seen seated and even conversing with nurses without wearing nose masks. Though a few were wearing the facemasks, they either drew it down their chin or down their nose. No enforcement on correct wearing of masks or not wearing at all.
Even though, the VC had emphasised that the school had procured enough basins to be distributed to all faculties and departments, this reporter walked through and entered six of the 10 faculties in the school, only two – Colleges of Veterinary Medicine and Environmental Resources Management – had basins filled with water. 
Students say provision of water for hand washing was not regular, but confirm that most lecturers were strict in ensuring that physical distancing was observed in classrooms.
"They fumigated the university campus a number of times, but the use of nose masks is not really enforced," continued Michael.
When contacted, Kola Adepoju, the Public Relations Officer of the university requested that questions be sent to him through Whatsapp. In his response, he described our findings as "baseless, unfounded, and mischievous."
He added that it was unethical for our reporter to "sneak into the university" for his investigation.
"Is it not a  fallacy to misinform that a university that has a Centre [of] Biotechnology which produced face masks and hand sanitizers in hundreds and freely distributed to the four geographical locations of Ogun State including the State Council of Nigeria Union of Journalists(NUJ) [is not COVID-19 compliant?]" Adepoju said.
However, multiple students, especially those in their final year of study, who were required to attend physical classes, all denied receiving free nose masks from the school management.
Even though this reporter noticed at four of the six faculties/colleges visited did not have water basins, Adepoju insisted that "virtually all Colleges, Department, Institutes, Centres, Directorates and Units have soaps, hand sanitisers and water."
"Is it not a figment of imagination to state that FUNAAB is not COVID-19 compliant when only about three months ago, a battery of journalists went on tour of measures put in place by our university management to beef up COVID-19 protocols and were positively amazed by what they saw on ground," Adepoju said, referring to an arranged media stunt organised to rebut the criticism of the former ASUU chairman.
Moshood Abiola Polytechnic, Abeokuta (MAPOLY)
The situation was not different in MAPOLY when this reporter visited. The school resumed full academic activities on Jan. 18, 2021. Prior to the date of resumption, the management had released a statement demonstrating its preparedness for full resumption.
According to the release which was obtained from the institution's official twitter page, the management assured that there would be "absolute compliance to all COVID-19 protocols."
It was emphasized that the activities in the second semester of the 2019/2020 session would be characterised by "regular hand washing, compulsory wearing of nose masks, use of hand sanitiser, and maintaining physical/social distancing." The campus was adorned with posters and billboards bearing safety guidelines on COVID-19, but there was little or zero enforcement of the guidelines in reality. 
There is a solar-powered hand washing facility at the entrance of the polytechnic but it was dry and showed evidence of neglect. It looked dirty, and unused, apparently needing some washing itself. Students said the facility was only functional in the first two or three weeks of resumption after which it became redundant.
At the School of Information and Communication Technology, which comprises the departments of Mass Communication and Office Technology Management, there was a billboard instructing students on how to stay safe on campus.
In total disregard to the instructions on the billboard, only few students were seen wearing their nose masks, and there was no sign of physical distancing. A crowd was seen at the administrative building of the faculty. They had gathered there to get paper passes for the second semester examination which was to commence the following week.
"I will blame the management and the government for lack of protocols, because they admit too many students," said a student leader in the faculty who did not want his name mentioned.
"They admitted over 2,000 students for National Diploma into Mass communication. There is no lecture hall that can accommodate that number of students, and the government cannot say they are not aware; they should have reports of what is happening in the schools in the state." 
 While multiple students in various departments claimed that there was no observance of physical distance in classes due to the large population of students in the school, Yemi Ajibola, the Public Relations Officer of the polytechnic, said the polytechnic tried its best to ensure that physical distancing was observed both before and during examination.
He said the Polytechnic Rector has had course to send an invigilator out of a hall for not wearing a nose mask.
"The school held on to the arrangement of shifting lectures. National Diploma students were to come in the morning, while Higher National Diploma came in the afternoon," Ajibola said. 
"We held on to that until we completed the last session. Even during examinations, you won't be allowed to write an exam without a nose mask; and we ensured they observed physical distancing."
NB: The students whose full names were mentioned consented to it; others preferred their first names or anonymity for fear of victimization by school authorities.
"This report is part of a series facilitated by the Wole Soyinka Centre for Investigative Journalism (WSCIJ) under its Free to Share project."
---
Support Our Journalism
There are millions of ordinary people affected by conflict in Africa whose stories are missing in the mainstream media. HumAngle is determined to tell those challenging and under-reported stories, hoping that the people impacted by these conflicts will find the safety and security they deserve.
To ensure that we continue to provide public service coverage, we have a small favour to ask you. We want you to be part of our journalistic endeavour by contributing a token to us.
Your donation will further promote a robust, free, and independent media.
Donate Here