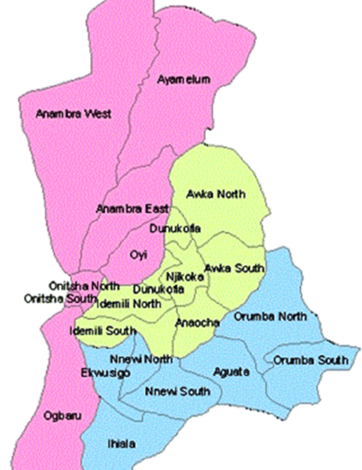 The end of the year in Anambra State, Southeast Nigeria, like others in Igboland, climaxes with numerous social activities, including marriages, title taking, community meetings and burials.
The activities are reasons for mass homecoming but the high incidence of cult activities in the state, known for the entrepreneurial spirit of its over 4.87 million population, is threatening the fun.
In recent times, the state which prides itself as one of the safest in the country, has witnessed a lot of crimes, especially cult-related activities, such as rape, robbery, kidnapping and murder.
In the outgoing year, a number of youths have been killed or maimed in acts of cultism such that  the state government, parents and the police are worried about the menace.
Although there is no official data on crimes or death associated with cultism in the state,  HumAngle learnt that most small crimes such as bag snatching, phone snatching, rape, drug abuse and,"one-chance" (highway) robberies are linked to cult gangs.
In July, Mr John Abang, the Commissioner of Police in Anambra State, held an emergency meeting of the police operational hierarchy where he charged them to work hard to stem the rising menace of cultism in communities.
The meeting was attended by Area Commanders, Divisional Police Officers and Tactical Commanders. And on the occasion, the commissioner directed immediate and aggressive action against the perpetrators and their sponsors to deal with the problem.
Before the meeting, the Police Command had apprehended suspected culprits through the Special Anti-Cultism Squad (SPACS).
Police records showed that SPACS arrested 147 suspected cultists from various parts of the state in May.
The Police Public Relations Officer in the state, SP Haruna Mohammed, said the arrests were made in Awka, Ogidi, Oko, Ihiala, Nkpor, Igbariam, Amawbia, Oraifite, Oba, Abagana and Nanka.
He said among those arrested were a notorious cult member responsible for initiating young persons into a secret cult at tender ages.
Also in July, the  police in the state placed 28 youths below the legal age of 18 under supervision. The youth were among 103 suspects arrested within 10 days for alleged involvement in cult activities.
Mohammed said  "from all the raids carried out, a total of 103 suspects were arrested; 30 suspects were screened out and released unconditionally, 20 suspects were charged to court."
He added:  "28 (suspects) were placed under police supervision for being underage, while 25 suspects are undergoing investigation and exhibits recovered were four pump action guns, one double barrel gun, 20 expended cartridges, 10 live cartridges, 11 machetes, four improvised bunkers for inhaling substances suspected to be cocaine.
"Others were two chickens, one slaughtered goat for sacrifice and 95 wraps of weeds suspected to be cannabis sativa."
The police also recorded a number of cult related killings in Awka, the state capital, especially in the aftermath of the EndSARS protests such that residents, including youths became afraid and cry out to the government and security agencies for help.
One of the killings was that of  43-year-old Azubuike Ekwegbalu, the Senior Special Assistant to Governor Willie Obiano on Security, in his residence in Awka in a suspected cult attack on August 9.
Ekwegbalu who hailed from Oyi Local Government Area of the state, was an intelligence officer leading the campaign of the state government against cultism.
Toochukwu Okoye, a resident of Awka, told HumAngle that no fewer than 12 deaths were recorded in the town between the EndSARS protest period and the end of November.
Okoye said such deaths were recorded around Unizik Junction, Udoka Estate gate, Umukwa Village, Amaenyi Village and other areas within the town.
He said there was already growing fear among Awka people both at home and in the diaspora who usually returned home during the yuletide.
Okoye said the security situation at home was so worrisome that the people felt their safety at home might not be guaranteed.
The youth of Ezi Awka, a village in the capital, wrote an open letter to the governor for him to intervene as victims of cult killings were no longer cultists only but innocent youths.
"In the recent past, few misguided elements who are notoriously bloodthirsty had unleashed mayhem and caused chaos in the state capital, Awka, under the auspices of cultism, leading to broad day shooting and killing of able-bodied young men within Awka.
"Your Excellency, these killers conspicuously slaughter and kill our youths with impunity, some of these victims are innocent young men full of ambitions and brighter futures but their lives were cut short due to cult wars.
"We hereby appeal to the State Government to come to the aid of our dear youths and set up a special security operative to nip these bloodthirsty killers in the bud, Awka Youth Say No To Cultism," the youth wrote.
What Is Responsible?
Involvement of youths in cultism has been blamed on a number of factors, including parental failure, new media, the lack of self-esteem, peer pressure and economic factors.
Mr Chris Azor, Chairman, Civil Society Network in Anambra, blamed youth involvement in cultism on poverty, hunger, idleness and unemployment.
Azor said youths erroneously believed that belonging to a cult group would give them protection when they committed a crime or bullied members of the public.
He said the mixture of students of higher institutions in the town had also created a convergence where the cultism culture which used to be limited to the campus had moved  to the larger community.
"Idle minds and idle hands are the devil's workshops. In a situation where people are in a hurry due to poverty and unemployment, it is natural that some misguided youths would think of how to engage themselves.
"Some students of higher institutions operate commercial tricycle transport businesses to make ends meet.
"So, it is natural that those who are into cultism will get their friends involved, moreso when they think it gives them group advantage or protection, " Azor said.
Mr. Afam Nnoli, a resident of Awka, attributed the rise in cultism in the state to poor orientation at home, the quest for money and power as well as politicians who recruited thugs and armed them to achieve political supremacy over their opponents.
Nnoli said politicians most times patronised  thugs with the offer of making them motor-park union managers where they constituted themselves into cult groups in order to consolidate control.
Franklin Emeremgini, a security expert, like Nnoli said that the rise of cultism was a result of displacement of the youth often hired by politicians in the build-up to elections and their abandonment after the assignment.
He said few who were lucky to enjoy the protection of the principal after elections got compensated with the management of motor-parks and unions of tricycle and motorcycle operators where cultism activities were most noticeable.
Emeremgini blamed the problem on idleness and unemployment and urged the government to create a more favourable business environment to encourage entrepreneurship among the youth.
"Our motor-parks and intra-city transport operator unions have been taken over by these people. They also make returns to their godfathers in political positions so it is difficult to successfully arrest and prosecute their leaders," he said.
Prof. Michael Ezenwa, a clinical psychologist, said the high involvement of adolescents in cultism was because of the breakdown in family relationships, parental failure and influence of new media.
Ezenwa, who is the President of Nigeria Psychological Association, said the lack of attention in the family had driven children to seek solace and security in the wrong places.
He said parents, especially, had abandoned the family in search of money and political power with the wrong assumption that all they owed their children were food and school fees.
Ezenwa called on parents to give more attention and affection to their children so that the child could see his or her family as the best place to confide in and find security.
According to him, child cultism is one of the challenges of the society today.
"I blame it on breakdown in family relationships and parents' failure to monitor their wards.
"In the past, the family had a critical role in terms of making the child feel belonged.
"The family is supposed to provide the child with security, love and attention but now the mother now chases merchandise, political power and other things instead of family life and nurturing of children.
"As a result, children of these days cling to the media, particularly the new media – WhatsApp, Instagram and Facebook –  and they meet with other children without having the supervision that parents ought to provide.
"It not only lures them into cultism but other vices like illicit sex, early exposure to sexual activities and drugs.
"Parents don't discover this because they don't have the time, they think it is just food and school fees without knowing if the children are in school during school period.
"The thinking is that getting involved in cultism is a sign of identification and security not knowing that it is an association with death and darkness and withdrawing from it becomes difficult.
"Any parent that looks at the child on a daily basis, that supervises the child's school activities, social behaviour, will immediately discover when that child starts having some form of engagement that is unusual and nip it in the bud," Ezenwa said.
Abang, on his part blamed the involvement of young people in cultism on cold relationships between parents and their children.
He said many parents had abdicated their roles and become distant from their children or wards such that they did not know their behaviours or the kind of friends they kept.
The commissioner of police said stronger bonding in the family would engender trust and confidence which would help in early detection of any abnormal development in the child.
"For me, I blame the parents for the loss of our societal values, they don't ask questions even when they see strange behaviours in their children or wards.
"How can a teenager go to school with a gun, who was in the house when he was leaving?
"It is because most of our parents have failed in their duties that the command under my watch is now partnering  civil society organisations, traditional institutions and government on moral reorientation of the child.
"So, while we are tackling the menace of cultism frontally, we are  also working on the moral values of the youths," Abang said.
Prosecutorial Challenges 
Oftentimes, many arrested cultism suspects  find their way back home sooner than they were arrested or after spending some time in detention after bribing law enforcement officers.
The situation prevails because of a number of factors, including interventions by some powerful members of the society. Other factors are the lack of diligent prosecution and suspects being younger than the legal age of 18.
Mr. Valentine Ezeh, a Senior State Counsel in the Department of Public Defender in the Anambra Ministry of Justice, said a major hindrance to the successful prosecution of cultism suspects was the lack of evidence.
He said jurisprudence on cultism was still little as there were not enough case laws and authorities to attend to such matters.
"We have not had enough case laws and authorities to attend to cult cases, sometimes the society, due to the fact that those involved are minors and students, would have pity on them, such pity starts from the police.
"Their case files are empty, most of the time without much evidence to convict accused cultists. You hardly see a cultist that goes to prison rather you see they are on bail," Ezeh said.
Emeremgini said a lot  of political will was needed to win the war against cultism as the young men who were often caught in the streets had strong people backing them underground.
According to him, for the war on cultism to be won decisively, their leaders, most of whom are in government, must be fished out and a lot of political will is needed to achieve that.
"There was a time when a well known party chieftain was arrested for evidently being linked to some cult killings here in Awka. The media celebrated it but the fellow is walking free in the streets with security as I am talking to you.
"His release was secured after high powered interests in the state intervened," he said.
Mr Mustapha Dandaura, a former Commissioner of Police in Anambra, said virtually every community in Anambra had the issue of cultism where young people were initiated regularly.
He said most of them got initiated right from the secondary school, not just university, adding that even non-students, uneducated ones, were being initiated by the local people in the communities.
"A large number of below legal age youths are involved in cultism and the inability of the police to either prosecute or detain them, you have to release them because you can't confine or detain them. The  police don't have the facility to keep these people.
"The present law and magistrates are not helping matters. Anytime you charge them to court they are granted bail and nothing is heard again about it; these same boys will come back to the society to continue with what they are doing," he said.
Need For Special Anti-Cultism Law And Value  Reorientation
Emeremgini said that the use of force in tackling cultism had not yielded the desired result because of how cult interests had permeated the ranks of security agencies and judiciary.
He said there was a need to work on the psyche of the youth, adding that old values should be restored in the upbringing of the child.
"It is advised that parents take the front role in the fight by ensuring that their children and wards have strong moral values and guided upbringing, while government takes it as a responsibility to safeguard the lives and property of citizens.
"Our government must muster the political will to activate instruments of state like security and judiciary to combat the menace of cultism as a special form of crime," he said.
Dandaura on his part recommended that special legislation should be made on cultism to enable the police to prosecute cases effectively.
He also said reformatories should be built by the state government and handed over to the Ministry of Children and Women Affairs for the keeping of underage cult suspects.
"I recommend that strong laws be enacted against cultism to stop the menace here, the major issue is a prosecution, we need a clear law just as some states made laws for robbery and kidnapping.
"I want to call on the government to enact a law for the effective prosecution of these cultists who are everywhere in the state. If nothing drastic is done, I am afraid we will not have future leaders.
"You can't charge some of them to court because they are underage. You wait for their parents to come and claim them but they won't show up. Some of these boys have abandoned their parents, it is difficult to unite them with their families.
"The state government should take over reformation of these youth. The police cannot continue to arrest and release them. The Social Welfare and Development Department of the state should build corrective facilities to keep these juveniles till they attain legal age," he said.
---
Support Our Journalism
There are millions of ordinary people affected by conflict in Africa whose stories are missing in the mainstream media. HumAngle is determined to tell those challenging and under-reported stories, hoping that the people impacted by these conflicts will find the safety and security they deserve.
To ensure that we continue to provide public service coverage, we have a small favour to ask you. We want you to be part of our journalistic endeavour by contributing a token to us.
Your donation will further promote a robust, free, and independent media.
Donate Here