Emergencies
News
#COVID19: Misinformation Is Jeopardising Vaccination In Kano
In Kano, a city in Northwest Nigeria, interviews and internet surveys show how disinformation is affecting COVID-19 vaccination.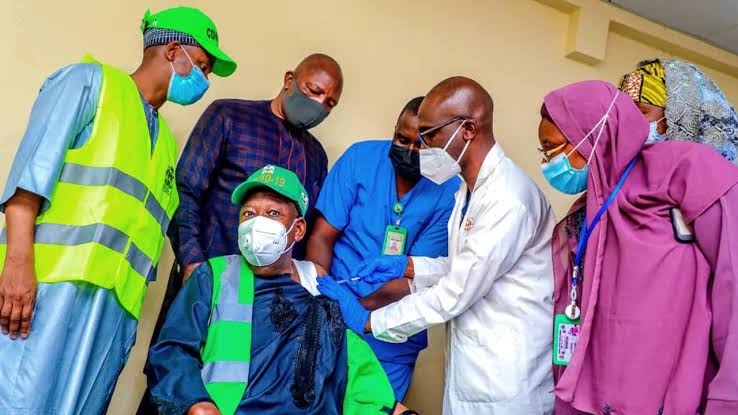 Kano State, Northwest Nigeria, has the country's largest population, estimated at 20 million people. Increased access to social media platforms, particularly WhatsApp and Facebook, has followed the state's massive and faster digital penetration that uses both local and foreign languages in sharing information online. 
The most spoken languages on the platforms among the residents are Hausa and English, with the former being spoken by almost everyone.  
Affordable phones have made internet access possible for most adults in Kano. However, the digital penetration in the state is both a blessing and a curse, especially during the Covid-19 pandemic when people were asked to stay at home, and they spent more time on their phones than ever. This birthed a deluge of misinformation. 
When this reporter interviewed several Kano residents for this article, most of the respondents considered social media as a reliable information platform both before and during the COVID-19 pandemic. They go to Facebook pages, WhatsApp groups, and other platforms that expose them to a mash-up of facts and fiction.
As the COVID-19 numbers rose, Kano State, like many other parts of Nigeria, experienced what analysts dubbed as "infodemic" – a constant flow of misleading and false information. This influenced communities' reactions to the pandemic, ranging from outright denial to mistrust or contempt. 
False information peddlers in the state converged in group discussions, seized the chance and started fomenting panic and uncertainty, thus impeding control measures being put in place by the government at different levels to reduce the pandemic's effect.
WhatsApp, as a closed messaging application, is one of the peddlers' most potent tools. Due to a lack of digital literacy, many false materials were spread and promoted as valid information on a local and global scale, either purposefully or unintentionally. 
Elderly individuals in the state were among the major victims. A study shows older people are more likely to trust and forward incorrect information to their families and friends. That was exactly what happened when some of them bathed with saltwater to avoid contracting the Ebola virus. 
Many believed the misinformation being shared at the peak of infections despite what they had personally seen. While many individuals, notably the elderly, were dying due to a "mysterious illness" eventually linked to COVID-19, fake news merchants in the state were busy spreading rumours, disinformation, hoaxes, and conspiracy theories.
Abundant messages were also propagated to mislead people about the pandemic's origins, propagation, and cure, and that derailed the efforts of fact-checkers and other concerned media practitioners.
COVID-19 vaccination efforts in Kano are affected by misinformation
According to an online poll carried out for this write-up to determine how misinformation influenced COVID-19 vaccination in Kano State, 31.7 per cent of respondents claimed they don't believe the virus exists, removing themselves from the list of persons who would receive the vaccine.
Among the 68.3 per cent  who believe the virus exists, 23 per cent  said they were not yet ready for the vaccination. This is where Rukayya Usman fits in. She claims that because the virus is not as terrible as previously thought, there is no need to obtain the vaccine and you can live your life as you like without it. 
People who claim COVID-19 isn't as lethal as expected and thus won't take it, as journalist Murtala Abdullahi put it, haven't seen the virus's catastrophic impacts in the communities. "People tend to believe what they see near them more than when they watch on television what happened in the United States or India," Abdullahi said. 
Sadiq Bilyaminu, for example, refuses to take the vaccine because, "if there is nothing to be suspicious of, why is there a need to issue a vaccine passport or any other equivalent certification to receivers?" Like many anti-vaccine advocates, Bilyaminu believes there is a tracking chip in the vaccine likely to be implanted in the receiver's body. 
However, anybody who has travelled to a foreign country from Nigeria has been given a yellow fever immunization card to display at the airports of the other countries. The certification processes shouldn't be something suspicious, said Balarabe Ahmad, a trader in Kano. 
Several factors influenced many people's skepticism of the COVID-19 vaccination. Politicians and religious leaders have only served to aggravate the situation. Yahaya Bello, Governor of Kogi State in North-central is credited with spreading the distrust the most, and his speeches have gained widespread praise.
The Governor is seen in a video extensively disseminated on social media platforms like Facebook and WhatsApp, warning people against taking COVID-19 vaccines.
"These vaccines are being produced in less than one year of COVID-19. There is no vaccine yet for HIV, malaria, cancer and for several diseases that are killing us," he said amidst a crowd of his supporters. 
While trying to substantiate his conspiracy theory, Bello asked people to learn lessons from "what happened in Kano during the polio vaccines that crippled and killed our children."
Speaking on Nigerian leaders taking the vaccine to show the public it was safe, he added, "If they say they are taking the vaccines in public, allow them to take their vaccines. Don't say I said you should not take it but if you want to take it, open your eyes before you take the vaccines." 
Although the allegations made by Bello in the video were generally determined to be false, many people still trusted him because of his status as a governor, and as a former Kano resident. 
Abubakar Shu'aibu, a 23- year- old Kano resident who lives in Sharada, has continued to share the video to support his vaccine rejection. When he was presented with the fact-check done on the comments, he remarked, "You can't know better than these leaders."
Politicians' general reputation for being corrupt and self-centered compounded people's attitude to vaccination. Despite some of them appearing on television receiving the vaccine, some of the Kano residents still find it difficult to agree and get vaccinated. 
"These guys will go to any length to obtain money and approval from their bosses. I don't trust them," a woman who asked to remain anonymous stated. 
Some of the people believe the viral videos of foreign politicians and world leaders taking the vaccine were done using a "special injection" that immediately removes itself when it comes into contact with their bodies.
The Pfizer experience exacerbating mistrust 
Concerns and mistrust about the COVID-19 vaccine have been raised by the events of 1996, when Pfizer, a US pharmaceutical giant tested a meningitis vaccine in Kano State without the consent of the recipients. 
Eleven people are said to have died as a result of the vaccine, and families in Kano, as well as the state government, got millions of dollars in a legal settlement after several people were crippled by the vaccine. 
People in Kano have raised alarm about the new vaccination since its release, claiming that foreign businesses, particularly those in Europe, are using them as test subjects.
Misinformation regarding vaccine trials in Africa and the Kano people's experience has exacerbated the problem. Several people stated that they would rather die than suffer the same fate as the Pfizer vaccine victims in 1996. 
"Because of what happened here, I don't trust anything from the West," Abubakar Sadiq Sulaiman, a 20-year-old Kano college student, told the Washington Post.
Despite this, many people in Kano State have continued to get vaccinated. The majority of those receiving the vaccine, according to a health worker in Kano Municipal who requested anonymity, are those who are likely to go to foreign nations.
"Even today, I asked someone who came in for his second dose why he was coming, and he stated he was planning a trip to Europe."
This publication was produced as part of IWPR's Africa Resilience Network (ARN) programme, administered in partnership with the Centre for Information Resilience (CIR), the International Centre for Investigative Reporting (ICIR), and Africa Uncensored.
---
Support Our Journalism
There are millions of ordinary people affected by conflict in Africa whose stories are missing in the mainstream media. HumAngle is determined to tell those challenging and under-reported stories, hoping that the people impacted by these conflicts will find the safety and security they deserve.
To ensure that we continue to provide public service coverage, we have a small favour to ask you. We want you to be part of our journalistic endeavour by contributing a token to us.
Your donation will further promote a robust, free, and independent media.
Donate Here