Emergencies
Features
News
#COVID19: How Pandemic Boosts Number Of Out-Of-School Children In Lagos
One in every five of the world's out-of-school children is in Nigeria. Even though primary education is officially free and compulsory, about 10.5 million of the country's children aged 5-14 years are not in school. The pandemic has even exacerbated the already dire situation.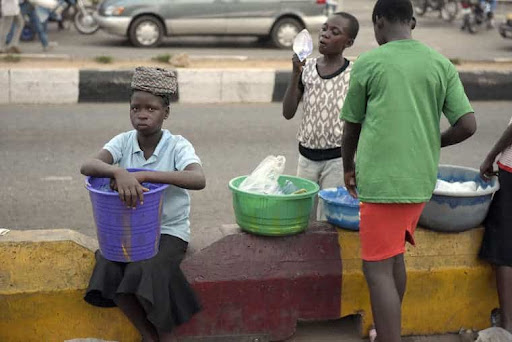 Abimbola Modomo, 10, enrolled in a public primary school, wants to someday become a teacher.
But sometime in March 2020 when the COVID-19 pandemic broke out and distressed the economy, Sewa Modomo, her petty trader mother, lost her business. The senior Madomo, a widow and mother of five, bore the burden of raising her children amidst a ravaging pandemic.
As the pandemic tightened its grip and lockdowns were enforced on Africa's most populous country, things became a lot harsher for the ordinary Nigerian. Abimbola, her mother, and siblings felt the punch. When the lockdown was eventually lifted, her mother couldn't afford the daily fare to school while struggling to feed the family.
Abimbola had to stop going to school as even uniforms and sandals became luxury. And she is just one out of many children who have been adversely affected by the pandemic, and who have had to drop out of school and hustle on the streets to survive.
COVID-19 has left a lot of children behind- Parents
Sunday Akerele is a father of four whose last child, Rhoda Akerele, is the only one left in primary school. Akerele, a printer, said Rhoda stayed up to one year and six months at home as a result of his inability to pay her school fees after experiencing an unprecedented downturn in his business at the height of the pandemic.
"Rhoda couldn't start school after the lockdown was lifted. Her school fees were increased, at the same time my business stagnated severely, resulting in her staying back home," he recalled.
Akerele said several of Rhoda's schoolmates couldn't make it back to school after the lockdown and they have become vendors of various items on Lagos streets as a result of the decline in their parents' income.
Alice Shogbamu, a petty trader at the Obafemi Awolowo Way in Ikeja says  her situation was further exacerbated as a result of the demise of her husband whom she said went missing at first and was later discovered to have died.
"The responsibility of fending for my little children fell on me after the death of my husband. I'm a roadside trader who barely makes enough to even feed not to talk of spending on education," she said.
According to her, she had to withdraw her child, Temitayo from the private school she was enrolled in and register her in a government-owned institution.
"This was the only way I could keep her in school, otherwise, she would have joined thousands of children roaming the streets of Lagos every day," Shogbamu told Humangle.
Some organisations are trying to help
According to Akeem Kelani, the founder of Out of School Children Empowerment Foundation, who would later pick up Abimbola, the pandemic has thwarted the educational dreams of many children in Nigeria.
Kelani's Foundation is a Civil Society Organisation that ensures indigent children who are educationally disadvantaged and out of school are re-enrolled in schools.
He picked her on the streets during a community outreach, carried out an assessment on her, discovered her very precocious academic abilities, and enrolled her in a school.
"The number of out of school children was a serious concern to everybody because of the rate at which the number increases on a daily basis due to Boko Haram insurgents," said Kelani who has been working with out of school children for over 10 years and has successfully enrolled over 500 children in various government-owned schools across Lagos.
"COVID- 19 pandemic has made it worse. Children can no longer go to school because of the health implications. This has made it, to the extent that there is no difference between out-of-school children and those enrolled in schools. At this moment, some schools in the northern part of the country are still not open."
An education endemic
In March 2021, the Nigerian government said the number of out-of-school children had climbed up to 10.1 million nationwide, an increase of more than three million from the 2020 figure.
According to Ibigbami Adeola, a private school owner in Lagos State, turnout of school children in the state has been very poor since the imposition of lockdown. 
Adeola, whose Tumi Olugunwa Schools collaborate with Raising Champion Children Nigeria, an NGO that supports indigent children, and also with the Out of School Children Empowerment Foundation (OSCEF), stressed that the lockdown occasioned by the COVID-19 pandemic and its aftermath have contributed to the growing number of out-of-school children. 
"Most of the working class parents lost their jobs while traders among them are battling with debts and poor sales," she said.
She said Lagos State SUBEB has been committed to ensuring that more children are enrolled in public schools. 
"They organise online teaching, provide phones to senior classes and radio for junior classes. They also provide things needed to observe all COVID-19 protocols in all public schools. But unfortunately, they only compel private schools who were not making profit during the lockdown to provide these things for themselves."
Despite these measures by the state government, Adeola emphasised that there is a possibility of more children dropping out of school because of the current economic meltdown in the country.
"Yes, there would surely be more out-of-school-children and the reason is that most parents are yet to bounce  back after the lockdown, catering for these kids is becoming increasingly difficult and to make ends meet is herculean."
"We exist to support the government that cannot really accommodate all the school-age children in Nigeria. Likewise, active NGOs concerned with these children should be fully supported with all things needed to operate successfully," Adeola said.
"Besides this, each community in the state should set aside a place for interaction/ park for families, children, and youths. Children need to be engaged even outside the classroom and after school."
"Furthermore, community vocational centers, libraries, and common rooms are very essential to reduce problems of out-of-school children."
"Finally, functioning welfare services should be seen and operated in community and or Local governments."
Lagos taking measures to keep children in school
Kelani, however, said Lagos State Government has put some efforts to ensure that the number of out-of-school children does not increase than what it was before the start of the pandemic. 
"The number of out-of-school children since last year is relatively stable because schools were closed down which invariably affected every household. This makes it difficult to say that out-of-school children suffer the most," he told HumAngle. 
"At this moment, the organisation has a record with the Lagos State Universal Basic Education and Ministry of Education including Education District 1-6."
"We have been working with stakeholders in various communities across the state to send us the names of out-of-school children for further enrollment to schools that are very close to their homes."
Despite its high literacy rate at 96.5 percent, the highest among the states in Nigeria, Lagos still has a high number of children of school-going age who are not in school.
Currently, the state has about 2,378,794 out of school children. A good number of these young children flood the streets of Lagos, soliciting for alms, working as bus conductors, porters, cobblers, traffic hawkers, or in shops learning vocational skills.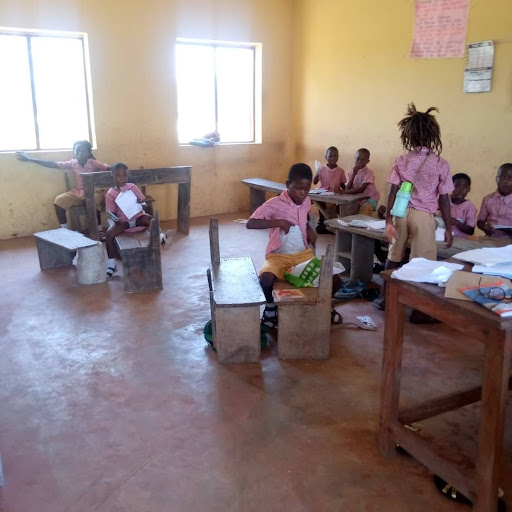 Adeola Oguntoyinbo, an education official in a public school in Lagos, however, said more school children resumed school after the lockdown because the parents have been looking forward to resumption.
According to her, there is a tremendous increase in school enrollment.
She said, "COVID 19 may have contributed to more children being out of school but at the same time before the pandemic, there were many out of school children and less privileged children."
"In Lagos State alone, there are thousands of out-of-school children, for instance at Makoko in Mainland Local govt and several other places."
"Lagos State Government in collaboration with the Lagos State Universal Basic Education Board is working rigorously to bring all the children back to school, hence project ZERO was introduced to schools."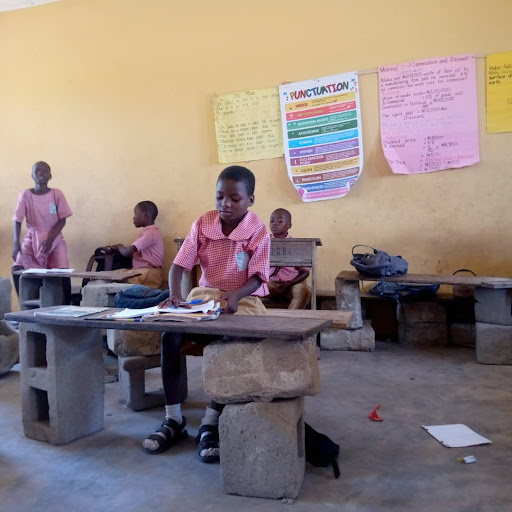 Out of school children in rural communities.
Oguntoyinbo said Project ZERO has given school materials such as school bags, books, uniforms, sandals to less privileged pupils and made sure that they are back to school. 
"No pupil is left behind and all children must be in school," she said.
"I don't think that any child should drop out of school because Lagos  and SUBEB have provided and catered for their school needs and this is to be monitored by officers."
She, however, recommended that more data on out-of-school children should be made available as there is not sufficient data currently. A situation that severely affects making plans and policies to resolve the education crisis.
Alongside this, she emphasised the need for adequate sensitisation on the need to be educated, especially in the rural communities, training, and retraining for officers that are to carry out a census of out-of-school children as well as provision of more palliatives to cushion effects of COVID-19, so that parents can allow their children to attend schools.
"More security measures to be put in place in our schools, replicating models from the developed  world in schools, employing technologically compliant persons as teachers to work in schools and finally, making the school environment more friendly and conducive for learning.
---
Support Our Journalism
There are millions of ordinary people affected by conflict in Africa whose stories are missing in the mainstream media. HumAngle is determined to tell those challenging and under-reported stories, hoping that the people impacted by these conflicts will find the safety and security they deserve.
To ensure that we continue to provide public service coverage, we have a small favour to ask you. We want you to be part of our journalistic endeavour by contributing a token to us.
Your donation will further promote a robust, free, and independent media.
Donate Here