Emergencies
News
#COVID19: How Infodemic Is Causing Vaccination Reluctance In Kano State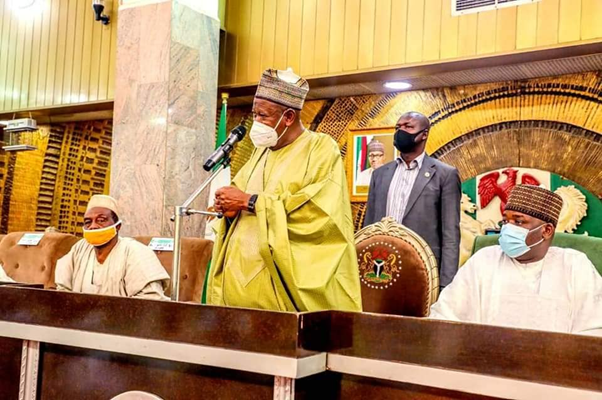 The COVID-19 vaccination has elicited a mixture of excitement and trepidation from residents in Kano State, Northwest Nigeria. A considerable section of Kano's populace continues to be skeptical of the vaccination due to misinformation on COVID-19 vaccination.
Meanwhile, traditional and social media information channels are sharing vaccination information and have been quite important in shaping public opinion on whether or not people want to be vaccinated.
Online forums, blogs, and social media have all played a role in the development of vaccine apprehension, said Idris Muhammad, a university lecturer who worked on how social media exacerbated COVID-19 misinformation in Kano State.
"This is not the first time merchants of fake news spread false information concerning the vaccine of any disease in Nigeria, but they got a new tool now," he said.
"If you trace it back to when there was the outbreak of polio in Northern Nigeria, people were spreading false information on why the vaccine was unsafe but the messages didn't spread faster than they do today," he added.
COVID-19 vaccination in Nigeria
According to a letter seen by Reuters on Tuesday, June 22, 20201,  Nigerian President Muhammadu Buhari had requested the National Assembly to approve an extra budgetary provision of N895.8 billion ($2.18 billion) to support the procurement of COVID-19 vaccinations and military equipment.
The government stated that it would prepare an extra budget to cover the expense of COVID-19 vaccinations, which were not included in the December finance bill for 2021.
COVAX, a program co-led by Gavi, the Vaccine Alliance, the World Health Organisation (WHO), and the Coalition for Epidemic Preparedness (CEPI) to enhance equitable vaccine access for low- and middle-income countries, had initially sent nearly four million doses of the AstraZeneca vaccine to Nigeria from India. 
According to a government official, Tolu Ogunlesi, Nigeria was expecting another 40 million doses from the African Union (AU) by the end of April.
The African Union had reached an agreement with Johnson & Johnson to secure 400 million doses of its single-dose vaccine starting in July 2021 and Nigeria will be among the beneficiaries.
The vaccine doses received by Nigeria were distributed based on the rate of infections in each state of the country. States with greater infection rates, such as Lagos, Abuja, and Kano, were given first priority in  the vaccine delivery.
However, many Nigerians, particularly those in Kano State, have refused to be vaccinated for a variety of reasons, putting a roadblock to achieving herd immunity in the country.
Misinformation and conspiracy theories have circulated on WhatsApp groups claiming the virus was designed as a government bioweapon and that it was caused by 5G cellular networks.
However, a fact-check by Reuters has shown the claims are untrue. According to the fact-check, "The majority of virologists and infectious disease experts say the new virus is most likely to have evolved naturally." Researchers have concluded that the virus is neither man made nor genetically modified.
With less than 1 per cent of Nigeria fully vaccinated, Nigeria faces the biggest danger of a new COVID-19 pandemic. According to specialists, a country must vaccinate at least half of its population to achieve herd immunity against less infectious diseases.
Some scientists have explained that the high infectious nature of COVID-19 necessitates vaccinating between 80 and 90 per cent of the population before claiming herd immunity in a country.
However, Nigeria has not yet achieved zero COVID-19 infection or taken any steps toward perfecting mass immunisation. The positive cases have decreased as a result of the lower level of COVID-19 testing with people returning to their daily routines, wearing no face masks.
Nigeria had nearly 170,000 total positive COVID-19 cases as of June 27, 2021, with 4,000 cases in Kano State alone. According to the Nigeria Centre for Disease Control (NCDC), 110 people infected with the virus in Kano have died, while 22 others are still being treated in hospitals.
Only about 100,000 persons in Kano State's estimated 20 million population received the first dosage of the vaccine. This means that more than 99 per cent of Kano's population is yet to be vaccinated.
Misinformation discouraging vaccination in Kano State
According to an online poll, almost 54.7 per cent of Kano respondents declared they would not take the vaccine.
When asked why they didn't get the vaccine, 31.7 out of the 54.7 percent indicated they didn't think the virus existed. The remaining 23 per cent claimed that because the virus isn't as deadly as expected, they didn't need to get the vaccine. Only 45.3 per cent said they were ready to take the vaccine.
Some of the residents have argued that the vaccination is hazardous and that it was developed to diminish the African population. However, this claim has been debunked as false because the vaccine is not only being used in Africa. Several countries from different parts of the world are taking the vaccine. In the United States, over 320 million doses were given to citizens with about half of its population fully vaccinated.
Some believe the vaccine has a nano-chip that could be inserted into people's bodies to track them and infringe on their privacy. But there is no evidence to back up the claim. Available information has shown that only vaccine syringes could contain microchip to differentiate it from fake vaccines but no one will be injected with the chip.
The majority of the false materials disseminated to Kano residents were not originally written in Hausa – the most common local dialect in the state. A large number of them were copied from English-speaking forums and blogs and translated into Hausa by persons who knew the language and could communicate the message to local audiences.
Those messages reverberate in echo-chambers among the WhatsApp and Facebook groups, Twitter followings and YouTube accounts, mostly in Hausa languages.
Attempts to use Open Source Intelligence Tools (OSINT) like Hoaxy to map a link between false messages spread by social media influencers and how they were received were unsuccessful due to the suspension of Twitter in Nigeria.
Dino Melaye, a Nigerian politician, who is a leading anti-vaccine campaigner, has been tweeting against COVID-19 vaccination since late 2020.
Over a dozen tweets containing misleading information about vaccination were tracked to Melaye using Tweetdeck "tweet content" tool and a keyword search of "COVID-19" and "vaccine."
Several Hausa Facebook users claimed that Dino Melaye's anti-vaccine statements affected them in rejecting the vaccine. The former legislator, who has also lived in Kano State, has a mastery of Hausa language.
Melaye also released a song called "Say No to COVID-19 Vaccine," which lasted about one minute and fifty seconds. He began by urging Africans, particularly Nigerians, to refuse to accept any vaccine.
"I am calling on African leaders not to allow Africans to be used as guinea pigs by developed nations for their satanic reasons," he had said.
"We say no to the application of any vaccine in Africa. We call on the Minister of Health of the Federal Republic of Nigeria to immediately discontinue the interaction with those who want to give us vaccines."
However, Melaye's statements are false and incorrect. Africans are not being used as testing objects for the vaccine. As pointed above, billions of people worldwide are receiving the vaccine.
One of the misinformation peddlers that promoted vaccination rejection among Hausa speakers is a security operator with the Facebook name Datti Assalafiy. He claimed, without providing any evidence, that the vaccine was targeted at Muslims by the Jews in order to wipe them off the face of the earth.
Assalafiy's claim is untrue as the virus infection does not differentiate people according to their religious or ethnic background. Several cases were reported in places like Tel Aviv, Mecca and Rome where the virus led to the death of many non-Muslims in Italy.
With over 200,000 Facebook followers and multiple pages reposting his messages, his vaccine misinformation spread swiftly and was extensively shared on WhatsApp.
Using "Who Posted What," several posts were traced to Assalafiy doubting the sincerity of COVID-19 vaccine producers and governments attempting to make them available.
Religious clerics were also not left out. Speaking to thousands of his followers, an Islamic cleric was also seen in a YouTube video saying, without backing his statement with sound evidence, that the COVID-19 vaccination is a population reduction mechanism.
Instead of providing evidence to back up his claim, the cleric went on to give an explanation of the Malthusian theory of population detailing how population growth outpaces food production and the economists' suggestion of population control.
---
Support Our Journalism
There are millions of ordinary people affected by conflict in Africa whose stories are missing in the mainstream media. HumAngle is determined to tell those challenging and under-reported stories, hoping that the people impacted by these conflicts will find the safety and security they deserve.
To ensure that we continue to provide public service coverage, we have a small favour to ask you. We want you to be part of our journalistic endeavour by contributing a token to us.
Your donation will further promote a robust, free, and independent media.
Donate Here