Analyses
Humanitarian Crises
COVID-19: Why Almajirai Lifestyle Endangers Social Safety Measures
The risk of one Almajiri contracting COVID-19 is tantamount to infecting thousands of people in geometric progression.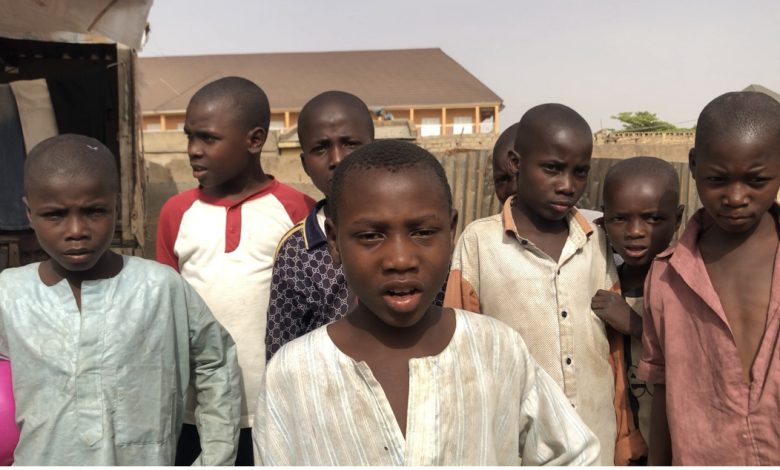 Faisal, is a scruffy looking destitute boy. He is largely unkept and evidently battling all manners of the demons of hunger within his frail, physical frame. He is in the midst of other street boys, clutching a bowl, beggarly, roaming, foraging and wallowing through the streets of Kabuga, in Kano, northern Nigeria.
His ragged look is the trademark of Almajirai (singular: Almajiri) who, despite the ban on street begging by the government in Kano state, continue to mile the street corners, ubiquitously crowding up cars, peering through the windows at traffic jam to beg for alms or zakat in the Muslim world.
HumAngle, in Kano, shared a moment with Faisal. Does he know anything about the dangerous viral infection called coronavirus, currently rampaging across the world? Is he, together with his friends, in any position to know what to do in the event of widespread in Kano?
Faisal admitted that he was warned about COVID-19 in his Almajiri school. "They (Mallams) warned us. They said the virus is deadly. But no one told us how to protect ourselves. They said we should continue to pray."
The spartan, bare and unprotected conditions of Almajiri schools, like the one Faisal attends, are by themselves open invitations to infectious and communicable diseases.
The schools are overcrowded, putting the lives of their students at risk. The pupils are frequently easy prey to cholera and meningitis. The schools, which mostly constitute only the teacher's compound, lack proper hygiene, sanitation.
Faisal said, "about 30 of us sleep under one roof." The structures that make up the shelters are normally very untidy, impoverished and dilapidated. They are what the locals call "soro" (entrance room) with the stench of urine in full command of the air.
In such conditions, social distancing is a far-fetched luxury. If one of the Almajirai contracts the deadly virus, that would be a kind of the nunc dimittis for the herd of the Almajiri pupils. Put also into consideration the number of cars in traffic they rub their skins on.
The World Health Organization (WHO) advises that to avoid getting infected with COVID-19, one should "maintain at least one metre (three feet) distance between yourself and anyone who is coughing or sneezing.
"When someone coughs or sneezes, they spray small liquid droplets from their nose or mouth which may contain virus. If you are too close, you can breathe in the droplets, including the COVID-19 virus if the person coughing has the disease." It is, however, almost impossible for the Almajirai classes to operate by this instruction.
In typical Almajiri school "sharing is caring." Hundreds of Almajirai fling their wastes close to their classes and carry water in ageing plastic buckets to common, almost communal, unhygienic latrines.
The students do not only borrow each other's begging bowls, they also eat leftovers they begged for together. Senior Almajirai, according to Mallam Ibrahim, who is a teacher in one of the Almajiri schools in Cediyar Yan Gurasa, "borrow one another's clothes."
In this kind of crowded, waste-ridden and poverty-stricken conditions, disease-causing pathogens strike Almajirai easily.
To avoid contracting COVID-19, medical professionals and experts require people to frequently wash their hands and avoid touching their faces. WHO advises that one should "regularly and thoroughly clean one's hands with an alcohol-based hand rub or wash them with soap and water."
With the scarcity of water in urban areas of Kano state, it is difficult for Almajirai to even take a bath or relieve themselves, talk less of washing hands for twenty seconds with soap under running water. Getting soap itself is a luxury outside their class.
Mistrust and lack of will
In many Almajiri schools, there is mistrust of the government. Conversely, the government lacks the resolve to confront and control the challenge.
The squabbles between state governments and Almajiri schools, especially relating to the ban on street begging, make many of the schools take orders and advice with a pinch of salt.
While Mallam Hafizu, the head of Ma'ahad Yakub Qur'anic School, closed his school as Kano state government ordered, Mallam Sule of the Sheikh Mungadi Almajiri School said he was not even aware of the order.
Sule said, "we are waiting to hear from the government." He told HumAngle, "we will follow as they may order."
However, recent footage of Almajirai going back to their villages has recently been trending on social media platforms. The video shows handfuls of young boys heading to their houses in rural areas. The voice over the video says the Almajirai are running away from coronavirus.
Spartan Life and Strong Immunity
Some of Almajirai believe that their bodies are too strong to get infected by what they call "an elite disease."
As an overwhelming majority of confirmed COVID-19 cases are from Abuja and Lagos, they think that "what can kill a wealthy aristocrat in the hills and valleys of Abuja is just a minor disease in the slums of Adakawa."
Hannah Hoechner, a postdoctoral researcher on Quranic schools in Northern Nigeria, found that the Almajirai she spoke to "bragged that their bodies had grown used to the mosquitoes infesting their shabby sleeping places that they no longer felt their bites."
Adam Yusif Aikawa, a son of a popular Almajiri teacher in Dala local government of Kano state, described the Almajirai who lived in his house as people with strong immunity "that illnesses like malaria or fever hardly take them down."
This kind of [mis]information deludes some of the Almajirai into believing that coronavirus cannot affect them. "It only affects people with weaker immunity" one of the people interviewed stated.
"That is why it kills people in Asia and Europe but not in Africa. Small diseases don't kill Africans," he concluded.
Although there is no straightforward and clear record of how pandemics plagued ancient cities, medical historians think our modern lives make it easy for pandemics to spread faster.
Urbanization and international travels give pathogens opportunities to exploit victims around the world easily. However, Almajirai think their immunity is strong to be struck by COVID-19.
Can The Government Do It All?
The coronavirus pandemic has shown that people are a smaller part of a whole. The risk of one Almajiri contracting COVID-19 is tantamount to infecting thousands of people in geometric progression.
The pandemic will spread faster if allowed without proper monitoring of the health and hygiene of the Almajiri next door.
---
Support Our Journalism
There are millions of ordinary people affected by conflict in Africa whose stories are missing in the mainstream media. HumAngle is determined to tell those challenging and under-reported stories, hoping that the people impacted by these conflicts will find the safety and security they deserve.
To ensure that we continue to provide public service coverage, we have a small favour to ask you. We want you to be part of our journalistic endeavour by contributing a token to us.
Your donation will further promote a robust, free, and independent media.
Donate Here