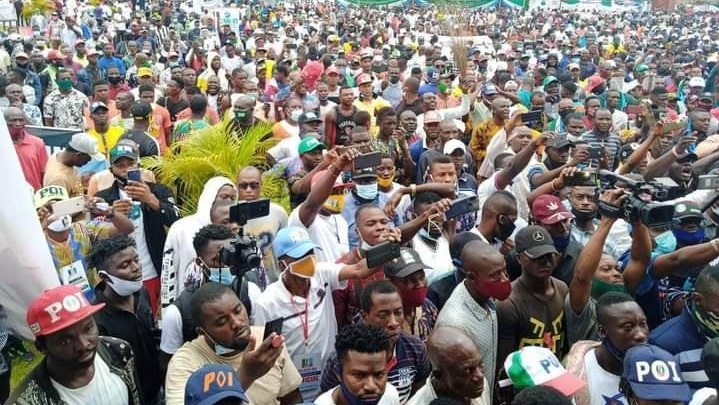 While some residents of Lagos and Abuja keenly follow the news to monitor events around the COVID-19 outbreak, majority of Edo residents believe the virus is a hoax and care less about the situation.
Traveling through the state capital, Benin, the villages down to Ibilo in Edo North Senatorial District, the number of persons wearing masks go from sparse to non-existent.
Social distancing is not practised in any sense and attempts are not made by people to comply with other COVID-19 precautions.
The situation is made worse by the upcoming state elections for which parties involved are staging rallies with no respect for rules about the virus.
When HumAngle spoke with some of the residents, they insisted that the virus did not exist and that even if it did, it was for the "big men and women".
They added that since the symptoms were similar to the flu, the government might have only exaggerated the situation for political gains.
HumAngle gathered that at the beginning of the pandemic in March, Edo residents, like other Nigerians, tried to keep up with the precautions advertised.
This was especially the very educated and the people who lived in urban areas.
However, after a while, when they noticed the politicians travelling during the lockdown and hosting political meetings, they relaxed.
"They said there was coronavirus and there was a lockdown. We locked our shops and were losing money yet our politicians were traveling.
"It was at the same time that the governor went to meet (Nyesom) Wike and that they started traveling all over.
"You cannot ask us to suffer and then go on with your life. If it is true that the virus exists, they are more likely to get it," Princewill Osagiede said.
In April, the state went on a lockdown after it recorded 15 cases and one death.
It reopened the economy on June 28 and residents were asked to exercise caution.
Yet, HumAngle gathered, there is no enforcement plan to ensure the precautions are followed.
During the lockdown, the governor and other politicians travelled across the country in a bid to secure their places in the pre-election chaos.
No social distancing; life as usual
Visiting the markets in the state is a germophobe's nightmare as they are packed to the brim, with only two people at the most wearing face masks.
For most of the residents, adherence to precautions calls for mockery as they might be called rude names for being too fearful.
A lot of them told HumAngle that they did not want to stand out from the crowd.
At Eguare Primary School and Akoh Primary School, Irrua in Esan Central Local Government Area, weed has overtaken some parts of the compounds and a large part of the fences were broken down.
Residents of the community told HumAngle that the primary schools were converted to markets during the first two months of the pandemic.
The space in the fences was used as a one-route entrance for the market at the time.
This did not reinforce the need for social distancing as people argued that if the virus really existed, it would have killed most of them at the time.
HumAngle also gathered that life has not changed much as religious and political activities still go on to the utmost.
Blessing Osedabamen, a trader, said, "How do they want us to sell our goods if we stay away from each other?
"They converted primary schools to markets and increased the crowds so all this news about maintaining space does not work," she said.
Osedabamen, alongside others interviewed explained that they never stopped church/mosque activities even during the lockdown.
They noted that only a few people did but there was no point anymore after some time.
Communities have been holding meetings, weddings and funerals where no masks are used or social distancing obeyed.
Dry gin and herbal remedy
Despite disobeying globally accepted COVID-19 precaution protocols, some residents have resorted to self-medication.
The most popular is a bottle of dry gin with several herbs and roots immersed and left to sit for days.
They told HumAngle that the mixture had proven successful for mitigating COVID-19 infection.
Some respondents explained that they personally knew people who had used the mixture and were cured of the virus.
Joseph Ailen said, "This was what saved my uncle when he had the virus. He is one of the few people I know that the doctors said had the virus.
"It is why I am not afraid and I take the mixture every time," he added.
Meanwhile, medical experts have advised against self-medication as it could worsen the health condition of an individual.
Julius Adesanya, a Benin-based medical doctor, said, "They are very convinced that this can help them and will cite examples for you.
"Maybe it works sometimes by the stroke of luck but we have seen that it either spikes their sugar levels or aggravates their blood pressure.
"This does not stop them and the trend is becoming worrisome."
Adesanya added that the disbelief is also fuelled by the general knowledge that the virus had no cure yet and medical teams globally were trying their best to use available resources to deal with the health challenge.
He noted that the people, in their opinion, believed that if the formal sector could try drugs, they could too.
Stigma and the refusal to test
HumAngle gathered that another reason people hesitated to protect themselves or test for the virus was stigma.
Unlike most Nigerian states, Edo State is one of the few with a testing centre. In fact, it has a topmost virology centre that is dedicated to fighting Lassa fever and now, COVID-19.
The Irrua Specialist Teaching Hospital (ISTH), despite being well-equipped, has low turnout.
People do not want to be seen in or around the centre so they do not face stigmatisation from their communities.
This has made testing and recorded cases quite low compared to other states.
Meanwhile, when HumAngle visited the centre, most of the people around the entrance had no masks on.
Doctors abandoning patients
HumAngle also gathered that the apathy towards the virus and testing is fuelled by some incidences of doctors abandoning suspected COVID-19 patients.
Residents reported that once they exhibited flu symptoms or cough, most hospitals and clinics turned them away, leading them to self-medicate.
At the ISTH centre, patients were seen on their own with no doctor in sight and when relatives were interviewed, they explained that only very few doctors made extra efforts to treat the patients.
The fear of staying there alone and dying slowly without proper medical attention has a negative impact on the testing rate.
Isabelle Okonofua, whose father was at the isolation centre, said, "They just come once in a while to check them.
"The place makes them sicker and it is sad to see him like this. To be honest, if I knew it would be like this, I would have found a way to treat him at home."
At a private clinic in Irrua, the doctor wore a cloth mask, which had been worn out from excessive use, as he attended to some patients.
When asked if he had any COVID-19 cases so far, the doctor who spoke anonymously, said, "I do not wait. Once the person has one or two symptoms, I immediately refer them to ISTH.
"I am aware that the doctors at ISTH are also being careful because the Protective Equipment for them is not enough and they are trying to be safe.
"Frankly, it is every man for himself and my clinic is not equipped enough for me to jeopardise the health of the other patients," he said.
For the residents, these issues compound and lead ironically to the lack of precautions.
As at Monday, Nigeria Centre for Disease Control announced that Edo had 2, 376 cases, 2, 095 have recovered and 96 have died.
---
Support Our Journalism
There are millions of ordinary people affected by conflict in Africa whose stories are missing in the mainstream media. HumAngle is determined to tell those challenging and under-reported stories, hoping that the people impacted by these conflicts will find the safety and security they deserve.
To ensure that we continue to provide public service coverage, we have a small favour to ask you. We want you to be part of our journalistic endeavour by contributing a token to us.
Your donation will further promote a robust, free, and independent media.
Donate Here