Development
Features
Cost Of Living Crisis: Nigerians' Dreams Of University Education Are Dying
Ephraim, like many university students in Nigeria currently attending a federal university, is on the verge of dropping out because his increased living costs mean fees are now unaffordable.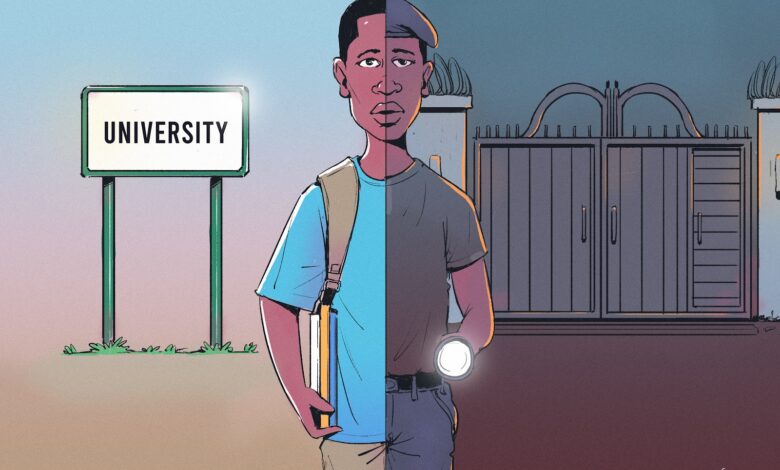 In the mornings, you will find Ephraim scrambling home from his night shift. He dashes into a tiny bathroom where he takes a quick shower before rushing off again to a full day of lectures.
After the day's classes, he sneaks in a nap -whilst ensuring he doesn't oversleep, as he must also attend to his class assignments. Then, it is back to the university in time for the commencement of his night shift.
Ephraim Alpha is a first-year student studying Public Relations at the University of Benin (UNIBEN) in Edo State, South-South Nigeria.
The 22-year-old also works night shifts as a security guard for the school. He has to, in order to get by.
He has always nurtured the dream of graduating from a federal university. That dream, even though it was going to be hectic, seemed achievable until a new development would send his world spiraling before him.
"There is a possibility that I will not continue with school," he says.
In June, just as the removal of fuel subsidies by the federal government was hitting hard on Nigerians, Federal Universities and Unity schools in the country began to announce an increment in their fees.
For people like Ephraim, this spelt out misery.
Meagre resources, all-around increment
The fees paid by new students in Nigerian universities are usually higher than those paid by students in their second and third years.
This means that instead of paying ₦45,000, as those in the years ahead of him do, Ephraim was to pay a total of ₦115,000.
This amount was something he already struggled with but hoped to pay with the assistance of his elder brother until the increment came crashing down on whatever hopes he had.
Now, his brother is considering the possibility of withdrawing him from school as neither he nor Ephraim can come up with the newly established prices.
"I won't be happy," he says, his voice faltering.
"I just started and would have loved to continue but because of this situation [high cost of living and increment of school fees], everything just stopped for me now."
Ephraim's parents are small-time farmers in their hometown in far away Nasarawa State, located in the North-central region, and even though they want to help, they are unable to as they barely make enough to get by.
So while other students of UNIBEN may have their parents shoulder the burden of the increased tuition (and other) fees, Ephraim must make do with whatever he is able to earn or borrow.
"My parents can't help me. Most times when I work, I find a way to send across little money to them," he says, to explain how impossible it is to depend on them for his education.
Ephraim says there is no other family member to run to either because out of his five siblings, only one is capable of offering any sort of financial help but he too has recently become unable to contribute to his fees as the unprecedented cost of living crisis has also caught up with him.
More problems
Ephraim's 'home' in Benin State is the small room that he shares with his brother, Andrew.
"Andrew works as a security guard in a privately owned property around UNIBEN," Ephraim explains.
Andrew, who doesn't earn much himself and is unable to assist his brother financially, has been putting Ephraim up in the small quarters provided by his employer, lifting the burden of housing fees off his little brother's shoulders. Up until now, that arrangement had worked.
"Once I am done with my studies, I will leave by 6 pm for my duty post then come back the next day by 5.30 am so that I will have time to dress up for classes," he says.
But Ephraim must now find a new place to live, as Andrew's employers have recently stated that they want him gone.
"They said that the place is only meant for Andrew and they do not want it to be crowded," he says.
What this means for Ephraim is that he must find a way to pay for an apartment, pay for his now increased tuition fees, pay for his daily expenses [which have also increased] and also send money back to his parents in the village, when he can.
But Ephraim's monthly salary is only ₦20,000.
"I don't know what to do," he says.
Any hopes?
Ephraim is currently expected to pay a range of fees (acceptance fees, departmental fees, etc.) which total up to ₦181,000 when calculated.
When other needs such as textbooks and handouts [printed lecture notes] are factored in, his expected expenses become mountainous burdens.
With no money coming from his family, he must brace himself for the inevitable as his ₦20,000 monthly salary stands no chance.
To get by these days, Ephraim has to borrow money from different people.
"I currently have one debt that I am struggling to pay off," he says.
For young people whose parents cannot assist them, Ephraim says, "this increment is not favourable to us", his voice weary.
"I don't know if they can look for other ways or other measures possible to help us. Maybe reduce the fees," he continues, pointing out that he also has to deal with other drastic increments.
All five of his siblings were able to get through to secondary school. One went to a polytechnic; Ephraim was hoping to be the one who would attend and graduate from a federal university and it did not matter that he had to do a job which paid him so little and deprived him of sleep.
"I really hoped I could finish," he says, a second time.
Like Ephraim, many indigent students risk dropping out of school due to the recent increments. Those lucky enough to continue with their education may face harsh living and learning conditions.
"More students may have to look for ways to make money and this can potentially affect their grades, leading to more cases of sex for grades than we have already heard of," student activist Adeyemi Adeyeye tells HumAngle via a telephone interview.
The student loan is not a realistic solution
On June 12, the Access to Higher Education Act 2023 was signed into law by Nigeria's President, Bola Ahmed Tinubu.
The main purpose of the Act, according to lawmakers, is to ensure that indigent students such as Ephraim do not drop out and are able to finish their education by accessing and getting interest-free loans from Nigeria's education bank.
The newly signed law has, however, come under criticism for its strict, unrealistic, and discriminatory conditions.
One major issue raised by many is the provision of the law which allows that obtained loans only be used for the payment of tuition fees.
"It is strongly recommended that the loan not only be limited to tuition but should cover other important areas like feeding, accommodation, and books for indigent students as well in order for the access to education to be fully maximised," an article by Law Pavillion, an online legal research platform says.
'Problematic'
The Academic Staff Union of Universities (ASUU), the apex union body of universities in Nigeria, also has reservations about the provision of the law.
Section 14(b) of the act which provides that "Applicant income or family income must be less than ₦500,000 per annum," has also been faulted by ASUU and other concerned parties.
The maximum period of two years provided by the law for the repayment of the loans is also a problematic area as Nigerian graduates do not exactly secure jobs immediately after graduation.
"Where are the jobs? Is there any data that shows that people get jobs in Nigeria after graduating," Adeyemi Adeyeye said to HumAngle while commenting on the time limit put on the repayment.
"People in this country will finish school and may not get jobs for a long time," he said.
Educated but unemployed
Adeyeye is not wrong. A 2022 research carried out by Punch Newspaper found that 58.9 per cent of Higher National Diploma (HND) holders are currently without employment, while 39.75 per cent of Bachelor degree holders and 49.55 per cent of Ordinary National Diploma (OND) holders are unemployed as well.
Adeyeye emphasises that a student like Ephraim who has to cater to his various needs such as feeding, accommodation, transportation, textbooks and other sundry needs (departmental fees, etc.) cannot rely on the student loan to solve his problems.
The condition for providing guarantors (at least two, one of whom must be a civil servant with a minimum of 12 years of service and a lawyer with a minimum of 10 years post-call experience) is also not one that he can easily meet, hence further cutting him out of accessibility to the loan.
In light of all these, Adeyemi Adeyeye also told HumAngle that the student loan, instead of solving the existing problem, will go ahead to not just increase the rate of dropouts in the country but also affect development.
"For a lot of Nigerians, education is a means of climbing the social ladder and bettering one's life."
"What the current increment in university fees [and the poorly written student loan bill] will do is to widen an already existing social inequality gap," Adeyeye said.
For a family like Ephraim's, the gap has been further widened and there is little to no chance of closing it.
---
Support Our Journalism
There are millions of ordinary people affected by conflict in Africa whose stories are missing in the mainstream media. HumAngle is determined to tell those challenging and under-reported stories, hoping that the people impacted by these conflicts will find the safety and security they deserve.
To ensure that we continue to provide public service coverage, we have a small favour to ask you. We want you to be part of our journalistic endeavour by contributing a token to us.
Your donation will further promote a robust, free, and independent media.
Donate Here