Gender & SGBV
Solutions & Development
Clinic Throws Survivors Of Violence A Lifeline In Nigeria's Adamawa State
These victims came to Hope Centre in Numan, Northeast Nigeria, mentally broken. They left much better than they came. How did this happen?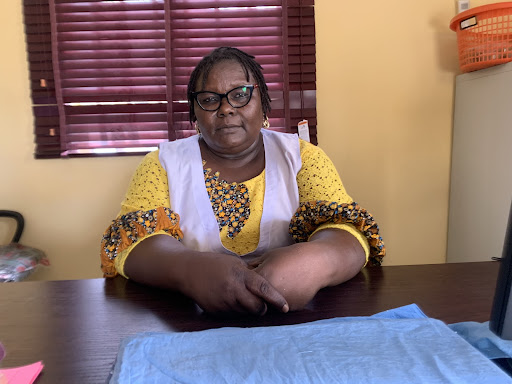 Glory Emmanuel Masai is the focal person for Hope Center Numan. Photo: Saduwo Banyawa/HumAngle.
Zuwaira,* 13, became a shadow of herself when a local herbalist raped her. She had been taken to the man by her mother, who sought treatment for her illness.
Aisha*, 51, was repeatedly beaten by her husband. "When people told me to leave him, I refused because I wanted to save my marriage," she told HumAngle.
All too often, survivors of trauma can sink into difficulties with their mental health, even though what happened to them was not their fault.
But for these women, things began to change when they came in contact with Hope Centre in Numan, Adamawa State, northeastern Nigeria.
Cases of sexual and gender-based violence (SGBV) have been increasing in Adamawa, people who work in health and social sectors say.
The Sexual Assault Referral Centre (SARC), in a report published in 2022, revealed that about 5,623 cases of gender-based violence were recorded within four years in Nigeria's northeastern states of Borno, Yobe and Adamawa.
The incidents were said to be recorded between January 2018 to July 2022. The 5,623 incidents involve child abuse and other sexual and gender-based violence. The data was collated through SARCs units set up in hospitals, offices of the police, NSCDC, and other security agencies, in response to reports of widespread SGBV cases across the three states.
Also, in 2022, it was reported that the National Human Rights Commission recorded 266 cases of human rights violations in Adamawa State.
As much as 70 per cent of these cases were sex and gender-based violence.
A senior Legal Officer at the Commission, Fatima Manadara, said the 266 cases reported during that period included domestic violence, defilement, sexual abuse, unlawful arrest and detention and parental negligence, among other things.
Free
The Hope Centre was set up in the capital of the northeastern state. But before long, the Association of Female Doctors in Adamawa saw the need to replicate the effort in Numan, a town in Numan Local Government Area (LGA) of the state.
So, it was good news when the Hope Centre Numan was declared open in January 2020, with Glory Emmanuel Masai as its lead mental health and psychosocial counsellor.
The goal was to reach LGAs within Adamawa that had not been reached before by mental care treatment, such as Lamurde, Demsa, Guyuk, and Shellang, she told HumAngle.
The centre offers medical services, psychosocial or counselling services. It also collaborates with the justice and legal system for the safety and security of survivors.
"There is no protocol, age or sex barrier. We are open to all. Treatment is free," says Masai. "Survivors are only asked to buy for themselves drugs that are not in our possession, but the ones in our centre are offered to victims for free," Masai explained.
The types of SGBV cases reported to the centre are usually different forms of violence, with forced marriage being the most uncommon. She pointed out that the Hope Centre is open to all survivors.
Any cases they can't handle are referred to the organisation's headquarters in Yola.
Ill and abused
When Fatima's* daughter, Zuwaira,* fell ill, her mother opted for a herbal cure.
"I decided to take her to a mallam to obtain herbal drugs. When I took her there, the mallam requested that she stay with him for a few days till the ritual was complete."
The ritual involved a bath to be administered by the mallam. But when she went to pick up her daughter a few days later, she learned from the 13-year-old that the mallam had been raping her throughout her stay in his house.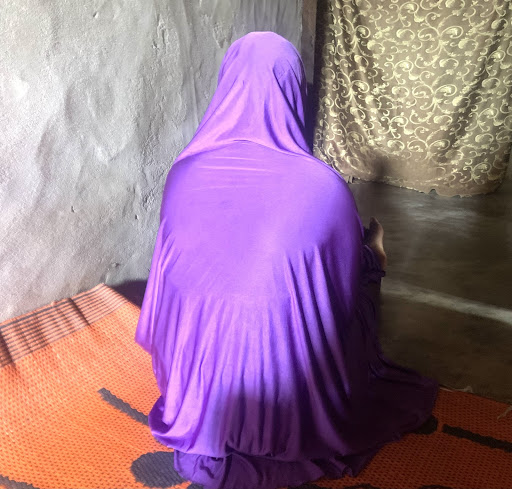 "I developed hypertension and was hospitalised after my daughter told me everything," Fatima narrated. This left her shattered for a while until she learned about Hope Centre from a friend and decided to seek help.
"I'm grateful for the fact that I discovered this centre," Fatima said. "The counselling process helped me. I felt hopeless and it got to a point that both my daughter and I were down, but today I'm healed and the centre has covered all my daughter's medical expenses. They are also helping us seek justice. Right now, my daughter is still receiving psychosocial support at the centre while I'm doing all I can to help her."
Zuwaira, who suddenly turned dumb since the incident, has started speaking and is now mingling with her peers.
Beaten
Another survivor is 51-year-old Aishatu*, who was consistently abused by her husband.
"He beats me at the slightest opportunity, and when people told me to leave him, I refused because I wanted to save my marriage," she told HumAngle.
Fortunately, Aishatu's neighbour introduced her to the Hope Centre in Numan where she enrolled in the counselling program.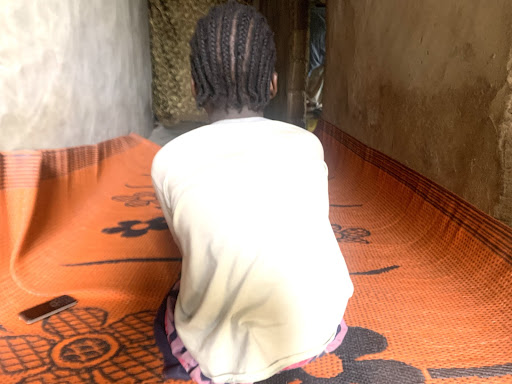 "I come here twice a week, and I think I'm the luckiest survivor in this centre," Aishatu said. "I later opted for a divorce. The counselling has opened my eyes and freed me from my abusive husband. Today, I feel free and I wish I had joined the centre a long time ago. I just wish other survivors take advantage of this free service. The staff here make us feel at home."
But what was her experience like?
"All I had to do was speak up. The counsellors asked questions and I responded. I think recovery is more effective if we speak out. If I had kept quiet, I would have died."
Aishatu also confirmed that she has not spent any money for the service rendered.
Giving hope
"We make them understand that they are not the only ones facing such challenges. We give them instances of other survivors who have thrived here, proving that they can also overcome. All they need is time," Masai explained.
At the moment, several survivors have completed their psychosocial sessions and are doing well, she continued. "It's a gradual process and we are patient with them here. It's all about empathy."
In the future, the centre plans to go out for advocacy because it services five local governments and needs to create more awareness about its work.
"But for now, constraints like finance hinder our productivity," she said.
Other challenges include the inability of survivors to come to the centre.
"Psychosocial support is only effective when survivors show willingness. Getting people to come here and then say their problems is not an easy task. It's sad that some people don't know about the centre but we are doing all we can to make it popular."
Masai offered one piece of advice to victims: to speak out and seek help at the centre. She stressed that issues of confidentiality and privacy are their utmost concern when dealing with the survivors.
"At Hope Centre, we respect human dignity and we don't segregate," she emphasised.
Traumatic events
The United Nations Children's Fund UNICEF revealed that failure to address mental health and psychosocial issues stalls children's development and bars them from opportunities to participate meaningfully in society.
They are exposed to stigma, discrimination, and even human rights violations. Worse, they may be excluded from their communities or exposed to further violence, including places they should, ordinarily, be safe.
For adolescents, severe distress and exposure to traumatic events can lead to various harmful outcomes, including alcohol and drug abuse, low self-esteem, health issues, poor school performance, self-harm, and suicide.
Estimates by the World Health Organisation (WHO) indicate that one in three (30 per cent of) women worldwide have been subjected to either physical and/or sexual intimate partner violence or non-partner sexual violence in their lifetime.
Also, a 2021 United Nations Women report said that 48 per cent of Nigerian women have experienced at least one form of violence since the COVID-19 pandemic.
The United Nations High commissioner for refugees explained that Gender-based violence can include sexual, physical, mental, and economic harm inflicted in public or in private.
It also includes threats of violence, coercion, and manipulation. This can take many forms, such as intimate partner violence, sexual violence, child marriage, female genital mutilation, and so-called 'honour crimes'.
He added that the consequences of gender-based violence are devastating and can have life-long repercussions for survivors. It can even lead to death.
The destructive impact of SGBV is felt not only by the victims but people around them.
'Nobody judges'
Parents like Ladi*, 31, are taking advantage of the mental and psychosocial support at the Hope Centre. In her own case, her child was raped.
"The people here are just wonderful. Nobody judges you," she said.
"At first, I was scared of coming here because I felt going to the centre meant exposing my family's secret. My daughter was raped by her uncle. I was discouraged by people not to come here but I decided to come here for the sake of my daughter."
To boost her daughter's confidence and hasten her progress, Ladi attends the weekly counselling session with her.
Despite being discouraged by people around her, Ladi put her daughter's mental health first.
Asterisked names are changed to protect identities
---
Support Our Journalism
There are millions of ordinary people affected by conflict in Africa whose stories are missing in the mainstream media. HumAngle is determined to tell those challenging and under-reported stories, hoping that the people impacted by these conflicts will find the safety and security they deserve.
To ensure that we continue to provide public service coverage, we have a small favour to ask you. We want you to be part of our journalistic endeavour by contributing a token to us.
Your donation will further promote a robust, free, and independent media.
Donate Here