Analyses
Armed Violence
News
Chinese Expats In Nigeria Facing Increased Security Risks. What's The Big Picture?
In the past decade, close to 50 Chinese nationals in Nigeria have either been killed or kidnapped. Considering China is one of Africa's biggest investors, does Nigeria stand to lose if this trend continues?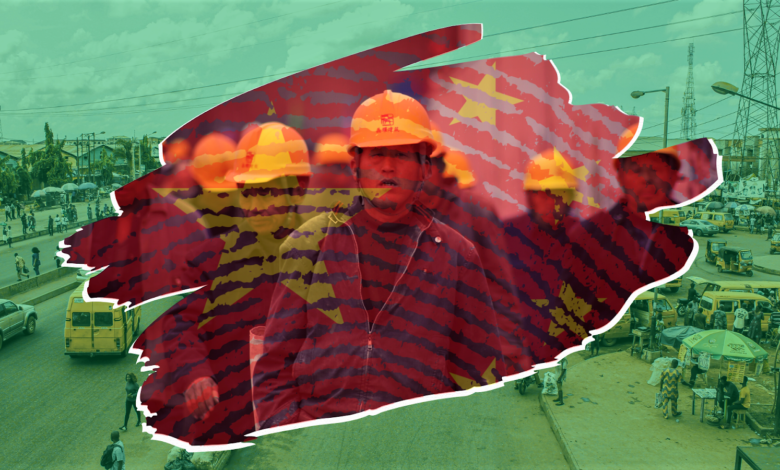 Chinese manufacturing investment in Africa is said to be the continent's best hope "to industrialise in this generation". But, in Nigeria, rising insecurity may be threatening this prospect.
The strong diplomatic relations and economic ties between China and Nigeria, which date back to the 1970s at least, have contributed significantly to the migration of people across both countries.
About 30 per cent of Nigeria's imports originate from China, according to the Observatory of Economic Complexity. The Netherlands and India come second and third place with 11 per cent and 7 per cent respectively. China is also among the country's top export destinations.
The China Global Investment Tracker likewise estimates that Chinese companies have invested close to $41 billion in Nigeria as of July 2021, with most of those resources channelled into transportation, construction, science and technology, and energy. The state-owned international contracting company, China Civil Engineering Construction Corporation (CCECC), has nearly 20,000 employees in Nigeria and is in charge of over 120 construction projects.
Naturally, these many bilateral projects require the hands-on involvement of Chinese workers.
Data compiled by the China Africa Research Initiative shows that, as of 2020, there were 8,616 Chinese workers in Nigeria. This was 8.3 per cent of the total number of Chinese people resident in Africa, second only to Algeria. Since 2012 and prior to the COVID-19 pandemic, the number rose steadily, unlike in other parts of the continent. The population could be more too — between 40,000 and 50,000 as of 2017, according to the Chinese ambassador to Nigeria, Zhou Pingjian.
The safety of the Asian country's citizens, however, remains a concern.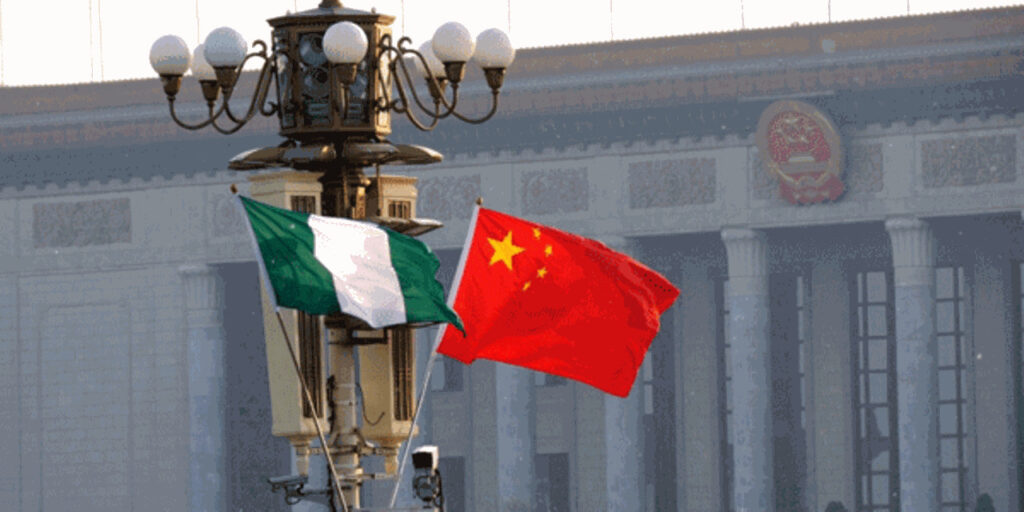 What the numbers say
Data collected by the Nigeria Security Tracker (NST) shows that Chinese nationals in the country have been victims of armed violence for a long time — as far back as 2012. Before this period, incidents involving Chinese establishments seemed to have been more frequent in southern Nigeria where oil companies were present.
Analysis of the figures shows that between June 2012 and June 2022, there have been at least 29 incidents leading to the killing and abduction of Chinese nationals. In another event, an attempted kidnapping was foiled by the police.
In the 10-year period, at least 12 Chinese workers were killed, mostly by local armed groups, while 39 others were victims of abduction. There have also been instances of the workers getting kidnapped in neighbouring countries such as Cameroon by Nigeria-based terror groups.
More deaths were recorded between 2012 and 2014, especially in the northeastern state of Borno. It had, at the time, become the hotspot of the Boko Haram insurgency that erupted in 2009, rendering many communities unsafe for government and corporate projects.
From late 2014 to the present day, Chinese workers were more likely to be kidnapped than killed, with most of the abductions taking place in North-central and Southwest Nigeria.
Not all the incidents are catalogued in the security tracker. For example, in March 2021, the Nigeria Army stated that it had secured the freedom of 14 members of a Chinese fishing boat who were abducted by pirates after a ransom of $300,000 was paid. Ten of the abductees were foreigners, including six Chinese, three Indonesians, and one Gabonese.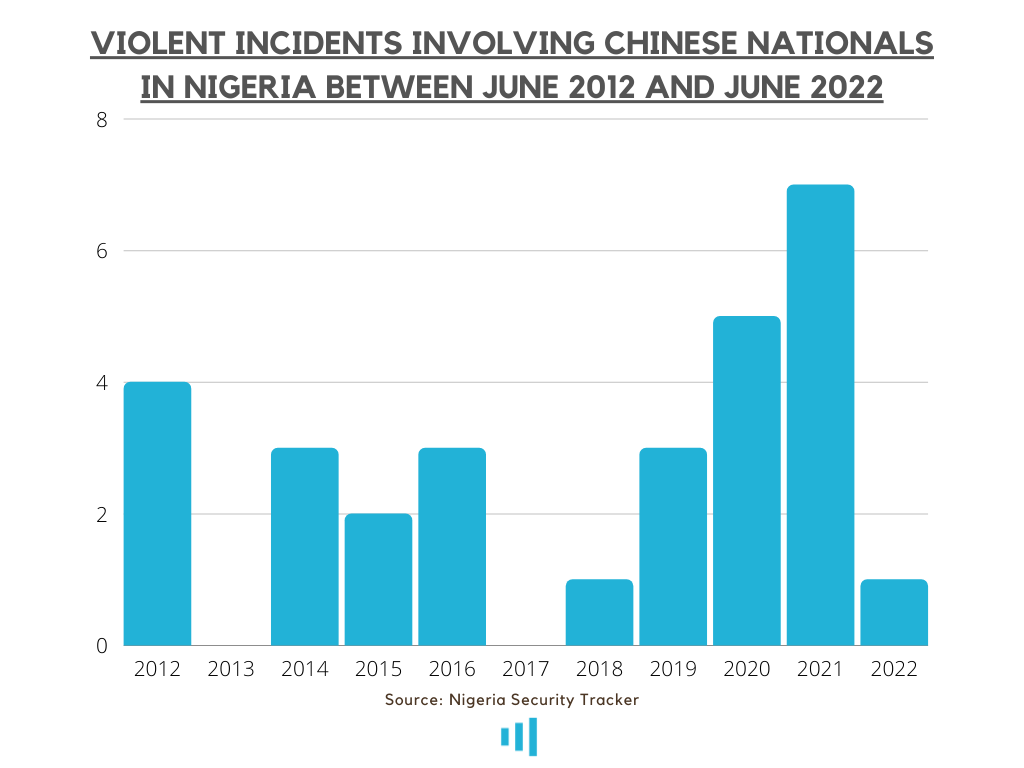 Though there have been no reports of attacks on Chinese expats there since May 2014, Borno remains the state with the highest number of incidents. This is followed by Ebonyi, Nasarawa, and Osun, each recording three incidents; then Ekiti, Kogi, Lagos, Niger, and Taraba, where there were two incidents each. Finally, Edo, Kaduna, Osun, and Zamfara each had one incident.
The economic nature of Nigeria's relations with China is reflected in the occupation of Chinese citizens who fall victim to local armed violence: construction workers, engineers, mine workers, employees of oil exploration companies.
The various violent incidents have led to the killing of security personnel too, many of them serving as escorts for company staff. At least 10 security agents were killed between 2012 and 2022 during the events studied by HumAngle.
While there are no official statistics backing this, a review of press reports suggests that Chinese nationals constitute a bigger chunk of foreigners who have been caught in the web of local conflicts. Others notably include the citizens of Burkina Faso, France, Ghana, India, Italy, Lebanon, the United Kingdom, and the United States.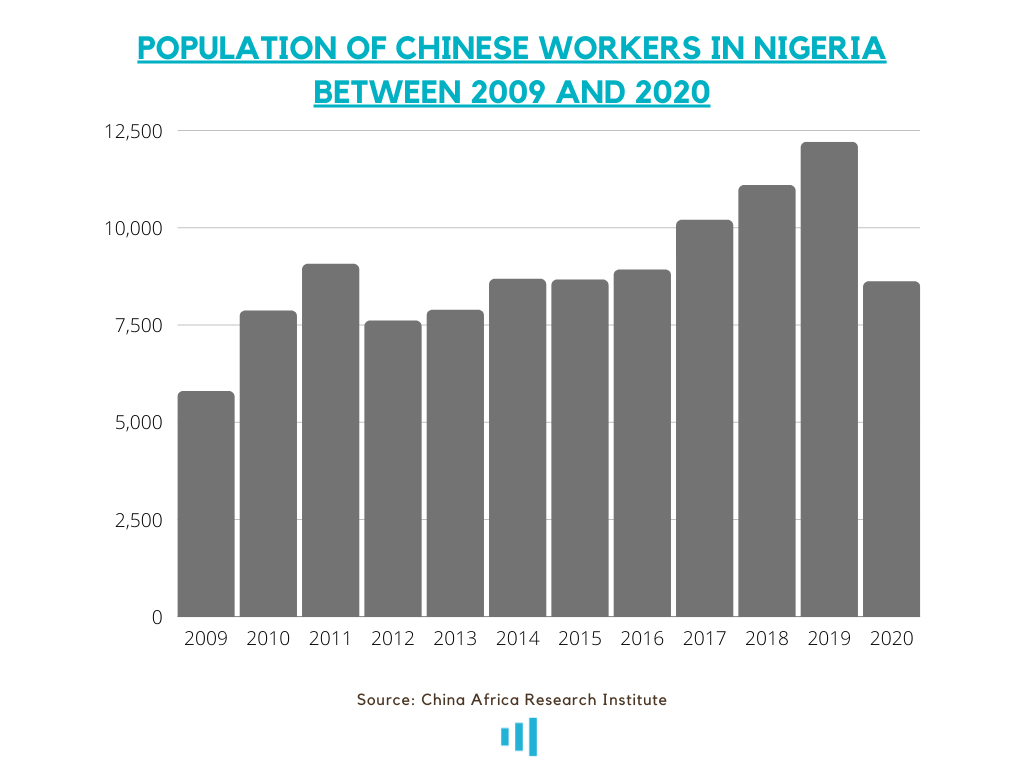 High-level concerns, delayed projects
Rising insecurity in Nigeria has, for a long time, been a source of worry to the Chinese authorities, who have offered peacebuilding and military support.
"China's central government is really concerned about the security situation in Nigeria and also the Chinese Nationals in Nigeria," its ambassador to Nigeria, Cui Jianchun, said last December.
Charles Onunaiju, who is director of the Abuja-based Centre for China Studies, recalls that a top official of the China's ministry of public security recently spent several months in Nigeria, "engaging Chinese companies and working out ways to guarantee their security."
One of the implications of insecurity in the region is that many developmental projects have been delayed across the country because of the risks posed to workers. These include the construction of the Kano-Maiduguri road, the Kano-Kaduna rail line, and the Lokoja-Benin road, where four Chinese expatriates were kidnapped and released only after a ransom was paid.
In the early days of the insurgency in Northeast Nigeria, Boko Haram specifically targeted foreigners working with construction giants such as Julius Berger and Dantata & Sawoe.
"The plan is that after the kidnap, they would either transport their victims to their counterparts in Algeria in exchange for arms or demand money for ransom as the case may be," confessed one arrested member of the terror group.
In 2016, Borno's government complained that road and bridge construction projects situated in the state capital, which were worth about ₦17 billion ($40.9 million), could not be completed due to insecurity.
"We are very frustrated over this development," observed the Commissioner of Works and Transport, Alhaji Adamu Lawan. "It prevented the haulage of roads construction materials and equipment to sites; while the lives of sites engineers were threatened, including the killings of some contracting partners in 2013 and 2014 at three different project sites in Borno State."
Despite these challenges, Chinese companies have shown resilience. Unlike some other foreign contractors, they continue to venture into relatively unsafe parts of the country to execute projects.
"There's two things on the table there," explains Fikayo Akeredolu, an expert on China-Africa relations and Chinese economic expansion.
"One, a lot of people forget that, at its core, China is actually still a developing country. And that is why you will find China and Chinese nationals going to places where developed investors and developed economies will not go because for them it's not anything crazy. Secondly, China is desperate for soft power."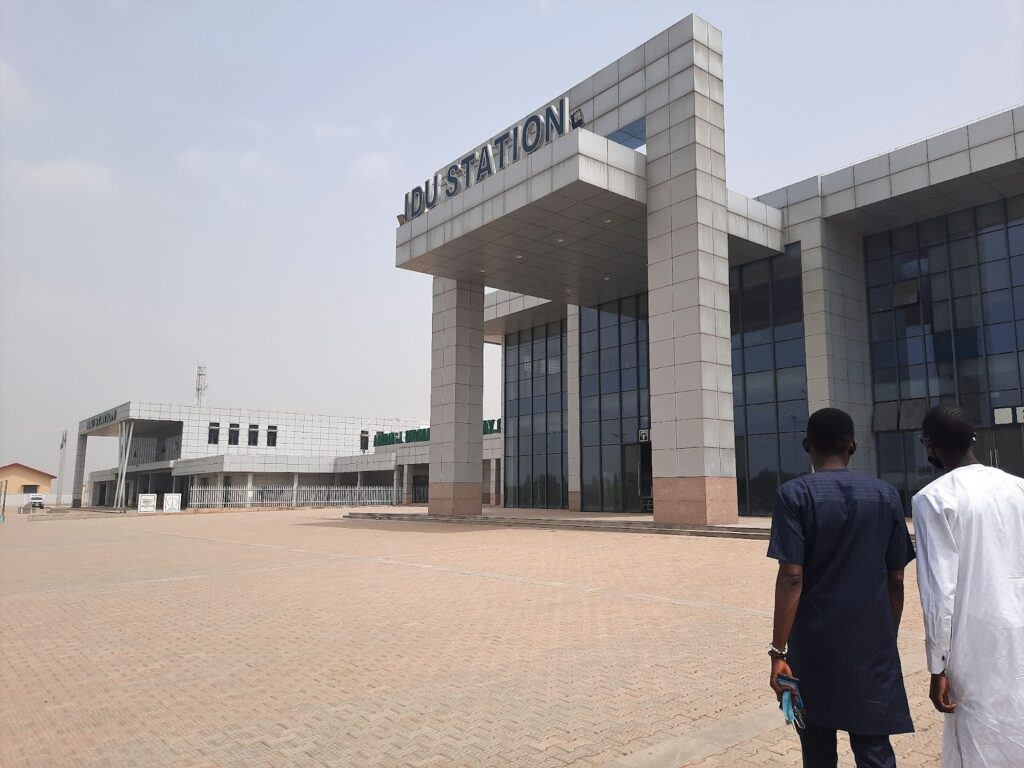 Will China slow down investments?
There may be a decline in the number of Chinese expats resident in Nigeria soon.
The Chinese government is reordering its priorities and is now more reluctant to fund signature construction projects in places like Nigeria. This is partly due to tight budget constraints, the economic costs of its 'zero-Covid strategy', and concerns about the ability of low-income countries to pay back their debts. If this continues, it means, with fewer projects to work on, the population of Chinese workers in the country could reduce.
Rising insecurity in Nigeria does not yet seem like a major deterrent though. This is partly because of the Chinese government's conviction that security challenges are best tackled with increased development.
"That has underlined their activities in Nigeria, that even when the threat is obvious, even when the threat appears to be growing, their response has been to be more involved in development support and assistance," says Onunaiju.
Asides developmental assistance, China also supports local peace efforts through collaborations with the military and police, training and capacity building, intelligence sharing, providing loans for surveillance infrastructure, and the sale of arms and equipment.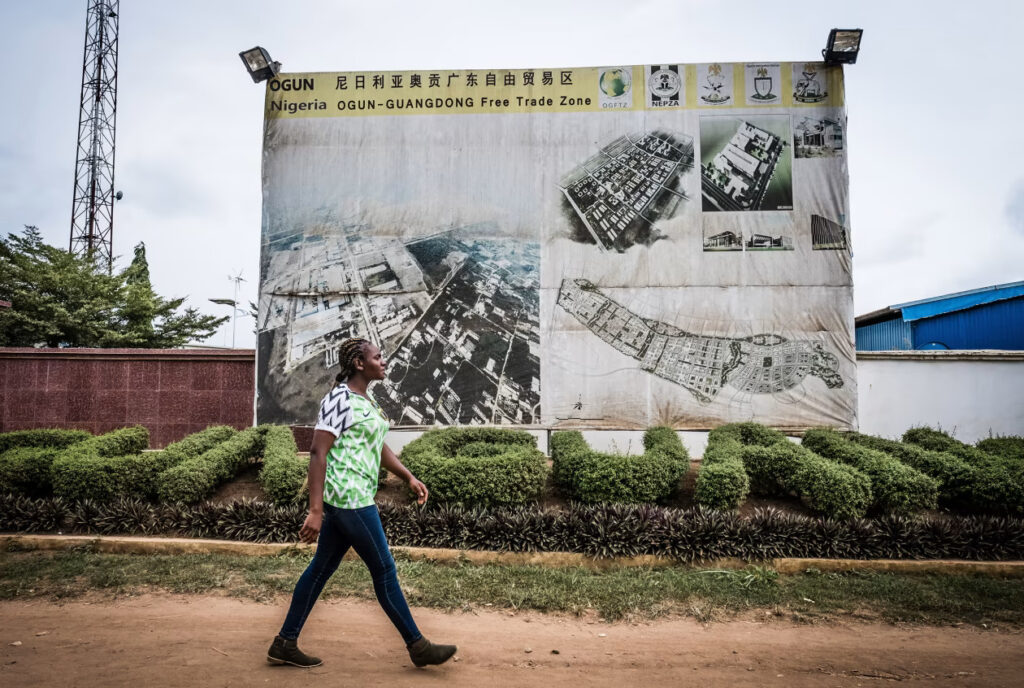 So what should be done to protect Chinese nationals and investments in Nigeria?
Fikayo suggests that one way to achieve this is through the enforcement of visa rules for visiting foreigners, requiring them to register not only with the immigration service but also the police, and enlightening them about boundaries that must not be crossed for their own safety.
For Onunaiju, the Nigerian government must step up its efforts to restore law and order, thus making the country more attractive to investors.
"Security is fundamental to people bringing in money and expertise," he insists. "We must take measures to reduce such [violent] incidents and make here welcoming."
He adds that there is more room for cooperation between the countries, especially in the security sector, and Nigeria generally stands to benefit.
"Of course, if we do more on security, I think the Chinese will do a lot more, especially within the framework of certain projects like the Belt and Road Initiative and accelerating development. I think security is at the base of all this."
---
Support Our Journalism
There are millions of ordinary people affected by conflict in Africa whose stories are missing in the mainstream media. HumAngle is determined to tell those challenging and under-reported stories, hoping that the people impacted by these conflicts will find the safety and security they deserve.
To ensure that we continue to provide public service coverage, we have a small favour to ask you. We want you to be part of our journalistic endeavour by contributing a token to us.
Your donation will further promote a robust, free, and independent media.
Donate Here