Features
Human Rights
News
Children With Disabilities Suffer In Sokoto Over Failure To Domesticate Child Rights Act
Children with disabilities in Sokoto state, Northwest Nigeria, battle illnesses, poverty, and lack of access to special needs education. The state's response however, leaves no hope in sight.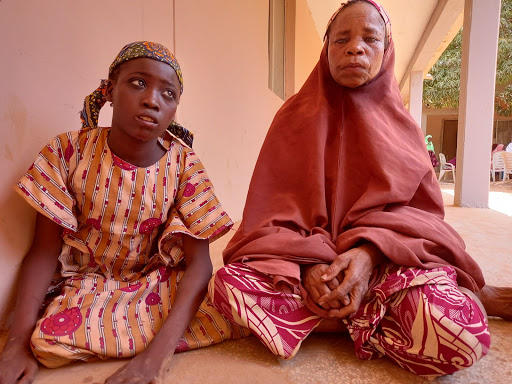 One moment, 16-year-old Aliyu Bello is sitting on a couch, stretching his arms playfully and beaming a smile through his brown face, the next moment, he is recoiling into silence and fiddling with the worn-out thread on the three-seater couch in a room-and-parlour apartment at Anguwan Kwasai, Bafarawa estate, Sokoto, Northwest Nigeria.
It is his thirteenth year of battling an illness that almost took his life but left him physically disabled. "It was very serious," Aliyu's Mother, Fatima Bello, said, patting his shoulders.
It started on a Thursday night when Aliyu was just eight months old. That night was perhaps the longest in Fatima's life. First, Aliyu had a high temperature, then inflamed eyes, followed by skin rashes that gave him a blotchy red appearance on the forehead. As the week ran out, the rashes spread over little Aliyu's body like wildfire.
Fatima and her husband, Mallam Bello, thought it was measles, a highly contagious illness caused by a virus that replicates in the nose and throat of an infected child. No medical diagnosis was ever carried out on him because the family could not afford a hospital visit. The couple started collecting herbs. Fatima said she was told it would heal him in no time.
After three weeks, the red rashes started fading, but it left inconvenience behind. Fatima said she noticed that the young Aliyu would become fatter at night, and reverted back to normal size during the day. His cries would break the hush in the house. This continued for three long years for the couple.
The couple became worried as his health deteriorated. "He couldn't even lift a spoon to feed himself. He would fall sick at night, and his legs would look deformed," Fatima said. 
Denied by the government 
Unfazed, they tried to enroll Aliyu, the sixth child in the family of twelve, into A.A. Raji Special School, a government-owned school for children with disabilities in the state but he was rejected.
"When we took him to school, A.A. Raji, we were told to enroll someone who would look after him because of his condition. He could not walk, not even feed himself at the time. In fact, most of her sisters were already enrolled in school," Fatima told HumAngle. 
This was before the school was transformed into an all-inclusive institution. Frustrated, the couple eventually backed down. Today, Aliyu scours the streets of Sokoto begging for alms and returns home for Islamiyah (Islamic school) in the evening.
A report on inclusive education by the World Bank shows that though literacy among children with disabilities has increased globally, these children are always at a disadvantage when formulating educational policies while the gaps between them and their peers without disabilities keeps growing. 
Of the estimated 65 million primary and secondary school age children with disabilities, at least half of them are out of school. Like Aliyu, they face barriers enrolling and learning at school. Statistics suggest that more than 85 per cent of physically disabled out of school children of primary school age have never attended school. 
On average, one in three children with disabilities of primary school age is out of school, compared with one in seven children without disabilities.
In Nigeria 10.1 million children are estimated to be out of school; determining an exact number of out of school children with disabilities is nearly impossible due to absence of official data.
As a result, any educational initiative would almost certainly fail to meet the needs of people with disabilities. This is the fate of Aliyu and other children with disabilities in Sokoto State, Northwest Nigeria.
Tales of neglect and exclusion
Stuck in Majema, a rural community in Dundaye, which hosts the Usmanu Danfodiyo University, Sokoto, seeing young adults and her peers going to school glistens 13-year-old Nana Fridausi's heart. She has always wanted to be in their shoes but a familiar emptiness would envelop her anytime the thought crossed her mind.
Her mobility depended on a wooden crutch. Today, even though she has dropped the crutch, she limps heavily, not to school, but to run errands for female students of the university.
Nana lost her leg when she was three, after a brief illness. "She was well and healthy until she fell ill after battling Iska at a younger age. We tried our best for her, but it seemed that's how God said she would be. Although she longs to go to school like other kids in the village, she can barely walk long distances" her father, Usmanu Aliyu, said.
"She cannot walk to the school and her father did not have money to transport her," a close relative pointed out in a separate interview with her family.
Although the state boasts of a free education policy, it is common to see children of school age roaming the streets, mostly in tattered clothes, holding a bowl for alms or hawking during school hours. For children with disabilities, their problems are more compounded. 
Special needs school
Established in April 1984, the School of Special Needs serves the entire 23 local government areas in the state. This implies that children like Nana in rural communities other than the state capital where the school is located are denied access to education.
This negates the provision of the national policy on education which endorses inclusive and free education for people with special needs, regular census and monitoring of people with special needs to ensure adequate educational planning, training of special education teachers and removal of barriers that may frustrates inclusive learning in schools, for instance, ramps instead of steps; wider doors for the wheelchaired, lower toilets and so on.
Amidst this, shortage of instructional materials, understaffed schools and overpopulated classrooms are also huge hindrances to inclusive education even in conventional schools.
Dr Aisha Ibrahim, a consultant on inclusive education and lecturer at the Faculty of Education and Extension Services, Usmanu Danfodiyo University, Sokoto, said, "the state government has not implemented the inclusive education policy. By inclusive education, we mean all children regardless of their physical and mental ability and disabilities learn together in an enabling and supportive environment – an environment that best corresponds with every learners' learning requirements."
"When policy on inclusive education is implemented, it's my belief that children with disabilities who live in rural communities would be enrolled without having to travel down to the state capital. The existing schools would be structured and modified to accommodate children with disabilities in all the local governments in the state," Dr Ibrahim added. 
She, therefore, argued that parents need to be sensitised on the need to enroll their children with disabilities to schools, adding that a supportive environment will enable these children to unlock their potentials.
"Parents of these children are not keen on having them educated. Most parents leave them to beg for alms on the street because they are not even aware that the children despite their disabilities can still be educated. There are special skills depending on the kind of disabilities these children have," she noted. 
The absence of support, she concluded, contributes to their disabilities and exclusion from the government's educational plan.
Right infringement because of non-passage of Child Rights Act
In Sokoto, the rights of children are grossly abused as if there is no law that protects them. 
The Child Right Act which was passed into law in 2003 to ensure that every child is "given the protection and care necessary for his well‐being" disapproves any form of discrimination against a child, and mandates that "every child has the right to free, compulsory and universal basic education and it shall be the duty of the Government in Nigeria to provide such education."
Other rights of a child stated in the Act include: rights to parental care and protection, rights to health and health services, prohibition from exploitative labour, including dealing in children for the purpose of hawking or begging for alms and so on.
Section 16 (1) of the Child Rights Act provides that "every child who is in need of special protection measures has the right to such measure of protection as is appropriate to his physical, social, economic, emotional and mental needs and under conditions which ensure his dignity, promote his self‐reliance and active participation in the affairs of the community."
It furthers in subsection (2) that "the responsibility for ensuring the care of a child in need of special protection measures shall endeavour, within the available resources, to provide the child with such assistance and facilities which are necessary for his education,training, preparation for employment, rehabilitation, and recreational opportunities in a manner conducive to his achieving the fullest possible social integration and individual development and his cultural and moral development."
Currently, 11 Northern States including Sokoto have not domesticated the Act 17 years after it was passed by the federal government.
A delay, Dr Ibrahim added,  will continue to give room for the rights of these children to be trampled upon.
Yusuf Ladan, head, Coalition of Civil Societies for the Domestication of the Child Rights Act in Sokoto, said the bill is being deliberated upon, especially among Islamic scholars in the state who still hold a grouse against the bill, to meet the norms and culture of the people of Sokoto State.
"As civil societies, we are doing our best to reach out to them and make them understand that this bill is very important to the people of Sokoto State. There was a research that was conducted, apart from the Penal Code which is outdated, there is no strong law to prosecute anybody that violates the right of a child which is why we are now advocating for the Child Protection Law."
Aliyu remains unfazed. He flashes his tender smile again, and muttered the word "Mallam" when asked what he would like to become if he ever got enrolled in school
"I want to be a Mallam (Teacher)," he said. 
But the continued delay in the passage of the bill by the state government, analysts say, would keep bellying the aspirations of children like Aliyu.
(This story is supported by YouthHub Africa and Malala Fund.)
---
Support Our Journalism
There are millions of ordinary people affected by conflict in Africa whose stories are missing in the mainstream media. HumAngle is determined to tell those challenging and under-reported stories, hoping that the people impacted by these conflicts will find the safety and security they deserve.
To ensure that we continue to provide public service coverage, we have a small favour to ask you. We want you to be part of our journalistic endeavour by contributing a token to us.
Your donation will further promote a robust, free, and independent media.
Donate Here