Armed Violence
Features
News
Chibok Girls: Parents Want Full Disclosure 6 Years After To Move On
While the Buhari-led government continues to give hope to the parents of abducted Chibok girls about rescuing all their children, after six dreary years in captivity, many want the truthㅡno matter how bitter.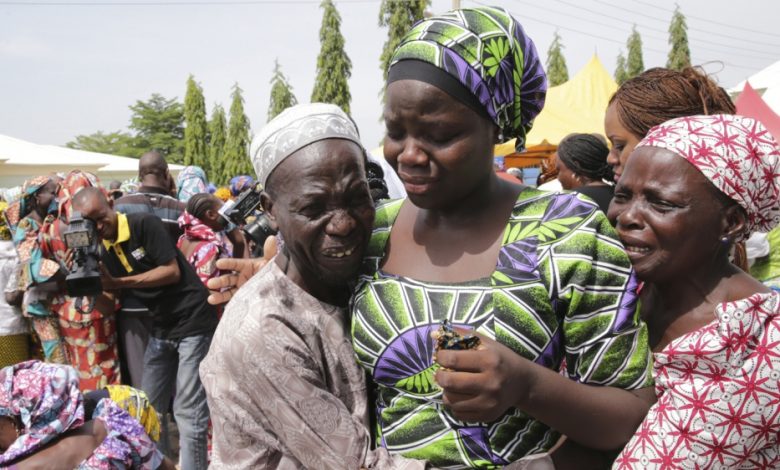 There have been countless tragic events since the Boko Haram insurgency started in 2009. But, in terms of concerns triggered across the world, none seems to compare with the abduction of 276 schoolgirls in Chibok, Borno State, six years ago.
Since their abduction on Monday, April 14, 2014, some 164 of the girls have been freed, rescued or escaped, leaving 112 still classified as missing.
Despite evidence to the contrary, the Nigerian government has continued to suggest all 112 can be rescuedㅡthereby preventing grieving parents and loved ones from getting much-needed closure.
A former Nigerian leader, Chief Olusegun Obasanjo, who is a retired General in the Army, has dismissed this position, insisting that it would be an illusion for Nigerians to assume all remaining girls were alive.
Latest intelligence available to HumAngle, including proof of life, indicates that only 15 of the Chibok girls not freed from captivity are still alive.
Most of themㅡhaving been married offㅡare not directly under the custody of factional Boko Haram leader, Abubakar Shekau.
As a result, multiple sources said, their releases could not be negotiated unless they were divorced or their husbands killed. The only other option is rescuing them through military operations or persuading the respective husbands to release them.
A leading member of the terror group, however, later stated that another group of 10 girls were in the custody of a different cell of insurgents and then there was another group of five girls who had become used to their new environment and were unwilling to leaveㅡall totalling 30.
The presidency, on the other hand, has never admitted that only a few girls were alive and thus refused to disclose the identities of those who might have died to their families.
It claimed in April 2018 that all the girls were breathing and urged their parents to "please not give up".
"They are also advised not to lose faith in this government's ability to fulfil its promise, that the girls will not be abandoned or forgotten," senior presidential spokesperson Garba Shehu said.
Every year, on the anniversary of the girls' abduction, President Muhammadu Buhari reassures the parents of his government's commitment to bring all the girls safely back in fulfilment of his 2015 election campaign promise.
Last year, he said to the parents that "his administration is still on the matter".
On Monday, April 13, an identical press statement was again released.
Relying on this wrong notion, advocacy organisations such as the Bring Back Our Girls (BBOG) have not relented in asking for the return of 112 Chibok girls who are "still in the hands of the terrorists".
Nifemi Onifade, the group's spokesperson, explained to HumAngle that the primary source the movement had acted upon continued to be the government, which is responsible for the security of Nigerians.
"Our demand has always been: bring back our girls and/or account for them," he explained. "And we have said that we will not stop until all of them are accounted for."
Since the disclosure was made two years ago that only 15 of the abducted girls were proven to still be alive, neither the insurgents nor the government has been able to provide contrary evidence showing that the number is higher.
No closure without full disclosure
Six years is a really long time for a parent to be without their child. And, when that parent has no idea if the child is dead or alive, it becomes not only long but agonising.
The over 100 Chibok parents are not dealing with the situation the same way. At least 19 had passed away as of April 2017, their deaths hastened by the void left by their children and the trauma from waiting endlessly.
Some, although still alive, are battling various ailments, including High Blood Pressure and reduced heart function.
While some of the parents have performed symbolic funeral ceremonies as a way of trying to take their minds off the uncertainty surrounding their children's conditions, many more have continued to hope that one day they would reunite with their children.
A Chibok-based activist, Allen Yaga, explained that many of the parents remained hopeful because of occasional reassuring words from the government and advocacy from civil society groups. But their anticipation has caused most to become depressed, he added.
"Even this morning, I was with one of the parents," Yaga said.
"And he said the best the government can do to help them and heal their wounds is to tell them the truth about the girls. Are they dead or alive?"
Dr Allen Manessah believes the reasonable step is for the government to disclose what it knows about each child and allow those previously rescued to share information about their colleagues.
Manessah, who is the spokesperson for Kibaku Area Development Association, an umbrella body for the Chibok area, described the current secretive approach as sheer wickedness and irresponsibility.
"Even if it is one family that will have closure, at least the counting will drop from the 112 we are waiting for to 111. One family having closure is progress, and that is what we have been asking for," he told HumAngle.
"Courtesy demands that and humanity calls for such to be done. What the parents want is closure.
"Even if the girls are dead today and they communicate to the parents that no single Chibok girl is alive, it is fine. At least, they can move on with their lives, knowing that their children are not coming back."
Prof. Chidi Odinkalu, a former Chairman of the National Human Rights Commission and activist, agrees that the government needs to give an account in order to reassure the families and help them in dealing with trauma.
"But I'm not holding my breath," he quickly added, "[because] the government has not much behaved like it cares."
A call placed to presidential spokesman Shehu on Monday was not answered and texts sent to him asking if the government has any plans to inform the parents of the true condition of their children have yet to receive any response.
Death by airstrikes, disease
Various reports in the past have supported HumAngle intelligence concerning the condition of the girls and the fact that many of them have sadly become casualties.
Factors that have contributed to the high death toll include airstrikes by the Nigerian forces, harsh living conditions in the forest, death during childbirth, and exposure to diseases without proper medical care.
Halima Umar, a National Youth Service Corps member, who was abducted and later freed by the insurgents last year, revealed, for instance, that the shelters where captives were kept were usually cold and flooded during the rainy season.
During her six months of captivity, Umar saw dozens of snakes in her tent as well and had to grapple with a lot of mosquito bites.
A Boko Haram defector, who spent five years living in Sambisa Forest, gave a similar gloomy description when he spoke to HumAngle.
"A flashlight suddenly attracts thousands of insects that attack anyone on sight in the night and when you put off the lights, the smell and creeping sound of snakes can deprive one of sleep," he recounted.
"It is also very cold during the Harmattan season and there are hardly blankets to cover in the tents that are made from sticks and metal roofing sheets. There is little to no treatment for common diseases such as cold, malaria or snake bite."
He added that air raids by the Nigerian military often led to the loss of innocent lives as they could not separate captives from their abductors.
It is also known that abducted girls who refused to convert to Boko Haram's brand of Islam or not up for possible negotiations, were forced to become kuyangus (sex slaves), sources said.
Villagers in the Baale region, who found two sexually molested and barely alive girls in 2014, reported that four others were killed and buried.
When Amina Ali was found in May 2016, she told a Chibok community leader that the remaining girls were still being held in Sambisa but that six had died.
Ali, her baby and 'husband,' who were with her at the time, all suffered from severe malnutrition.
That same month, Amir Muhammad Abdullahi, who said he represented senior Boko Haram militants, claimed that only about a third of the schoolgirls were still alive and that the rest had become "martyred".
Later that year, the terror group released a video requesting to trade some of the girls for their members who were in jail. The group said in the clip that 40 of the girls had been married and some killed in airstrikes carried out by the Nigerian military.
It is not only death or marriage that prevents some of the girls from returning home though. A number of them have grown used to life with the insurgents owing to indoctrination and being totally cut off from the rest of the world.
HumAngle gathered that during a military raid early in September in Gwoza, Borno State, one Chibok girl hid alongside other women inside a nearby maize farm for many hours and did not come out until she was sure the soldiers had left.
There have been several reports of rescued girls, such as Zara John and Aisha Yerima, who openly longed to return ㅡ or did, in fact, return ㅡ to their husbands in the terrorists' camps.
It is not unusual for captives to begin to identify with their captors, says Dr Fatima Akilu, a forensic psychologist and the founder of NEEM Foundation, an NGO dedicated to psychosocial care and rehabilitation.
Known as the Stockholm Syndrome, it manifests when those abducted feel powerless against their captors and are then shown some affection such that they no longer perceive them as a threat.
"In some cases, they can begin to think like the captors or imbibe their belief systems or ideology," she said.
Uncertainty about child's status is 'living hell'
It is difficult to fairly describe what a parent goes through when they lose their children without a guarantee of ever seeing them again.
Akilu, however, says that such an experience leaves a person in a state of emotional suspension.
In this state, described by some as living hell, the person is "forever in a perpetual state of despair, grief, and hope".
"Parents are unable to move on, they often put their life on hold, spending all their resources, physical and emotional, in a perpetual search for their child," Akilu added.
"Knowing that your child is dead rather than missing allows you to begin the grieving process and eventually reach a place of acceptance where one can begin to pick up the pieces of their life and try to find some sort of equilibrium," she said.
Dr Jibril Abdulmalik, a consultant psychiatrist and founder of Asido Foundation, a mental health advocacy group, describes the parents' strong feelings of anxiety and helplessness as "a recurring nightmare they simply cannot wake up from".
The likely implications include psychological distress, feelings of guilt and shame, sleep deprivation, alcohol and drug abuse, suicidal thoughts, or even Post-Traumatic Stress Disorder.
Chibok parents wish the Nigerian government would "understand that the only thing worse than knowing that your child is deceased is not knowing if your child is deceased.
"It does sound odd, but very little about the abduction saga has made any sense so far."
---
Support Our Journalism
There are millions of ordinary people affected by conflict in Africa whose stories are missing in the mainstream media. HumAngle is determined to tell those challenging and under-reported stories, hoping that the people impacted by these conflicts will find the safety and security they deserve.
To ensure that we continue to provide public service coverage, we have a small favour to ask you. We want you to be part of our journalistic endeavour by contributing a token to us.
Your donation will further promote a robust, free, and independent media.
Donate Here