Featured
Humanitarian Crises
Investigations
Caught In the Floods: Tales Of Residents Affected In Nigeria's Delta State
In many communities in South-south Nigeria, farms were prematurely harvested, people are stranded, and those in displacement camps complain of lack of support.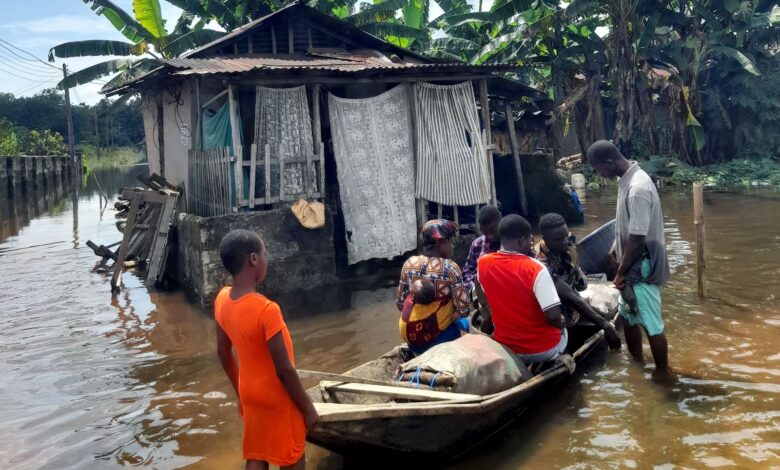 Madame Christiana sits to count her losses. She recently woke up to a flooded compound. Naturally, that meant flooded farmlands too. So, she raced to the farm, trying to salvage what she could. She had to uproot cassava that had not reached its harvesting period. The cassavas all look the same, the heaps clearly showing that the harvest was premature.
"It is not yet time, but we have no choice. If we do not harvest, we will be left with nothing," she says.
Ewu–Otor in Ughelli, Delta State, is a community of farmers. And that means Madame Christiana is not the only one facing hard times because of the flood.
People are currently battling heavy floods across Nigeria. In Delta, thousands have been displaced from their homes, and the death toll is on the increase. The National Emergency Management Agency (NEMA) says the floods have been made worse due to the release of excess water from a dam in Cameroon.
Getting to Ewu-Otor is not easy. Many drivers are reluctant to visit and have hiked the fare; the reason is not hard to guess. This community is one of those most affected by the flood. The air is full of apprehension and despair.
Madame Christiana continues to peel her cassava tubers. She says that's all she can do for now. Her house is mostly covered in flood but she looks undeterred. She points in the direction of a woman sitting in a corner, still surrounded by the flood. It's her mother. She had gone to rescue her from a different community that had first been submerged in water. She had thought her mother would be safe with her in Ewu-Otor, but she was wrong – with the flood now at their doorstep.
All she can do is salvage the remains from her cassava farm, as they will need all the food they can get to survive the flood.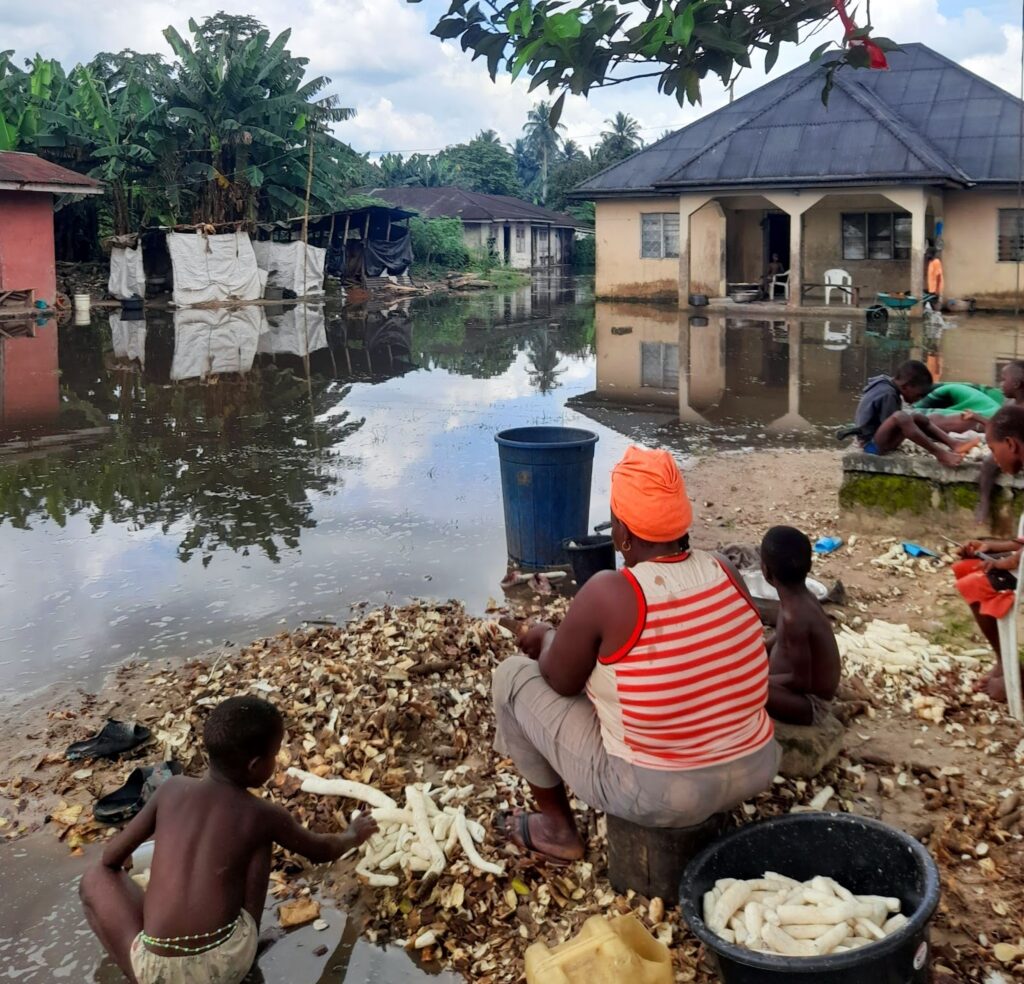 Like Madame Christiana, Iyede Gloria did not expect the floods and had to run to her farm to harvest her unripe cassava. "This is not the normal time for harvesting. We are going to run at a loss," she says.
She says that there is a looming hunger as they were not prepared. I ask her why she has not gone to the camp open for displaced persons seeing as her house is gradually getting swamped, she says what they need is relief support.
"They provided nothing, but they told us to go there. We have no food. We have nothing. At least for now, let me focus on harvesting my cassava."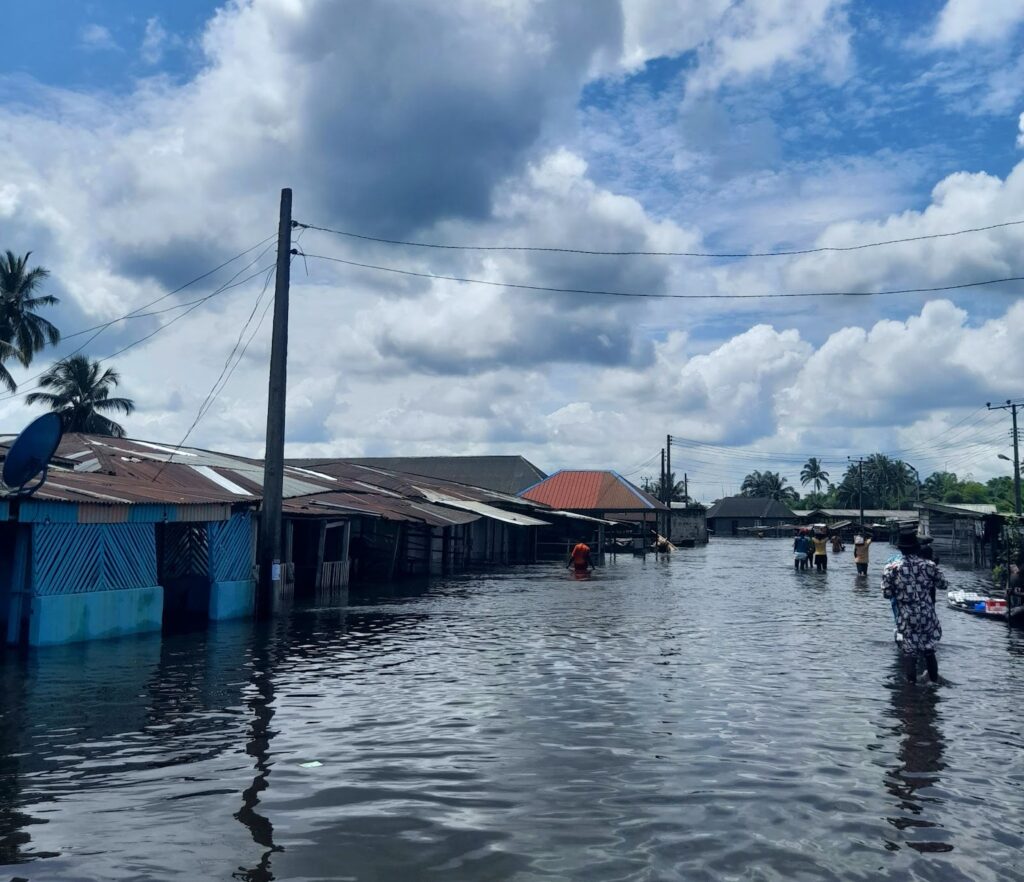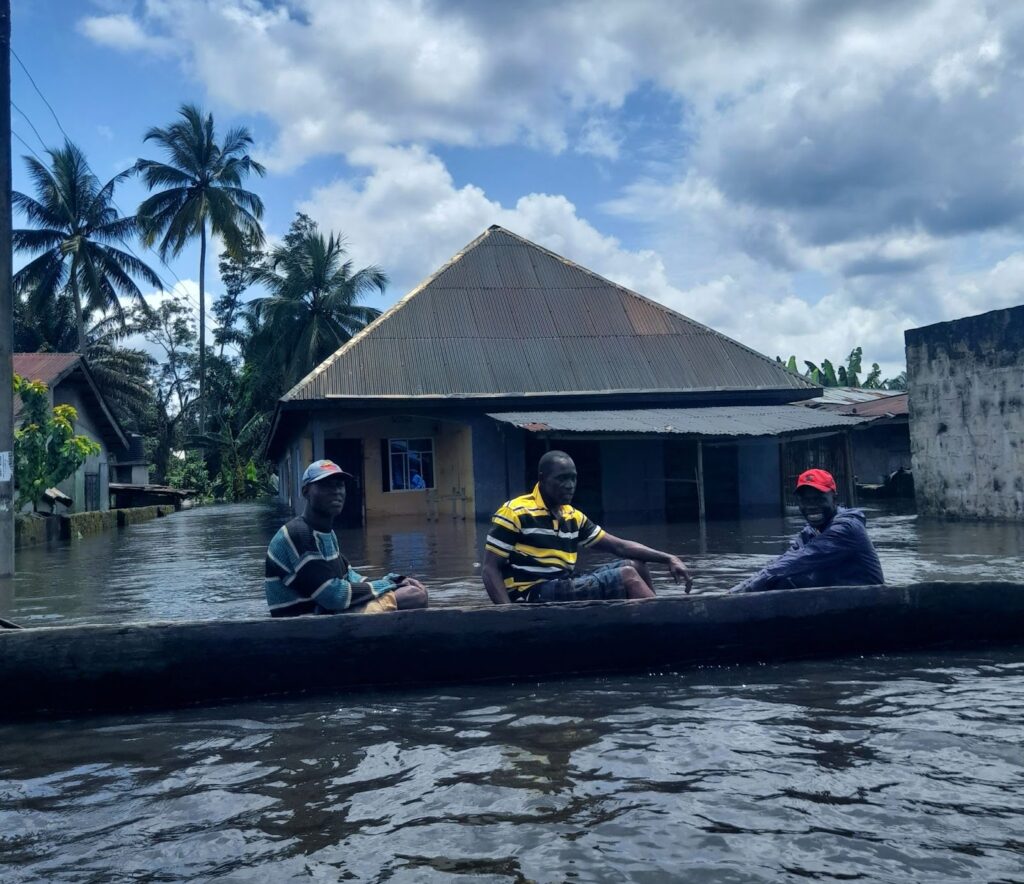 Akpobume Joseph holds a cutlass and cuts through a farm overrun by the floods as he attempts to harvest his crops before their due time. The farm does not belong to him, he says. It is for his sister, who is away. Akpobume is anxious because the flood keeps rising. They had thought it would be over in a few days.
"This is beginning to look like the 2012 floods. The government should come to rescue us. These lands are all we have," he says. "They should not just think it is about donating food. We want help with the flood so we can go back to our farms."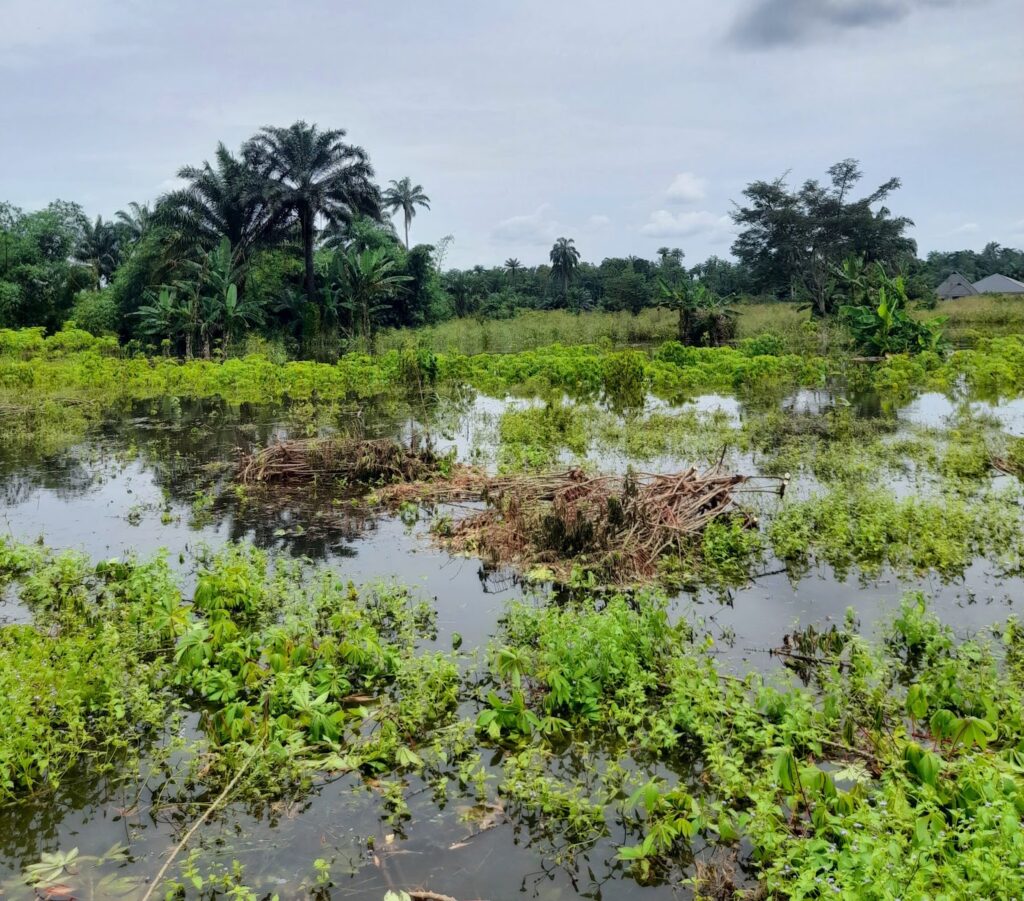 Parts of Ewu Grammar School, Ewu Urhobo, which has been repurposed as a displacement camp, are also flooded. With the rising water levels, one would expect to see locals trooping in for safety, but the school is rather deserted. The reason soon becomes obvious. The classroom chairs have been moved out to accommodate displaced persons, but that is all there is to it. There are no mattresses and the windows are without mosquito nets.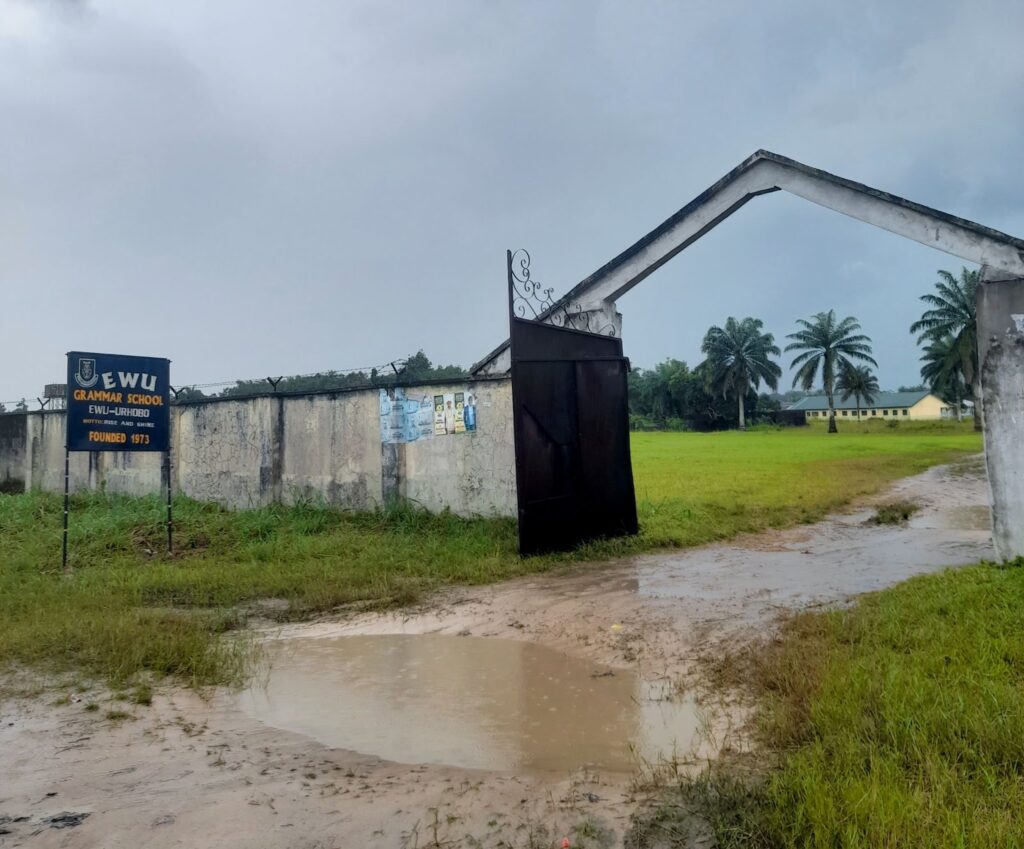 In one of the classrooms, a woman sleeps on the bare floor with nothing but her wrapper, without mosquito nets. Her child sleeps beside her.
Christi Salko spreads out washed clothes outside the classrooms. She had fled Urherhe when the community became overrun. She had to escape with her young children and they had been unable to salvage much of their properties. She came after hearing that the school was housing displaced persons but was disappointed after seeing there were no foodstuff and mattresses.
She has been in the school for several days and has had to fend for herself and her children.
"There is nothing here as you can see. We sent somebody into town to help us buy food to eat but the person has not come back," she tells me.
"They should please come to our aid. We sleep on the floor. We have no food. My children have nothing to eat. I beg them to please help us."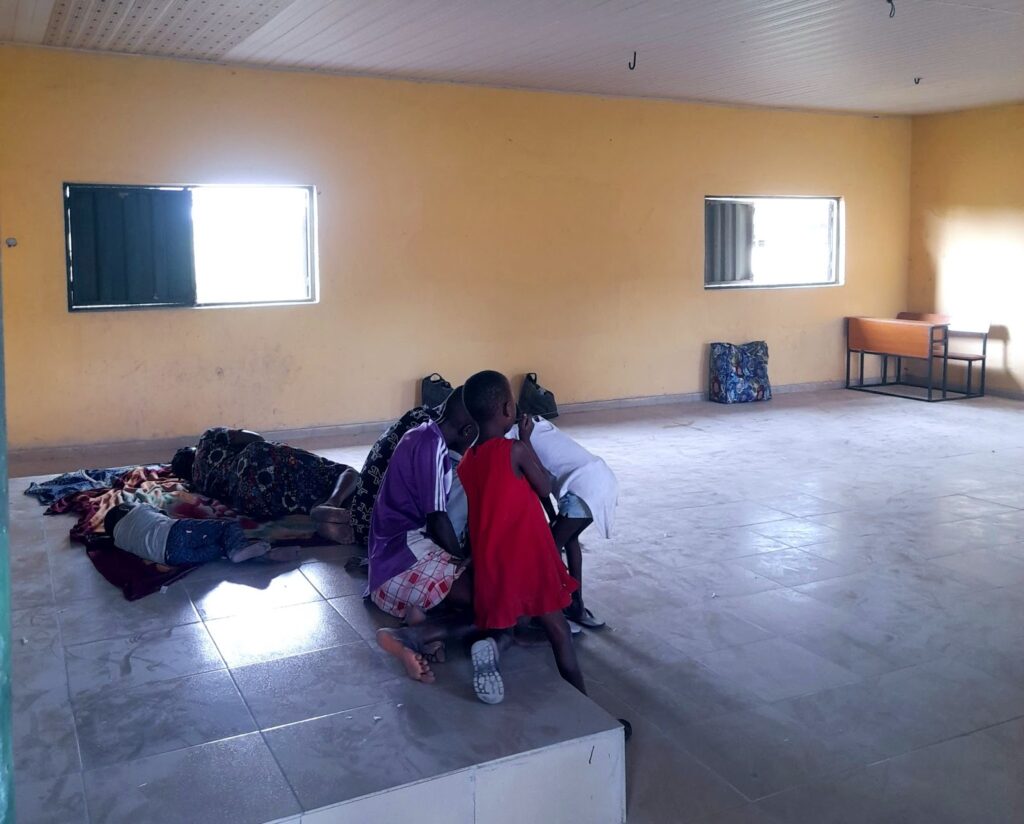 As we exit Ewu-Otor, the rain starts to fall, signalling more danger for the already flooded community. It will be a cold night for Christi Salko and her children, camped in classrooms with no mattresses, food, and with barely covered windows.
Oleh in the Isoko South Local Government Area is another community affected by the floods. Parts of it, such as Oyede, Bethel, Irri, Uzere and Aviara, have all been affected and the water continues to rise daily. There is a report of two deaths caused by the flood crisis; a resident in Oleh Community, Irobo Simeon, said the two deaths were of a mother and child who had been swept away by the floods in Uzere.
Emmanuel Simeon made the journey from Oyede through the floods. He has just a backpack on him. He says that was all he could take as he fled and that people are still trapped in their houses, unable to leave. There are no boats going to this area.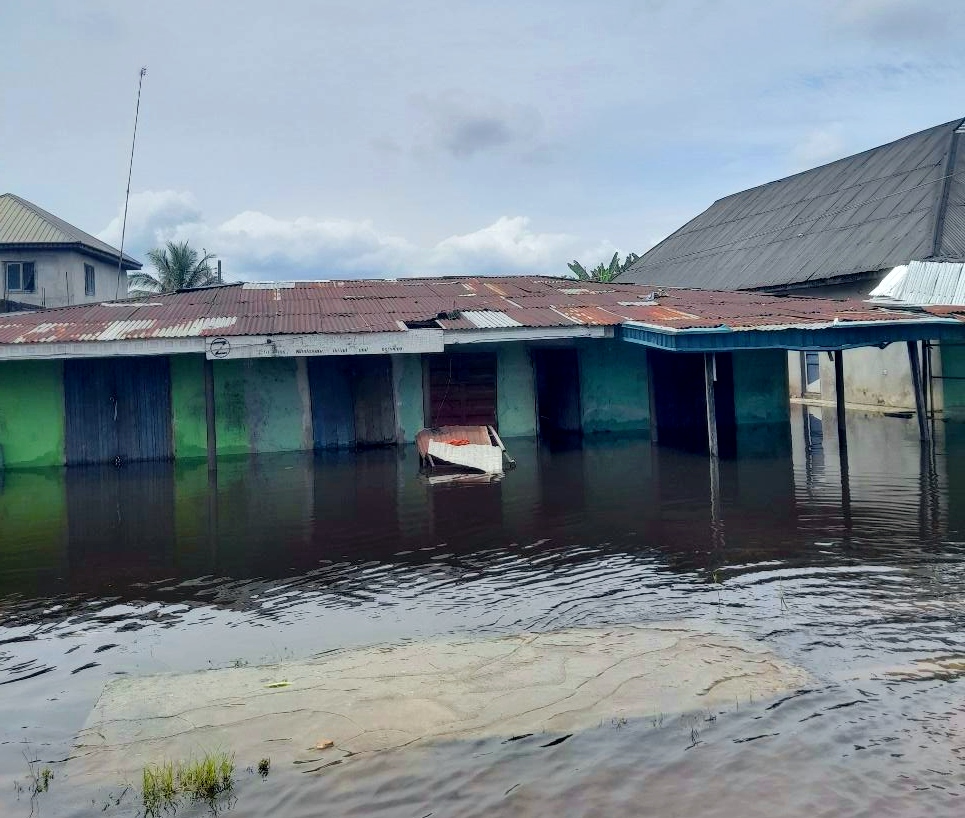 Maleke used to be a Tipper Truck driver, but the floods have put his business on hold. Now, he uses his truck to transport people over to Uzere in the Isoko South Local Government Area, a trip that costs N1,000 ($2.3). Some are not able to make this trip because they cannot afford the fare.
State School, Isoko Central School, is the designated point to accommodate internally displaced people in Oleh. People can be seen going about with their bags. Unlike the camp in Ewu-Otor, there are few mattresses here and some of the classrooms have mosquito nets.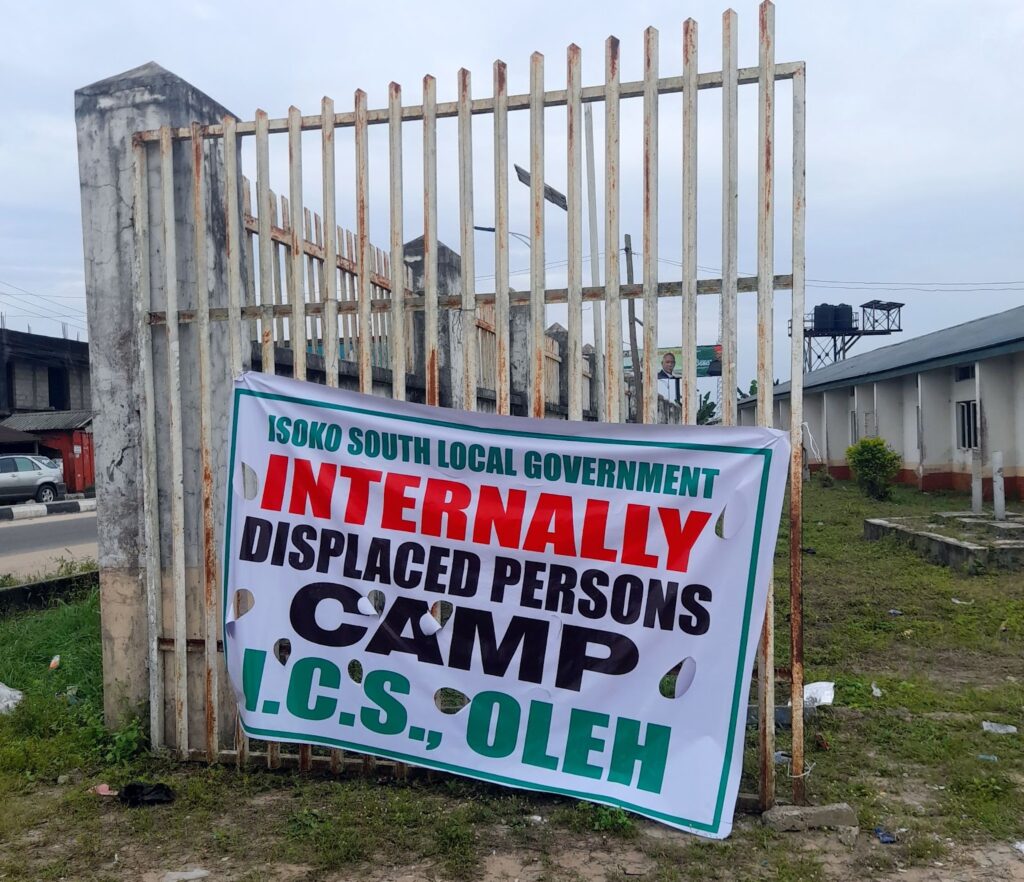 People can be seen queuing up to get registered and be issued a room. However, all is not well. There are people in the community dissatisfied with the way the camp is run and relief materials are donated.
An anonymous source says it is just another way to siphon funds. "Relief materials were brought to the camp for displaced people. These materials are supposed to be for us all. Some persons in charge started taking it out at night. They are just after their own pocket," he alleges. "It is a very bad situation."
This was further corroborated by Jaffa Jaffa, a resident displaced by the flood. He says he was not given anything from the relief materials that came the previous day, and the authorities claimed the reason was he was not from the community.
"They told me I was not from this community. They said the relief materials were for members of the community. [But] I have lived here for years. My house was also affected by the flood. I had to send my children somewhere else."
He is yet to join them as he intends to keep securing their properties from being looted. This is another problem the fleeing residents have to contend with. Thieves are targeting the houses of those who have left properties behind.
Reacting to these allegations, Egogo Kingsley, a camp official with the Local Government, described the statements as inaccurate. "I can confirm that these statements are virtually untrue. You know how human beings are. These are false. That's all I can say," he told HumAngle.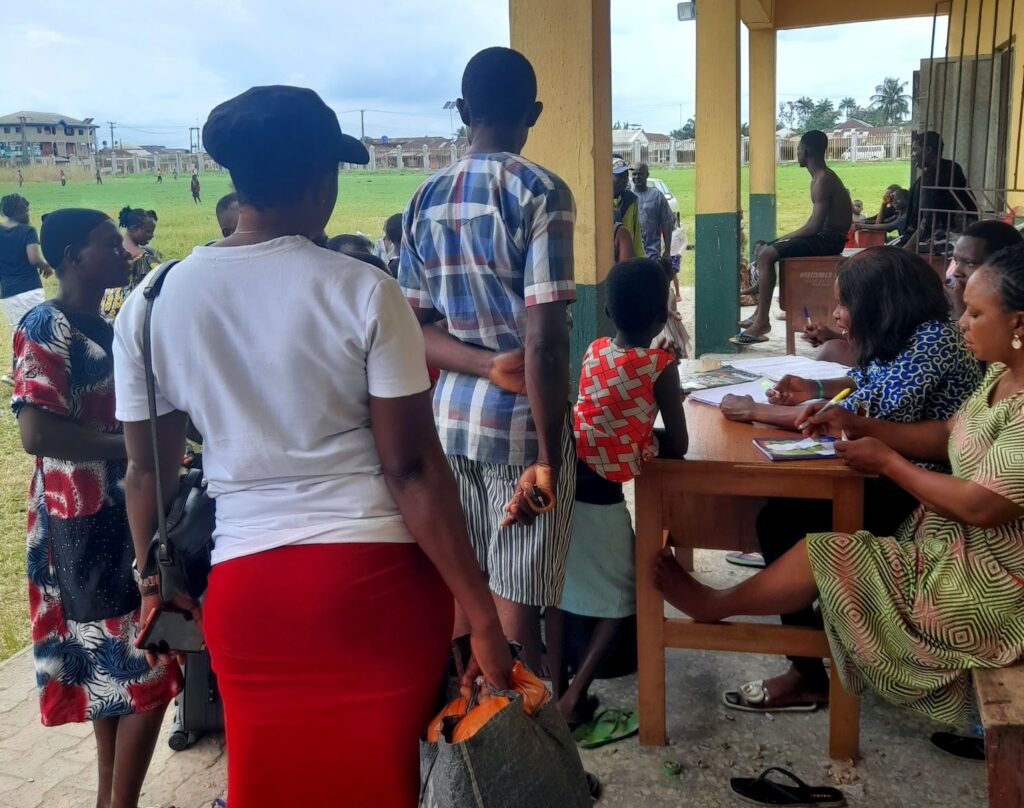 For Eremutha Edherezi, in Ozoro, Isoko North Local Government Area, the flood was a complete shock. He went out to put off his generator by 6 p.m. and discovered there was water. He went round the compound and found that the flood was beginning to gather. He then went back to bed only to be woken up by a thunderous sound by 11: 39 p.m.
"I thought my compound was being invaded. I had to tiptoe round and discovered the pressure of the flood had pushed down the back row of the fence."
Eremutha began to call people for help, but no one answered, perhaps because they were also battling the floods. Eventually, two friends came to his rescue. He rushed to grab a few items he could lay his hands on as the water level increased. He is presently taking shelter with a friend.
"The Federal and State Governments must be proactive," he appealed. "They should always do whatsoever is necessary at its due time and not be waiting for danger. Our lives have no duplicate.''
Communities in Pantani, Asaba, and a host of others across the state have also been submerged. Roads have been cut off. All of these communities in Delta State are in urgent need of help. Thousands of people are still stuck in their homes. There is a health crisis looming as clean water has become contaminated. People have been cut off from basic amenities. Reptiles and other dangerous animals are a frequent sight now.
Beyond the flood, a food crisis looms across the country as yields are poor and many farmlands are inaccessible. A lot of food items may soon become unavailable in the market and a hike in the prices seems inevitable. Victims look to the authorities, expecting that those stranded will be evacuated and those displaced will receive desperately needed relief.
People like Christi Salko and her children in Ewu–Otor Grammar School continue to wait in cold classrooms, hoping that help will come soon.
---
Support Our Journalism
There are millions of ordinary people affected by conflict in Africa whose stories are missing in the mainstream media. HumAngle is determined to tell those challenging and under-reported stories, hoping that the people impacted by these conflicts will find the safety and security they deserve.
To ensure that we continue to provide public service coverage, we have a small favour to ask you. We want you to be part of our journalistic endeavour by contributing a token to us.
Your donation will further promote a robust, free, and independent media.
Donate Here