Displacement & Migration
Featured
Features
News
Butchered And Alone: Female IDPs In Benue State Lick Their Wounds
The ongoing farmer-herder crisis in Benue State, North-central Nigeria, has continued to displace people, most of whom are women who narrowly escape death and are still suffering because of the violence.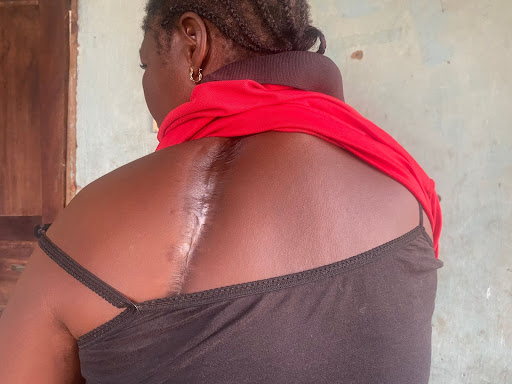 That night she laid still in the pool of her blood, groaning silently lest the attackers heard her and turned back to finish the job. She felt life pouring out of her, gushing through the open wounds all over her body. Later, she closed her eyes ready to accept the inevitable; then she felt movements, heard voices, and lived. But her life had turned on its head.
Earlier that day in March 2014, Felicia Bako had gone about her life caring for her family before heading to the farm with her husband. There had been continuous clashes between farmers and herders but the communities came to accept it as the new normal, trying several ways to resolve the conflicts while seeking government's intervention. Bearing in mind reports of women attacked in the farms, she went with her husband, her son strapped to her back.
Not long after they got to the farm, an armed group swarmed the village and began burning houses and killing people. Felicia and her husband hoped they would hide in the farm but some members of the group found and cornered them.
"They killed my husband in front of me and as I was about to run with my child on my back, they shot me and I fell on my child," she said.
When she rolled over and tried to pick up her son, she felt a machete butcher her back and screamed in pain but remained focused on saving her child. "Every time I try to pick up my son, I will get a big blow on my body. They were using machetes to butcher me. They kept hitting me and hitting me till I could not move anymore. My son died."
As Felicia talked, her eyes stared straight and remained vacant. It had taken a lot of reassurance to get her to open up but once she started, she sighed often as she remembered her close shave with death and losing members of her family.
"I thought I was dead. They usually attacked women on the farm and we were already tired. I really thought I was going to die. With the pain, I stayed on the floor in the dark of the night. The police found me early the next morning when they were going around to pick casualties of the attack," Felicia narrated.
She feels lucky to be alive but is at a loss of what to do as her situation has been pathetic since, a far cry from the abundance of food the conflict had snatched from her. This feeling of luck is not a product of optimism but born out of fear of seeming ungrateful as many have lost their lives to the attacks.
Felicia spent three months in the hospital and returned to nothing, with large scars from deep machete cuts on her back, thigh and stomach; and four fingers on her left hand, as her thumb was cut by the attackers. These are the physical scars that remind her of what her life used to be. When she sits with her now-five children, she sees the gap – a dead child she almost died trying to protect, and a dead husband killed before her eyes.
Along with some people who survived the March 2014 attack and many more attacks after that, Felicia moved into an Internally Displaced Persons (IDP) camp and has received no psychosocial support for the lingering trauma. There are other priorities – food, shelter and clothing which are barely available.
When asked how she was coping with the pains, physical and mental, she mentioned that she could have been dead and although this life is "very very hard, other people died. I just want to survive."
In March 2014, armed groups invaded and sacked over 64 villages on the Daudu‑Gbajimba and Umenge axis, killing at least 37 persons whose corpses littered the invaded communities.
Felicia's friend, Paulina, was among the dead. But Paulina did not die on the farm. She was picked up alongside Felicia by the police and taken to the hospital. They had shared a ward, both hoping to recover so they could return to care for their children.
"My friend, Paulina, they cut her hand. We were in the hospital together but I survived. She did not. She died and left four children behind. They are in the camp here with us," Felicia told HumAngle.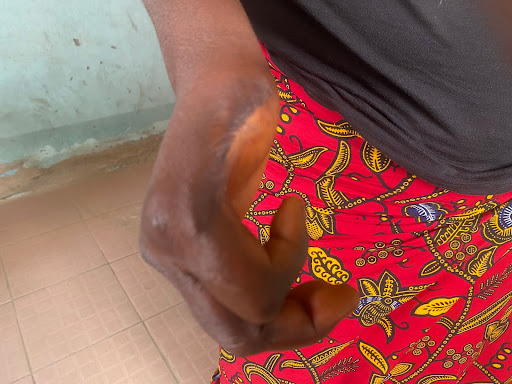 Initial targets of violence
When the conflict began to gather heat, the criminal herders and other armed groups were attacking women in their farms, which prompted their husbands to begin accompanying them every time they had to go.
Yev Geebe Gabriel, chairman of Tse Yandev camp, explained that a peacekeeping meeting was held following the attacks on women but it did not yield positive results. "They started attacking women, first in the farms. We had a meeting with them for peacekeeping and, on the way back, we were attacked and from there, the attacks started escalating. They moved from farms to the villages. In my own village, Achakpa, people were attacked in the night, around 10 p.m. We started hearing cries from the nearby towns and gunshots."
Paulina Ugbei is in her late 70s and slouches when she sits, extra frail from hunger. She was living quietly in Uhembe, close to Yogbo, when the armed groups attacked her on the farm. "I heard noises. Before I could tell what was going on, they attacked me and left me when they thought I was dead. I thought I was going to die. My children thought I had died too."
She spent three days in the bush writhing in pain until some police officers found her and took her to the hospital, where she spent several months healing from her injuries. She stays alone in Tse Yandev camp as her children are scattered across other IDP camps in the state.
After the March 2014 attack, more prominent attacks have occurred leading to more displacements. On Jan. 1, 2018, armed men had invaded two farming communities in Guma and Logo local government areas of the state. The locals were deep in their sleep, having had long merriment on New Year eve. The attack left no fewer than 73 persons dead and scores of others injured.
The New Year's Day attack opened a floodgate of other attacks which have forced thousands into IDP camps across the North-central state. Most of these displaced people are women who narrowly escaped attacks, especially on their farms.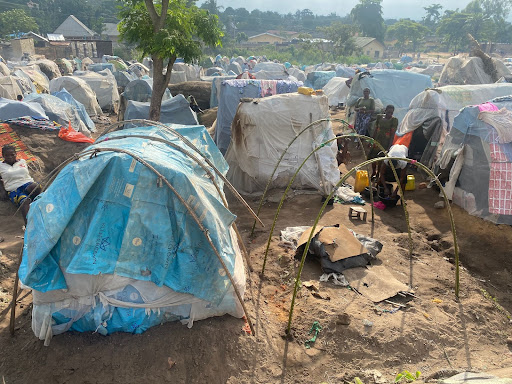 Gender-based violence has different faces
Like others, Rose Mkanem was at the farm in Mbagwa, close to Yogbo, when she heard gunshots and then saw people running in numbers. The armed group had started a fire which she narrowly escaped.
"I gathered my children and we started walking through the bush. My leg was swollen when I arrived at the IDP camp. I had to take injections to treat the pus that was inside. When I got here, I could not walk." 
When violence against women is analysed or reported, especially during a war and conflict situation, there is the misconception that only sexual abuse counts. Oftentimes, the psychological and physical effects of being the first target for attackers is ignored and seen as superficial when weighed against physiological needs.
Consequently, the IDPs are focused on meeting their basic needs – food, shelter and clothing and have so far received these sparsely from individuals and donor organisations. Yet, the strong memory of death hangs over the camp, filled with mostly women, most of whom have been widowed by the conflict and are also nursing their own injuries; battling unresolved violence-induced trauma.
"Gender-based violence during conflict varies in terms of prevalence and perpetrator, but women and girls bear the brunt. Although women are less likely to die in armed conflict compared to men, those who survive are vulnerable in other ways. In addition to the existing hardships they face during peacetime, during conflict women can experience reduced empowerment, poverty, and forced displacement," researcher Uche Ekhator-Mobayode wrote in a paper.
One of the female IDPs, Yagucha, told HumAngle that it has been tough living in the camp with no hope of where the next meal would come from despite being a skilled farmer and having lived a life where access to food was no problem.
Yagucha's husband had to dig a hole in the ground for her to hide with their daughter when the attacks on women became more frequent. Before then, they hid in the bush for days as the attacks were getting scarier.
"We were hiding so they would not kill me and the child. We were afraid because they were going about with weapons and attacking people who were defenceless. When the attacks were getting too much, my husband dug the ground. One day they were passing and I had to hide my child in excreta to keep her alive. Once they left, we came out and ran; finding ourselves in an IDP camp."
How can they get justice? 
The women told HumAngle they would love it if their attackers were prosecuted under the law. This is, however, a long shot as these armed groups have constantly found ways to evade the law. Bearing this in mind, the United Nations has continuously urged that women be part of the peacekeeping and rebuilding process. 
The Convention on the Elimination of Discrimination against Women (CEDAW) and other human rights treaties represent the bedrock of the implementation of the Security Council resolutions on Women, Peace and Security, as the concerns expressed therein all find correspondence in substantive articles of CEDAW and other treaties.
General Recommendation No. 30, adopted by CEDAW provides authoritative guidance to States Parties to the Convention on the Elimination of Discrimination against Women, on legislative, policy and other appropriate measures to protect, respect and fulfil women's human rights in situations of conflict and instability.
In General Recommendation No. 35 on gender-based violence against women, CEDAW emphasises that gender-based violence against women and girls constitutes discrimination under the Convention.
In 2016, all stakeholders were called upon to recommit to action across five key areas: (a) bringing women's participation and leadership to the core of peace and security efforts; (b) protecting the human rights of women and girls during and after conflict; (c) ensuring gender-responsive planning and accountability for results; (d) strengthening gender architecture and technical expertise; and (e) financing the women and peace and security agenda. Each of these areas remains a priority.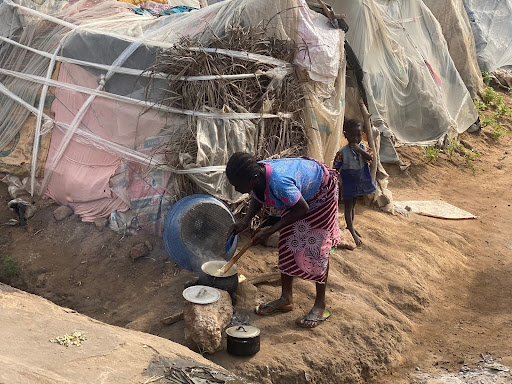 Need for psychosocial support
"Life must go on" is the daily mantra as they squeeze out of the cramped shelter at dawn and proceed in search of food in the neighbouring communities. Some of the women strap their babies on their backs while they limp to the nearby rice mill to pick chaffs in hope that some would hold rice that could be used for their families' meals.
Some of them told HumAngle that it is easier to think about feeding their children than remembering the horrors that have put them in this predicament. Psychologist Seun Ladeinde stated that displaced people do not have faith in the system, especially the state, as it has failed to protect them. Also, their trauma can cause them to extend the distrust to the larger society.  
"They lose trust in anything around them that does not seem sure. They also suffer from Post-Traumatic Stress Disorder (PTSD) and this comes with different episodes for different people. There is no one way to experience PTSD and this stresses the need for psychosocial support. Each experience is strung by the uniqueness of the absence of normalcy which they all share."
Ladeinde added that the displaced women need as much support as possible and urged aid organisations to pay attention to psychosocial support as they navigate the new life conflict has thrust upon them.
The general mood in the camp is despondency as the displaced people, predominantly women who have suffered violence and have been widowed by the conflict, go about their day with no hope of better days. They simply want to make it to the next day, alive.
Felicia told HumAngle that she does not expect much from life anymore and anything "that I get to keep going, will make me happy."
This report was supported by the Wole Soyinka Center for Investigative Journalism (WSCIJ) under its Female Reporters' Leadership Programme (FRLP) 'Report Women'.
---
Support Our Journalism
There are millions of ordinary people affected by conflict in Africa whose stories are missing in the mainstream media. HumAngle is determined to tell those challenging and under-reported stories, hoping that the people impacted by these conflicts will find the safety and security they deserve.
To ensure that we continue to provide public service coverage, we have a small favour to ask you. We want you to be part of our journalistic endeavour by contributing a token to us.
Your donation will further promote a robust, free, and independent media.
Donate Here