Displacement & Migration
Features
News
Borno's IDPs Stranded, Scared To Return Home After Camp Closure
Weeks after the governor of Borno state ordered the shutdown of camps and a return of the IDPs to their local government areas, many who believe the action would put them in harm's way have chosen to stay back – even as they have no decent place to stay.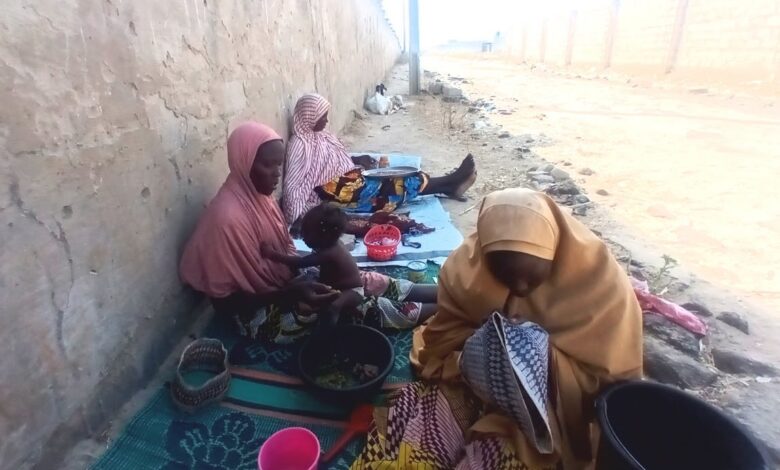 The Bakassi Internally Displaced Persons (IDP) camp, located in Maiduguri, the capital of Borno, Northeast Nigeria, was officially closed by the state government on Nov. 30, 2021. 
For the past seven years and until the last day of November, the fenced premise, originally intended as a housing estate, had been a hive of activity for IDPs, local and international aid organisations, as well as security personnel. 
Today, the only occupants of the expansive camp, which was the first to be established in the area, are security guards stationed to prevent anybody returning to live there.
A recent visit to the former camp, located along the abandoned Maiduguri-Biu highway, presents a ghostly reflection of its former self. The tents and shanty buildings as well as the pavilions that once served as clinics and workstations for aid agencies have disappeared. 
"No one is in there as you can see, not even an animal; except we the personnel that are stationed here to keep watching," personnel of the Civilian Joint Task Force (CJTF) stationed at the gate told this reporter. 
"They have all gone to Gwoza, Monguno and Guzamala where most of them came from," they added, referring to the IDPs. But this claim is not completely true. Many of the displaced people stayed back, choosing to pitch their tents behind the perimeter fencing of the former camp. 
"Yes; that is true," one of the officials said. "But you know that is not our business here; all that we were told to do is to ensure no IDP goes back in there, and that is what we have ensured happened in the past three weeks."
The former camp is on the outskirts of the Maiduguri township. Behind the camp used to be a no go area, as marauding Boko Haram gunmen used to wander around the general area. 
A long drive through a rough road to the back of the fencing that borders the bank of a river, Gadabul, leads to a new settlement for IDPs, some of them former tenants of the shutdown Bakassi Camp. They had pitched some patchy tents on unused land and around uncompleted buildings using old UN-donated tarpaulin that they removed from the old camp.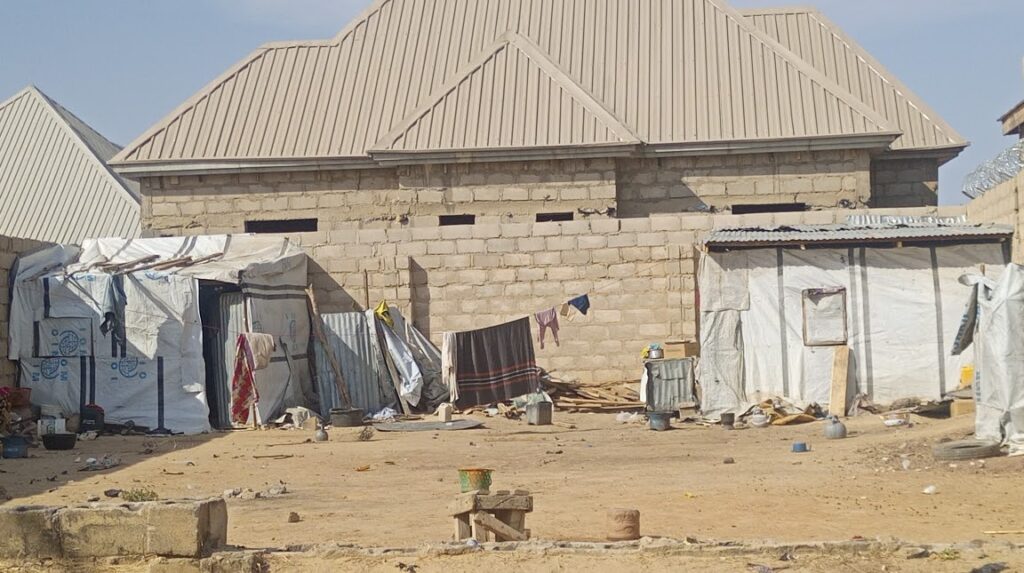 Bintu Musa, a 52-year-old woman from Gwoza, sat alongside two other women under the shade provided by the wall of the former Bakassi Camp. On the opposite side of the fence was an undeveloped piece of land sandwiched by two uncompleted buildings. There, Bintu and her family members erected two tiny shanties built with old white tarpaulin bearing the logo of the International Organisation for Migration (IOM). 
"We had no choice but to pitch our tent here because we have no place to go after the camp was shut down three weeks ago," she said. 
"We are Agapalawa villagers in the Gwoza Local Government Area (LGA), from where Boko Haram forced us to flee seven years ago. We came with nothing except the ragged apparel we had on our bodies."
Bintu, who looked tired, dishevelled, and unhappy, said she missed home and would have given anything within her powers to go back. 
"But we are from Agapalawa, an area that is still very hostile because it is one of the strongholds of Boko Haram gunmen," she said. "Though we are from Gwoza, we have no place to live in Gwoza. And from what we heard so far, Pulka, the next big town after Gwoza, is already an overcrowded camp."
Bintu, a grandmother, said the government's order for all IDPs to vacate might have been borne out of good intentions, but it came without reasonable options. 
"Many of those who left for Gwoza three weeks ago have either ran back to Maiduguri or they are out there trapped in Pulka IDP camp where they don't even have a place to stay," she said. 
Her husband and some of her sons had recently gone to Gwoza to find out how safe it was for them to return to their hometown. On getting there, he called to inform her that moving to the village was still dangerous and "that some persons who attempted it were almost killed by Boko Haram". 
"My husband had to return to Pulka because there was no place to stay in Gwoza town. There, in Pulka, most of the returnees said they were stranded because officials did not provide facilities to accommodate the new returnees. And they have no means of coming back to Maiduguri." 
In Maiduguri, Bintu said, they had wandered around the camp area, sleeping out in the cold for about 10 days, before a 'good samaritan' permitted them to erect their tent in his yet-to-be-developed plot of land.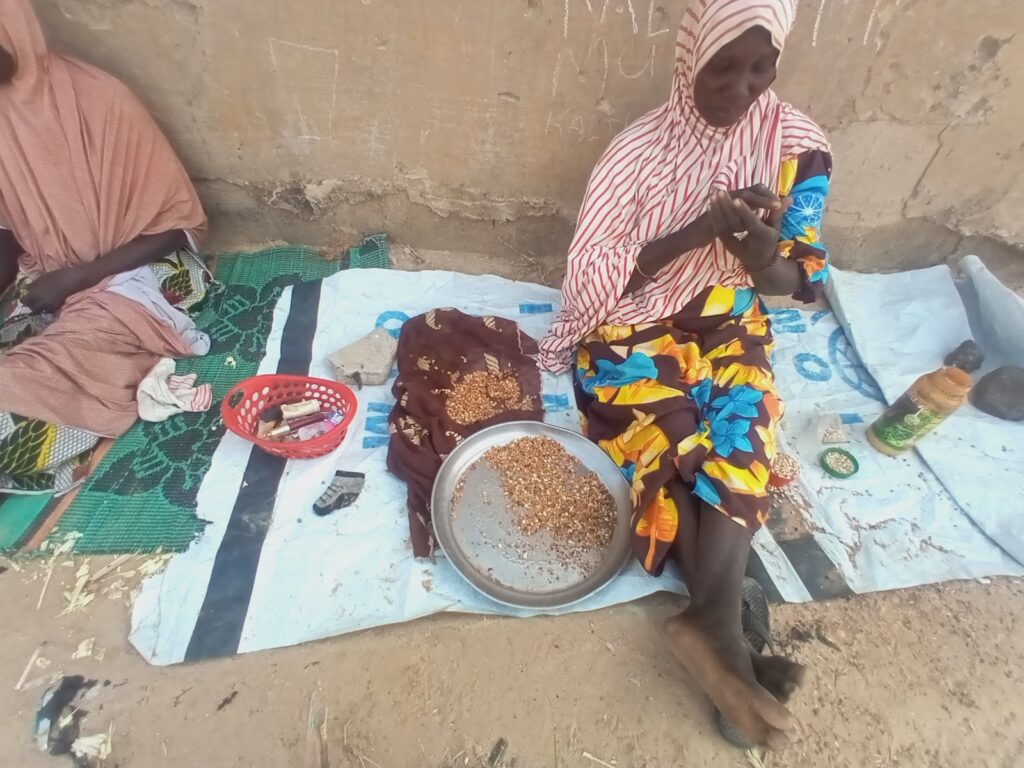 When the state government asked everyone to vacate the camp after giving a cash donation of ₦100,000 to each head of household, they were also allowed to dismantle their tents and take the items out of the camp. 
"The money given to us was mostly spent on transporting the dismantled tent fittings to Gwoza and many had since exhausted the money," said Bintu.
"My corrugated roofing sheets were stolen when they were moved out of the camp gate. And the money given to us is not enough to buy a new one. So we have no choice but to construct these two tents using the tarpaulin for the roofing." 
Bintu said she had cultivated a small plot of land where she planted beans which could have yielded enough harvest to feed her and the family for a while. "But a few days to the day our camp was shut down, Fulani herders overrun my farm and grazed on all the beans that I was about to harvest," she said. "It was so painful but what can I do especially when the incident coincided with the time we were being asked to leave the camp?"
When HumAngle met them, Bintu and other women were picking beans off a bowl mixed with grasses and dirt. They explained that they scavenged the foodstuff from already harvested fields out of desperation.
Maryam Musa, the youngest of the three women, said she could not leave her mother, Bintu, who sustained an injury in her hands when they were rushing to move out of the camp. 
"I'd love to go back to our village, but they told us the town is not safe yet," she said.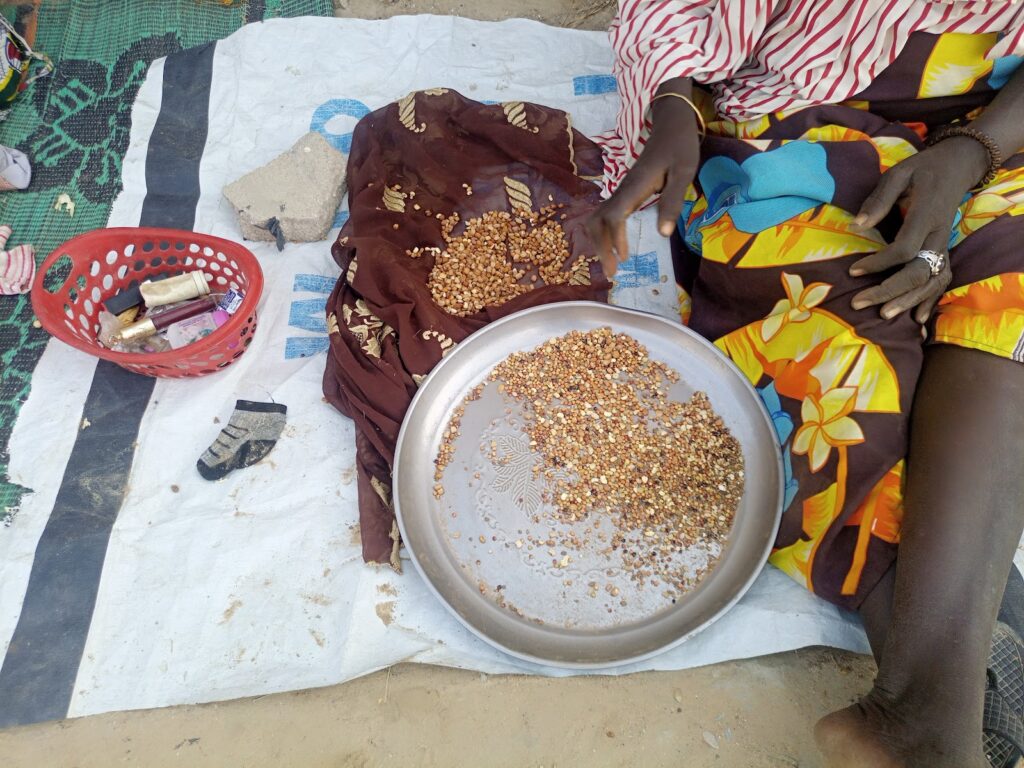 "My father said he would not risk taking us to where he cannot provide for or protect us, so he had to go and confirm the safety of the village and even Gwoza town. We had to wait for him;  until he later called and said the places were not secure for us to go." 
Maryam, who now knits local caps to help supplement the family's income, recalled how they lived comfortably in Agapalawa as the parents had large farmlands that took care of their needs.
"I was 16 years old when we arrived at the camp, and since then I have not travelled out of Maiduguri or lived elsewhere other than the camp. I lost contact with many of my friends during the attacks on our village. I missed them. During the attack, we had to run up on the Gwoza mountain where we took refuge for many days before we were later helped to descend into Madagali in Adamawa from where we walked to Maiduguri," she narrated.
"On the way, as a child, I saw many people who were killed including women and children. It is not a good thing to recall."
Maryam added that she would love to return to her old life full of laughter and dignity but is scared of going through similar violent incidents.
"I'm still terrified by the memory," she mumbled as she knitted her cap.
Hajara Yusuf, a nursing mother, said most villages around Gwoza and Pulka are still under the control of the Boko Haram gunmen, including Ngoshe, Bokko, Barawa, Atagara, and Khuhum.
HumAngle sighted more families down the Gadabul riverbank that stretched up the Molai village axis along Damboa road. 
The Borno state government said it complied with the international protocol that emphasised safety, dignity, and voluntary return of persons displaced from their original homes by conflict. 
But, from the narrative of the Musas, the aspect of safety may not have been thoroughly considered when the final decision was taken to shut all the 16 official IDP camps before the end of 2021.
The government has also recently banned the supply of food and non-food items by NGOs to the IDPs in resettled communities, a decision that has raised concerns among the international community, especially as it is coming at a time when there are still hostilities between state actors and the Boko Haram terrorists. 
---
Support Our Journalism
There are millions of ordinary people affected by conflict in Africa whose stories are missing in the mainstream media. HumAngle is determined to tell those challenging and under-reported stories, hoping that the people impacted by these conflicts will find the safety and security they deserve.
To ensure that we continue to provide public service coverage, we have a small favour to ask you. We want you to be part of our journalistic endeavour by contributing a token to us.
Your donation will further promote a robust, free, and independent media.
Donate Here