Environment & Climate Change
Featured
Features
News
Security & Tech
Borno State Is Resettling IDPs But Satellite Data Shows They Might Be At Risk
The government of Borno State, Northeast Nigeria, is trying to relocate displaced persons from camps to relative safety in deserted communities. However, the locations it selected puts the returnees more at risk.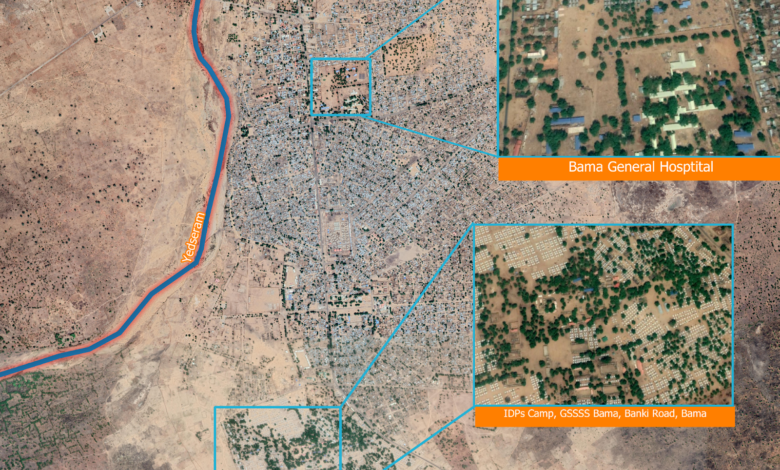 Between May 2013 and September 2014, several villages in Bama Local Government Area (LGA), Borno State, Northeast Nigeria, were repeatedly attacked by Boko Haram terrorists, who effectively crippled it. In 2015, the Nigerian Army entered Bama, sending the terrorists running, and reclaimed it for Nigeria. But for the people caught in the crossfire, their lives would never be the same again. 
After its victory in Bama, the Nigerian military, accusing the townspeople of supporting the terrorists, soon unleashed its own terror on them. It separated families, illegally holding many of the men at different military detention centres, while the women faced starvation, threats to their lives and livelihood and sexual violence as they waited hopelessly for their husbands to be released. 
The Bama residents, reeling from the terrorists' destruction, became displaced in their own homes. An informal settlement hosting more than 15,000 internally displaced persons (IDPs) was established in Bama town's General Hospital and controlled by the military. International humanitarian aid first reached Bama town in June 2016. A new camp was established in December 2017 at the Government Senior Science Secondary (GSSS) School to decongest the settlement at the General Hospital site.
Before the invasion, Bama residents were mostly farmers, petty traders, and small business owners. 
Geographically, Bama LGA is predominantly a lowland area, especially around the rivers and streams which averages 300m above sea level and about 800 to 1000m above sea level around the hills near the southern boundaries. There are about 28 waterways within its boundary supporting farming and fishing activities. These waterways comprise streams and river tributaries of rivers Yedseram, Mayo Ngassawé, Keraua, Kolofata, Kutelaha, Mbuli, Bararam, Nbalta, and Kolofata.
Additionally, there are two major wetlands west (33km wide area) and east (93km wide area) of the boundary of the local government, relevant to the economic activities of the communities in the town. 
Bama is nourished by its dense vegetation; there are trees and plants growing in residential areas and in open spaces. This is a proxy for the nutrient-rich agricultural soil type of the area. The town's topography, therefore, supported farming, which helped its residents to maintain a boisterous economy. 
But all the resources would mean little as the residents would spend years moving across IDP camps, some relocating to the state capital in Maiduguri, and some returning to Bama town, away from their villages faced with limited resources.
Away from home
The displaced – mostly women and children, have been scattered around places like Yerwa, neighbouring Cameroon, and in IDP camps in Maiduguri like Dalori I, Dalori II. 
The conditions at these IDP camps have not been totally favourable. Left to the mercy of government and aid organisations, the IDPs, who have been responsible for their own feeding in the past, now have to wait for their meals.
In some camps, the food supply has been irregular, some families are provided with feeding allowances (depending on the size and availability of a patriarch), and there have been cases of IDPs having to do menial jobs like wood gathering, to earn a living.
The geographic positioning of these camps and the repeated attacks by terrorists make it difficult for the IDPs to utilise their farming and trading skill sets effectively. 
Despite Maiduguri being the most militarised city in Northeast Nigeria, movement is restricted to 2km outside of the garrison city without the risk of attacks and abduction.
However, over time, there have been new developments to help the displaced return to their homes. In 2016, the Federal and State governments and some private organisations started rehabilitating Bama town/LGA under the "Bama Initiative." In March 2018, the Borno State Government, via the State Security Council, approved the return of 120,000 IDPs to Bama town from Maiduguri, as the villages in the LGA are still largely unsafe. 
Conversely, the government has also created some resettlements for the displaced. While they seem promising, geographic information on the areas is not so reassuring.
Resettlement areas, not exactly habitable
On May 29, the Borno State government officially started closing some of the IDP camps. IDPs from Damasak, Bama, and Konduga LGAs were given three options: accepting to be returned to their original communities, relocating to a government-established resettlement site, or receiving support to rent a house in the host city, Maiduguri. 
However, according to a previous study by HumAngle, these options are limited in practicability due to reasons including insecurity and food sustenance. Muhammed Sani, an IDP from Bama told humAngle that; "even if you go to Bama [villages], one does not have the space to farm; a kilometre outside the village is dangerous because of possible attacks by Boko Haram." 
Bama town is a Local Government Headquarters. Part of the planned resettlement is to relocate persons from several villages in Bama LGA to the headquarters in Bama town. Most resettled people are not going back to their villages (within the Bama LGA) that are currently ungoverned or under the control of insurgents. Therefore as it stands, the IDPs cannot go back home. The next best thing the government can do is to have them relocated to Bama town where they can be closer to home.
Additionally, the government has also started moving some of these people to resettlement housing at Auno, another part of the state. Satellite data analysed by HumAngle, however, shows the risk attached to Auno.
The closest Auno resettlement site is about 100 meters away from Auno town. The other two sites are just about 1km away from the town, situated on either side of the Kashim-Ibrahim road, at Auno Malam Bukarti area. The Auno resettlement camp is a relatively flat area with an average elevation of 350 meters above sea level.
The vegetation of the Auno area consists of very sparse vegetation surrounding the community and resettlement sites. The area is composed of rock surfaces that appear as brownish outcrop rocks and may not be suitable for a variety of agricultural activities.
There is no significant surface water in the area. 
Auno is very far from other places. To the east, Auno resettlement area is about 22km away from the heart of Maiduguri metropolis and 15km away from the Airport area. To the west, it is about 15km away from the Kesawa area and 13km away from Limlim to the southwest of the site. 
To Auno's South, there is a 10km distance to Bimi village and 11km away from Karasuram community to the north.
For Bama villagers who have been fishers, farmers, and traders, being resettled in an isolated community with very little fishing or farming prospect might be gruelling for them. 
Modu-Sulum Kayamla, an IDP with three wives and 13 children told HumAngle that "the truth of the matter is that bringing us to Auno, an upland area, where there is no wetland, instead of somewhere close to or towards the direction of our homes, leaves us in greater dilemma. We are known vegetable farmers from Konduga; we don't have any other means [of earning a living]. Even when we were in the camp, we still went to the Alau dam axis to farm our vegetables." 
Insurgency remains a concern
Auno, a major resettlement area is 15km from Jakana, which serves as a major ISWAP crossing connecting Northern Borno to Southern Borno. 
Jakana records frequent cases of attacks and abductions of commuters. Auno and Jakana are communities along the Damaturu-Maiduguri Expressway. The Jakana community is an active insurgency spot which puts Jakana, Konduga, at risk.
Another resettlement area is located at Dalori, situated about 2km away from the Dalori residential area. Like Auno, the Dalori resettlement site is low land with an average elevation of about 333m above sea level. 
Additionally, Dalori has sparsely vegetated surfaces. There are a few patches of trees in-between them. Another feature of the Dalori settlement area is the municipal type vegetation which does not have the density to house wildlife and game for hunting. The land area is mostly consistent with low lying surface rock which may not be entirely favourable for agricultural practices. 
Unlike Auno, Dalori is about 1km away from the stream which flows from Lake Alo, about 4km away. Other planned resettlement camps like Warabi, Damboa, Chibok, and Banki have similar concerns.
Similarly, for those moving to Bama town, their lives are not so safe. Bama is at greater risk after ISWAP invaded the Boko Haram camps in Sambisa, which is close to the area. Following the killing of Abubakar Shekau, ISWAP has more capabilities to attack and disrupt Bama than when Shekau was in charge.
Hunger continues back at home
Many of the former residents from Bama are happy to return to their former homes instead, in hopes of continuing their lives. But in previous HumAngle reports, we have uncovered how this has been hard for them. In some cases, some relocated residents complained of not getting food supplies or seedlings for over a year despite huge government spending, raising questions about possible gaps in implementation or whether essential supplies from the Borno State government are enough to cater to the returnees' needs. 
One of such persons is 30-year-old Yagana Umara, who was returned after staying in Maiduguri for six years. The mother of seven children said: "We were driven out by Boko Haram from Bama and went to stay in Maiduguri."
She explained that she rushed down to Bama when the opportunity presented itself because of hunger and destitution back in Maiduguri. "It is poverty that brought us here. We didn't get anything except for some assistance from one organisation," she said, adding that they were managing to survive.
Their land has been badly damaged by the conflict, impacting their productivity. And insecurity is still a major concern for them. Muhammed Sani, an IDP from Bama who was displaced by Boko Haram in September 2014, tells HumAngle many of them are confused about the relocation efforts. "Even if you go to Bama, one does not have the space to farm; a kilometre outside the village is dangerous because of possible attacks by Boko Haram," he observed, "Because of some traditional and cultural traits that are inbuilt in us"
A recent report indicated that the levels of acute malnutrition among new arrivals from the inaccessible areas are critical with the overall Global Acute Malnutrition (GAM) rates standing at 20.7 percent and Severe Acute Malnutrition (SAM) at 4.9 per cent.
"This high level of acute malnutrition indicates an extremely stressed population including food insecurity, poor sanitation and hygiene and health conditions which are the key underlying causes of acute malnutrition," the report revealed.
The report added that detailed analysis among the newly arrived population with good quality and adequate sample size showed severe consumption deficits and concerning Severe Acute Malnutrition rates (15 percent) in Bama LGA.
Government says it has done its best
The United Nations Protocol on the Protection and Assistance to IDPs stipulates that authorities should ensure they create conditions that allow IDPs or refugees to return voluntarily to their homes or other parts of the country.
"Special efforts should be made to ensure the full participation of internally displaced persons in the planning and management of their return or resettlement and reintegration," it adds.
The state government claims it met these conditions, despite concerns from the IDPs indicating otherwise. 
In a previous interview with HumAngle, the Commissioner for Reconstruction, Rehabilitation and Resettlement (RRR), Mustafa Gubio, said each household with a patriarch would be given an apartment with two rooms while a household with a matriarch would get a room and some cash token, half of what the male-headed household gets.
"I can assure you that none of the displaced persons was forced out of the camp; they were given three options of resettlement in Auno or Maiduguri metropolis, or in their respective communities." 
While the good-intentioned nature of the resettlement is understood, geographic data indicates that the IDPs are on their path to a new journey on struggling survival. The displaced persons are farmers without farms, fishers without rivers, and traders without markets. 
Despite these, they still have to deal with the almost unending insecurity that will confine their movements. The future is full of uncertainties for them.
---
Support Our Journalism
There are millions of ordinary people affected by conflict in Africa whose stories are missing in the mainstream media. HumAngle is determined to tell those challenging and under-reported stories, hoping that the people impacted by these conflicts will find the safety and security they deserve.
To ensure that we continue to provide public service coverage, we have a small favour to ask you. We want you to be part of our journalistic endeavour by contributing a token to us.
Your donation will further promote a robust, free, and independent media.
Donate Here