Displacement & Migration
Features
News
Borno IDPs Returning Home Amid Safety Concerns
While the state government continues to encourage displaced persons to return to their hometowns, many fear the plan is premature.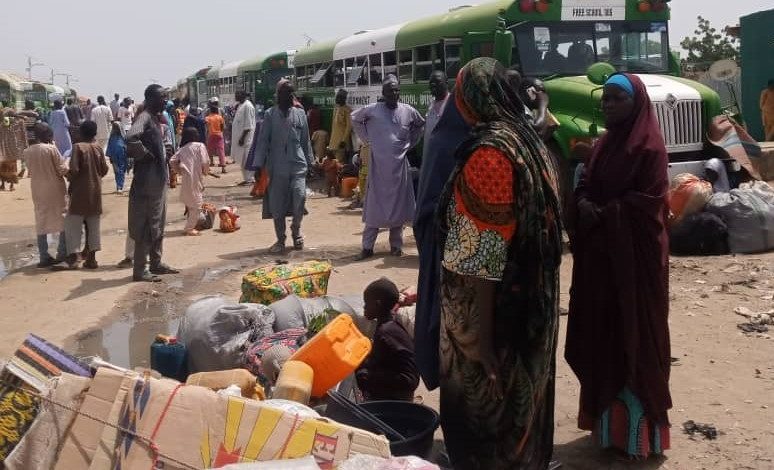 "Is it safe for us to return home?" Mallam Baba Kurama, an Internally Displaced Person (IDP) from Marte Local Government Area of Borno State, posed one of the most challenging humanitarian questions to his neighbours, sitting on a local polythene mat distributed to them by the United Nations Human Rights Council (UNHRC). It is one of many questions asked by people in the state and across the Northeast whenever the issue of resettlement comes up.
Those living in displacement camps have similar misgivings about the return of IDPs to their original towns and villages. "Let them release our husbands first. Then we can go back and stay with them. How can we stay with only our children without our husbands? Who is going to protect us?" lamented Falmata, an IDP from Bulongu. Most IDPs, especially women whose spouses are held without trial in military detention centres, feel vulnerable to Boko Haram attacks when they return.
Over 2.7 million people have been displaced from their homes in the Northeast since the terror group, Boko Haram, started acquiring territories with their rudimentary administrative structures in 2014. Their houses, farms and businesses were destroyed, rendering the IDPs completely stranded. At first, residents of the destroyed communities had the option of staying on the condition of allegiance to the Daulah, an Arabic word meaning the Islamic State territory, or migrate to Maiduguri where they would be received as IDPs by the government.
Later on, the Boko Haram leaders prohibited migration out of the Daulah except with permission with violation attracting stiff penalties that included death. "Over 80 per cent of us had chosen to migrate at the early stage prior to the prohibition," according to Mai Musnema, a local traditional ruler from Marte Local Government Area of Borno State. He added that the remaining 20 per cent were either trapped in the Daulah against their will, killed while trying to sneak out, or decided to assimilate.
The influx of IDPs from insurgency-stricken areas has posed a huge humanitarian challenge in the Northeast. It was beyond the financial muscles of the national and state emergency relief agencies to contain the emergency of providing food, shelter, healthcare, water and sanitation among others to the thousands of arriving IDPs. Dozens of IDPs were later seen littering the streets of Maiduguri as beggars in order to provide for their immediate needs.
The government could barely provide meals twice a day at the camp kitchen where the emergency shelters were provided to most of the IDPs that chose to stay while thousands of high and middle income earners among the displaced persons rented or bought houses within host communities. Thousands more who could not afford or disliked staying in the camps stayed with their relatives in the town. The arrival of non-governmental organisations, donors and humanitarian agencies to complement the government's effort finally saved many IDPs from further begging and destitution. As of June, there were 172 NGOs, donor and humanitarian agencies that were providing food, shelter, health care, water and sanitation among others to IDPs in the Northeast.
In 2015, the Nigerian military initiated campaigns to recapture some of the major towns from Boko Haram, thus shrinking their territorial control mainly to the Sambisa Forest and the Lake Chad area. Gamboru-Ngala, Dikwa, Dikwa, Monguno and a host of other towns have been recaptured and some IDPs have returned since 2016.
The current wave of resettlement stirred by the Borno State Government is targeted at the return of all IDPs to their original homes with normalcy restored to allow for undisturbed business and farming activities.
Subsequent military campaigns by the military to recapture minor satellite towns and villages led to a fresh influx of IDPs. This time, they were arrested by security operatives and kept in prison for screening before a transfer to government designated camps. But a lot of adults and young men were subsequently labelled Boko Haram members and have since not been released.
Stating her grounds for refusing to return, Jalo, an IDP from Goggoriye, said, "They brought us to Bama and took away our husband. Most of our relatives have died already and now the governor wants to take us back to our village. Let him do justice and release our husbands first. If he doesn't release them, we will not go back. How can we stay without them when we go back? Our husbands, children and in-laws are all not with us and they are innocent. Why wouldn't they release them?'
The creation of the Ministry of Reconstruction and Resettlement in 2015 by the Borno State Government marked the beginning of the initiative to resettle IDPs, starting with massive reconstruction of destroyed houses and government structures in selected rural areas recaptured by the Nigerian military from insurgents. On one hand, the insurgents while retreating from the territories they lost to the Nigerian military destroyed many buildings and facilities in these areas. The Nigerian military has also destroyed some of these structures which they saw as hideouts for the insurgents during their recapture.
In the resettlement drive, the government has created temporary camps in these areas where IDPs from surrounding defaced or destroyed villages were to be resettled. Those whose houses were rebuilt by the government moved in straight. To entice the IDPs to return to their former hometowns, the government provided food, shelter, and non-food items at the resettled areas. The gesture by the government paid off as thousands of IDP s chose to go back. In previous years, the government had announced plans to close all camps in the state to pave way for the return of IDPs to their home communities.
Access roads to these areas where the government is proposing to resettle IDPs have, however, become extremely dangerous to ply. There are frequent reports of Boko Haram fighters mounting checkpoints on these roads. When Baba Goni, a commercial driver from Monguno was asked if military operatives also ply those roads, he said, "They [insurgents] mount the checkpoints and when they see military vehicles coming, they retreat and hide in the lengthy shrubs and weeds along the roads.'' He added that they rarely kill travellers as long as they surrender their money and valuables without hesitation.
Indications are that the trend would continue in the coming months unless the shrubs are cleared through bush burning as usually done by the military in the winter. Mallam Abubakar Abba, a retired civil servant and a keen observer of the Boko Haram insurgency trend projected that the lucrativeness of these checkpoints coupled with the low morale of the Nigerian Military suggests that the checkpoints would continue to be mounted unless drastic military measures are taken to dislodge them and the surrounding Boko Haram enclaves.
Thousands of military personnel are currently stationed in various locations of the rural areas of the state, covering most areas where the government is proposing to resettle the IDPs. Many, however, complain that operatives in these areas neither take prompt action on intelligence provided to them by locals nor are they prepared for a sustained offensive on the insurgents. ''They would tell you we were not given command or they would say it is none of your business if they didn't touch you. We would only defend ourselves if they attack us,'' confirmed Mallam Bulama Abiso, a community leader and an IDP from Marte Local Government Area residing in a host community in Maiduguri. To complement the Nigerian Military in the resettled areas, the Borno State Government has mobilised thousands of Joint Task Force operatives, vigilantes and hunters to provide ad-hoc and backup security in the communities.
Although no local law explicitly states that IDPs are entitled to compensation for the destruction of properties in their hometowns, they depend on the government and NGOs to assist with reconstruction and the provision of social amenities. The government often makes budget provisions for such projects, for instance through the reconstruction and resettlement ministry in Borno.
IDPs from Dikwa, Bama, Gamboru Ngala, Mafa, Konduga, Mainok, Monguno, Kukawa, Baga, Damasak, Gubio, Magumeri, and Gajiram are among those who have so far been resettled, but with many challenges.
Security concerns remain high as Boko Haram fighters hibernate in the surrounding of these towns within an estimated radius of not more than five kilometres. Intertown travels, business and farming activities are still highly restricted in these areas due to fear of terrorist attacks and abduction. Residents say the Nigerian Military, however, provides security to farmers and travellers for brief hours from time to time. Marte and Abadam are the only Local Government Areas where IDPs are yet to be returned though the government is making preparations to include these places in the coming weeks.
The Borno State Government has placed high priority on security and IDP resettlement and has been trying very hard to synergise with the Nigerian Military but its enthusiasm is not reciprocated. The military sees the Borno State Government more as exposing its deficiencies than as a partner in the fight against the Boko Haram insurgency.
Many of the state's residents, on the other hand, see the Nigerian Military as profiteering from the insurgency because of common reports of military personnel monopolising key business activities such fishing, trade, commerce, transportation and large scale farming in the liberated areas. Rather than focus on their primary duty of fighting the insurgency, some military personnel in key economic areas like Baga, Gamboru, Monguno, Kukawa and Banki have been observed to have transformed into businessmen using fronts to run their businesses. Breaking the circle of beneficiaries that have tested the sweet yoke of insurgency would continue to be one of the formidable problems before the state government if its resettlement agenda is to be realised, experts say.
Security analyst, Makinta Mohammed, is of the opinion that the resettlement agenda is more clouded with political motive than a genuine intention to respond to the yearnings of the IDPs to return home.
A sizable number of the IDPs have already reintegrated to their host communities in various fields of endeavours by way of commerce and artisanship. A lot more have enrolled in tertiary institutions to further their studies. "We cannot go to work here. So we thought it is better to further our education than sit idle," lamented Mallam Bura, a civil servant at the Kala Balge Local Government.
"I started selling rice and beans when I came to Maiduguri as IDP and I now have an established business outfit. I don't think I am going back to my village again,'' Awa Goni affirmed with confidence, echoing the views of hundreds who have secured viable ventures for themselves.
Many of the displaced middle class and senior civil servants who are living in either rented houses or houses they have bought on arrival are also not ready to fully return home. "I am not going back. I will be reporting to my station periodically from here. My family would be staying here in Maiduguri," stated Baba Sanda, a civil servant from Bama Local Government Area.
The state government is faced with a handful of challenges on the issue of resettlement and the way out appears to be going back to the drawing board with security and development experts to produce a new roadmap for the resettlement plan, which includes releasing innocent detainees.
This investigative report is supported by the African Transitional Justice Legacy Fund.
---
Support Our Journalism
There are millions of ordinary people affected by conflict in Africa whose stories are missing in the mainstream media. HumAngle is determined to tell those challenging and under-reported stories, hoping that the people impacted by these conflicts will find the safety and security they deserve.
To ensure that we continue to provide public service coverage, we have a small favour to ask you. We want you to be part of our journalistic endeavour by contributing a token to us.
Your donation will further promote a robust, free, and independent media.
Donate Here