Displacement & Migration
Features
News
Borno IDPs Bemoan Food Diversion Cases By Local Camp Officials
Hunger remains a major plight facing most IDPs in Borno State. And they are blaming it on corrupt camp leaders whom they allege usually divert the food and other palliative donations to them by NGOs.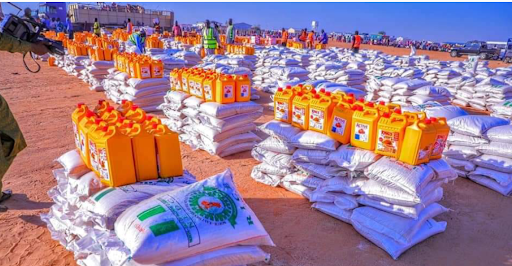 Internally Displaced Persons (IDPs) in Borno State, Northeast Nigeria, recently bemoaned how the conduct of local officials has exacerbated food scarcity and hunger in their camps.
The IDPs insisted that the prime suspects in the illicit diversion of food and related relief items are the local camp officials. They, however, suggested that strict regulations and monitoring by the government can effectively mitigate such low-level theft.
The IDPs listed issues like "godfatherism, nepotism, and ghost IDP" syndrome as some of the reasons there has been insufficient food for them in the camps.
Mukhtari Abubakar, a 29-year-old IDP from Mafa Local Government Area (LGA), told HumAngle that "there is wild corruption going on in this camp, Muna Albadawi, and you would be shocked to know that it is being perpetrated by our fellow camp members."
"We don't have enough support for food here because the monthly supply by SEMA has ceased and what the NGO people normally bring here are grossly inadequate and unstable. And whenever the little support comes, the local officials appointed as Bulamas [village heads] would hijack it while pretending to help in the distribution."
The IDPs said their local chiefs have become so powerful that they could frustrate any NGO that brings palliative to the camp from distributing the same to the IDPs unless they go through them.
"The fact of the matter is that we have a few Bulamas that are honest, but the majority of them are dishonest and corrupt," Abubakar said. 
"Each time relief supplies, be it food or nonfood items get to our camp, you'd notice that the Camp Secretary and some of the Bulamas would collude and divert some of the items. They do the distribution either to favour their friends and family members or by sneaking in persons who are not IDPs with whom they would later split the illegal share and take to their homes or even sell in the market."
"Sometimes we get half of the package meant for us and when we complain they would threaten that next time we would not be given the privilege of being on the list of beneficiaries."
A female IDP said on many occasions the Bulamas would deliberately skip her home because she had once complained about their "discriminatory pattern" of distributing food items.
"When the NGO brings support like foodstuff or soaps or even clothing they depend on the camp secretary or the Bulama to draw a list of prospective beneficiaries who would be issued a ticket. Sometimes, you have to bribe them to get the ticket either by forfeiting a portion or half of the items to be distributed or by paying some money demanded by them. If you renege on the agreement, then you are surely going to be their next victim," she said.
Mala Abdullahi, another IDP at the Muna Albadawi camp, explained that "there are about 70 Bulamas of which some are original to their villages, while some were appointed here in the camp based on trust."
"This is one of the biggest IDP camps in Borno with a large number of households. But feeding remains a major problem here."
"What they give us here are measured in six bowls of rice and maize each. Sometimes we get less than that. This food doesn't last a week for a family of eight. Despite that, some people still try to cut corners with them. We are faced with a situation in which we cannot farm our crops on our own due to insecurity." 
"Our local leaders here in the camp don't represent our best interests. This includes the camp secretaries, the youth leaders, and some Bulamas."
Another IDP, Abubakar Lawan, added that apart from nepotism, some of the local leaders also use the 'godfather' syndrome in handling the issue of palliative distribution. 
"Once you have a godfather in a Bulama you are sure of getting even more than your share. That's why you see people like us not getting anything while some others are priority beneficiaries in all the palliative supplies that come to the camp. What we experience here is what happens in most of the camps." 
Way out
The IDPs said they would not suffer hunger if there is proper monitoring by the government during the distribution of palliatives. 
"There is no strong government presence during the distribution of food and other relief items by the NGOs in this camp. Even the NEMA officials only come and dump everything in the hands of the Bulamas who usually take advantage of the situation to short-change their fellow IDPs."
"But if the NGOs, as well as NEMA, can ensure the deployment of security agencies during the distribution, no one will divert the food or any palliative because there will be law and order," Lawan said.  
"We also want the strategy deployed by the Borno State governor, in which he would storm a camp at night and take a headcount, issue tag numbers, before the distribution takes place," Falmata Modu, a mother of five children said. 
"In that manner, the Bulamas and their cohorts would not sneak any fake IDPs into the camp, or divert relief items to favour their family and friends." 
HumAngle spoke with the Muna Camp secretary, Malam Jiddum, who denied knowledge of most of the claims and allegations made by the IDPs. 
According to him, the distribution of food in the camp was done by the National Emergency Management Agency (NEMA), and not the State Emergency Management Agency (SEMA) whom he represents at the camp. 
"We don't have a say in how they conduct their business," he said. 
He however added that it is a norm that whenever such palliative measures are brought into the camps, they do the distribution in "clusters" and each cluster is "headed by local Bulamas who are trusted to identify their community members who are genuine IDPs."
But when asked to comment on the allegations as it affected non-food items, Mr Juddum argued that IDPs always feel disgruntled and make false claims of food diversion if they don't fall within the demography of the targeted recipients of the palliative that was being shared.
---
This report is a partnership between HumAngle Media and Premium Times Center for Investigative Journalism (PTCIJ) under the 'Accountability Journalism & Investigative Reporting for Deepening Democracy and Development' project.
---
Support Our Journalism
There are millions of ordinary people affected by conflict in Africa whose stories are missing in the mainstream media. HumAngle is determined to tell those challenging and under-reported stories, hoping that the people impacted by these conflicts will find the safety and security they deserve.
To ensure that we continue to provide public service coverage, we have a small favour to ask you. We want you to be part of our journalistic endeavour by contributing a token to us.
Your donation will further promote a robust, free, and independent media.
Donate Here