Features
Human Rights
Stigma And Other Roadblocks As Reintegrated 'Boko Haram Wives' Seek A Fresh Start
They were abducted as teenagers and spent many years in the forest with their captors. Eventually, they summoned enough courage to escape, but their lives would take a drastic turn.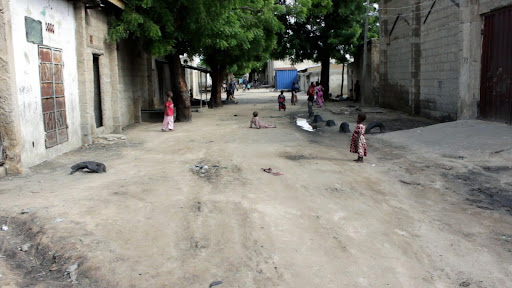 Witches. Children of terrorists. These words hurt more than the pebbles their neighbours threw at them, sometimes making them regret fleeing Boko Haram's camp and reintegrating with society.
Khadijah Ibrahim, 19, and Fatima Mohammed, 24, were both abducted by the violent extremist group in 2014 alongside members of their family and taken to the group's stronghold in the Sambisa Forest. Both are mothers with two children. Khadija and her family were taken from their hometown, Potiskum, in Yobe, northeastern Nigeria, during an invasion. She was just ten at the time. Fatima was captured with her husband, Bakura, from their town, Banki, in Borno state.
Both women fled with their children and husbands — and in Fatima's case, also her co-wife and mother-in-law — following the government's declaration of amnesty and calls from friends who were benefitting from the deradicalisation programme known as Operation Safe Corridor.
Fatima's voice was steady as she recounted the stark differences between life in the Sambisa Forest and their current circumstances. "We were comfortable in the forest," she said. "We sewed clothes for livelihood, our room furniture was intact, and we had plenty to eat."
In contrast, she said she has faced many difficulties since her return, not having enough clothing, lacking furniture items and work equipment, and not having a dependable livelihood. "Neither we nor our husbands have a means of getting money. We are jobless here."
Carrying her five-months baby in the one-room rented apartment she shared with her husband, Khadija shared a similar experience.
Their lives took a drastic turn when they left the forest behind. The women and several others like them were camped at the Bulumkutu Rehabilitation Camp in Maiduguri, Borno's state capital, and were only released after 11 months in early 2022. The transition from the forest's shadows to the stark reality of a rehabilitation centre marked the beginning of a journey towards healing and reintegration.
Leaving Bulumkutu behind, they resettled in host communities within Maiduguri, eager to rebuild their lives. With no place to go and no one to turn to, Khadija resettled with her husband in Bulabulin. "My father and some of my siblings died in the bush. While the remaining of my siblings are still in the forest. I am the only one here," she explained. As for Fatima, she and her family resettled in Zajiri, another locality in Maiduguri.
However, the new phase brought its own set of challenges. The optimism they carried clashed with the weight of society's prejudice.
"Members of the community began stigmatising us," Khadija said, her voice reflecting the pain of the words thrown at them. "They called our children 'children of Boko Haram.' Children also threw stones at our homes. These treatments made me regret returning."
Fatima and her family faced similar challenges, enduring insults and hostility from their community. Their past haunted them. "When we went out, they called us witches," Fatima lamented. "We couldn't attend ceremonies. We were resented." The very act of stepping out became a journey through a minefield of stigmatisation, robbing them of the joy of ordinary interactions.
Both women were forced to find refuge in other neighbourhoods.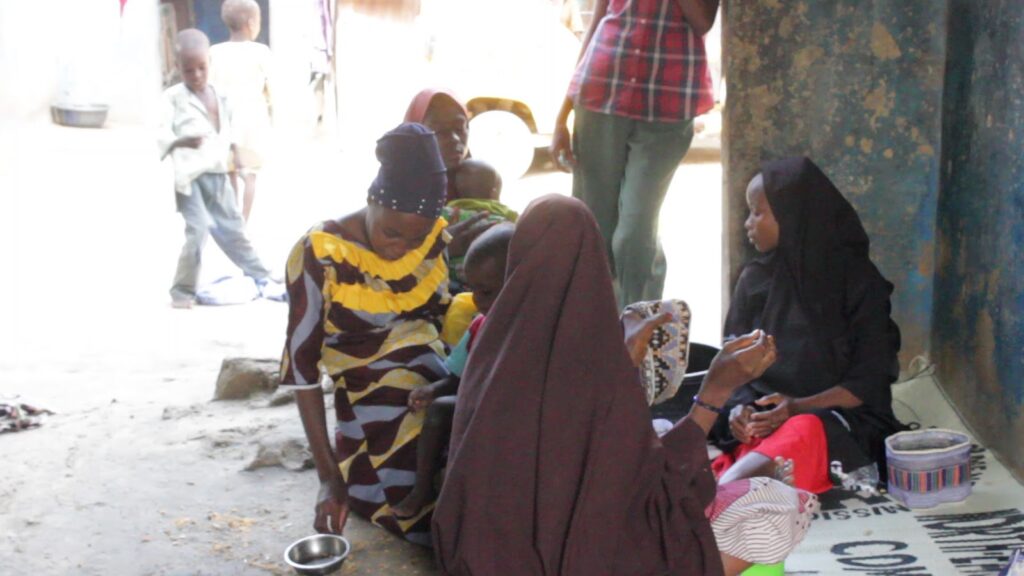 A new sanctuary
Leaving Bulabulin, Khadija and her family resettled in Umarari, another part of Maiduguri.
"Alhamdulillah, no one is treating us badly here because they don't know we are from the forest," she said. "My son even goes out to play with his peers, although not often because most of the time, the children are in school, and he is alone. He neither attends formal education nor Islamiyya. So, he would with children in the compound."
Fatima and her family also opted to relocate to Umarari after the Eid festival in June 2023. Though she thinks it might be too early to get comfortable, she said so far, she has not noticed signs of hostility. "My daughter attends Islamiyya school and plays with her peers outside. I also get to engage and interact with other women."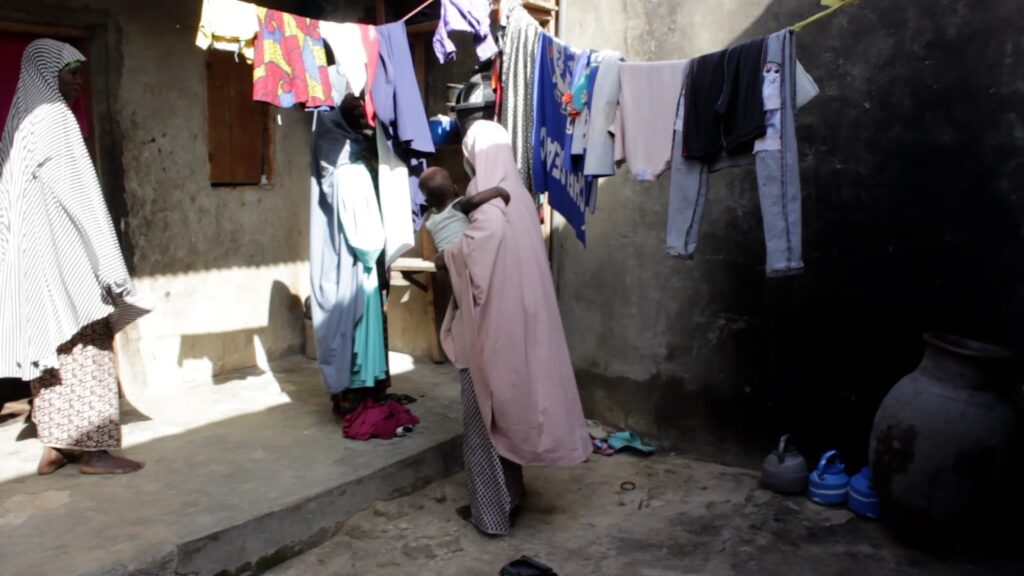 Resilience
In the face of all the challenges, the women have remained resilient. Khadija said though the stigmatisation made her regret leaving the forest, she has never confronted any of the people who taunted her, choosing instead to turn a deaf ear.
She has coped by visiting her friend, who was also a Boko Haram captive and who offers her comforting words, having similar experiences as her. "We try to make each other forget the treatments we face from the community. Doing this helps us in reducing the trauma."
"What happened to us was not our wish or desire. It was destiny that put us in this situation. The people in the community calling us those names should fear Allah because nobody is above destiny," she cautioned.
Fatima, her mother-in-law, and co-wife are also closer to women like them, who used to live with the insurgents, and interact less with other members of the community.
They also come together to support themselves.
"We help each other during needs and ceremonies like naming. We buy items like clothes and detergents and give each other. We help out with house chores and other activities," Fatima told HumAngle.
Unfulfilled promises
The women said during their stay at the rehabilitation camp, the government promised to support their reintegration by helping them to start businesses.
"But we are still yet to get anything," said Khadija.
"When in the rehabilitation camp at Bulumkutu, we were trained for two months in tailoring and other vocational skills. We were told that we would be given sewing machines and other equipment. We are yet to receive anything. It has been almost two years now since we left the rehabilitation centre. On the day we were discharged from the camp, we [women] received a grant of ₦30,000 ($39) and 15kg of rice and maize flour. Other than that, we have not received anything."
Fatima added that they received no psycho-social support after leaving the camp. "When in the rehabilitation centre, we received some of this support. There were also doctors who attended to us and gave us drugs. However, since leaving Bulumkutu, we have not received anything," she stated.
Khadija used to get by through cap-knitting but said the low prices and scarce demand forced her to stop. Now, she hopes to go into the sale of charcoal once she raises enough money.
"Being jobless is painful," said Fatima, "especially as someone who is skilled. So, our current condition has a great negative impact on us."
HumAngle could not get a comment from the Borno State Ministry of Women Affairs and Social Development for this story despite multiple follow-ups.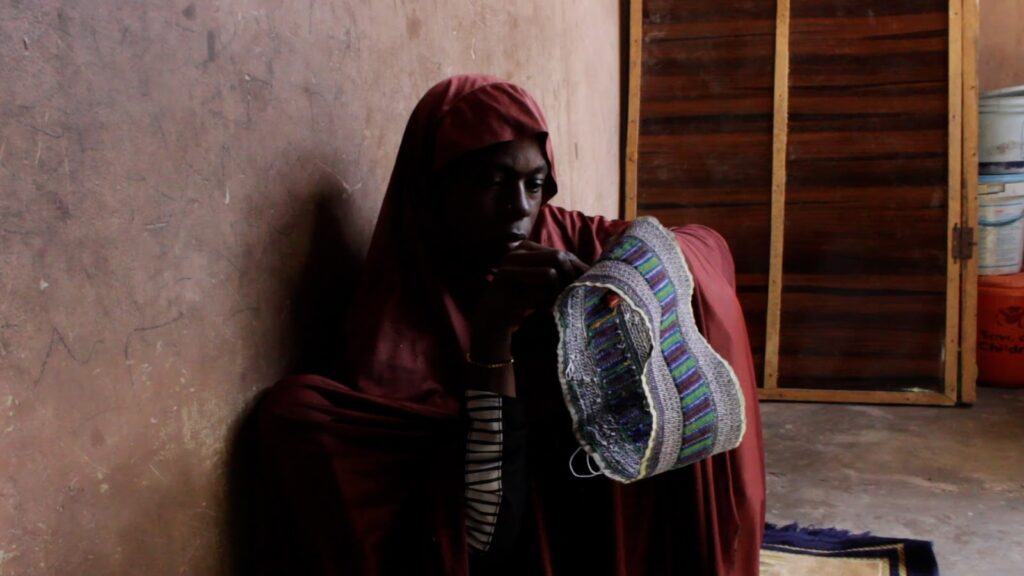 Khadija's son found a semblance of normalcy in Umarari. His laughter echoed through the community as he played with his mates. Fatima and her family, too, discovered a sanctuary in this new community.
"We engage with other women, and my daughter attends school and plays with her friends," Fatima said, a glimmer of hope in her voice. The sanctuary they found in Umarari gave them enough motivation to continue.
They continue to yearn for the community to see beyond their past and treat them with the compassion they deserve. "We hope to be treated like other community members," Khadija said.
Their hope is not just for themselves but for a community that can heal and grow by embracing those who seek a new beginning.
---
Al'amin Umar is a 2023 HumAngle Accountability Fellow from Borno State. This Article is part of the project; 'Promoting Transparency in Insurgency-Related Funding in Northeast Nigeria' in partnership with the MacArthur Foundation.
---
Support Our Journalism
There are millions of ordinary people affected by conflict in Africa whose stories are missing in the mainstream media. HumAngle is determined to tell those challenging and under-reported stories, hoping that the people impacted by these conflicts will find the safety and security they deserve.
To ensure that we continue to provide public service coverage, we have a small favour to ask you. We want you to be part of our journalistic endeavour by contributing a token to us.
Your donation will further promote a robust, free, and independent media.
Donate Here