Environment
Features
News
Boko Haram Hostility Is Altering Livelihoods, Deforestation In Borno
A major threat to the environment looms as massive tree felling for charcoal production fuels the alternate energy needs of residents of Borno, Northeast Nigeria.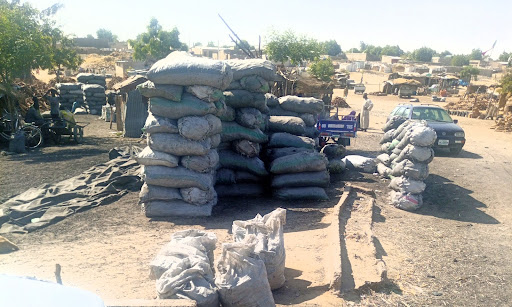 A bag of charcoal is now sold at ₦3,800 in Maiduguri, the capital of Borno state, Northeast Nigeria. Before 2021, the same bag cost between ₦1,000 and ₦1,200 depending on its quality or where it was brought. 
Bukar Modu, a resident, changed his business of dealing in petroleum products to the sale of charcoal. From all indications, the latter seemed wiser as far as daily income was concerned. 
"It is not that I was not making a profit selling petrol (PMS) but as a business person one has to follow the trending market," he explained.  
Since January this year when Boko Haram terrorists brought down major power lines linking the Borno state capital to the national grid, the city and its environs have suffered a blackout. This has affected all manner of businesses that now grunt under the high cost of fuelling generators, exacerbated by the recent increase in petroleum pump price.  
The situation was further made worse with the sharp rise in the cost of refilling cooking gas as a 12.5kg gas cylinder which used to sell at ₦3,500 now goes for ₦9,000. 
Skyrocketing fuel prices have made the costs of living unbearable and residents must start thinking of ways to cut back expenses, especially on the home front. 
"It is no longer sustainable depending on cooking gas or kerosene to cook for the family," said Nafisat Aliyu, a civil servant and mother of five. 
"I can't recall the last time I used charcoal or even kerosene to cook in my house; but with what is going on in the economy today, I needed no one to advise me before I went to get a bag of charcoal to supplement our cooking gas. With the coal, we take care of all heavy cooking and daily boiling of water for bathing in the morning. And so far, so good, I think using charcoal is even more efficient and faster than using the pressured gas cylinder." 
The use of charcoal for cooking used to be associated with low-income earners, but that notion has started to change.
"There is no class or status symbol now when it comes to cooking food in Maiduguri today because hard times have levelled the social strata," said Modu Awami, a charcoal dealer.  
"The only way to differentiate the social status of our customers is that the big men or women come with cars to buy either half bag or full bag while the poor ones pick theirs in the black plastic bags we normally sell at ₦100 or ₦200," he explained. 
HumAngle has observed that there are more sales points for charcoal in Maiduguri than the number of filling stations, black-market petrol stands, and gas stations put together. 
More people have practically gone into the booming business of charcoal sales in and around Maiduguri, a development that raises questions about the source of the product.
"We used to have charcoal that was brought in from the neighbouring villages and local government areas, but we also get a substantial quantity sold in Borno state come from Lagos and some states in the Southwest Nigeria," Abba Kaka, a trader in Maiduguri's Gamboru market, said. 
Zara, a female charcoal merchant said they usually source their coals from Borno state and others often come in from Bauchi and Lagos states. 
"In Borno state, most of the charcoal that we sell are produced in Damboa Local Government Area," she said. 
"Charcoal from Borno is more expensive; some are sold at ₦4,000, while others sell for ₦3,800, depending on how the suppliers bought it from the producers. But the ones from Lagos and Bauchi are sold at either ₦3,500 or ₦3,600." 
The charcoal from Borno is more expensive because they don't come with debris and sandy dirt compared with the supplies from other states. 
Zara, who said she normally vends her charcoal in little plastic bags at the cost of ₦100, lamented that business has been difficult because the suppliers have reduced the size of the bags and now sell at high prices, not minding the purchasing power of the commoners who would not buy little for so much money. 
"In the past, a whole bag of charcoal was sold to merchants at ₦2,100 or ₦2,050; but now the prices have shot up so bad that we had to pick some bags on credit to sell before paying up the supplier," Zara lamented. 
The mother of six wants the government of Borno to provide them with a credit facility that would enable them to invest more into the charcoal business. 
She agreed that the business was booming now, "but only for those who have the means of buying it." 
HumAngle learnt that, in the past, a ₦100 pack of charcoal was enough to cook for two days. But twice that amount does not suffice for a day now. "So most of the poor people would rather go to pick sawdust at the timber market to cook their meal," Zara explained.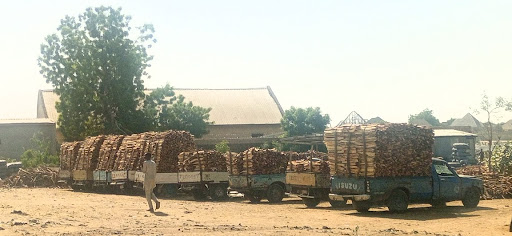 Impact of charcoaling on environment 
Due to the activities of Boko Haram, which led to massive displacement of persons from the hinterlands to the city, the surrounding bushes of Maiduguri have been badly affected by deforestation. IDPs, especially, and many low-income earners depended on woods fetched from the surrounding bushes for their alternative source of energy. 
The bushes of Borno, especially the ones surrounding safe communities like Maiduguri, Jere and some parts of Konduga and Kaga local governments have suffered from excessive tree felling. 
"Most of the woods, including commercial and highly valuable trees, have been cut down by the charcoal makers including even IDPs to use as firewood for their cooking," said an official of the state ministry of environment, who spoke off the record because he was not authorised to interface with journalists. 
"If you observe recent weather conditions, you'd noticed that Maiduguri and environs have experienced intense heat even during the months when it was supposed to be raining. You may have also noticed that during the rains there are lots of windstorms because we have lost our natural windbreakers, which are the trees that have been cut down by the increased peasant population in and around the city. It may shock you to know that about 12 local government areas are being challenged by the problems of desertification in Borno state mostly caused by illicit human activities." 
To source the charcoal, dealers mostly have to go to remote locations where there are enough woods, cut them down, and smoke them up.
"Things are getting messier by the day because the act of tree felling has become a way of life. And when a crime becomes a major source of sustenance for people, stopping it will be war unless government stands on its feet and does the needful immediately," the environment ministry official lamented. 
The official explained that doing the needful entails providing alternative sources of energy to using wood for cooking or any source of flame energy. The state government, he continued, should collaborate with the federal authorities in the area of pushing the policy that led to the declaration of 2021 to 2030 as years of gas development for Nigeria, a policy which, he said, was intended "to promote the usage of natural gas in Nigeria thereby creating complementary and cheaper fuel choices for Nigerians". 
Borno govt plans to curb deforestation
Apparently disturbed by the emboldened business of mass tree felling for charcoal production in Borno, the state government had recently hinted moves to "amend tree felling and bush-burning edict" as part of its commitments to slowing down the fast pace of desertification and environmental degradation mostly caused by human activities. 
Governor Babagana Zulum, who said this during the launch of the last tree planting campaign at the Borno State University, noted that the current law that has been in force for over two decades is too weak to control "illegal felling of trees and bush burning in the state".
He had acknowledged that poverty and poverty and insecurity had led to the destruction of trees and desertification.
"One of this administration's 10-point agenda entails tree planting to encourage agroforestry and environmental restoration," he said. 
"Human activities, including bush burning, illegal tree felling have continuously put pressure on fragile eco-system and threatened food security and fuel desert encroachment. And as a government we are seriously concerned and committed to reversing the environmental degradation, so as to prevent people from massive tree felling and bush burning." 
He stated that the government had commenced raising seedlings to reclaim one kilometre of desert yearly through the Ministry of Environment.
He said the state government would henceforth; make it a policy that all construction works should be accompanied by the planting of trees to cushion environmental impacts.
To push this policy forward, the state Commissioner for Environment, Barrister Kaka Shehu, who also doubles as the state's Attorney General, informed HumAngle in an interview that they planned to deploy forest guards, the Nigeria Security and Civil Defence Corps, agro rangers, and members of the Civilian Joint Task Force (CJTF) to curb activities hostile to the environment. 
"In addition to that, we have since 2020 commenced the planting of 10 million trees around Borno state – with one million every year for the next ten years – as part of our government's commitment to combating deforestation," he said.
The Attorney General added that work is seriously being done to ensure that the reviewed laws guarding the forests of Borno are enacted. 
Meanwhile, before these laws are passed, the business of tree felling for charcoal production remains a booming one and many locals are going into the venture as their means of daily sustenance. 
---
Support Our Journalism
There are millions of ordinary people affected by conflict in Africa whose stories are missing in the mainstream media. HumAngle is determined to tell those challenging and under-reported stories, hoping that the people impacted by these conflicts will find the safety and security they deserve.
To ensure that we continue to provide public service coverage, we have a small favour to ask you. We want you to be part of our journalistic endeavour by contributing a token to us.
Your donation will further promote a robust, free, and independent media.
Donate Here