News
Birnin Yauri: Warlord's Mother Joins Negotiations Over Kidnapped Schoolgirls
A notorious terrorist says his mother has turned up at his forest hideout to demand he release the remaining schoolgirls he is holding. But parents are cautious, after months of silence and several failed attempts at negotiation, they are not getting their hopes up.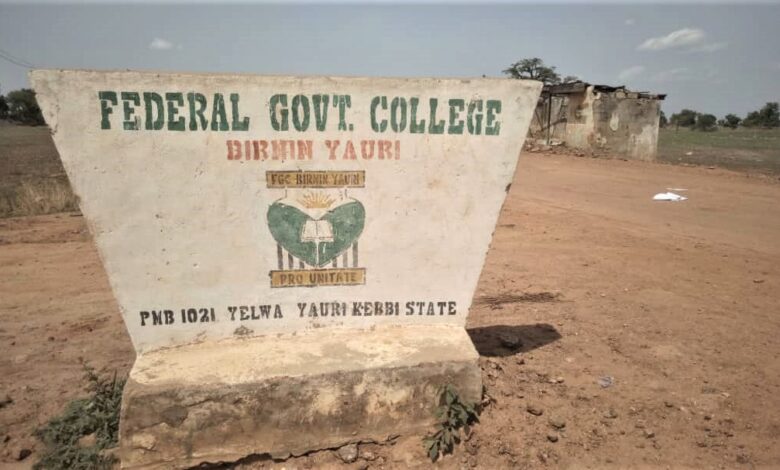 The mother of a notorious warlord has made a surprise intervention in the negotiations for the return of 11 kidnapped children.
HumAngle can reveal that Dogo Gide, the terrorist responsible for the kidnap and ransom of scores of schoolchildren from Birnin Yauri, Kebbi, Northwest Nigeria, broke months of silence to call a parent of one of the children he kidnapped.
He told the parents his mother arrived at his camp in the forest and said she would not leave until he let the girls go, HumAngle understands.
"You see, I am not staying with my mother. She came here and asked me why I didn't release the children. I told her what happened. And she said she would not leave until I release the girls," Gide told a representative of the parents.
However, parents are sceptical that any negotiation is in good faith. They say that he may be using his mother as a ruse to explain why he wants to settle the matter quickly.
Gide still insists that he should still be paid a ransom for the girls' release.
A spokesman for the parents told HumAngle: "This is not the first time that he is up for negotiation, only for him to not release the girls as agreed. We suspect he is desperately looking for money."
Parent call
The first indication came when Gide unexpectedly phoned Alhaji Sani Kaoje, the father of one of the 11 schoolgirls on Nov. 28, according to Sani Kaoje's son Salim.
Salim Kaoje is the spokesperson for the parents of the abducted girls.
HumAngle has heard a recording of the telephone call Gide made with the parents' representative on Dec. 5, where he discussed his mother's intervention and how he wants the situation to be resolved.
On June 17 last year, the notorious warlord abducted more than a hundred schoolchildren and some teachers from Federal Government College in Birnin Yauri.
He later released some of the abductees in batches. The last release was in January.
The remaining 11 schoolgirls are the only victims still in captivity. Gide claims he has "married off" the girls.
Since January, Gide has remained silent about the remaining schoolgirls, throwing parents into confusion over if they will ever see their children again.
In this phone conversation with Kaoje, Gide broke that silence, revealing how his mother visited his camp and insisted on not leaving until the girls were released.
Mother's apology
Gide's mother also talked to Farida's mother over the phone on Dec. 5.
In the 8-minute phone conversation, which HumAngle has heard, Gide's mother apologised to the parents of all 11 schoolgirls.
She does not say she advocates the immediate, unconditional release of the girls, and implies she thinks the parents should agree to her son's terms.
"You should please be patient. Whatever comes shall pass," Gide's mother said.
"Please do all you can to negotiate with these boys. I honestly want your children to return home. I am pleading to you, in the name of Allah and his prophet, to be patient with whatever you hear from the children. Everything shall come to pass."
When Farida's mother complained about how they had been pleading with Gide but to no avail, Gide's mother responded: "Listen, they are small boys. You know, the young ones would never understand what the elderly could foresee."
Later on, the head of the committee of the 11 schoolgirls' parents, Salim Kaoje, spoke to Gide over the phone. The latter reaffirmed his readiness to release the girls if they paid a ransom.
He insisted that he would not release any of the girls until he received ₦100 million.
He warned that none of the people who have previously been used as go-betweens should be engaged in any new deal. He gave the names of two people he wanted the parents and government to use as intermediaries.
When asked if he would agree to negotiate a lower rate with the girls' parents in case the government refuses to listen to the parents, he replied saying, "Now, if the government refuses to give the money, all I will say is you should forget about having your children back. But I will not harm them."
While the parents are still pleading for the government to intervene and secure the release of their children, they are sceptical about the veracity of Gide's promises.
Hope not yet in sight
In a straight-talking phone conversation with Gide, HumAngle heard Salim Kaoje registering parents' distrust for Gide's promises.
"Our biggest problem with you, Dogo, is we are thinking that in previous negotiations, you were paid to release the entire schoolchildren. The concern of the government and whoever wants to intervene and help us in fulfilling your demands, so that we can get back our children, is if you collect the ransom, you may end up releasing only some of the girls."
The terrorist said he would keep to his words, adding that this fresh cycle of negotiation is different because it was propelled by his mother's command.
Salim, however, seemed unconvinced. He appealed for a second time.
"I am sorry, Dogo. I have a heavy question for you, please. Between you and your creator; since you have assured me that you listen to your mother; that you respect her and want to have an everlasting cordial relationship with her. Between you and your creator, would you not hold any of the children if we fulfil your demands?"
Gide swore with his life, quoting Qur'anic verses, in an attempt to make Salim believe in his promises.
Later, HumAngle gathered that the schoolgirls' parents are still sceptical about the terrorist's promise. They are particularly sceptical considering how the terrorist has breached his own negotiation promises in the past.
Both in October 2021 and January 2022, when Gide released some of the abducted schoolchildren, the agreement made was that he was paid to release them all.
HumAngle heard the terrorist, in his phone conversation with Salim, shifting the blame to the intermediaries. Gide claimed they withheld part of the ransom they were given to deliver to him.
Some of the parents think Gide opens up this round of negotiations, not simply because his mother intervened, but also because he is either under threat of military attack, or in desperate need of money.
---
Support Our Journalism
There are millions of ordinary people affected by conflict in Africa whose stories are missing in the mainstream media. HumAngle is determined to tell those challenging and under-reported stories, hoping that the people impacted by these conflicts will find the safety and security they deserve.
To ensure that we continue to provide public service coverage, we have a small favour to ask you. We want you to be part of our journalistic endeavour by contributing a token to us.
Your donation will further promote a robust, free, and independent media.
Donate Here