Armed Violence
Features
News
Beyond Numbers (II): Passionate Teacher, Ambitious Students … Victims Of Owo Massacre
The attack on St. Francis Catholic Church left at least 40 people dead. But that's not all. The attackers also killed the aspiration and hope that these people held while alive, leaving vacuums that even time might not heal.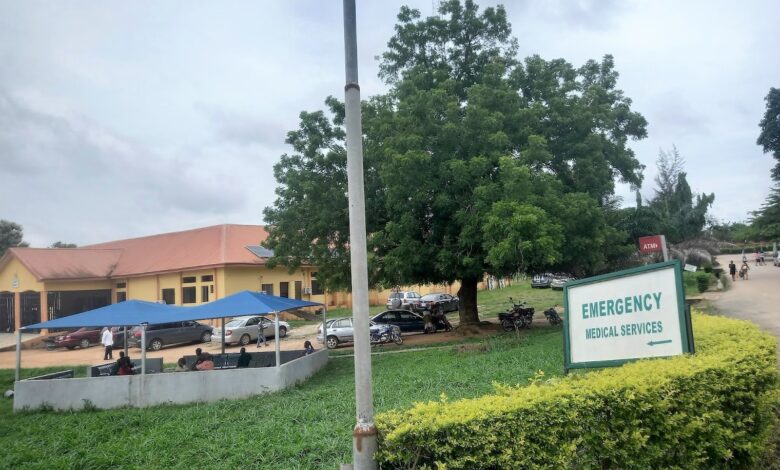 Akinyemi Emmanuel looked like a man searching for answers. His eyes were red and slightly swollen. His face, overcome with grief, had seen more tears in the last few days than a larger part of his life. His hair, scanty and grey, gave him away as a man that had lived long enough to experience many sides of life. None, he said, prepared him for the tragic event of June 5.
That day, his wife, Oluwatoyin, came to meet him in the living room after getting dressed for church. "I was seated on this same spot," he said, slightly raising his voice for emphasis. "She asked for money to buy soup ingredients on her way back from church, and I gave her."
There was something unusual, Emmanuel pointed out as he recalled what happened that day. Since they married 28 years ago at St. Francis Catholic Church, they have cultivated a culture. Whenever he was focused on something else on Sunday morning, she made it her duty to implore him to leave it behind till they returned from church. Her philosophy, he explained, was that while church service could not be postponed, anything else could.
While working on some kola nut he harvested on his farm two days earlier, he expected his wife to come and remind him that what he was doing could wait. She did not. "I'll never know why," he said, staring at a frame of her picture placed beside the TV stand in the room.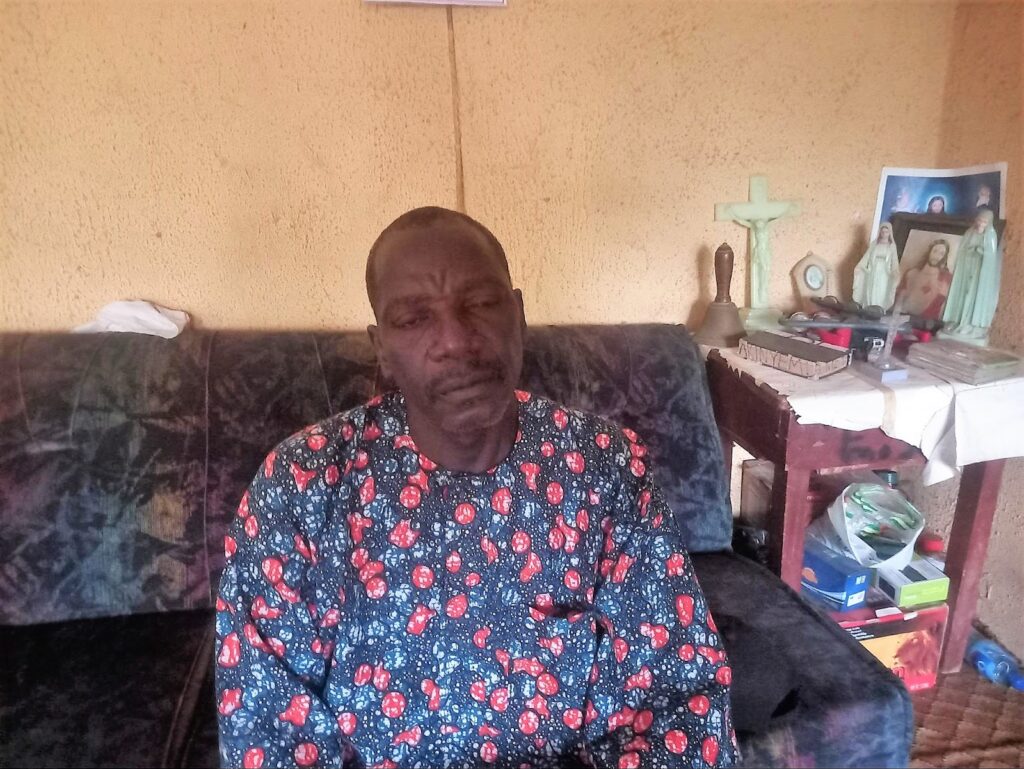 Her son, Micheal, 22, was in church with her that day. He was seated on the row closest to the main entrance. It was around 12:22 a.m. WAT when the first round of gunshots pierced the air. His first thought was that cultists in the town were at it again. But when he peeped through the window to confirm, he saw the attackers and knew that tragedy was at the door.
He escaped first by crawling through the church's hall to the front of the altar, where he hid for a while. Then, after a few minutes of an all-out assault, the attackers, still outside the church, stopped. "People thought they'd gone," Micheal recalled, his voice thickened by grief. While some stood up to run out through the door, he picked the window as his exit route, and that was his saving grace because, unknown to many, the attackers were only reloading their arms, and many of those who picked the door walked into the next round of bullets.
On getting into the compound, he jumped the fence separating the church from the palace of the town's traditional ruler and ran to the market. At the market, he was basking in the grace of his escape when he suddenly realised his mum was still in church. He ran back immediately without thinking twice about the sound of gunshots that still filled the air.
"By the time I got back, they were gone, and I saw my mum laying in a pool of blood."
Six people were in their living room apartment when he spoke with HumAngle. When he uttered the last sentence, the total silence that followed was punctured only by the chirps of birds from a tree outside.
A tragedy happened, and everyone in the room had just relived it.
A passionate teacher
The late Oluwatoyin had a Grade II teaching certificate. In 2004, she started teaching at Apostolic Faith School in Owo. A few years later, she moved to Z.I. Primary School. Before her death, she combined her teaching position at the government-owned school with a part-time role at Oyinle Secondary School. Both schools were located a few miles apart.
Her husband, who drew a timeline of her teaching career, described her passion for the job as unequalled. Aside from being an outstanding teacher, Oluwatoyin's commitment to church activities was impeccable, her relatives said.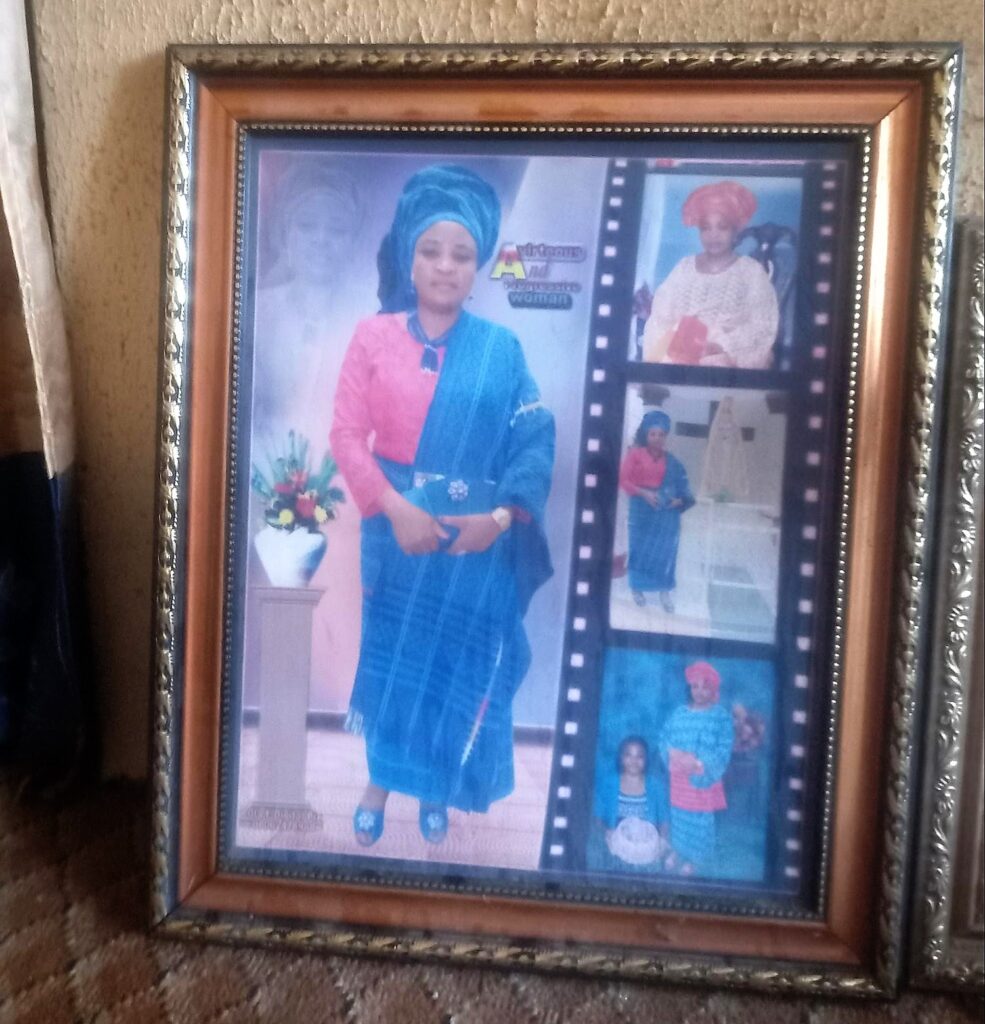 Until her death, she was the Public Relations Officer of the Catholic Women Organisation at her church, a post she held for years.
"She was a woman of honour," her husband said. However, he noted that if he decided to start identifying the outstanding attributes that stood her out from the crowd, two things would happen: He wouldn't be able to hold back his tears any longer and he wouldn't stop listing these attributes all day.
"She celebrated her 47th birthday on March 16. She would have been 47 years and three months old tomorrow," he told HumAngle on June 15.
Asked about his mum's personality, Micheal's mood shifted. His face suddenly wore a distant look and words failed him for a while. "She was a kind woman," he finally managed to mutter. He noted that his mum meant a lot to him in many ways, including some that he is yet to realise.
A peacemaker
Nnwani Girgulus was a father of two and a cheerleader to many. He was born in Owo 57 years ago but travelled to Enugu, where his parents hailed from, for his primary and secondary school education. He returned to Owo for his tertiary education and studied Accountancy at the Ondo State Polytechnic (now Rufus Giwa Polytechnic). Until his death, he was a bursar at the government-owned technical college in the town.
But what endeared him to many and made him a widely respected man in the community was his undying love for peace, his immediate younger brother, Christopher, told HumAngle on a sunny Wednesday evening a few days after the incident.
"Anyone around him who says he won't feel his absence is not being sincere," Christopher began. As his firm voice echoed across the room, friends and distant relatives present to commiserate with them nodded in agreement.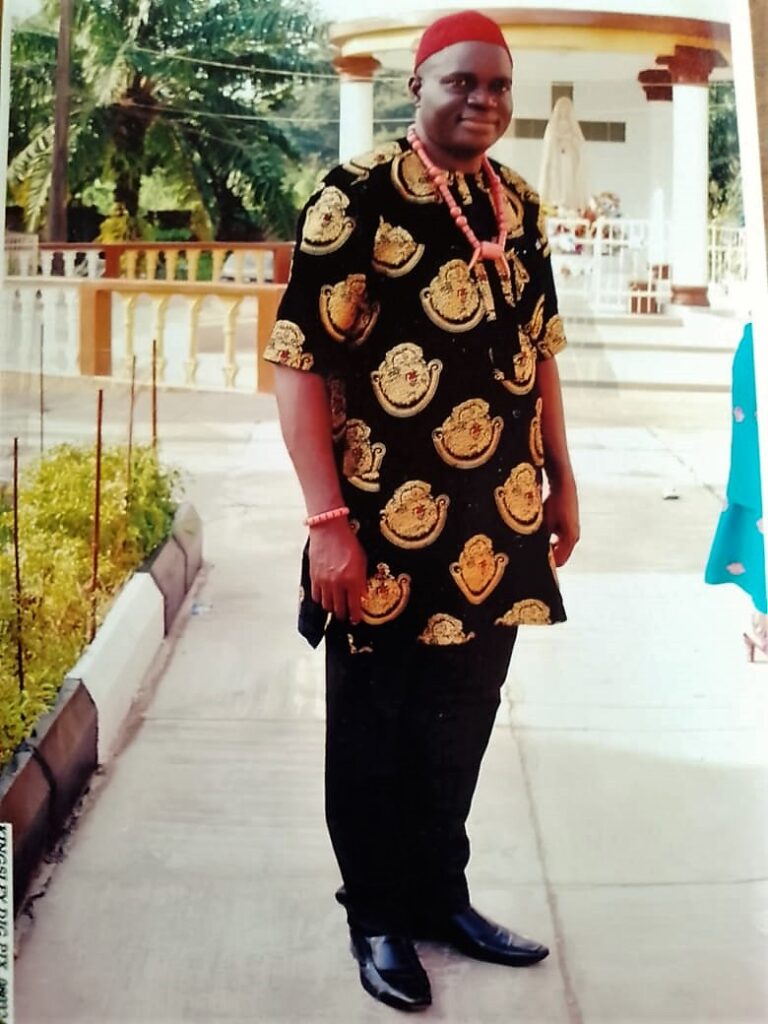 He recalled a crisis in the town that was already at a tipping point when Girgulus intervened. His message was simple: Peace must reign.
His wife, Florence, also echoed Nnwani's advocacy for peace. "He is a peacemaker," she said, referring to him in the present tense. "Anytime there is a quarrel, he is the one they call," she added, referring to him in the present again.
…His ambitious daughter
The late Girgulus had two children: Victor, 16, and Chidiogo, 11. On the day of the attack, he went to church with his wife and two children. Unfortunately, only his wife and first child returned.
Chidiogo, his younger child, received her first holy communion at St. Francis Church in May; she died there in June.
Before her death, Chidiogo was a Primary 6 student at St. Louis Nursery and Primary School. She had registered and started her final preparation for the Common Entrance examinations, marking the end of primary school education. "We were just waiting for them to announce the exam date. Now there is no need to ask again," her mum, Florence, said slowly.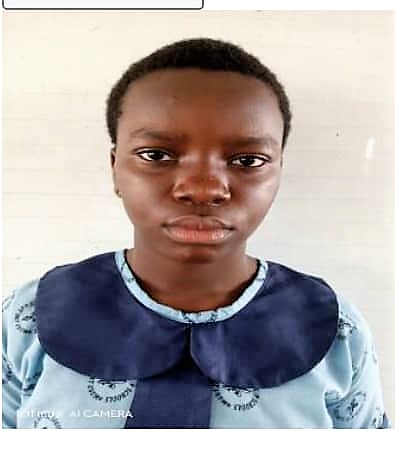 At 11, relatives and neighbours told HumAngle that Chidiogo's ambition to be a nurse was already common knowledge. And they believed her unique love for younger kids made her choice unsurprising. "People in our street and shop know her for her love for small babies, and small children are very fond of her."
But her uncle had a slightly different explanation. He believed her decision to be a nurse was influenced by the fact that her school shares a fence with St. Louis Hospital, which puts her in the proximity of medical personnel, especially nurses.
Everyone HumAngle spoke with agreed on two things regarding the late Chidiogo: At home, she was popular and loved for the special attention she paid to younger kids; at school, she was a friendly student who paid attention to her studies and found solace in reading.
Friendly Timothy
When Franklin Ugwu woke up that Sunday, he ordered each of his five children to go and prepare for church. It was raining, so they were naturally not pumped up to step into the bathroom – except Timothy, the youngest child.
He stood, had his bath, and dressed up before others in no time. When the church was attacked, he was the only member of his family who died. "On that Sunday when I told them to go and prepare for church, he was the first to get dressed," his dad recalled.
But Timothy's urgency towards preparing for the church that morning was not unusual. His parents said that was his default attitude towards discharging his duties within the house.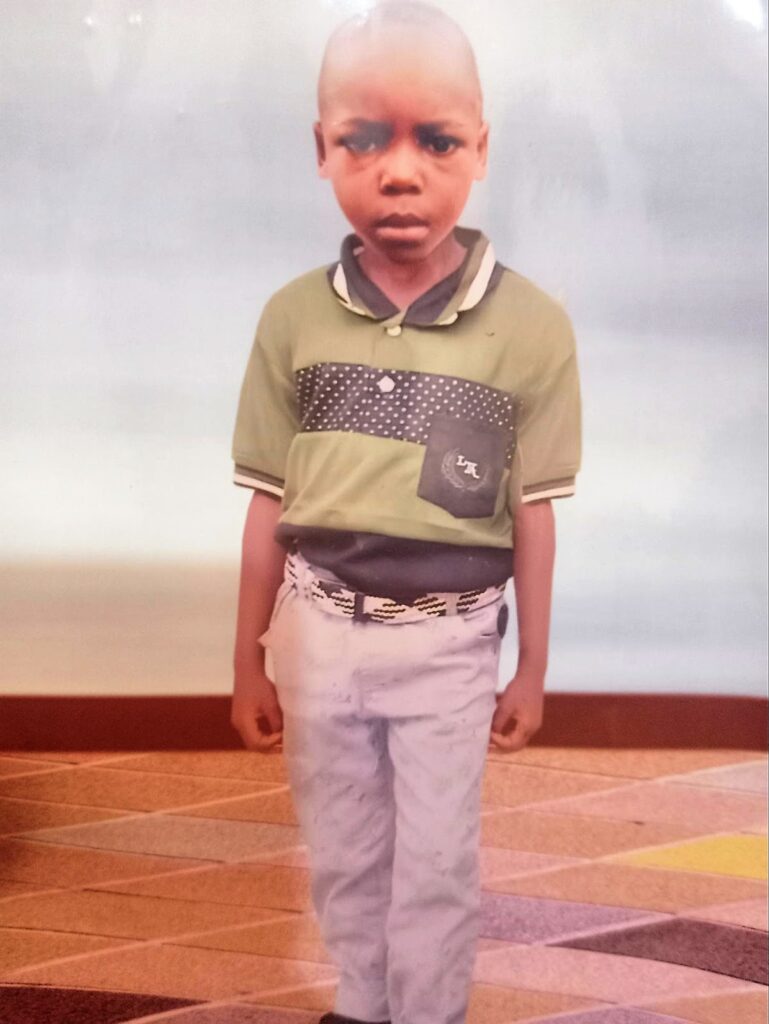 At school, he was not renowned for his academic prowess. "He was in Primary 1 at St. Francis Mega School. He should have been in Primary 2, but I told his teachers I wanted him to repeat the class to improve him academically."
But people loved him for something else: his friendly and playful nature.
A caterer and caregiver
Olajide Oladipe, 74, started attending St. Francis Catholic Church after marrying her husband, Wala, 56 years ago. They attended church and sat next to each other every week. But that Sunday, her husband stayed home because he felt a backache.
A caterer by profession, Oladipe was very passionate about church activities. This passion, HumAngle learnt, was why she ensured Niyi, the second of her six children, attended the church's seminary school.
Despite her old age, she was the caregiver to her 98-year-old mum. Ten days after her death, her mum had not been informed yet. "We are already having problems because we have not even been able to inform our aged mother," one of her siblings, Adetula Sunday, told HumAngle.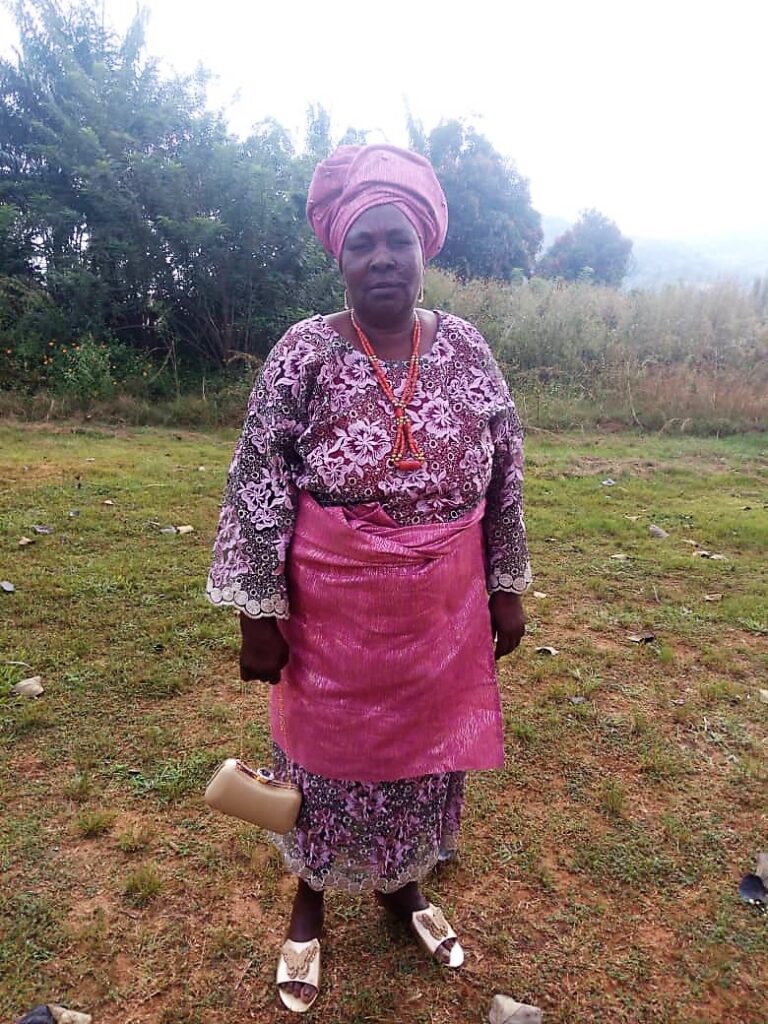 Her death created a vacuum in their family. Sunday explained that their aged mum still asked to see her before leaving home that morning. In response, they told her that her daughter went to a church event in a neighbouring town.
Not convinced, the aged woman, who does not live without her daughter's warmth for long, told them she wanted to hear her voice. But, again, they deflected by telling her that Olajide had left her phone behind.
"Her death is a great loss to the family; a greater one to our mother," Sunday said.
---
Support Our Journalism
There are millions of ordinary people affected by conflict in Africa whose stories are missing in the mainstream media. HumAngle is determined to tell those challenging and under-reported stories, hoping that the people impacted by these conflicts will find the safety and security they deserve.
To ensure that we continue to provide public service coverage, we have a small favour to ask you. We want you to be part of our journalistic endeavour by contributing a token to us.
Your donation will further promote a robust, free, and independent media.
Donate Here