Armed Violence
Investigations
Bayelsa's Boat-Riding Kidnappers And Towns Facing Abandonment
It's a carnival of abductions and outrageous ransoms in these communities in south-south Nigeria.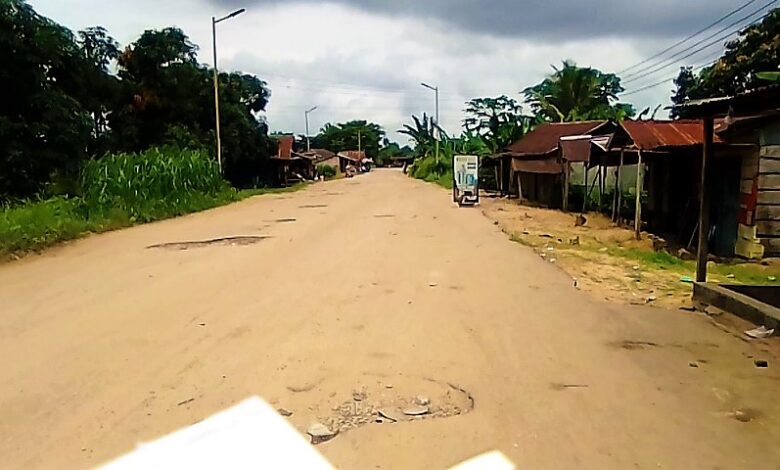 One evening in 2013, as Dauglas Augusta Apaga, 59, was preparing to close her shop at the Ogbia Town market, kidnappers dressed in military camouflage emerged from the nearby Nembe/Ogbia-Town River. Brawny and armed with sophisticated weapons, they dragged Augusta, who was now weeping, to their boat. All other traders could do was watch helplessly as the speedboat disappeared into the sunset.
"They tried to throw me inside the boat, but I fell into the water. They pulled me out, put me inside the boat, and drove away," Augusta recalled.
She cried, struggled to escape, but the men pressed her legs and neck against the boat. They vanished into the creeks, before arriving at their hideout. After 14 days in captivity, her now late younger brother paid ₦17 million ($40,000) for her freedom.
But her life would not be the same again.
Now incapacitated, Augusta blames her deteriorating health on the torture and abuses she experienced as a captive. The kidnappers, who continuously fired guns to intimidate her, tied her to a tree, with her legs sunk inside dirty swamp water in the rainy season. Her body was gradually getting swallowed by the marshland.
"Severe waist pain and difficulty in walking [caused by] severe spondylolisthesis with bilateral osteoarthritis of both knee joints," states her June 2019 diagnosis from the Federal Medical Center, Yenagoa. The pain has persisted since then and her legs need to operated on.
The day she was eventually released, the abductors threatened to kill her if her brother did not show up with the ransom. "They dug a grave and put my legs inside," she recalled tearfully. It was her first time narrating that episode, she explained.
In 2018, kidnappers came again at midnight and attempted to abduct Augusta from her home. But she fought and escaped into the forest. She has afterwards abandoned the house for fear of a repeat attack.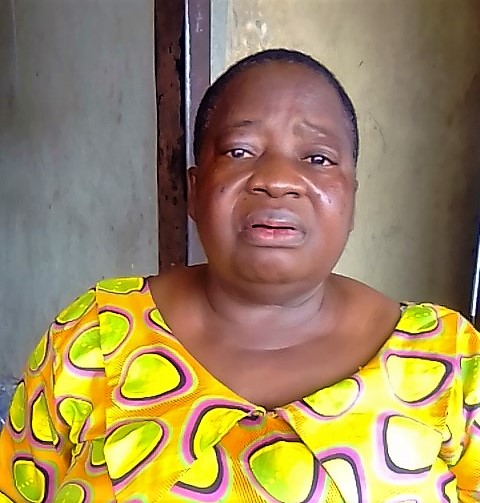 The Opume River, named after a community in the Ogbia area of Bayelsa, was a source of joy for local fishermen and traders. People depended on it for survival. It once sustained trade and made transportation possible for missionaries coming in as well as those seeking opportunities in other places. Today, residents cast a look at the same river and are immediately filled with terror.
"When these boys come for kidnapping operation, they come through the river… It's only one case that they came through the land. When these boys come for kidnapping operation, they come through the river," explained youth president Easter Okoloba. "It was only one time they came through the land."
Only about 40 km from the Atlantic Ocean, this community in South-South Nigeria is surrounded by rivers and creeks. Some of its fine houses have been abandoned by their owners, forced to relocate due to incessant kidnapping. Others brave the odds and remain.
On Feb. 12, 2020, Ebitare James* was ambushed and kidnapped in Opume along the Nembe-Ogbia Road. Remembering the torture he had suffered previously in the hands of kidnappers in 2014, he resisted. But he was eventually captured after a gunshot to his right leg shattered his tibia bone. They went away with him as blood gushed out.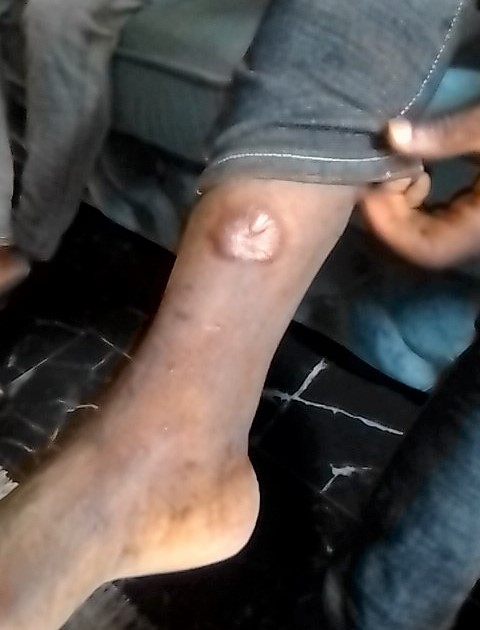 The kidnappers demanded ₦15 million ($35,200), which the family could not afford. While negotiations lingered, the swollen, broken leg ruptured, stank, and became infested with maggots. Two weeks later, ₦4 million was paid as ransom alongside some foodstuff. By then, James had lost the ability to walk. The kidnappers carried him to the speedboat and dropped him at the spot the ransom was paid. He was free. But it was freedom into misery.
"Even when I got my freedom, I was not happy because before I got the little money I had, I passed through pains. The pains I was going through with my broken bone! It was a hopeless situation and I didn't think I would walk again. There were times I thought of committing suicide. I saw my leg smelling like rotten meat," he said.
Several people, including his second wife who left him, concluded that he was already a cripple. "But God returned my leg back to me."
Ejeka Lawrence, 47, is another victim. He was kidnapped in Ogbia Town in 2019. That midnight, when the usual gunshots announced the arrival of the kidnappers, he knew there would be news of missing persons the next day. Suddenly, they broke into his house and took him to their den. Four years later, he is still traumatised by memories of graves, fresh muddy tombstones, skulls and bones of victims who died of torture and all forms of cruelty.
It's still a mystery to Ejeka how he survived.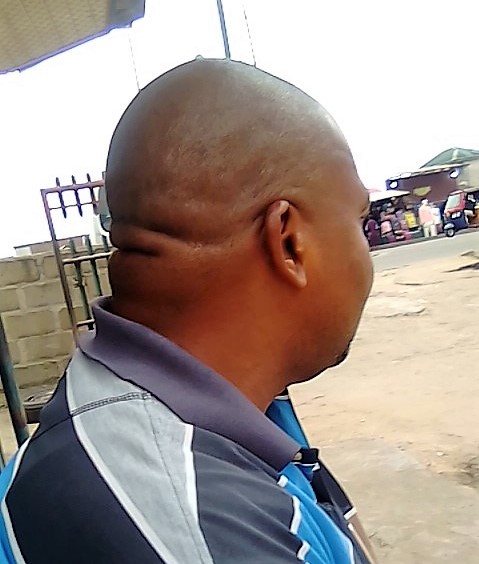 "There was a time they beat me at the camp until I collapsed. They stepped on my body where I was operated on. For one week, I did not realise myself. Later, even their boss came and asked them, do you want to kill him?"
After 18 days in captivity, ₦4 million ($9,390) was paid as ransom. He was freed, only to discover that the boys in charge of his business had run with his money and goods. Unable to care for his four children, he decided to send them to his village in Anambra while he plugged away in Yenagoa, the Bayelsa state capital, hoping fortune would again smile on him.
In another case documented by HumAngle, a ransom of ₦5 million was paid — bringing the total from these four kidnap incidents to ₦32 million ($75,100). Seeing this trend, David West, a member of the Civil Liberty Organisation in the state, observed that it has become something of an enterprise in the region.
"Virtually all the local government areas (LGAs) in the state are facing these insecurity issues or this kidnapping. But then, kidnapping is turning a big business in the Ogbia area because virtually all the kidnappings are taking place there," he said.
Linking Partners for Niger Delta Development, a media and research platform, has repeatedly noted a "resurgence of kidnapping for ransom" in Bayelsa.
A report from the Ogbia-Town Divisional Police Station obtained by HumAngle indicates that from Jan. 2015 to June 2022, 51 persons (26 female and 25 male) were kidnapped in the LGA. Out of these, 15 were kidnapped in Ogbia town, while three were kidnapped in Opume. Residents, however, say the incidents are significantly more rampant. "Almost every week or two weeks, they always enter Opume because it's near the river," said Obiene Ikiogha, chairman of the Community Development Committee (CDC). The abductions especially became frequent between 2017 and 2018.
The kidnappers have been described as political thugs and cultists, and residents believe most of them to be indigenes.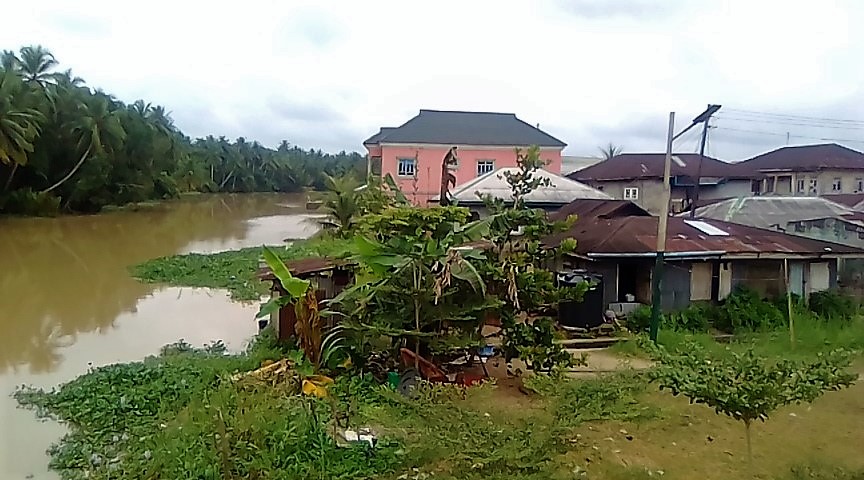 Night of terror
In 2019, well-armed kidnappers on speedboats invaded Opume at night. Obiene Ikiogha, chairman of the Community Development Committee (CDC), recalled that people ran into the bush for refuge.
"It was as if it was a battlefield. Fathers left their children and ran. Mothers too left their children and ran."
The sporadic shooting lasted for hours. The invaders combed the community for their victim, the late Chief Idikeisimama Erekereso, who was Deputy Chairman of the Council of Chiefs. They eventually brought him from his house and tortured him. They then branched at the palace of King Amalate Johnnie Turner with their victim and looted the place for hours.
"The forced children returning from snail hunting and vigil to carry the looted items to their boat at the river. With the loots, they left Erekereso and departed," Obiene said.
The activities of kidnappers here have had a widespread impact. Prominent persons from the community find it difficult to return either permanently or briefly. Cultural activities that attract crowds are also avoided as residents tread cautiously. Livelihoods have also been affected negatively. Because of a lack of power supply, residents used to buy fuel from a filling station along the Nembe-Ogbia road to power generators. But the station has shut down due to the rising insecurity. At phone charging points, people pay as high as ₦100 ($0.24) to power their phones.
"Before this issue of kidnapping, in Opume, businesses were moving. People used to come from nooks and crannies to buy and sell. And the community was lively. Since it has been re-occurring… the community is going down," said Okoloba.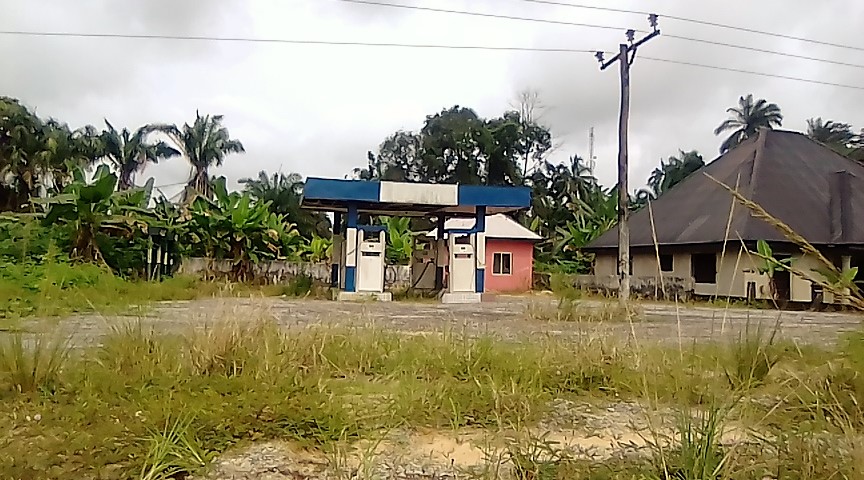 Resilience
Despite the intimidation from the kidnappers, some of the community members have refused to surrender control or allow them free reign.
Ituma Johnson,* for example, narrates how, in 2016, he had a fierce battle with four armed kidnappers for over 13 minutes. They broke into his house in Ogbia Town and tried to kidnap him. "They even shot me. I started fighting with them. They tried to carry me, stabbed me, but they could not take me out," he said, adding that he would not abandon the community because of the kidnapping.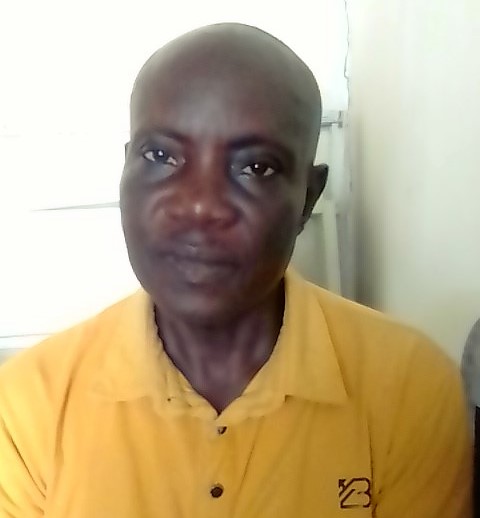 In 2018, when the kidnappers came to kidnap Augusta a second time, a baker in the neighbourhood flashed a bright torch at them. Startled, the attention of the kidnappers shifted to him. While they fired at the light, Augusta managed to escape. They left frustrated.
The baker was hit by a bullet in his stomach but recovered after some weeks in the hospital. He has since shut down his business and left the town.
A year later, community members again showed courage. Three girls had been kidnapped one afternoon in Otuogidi and were been moved across the Otuogidi River. People watched helplessly from a distance. Suddenly, enraged youths of Ogbia-Town and Otuogidi went after them. Two days later, these girls were rescued and the kidnappers were mobbed to death.
HumAngle learnt that it was in this period a mysterious kidnapper, known as "One Man Squad" because he operated alone, was captured.
Local vigilantes have also frustrated some kidnapping attempts, sometimes in collaboration with the police.
Ogbia Town: Crippled by kidnapping
Tari Jonah,* 39, went to Ogbia Town in 2015 as an apprentice. He soon discovered the opportunities in the wood business there and invested in it. Within a few years, he made a lot of money and employed 20 to 30 workers. The business thrived. Every month, it made a profit between ₦300,000 and ₦400,000.
As well as this, Jonah paid taxes to the local government authorities, Ijaw Youth Council, and sometimes to the marine police and others.
But just like Ejeka and James, Jonah no longer resides in Ogbia and has instead moved to Yenagoa. He shared how he ran into the bush four times to escape getting abducted.
"The day that Lord Jack was kidnapped, a call came into my phone that the kidnappers were in town. I had to run for my life. I slept on the dustbin and did not even know it was a dustbin. Because the town was hot, I slept there without killing mosquitoes for hours."
Insecurity in the area has affected more than the wood industry. Marine and road transport, telecommunications, and Point-of-Sale financial services are all affected. The market for agricultural produce has reduced too, with local fishermen and farmers lamenting bitterly.
Some of the landlords also say they no longer have as many tenants.
Justina Ronami Ikogi, the Women Leader of Ogbia Town, still traumatised by the activities of the kidnappers, has also left for Yenagoa alongside her family. The decision, she told HumAngle, was partly because of the economic downturn caused by the security challenge.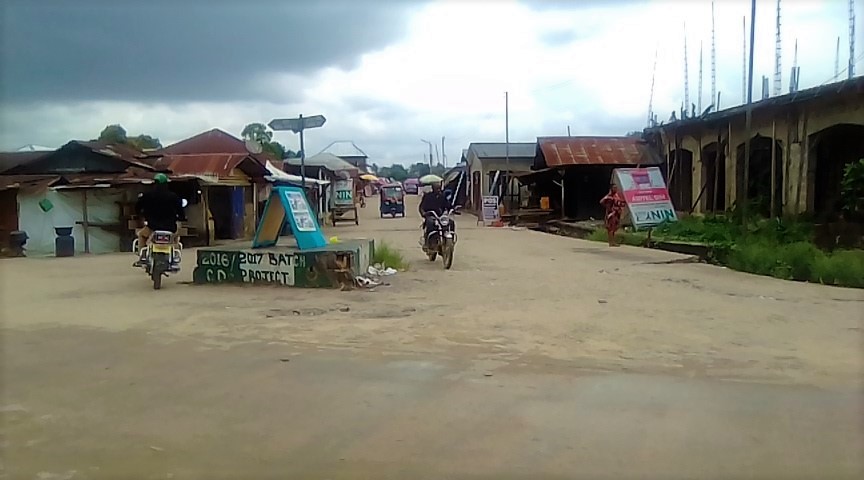 According to the youth leader of Ogbia Town, at a time, people were kidnapped for ransoms as low as ₦20,000 ($47) depending on the kidnappers and the victims' social class.
It's believed that the astronomical crime rates had also caused the Ogbia Division of the Bayelsa State High Court to be shut down and relocated to the state capital.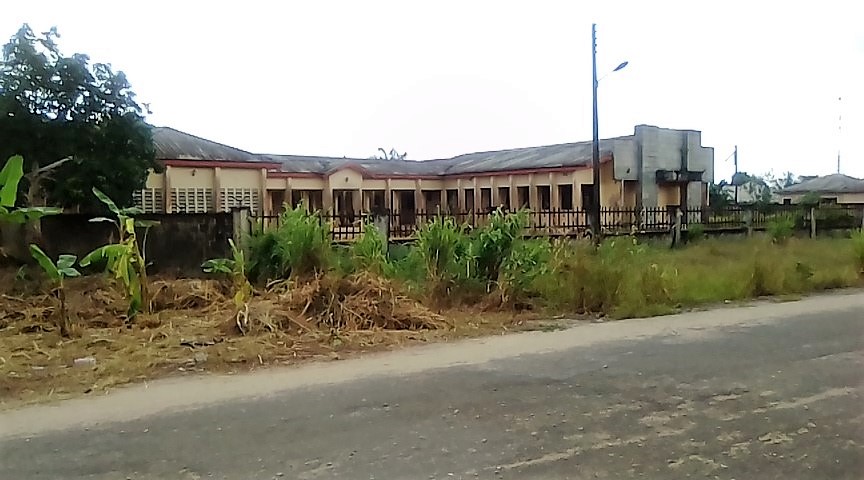 There are shortcomings with the security architecture. Locals allege that the kidnappers usually come through the government jetty. From there, they raid Ogbia Town and other communities. They then return to the jetty where their boats are anchored and disappear into the creeks.
Beside the jetty is the Ogbia Town's Marine Police Post. It is supposed to protect the town from criminals, but when HumAngle visited the post on the afternoon of Aug. 23, it seemed deserted. King Amangala Opono, the Obanade III of Ogbia-Town, however, said it was still functioning.
The Youth President of Ogbia-Town believes the marine police lack the capacity to deal with the kidnappers. "Now, we normally collaborate with the police. But the problem is the manpower of the police. It is not that some of them cannot do the work, but the manpower is not there, most especially the marine," he observed.
Kidnappers have damaged their equipment in the past, including a gunboat provided by the local government and some police officers have reportedly lost their lives while on duty.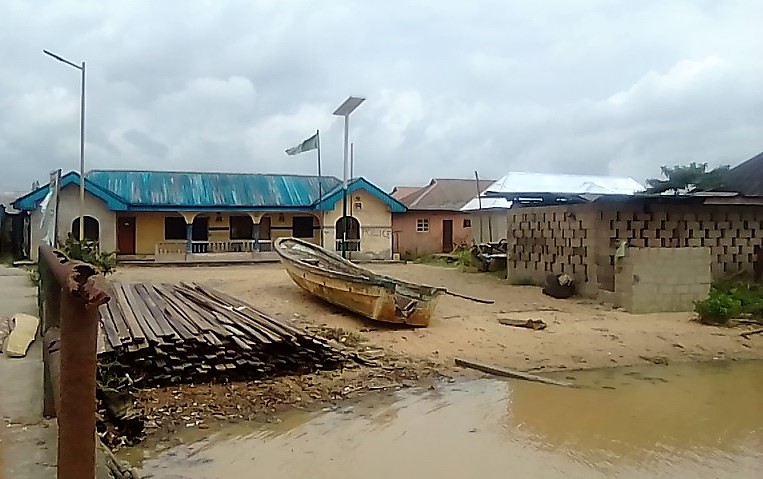 Even those living close to the marine post do not feel safe.
Some of the recent victims, Audu Ibrahim and Sanusi Ibrahim* who were kidnapped last January, have their houses in the area. It was the second time Shuaibu's brother would be abducted. "They tied us up for days, then brought us inside and said we should lie down. Two of them flogged us with machetes," he recounted. After 19 days and a ransom was paid, Shuaibu was freed to join his elder brother whose ransom was paid two days earlier.
Others who have been kidnapped in the neighbourhood have since left the town, but Shuaibu, who is originally from Sokoto in Northwest Nigeria, has chosen to stay. He blazed with tales of the town's good old days and prides himself on having lived in Ogbia as far back as when Shehu Shagari became Nigeria's president in 1979.
The Police Public Relations Officer in the state, Asinim Buswat, told HumAngle there were already police personnel in the various Divisional Headquarters across the LGA to handle the issues.
However, he added; "If the complaints are coming from Ogbia main town and surrounding communities, we will see how we will work on it. If it is a general complaint about the issue of security, we will see how we can make additional deployment to that locality to ensure that communities within Ogbia-Town are safe."
Attempts made to get comments from Ayibaina Duba, the state Commissioner for Information, Orientation, and Strategy, through calls and texts were unsuccessful.
What's the solution?
Community leaders from Ogbia Town and Opume believe that the solution to the security challenge is simple.
Before the jetty at the Oloibiri Court Batch is a joint security post that has large office spaces and two cells built for the detention of suspected pirates, kidnappers, and other criminals. But, the project, which started in 2018, has not been completed. The community pointed in the direction the kidnappers often emerge from, down the security post, by the left side of the jetty.
With a well-equipped joint security force at the jetty, they believe kidnapping will come to end in the region.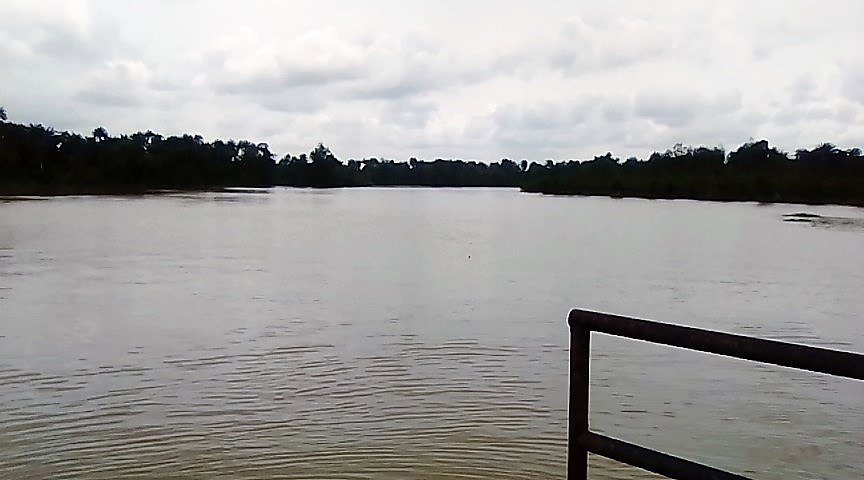 "If they build that place to the standard we want, at least, all this insecurity will be a thing of the past," said Idifa Daniel, Ogbia-Town CDC chairman. "We appeal to the state, the local government, and we appeal to the federal level to come to our aide to see that the marine [police] post is completed. They can also site an army post or checkpoint. I think all these will bring development to this community."
Obiene Ikiogha, chairman of the CDC in Opume, agreed that a base of joint security forces would restore order to the communities and said this had been pointed out to the authorities several times.
"After that, they should bring at least three gunboats to mount where they normally come from, one in Ogbia Town, one in Okoroma, and a third one by the junction at the river."
---
*Name has been changed to protect their identity.
---
Support Our Journalism
There are millions of ordinary people affected by conflict in Africa whose stories are missing in the mainstream media. HumAngle is determined to tell those challenging and under-reported stories, hoping that the people impacted by these conflicts will find the safety and security they deserve.
To ensure that we continue to provide public service coverage, we have a small favour to ask you. We want you to be part of our journalistic endeavour by contributing a token to us.
Your donation will further promote a robust, free, and independent media.
Donate Here