Analyses
Armed Violence
Averaging 22 Deaths A Day: Buhari's Legacy Of Fighting Insecurity, But Failing
The number of violent incidents and abductions in Nigeria multiplied under former President Muhammadu Buhari. While death tolls were reduced in the Northeast, the rate of killing increased in other regions with the rise of new security challenges.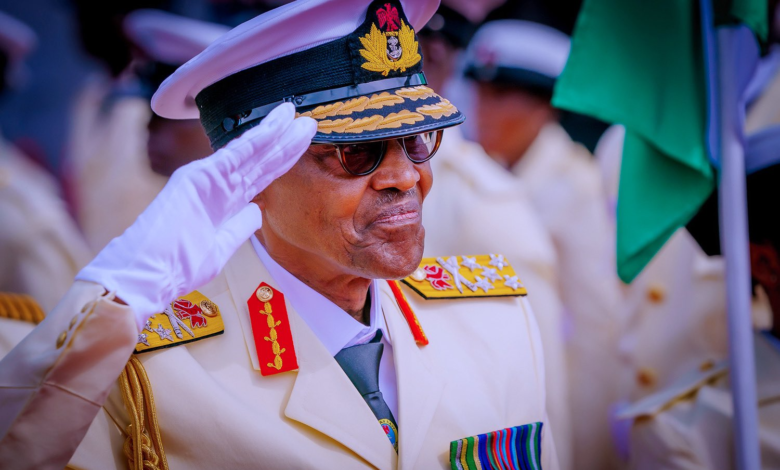 Muhammadu Buhari, Nigeria's immediate past president, rode to office on a chariot of promises, one of which was to tackle insecurity. Eight years later, armed violence rages on in many parts of the country — some of which experienced relative peace before his administration.
As Buhari geared up to hand over to a successor, he and his aides repeated claims of having done well in government, including in the security sector. "As I complete my term in office, we have been able to reduce the incidences of banditry, terrorism, armed robbery, and other criminal activities considerably," the former president said in his farewell speech on Sunday. Days earlier, his media aide stated during a television interview that "not an inch" of the country's soil is under occupation by non-state armed groups and that security has improved significantly. The outgoing defence minister similarly gave the administration a "70 to 80 per cent" pass mark in tackling insecurity.
But the statistics tell a different story.
HumAngle analysed figures of violent incidents compiled by the Nigeria Security Tracker (NST) and the Armed Conflict Location & Event Data Project (ACLED), both of which show a similar pattern. The NST data we gathered cover the period from May 2011 to May 24, 2023, while the ACLED data is from Jan. 1999 to May 19, 2023.
Incidents
One of the ways to measure improvement in security would be by the number of violent incidents recorded in a period.
According to data from the NST, between June 2015 and May 2023, there have been over 11,700 incidents of armed violence, which is an average of 1,468 each year. The incidents increased gradually over the years and peaked in 2021. In contrast, before Buhari's administration, there wasn't a year between 2011 and 2015 where recorded violent incidents were up to 900.
Violent incidents recorded in 2022 alone were more than those recorded in 2014 and 2015 combined.
ACLED's data shows a similar upswing. The number of incidents rose to 1,686 in 2015, dropped slightly in 2016 and then continued to increase until it reached nearly 5,000 last year.
It should be noted that incidents recorded by the NST include all violent attacks by non-state actors, criminals, and civilians, including cases of abductions. It also catalogues counterinsurgency attacks by the Nigerian authorities, which lead to casualties on the other side. ACLED, on the other hand, documents cases of battles, explosions, violence against civilians, protests, riots, and some non-violent activities by conflict actors, such as looting.
Fatalities
To properly interrogate death tolls recorded in Nigeria over the years, it is important to take note of an outlier.
The period between 2014 and 2015 was especially dark in Nigeria's history of violence. It was when Boko Haram murdered scores of students at a college in Buni Yadi, Yobe state, and abducted nearly 300 students from a school in Chibok, Borno state. In Aug. 2014, the terror group started expanding beyond the forest areas, capturing towns such as Gwoza and Bama in Borno and Mubi in Adamawa. In Jan. 2015, the Baga massacre happened. Soldiers fled, and the terrorists shot at and slaughtered civilians — possibly as many as 2,000. Corpses littered the streets. Similar massacres took place in other places.
Nigeria's 2015 general elections had to be postponed by six weeks to give the state time to fight back. The government took no chances. It formed an alliance with the military forces of neighbouring countries and hired foreign mercenaries. Boko Haram, too, looked beyond the shores of Nigeria for strength by pledging allegiance to the Islamic State. Still, days before the new election date in March, Nigeria rolled back the terror group's advances and started taking back control of the occupied territories.
But those two years remain the deadliest period in Nigeria's recent history. Over 28,300 people were killed — or 22,500 if we consult ACLED. So what has changed since Buhari took office?
In terms of the sheer number of deaths per year, especially of civilians, Nigeria has not witnessed a time as bad as the 2014-2015 period. But the situation has worsened compared to the period before that.
From June 2015 to May this year, over 63,000 fatalities were recorded — averaging about 22 deaths each day, according to NST. This includes over 30,000 civilians and over 4,800 security personnel. The eight-year administration recorded the highest number of security agents killed in a year too. Many of those deaths took place between 2019 and 2021, when an average of 906 were killed each year.
The ACLED data indicates that deaths recorded between 2021 and 2022 (21,641) almost equaled those recorded between 2014 and 2015 (totalling 22,508).
Another obvious trend during the Buhari administration was the spread of insecurity and insurgency beyond the Northeast to other parts of the country. Most of the deaths recorded between 2014 and 2014 — as high as 80 per cent — took place in the northeastern region. In 2022, the region only accounted for 28 per cent of the fatalities. The Northwest accounted for 34 per cent, the North-central accounted for 24 per cent, and the Southeast accounted for 7 per cent.
When it comes to the number of violent incidents, the Northwest tops the list, followed by the North-central region, the Southeast, the South-south, and then the Northeast. This is because bandit and terrorist violence worsened significantly in other parts of the North in 2018, and separatist agitations in the southeastern region turned violent between 2020 and 2021.
Meanwhile, Boko Haram and the Islamic State West Africa Province (ISWAP) continue to attack civilians and security agents in the Northeast. Governor of Borno, Babagana Zulum, admitted as recently as 2022 that two of the state's local government areas, Abadam (Mallam Fatori) and Guzamala, were still under the control of terrorists. Efforts to resettle displaced persons back to these places have faced strong resistance from non-state actors.
Kidnapping
Another important metric to look at in measuring the immediate past government's performance in the security sector is the rate of abductions.
Nigeria Security Tracker started documenting data on kidnappings in 2014. The figures show a steep decline in the number of victims in 2016, followed by a gradual increase until the number peaked at over 5,200 in 2021. More people were abducted that year than in the six years between 2014 and 2019. Already in 2023, over 1,000 people have been abducted.
Buhari's administration also saw an increase in the rate of mass abductions. Borrowing a leaf from Boko Haram's operations, terror gangs in the northwest and north-central regions started kidnapping travellers, villagers, and schoolkids en masse and then demanding huge ransoms. This trend picked off in 2018, which had 11 incidents of abductions involving more than 20 victims. In 2020, there were 25 mass abductions. In 2021, there were 56 and last year, there were 36.
Rising insecurity under Buhari also meant that road transport became less safe in various parts of the country. The devastating Abuja-Kaduna train attack of March 2022 has also reduced the confidence people have in travelling by rail.
Just like Buhari, Nigeria's new president Bola Ahmed Tinubu promised to prioritise tackling insecurity during the electioneering period. "I can assure you that security will top our agenda, and Nigeria will see peace and stability," he said as he rounded off campaigns in Maiduguri last February.
Last year, he similarly promised to give the problem all his attention and mobilise resources to fight it. "As you may recall, when I assumed office as governor in 1999, the situation I met was a case of banditry where urban gangs ruled the streets. I returned law and order, tamed what could have been a huge ethnic war and made Lagos one of the safest states in Nigeria. I will replicate that across the country," Tinubu told a gathering at an interactive session for presidential candidates.
Many Nigerians are eager to see him succeed.
---
Support Our Journalism
There are millions of ordinary people affected by conflict in Africa whose stories are missing in the mainstream media. HumAngle is determined to tell those challenging and under-reported stories, hoping that the people impacted by these conflicts will find the safety and security they deserve.
To ensure that we continue to provide public service coverage, we have a small favour to ask you. We want you to be part of our journalistic endeavour by contributing a token to us.
Your donation will further promote a robust, free, and independent media.
Donate Here