Displacement & Migration
Features
News
Armed Violence Breeds New Generation Of Nigerian-Nigerien Citizens
Chased out of Nigeria's Northwest region by seemingly intractable violent crimes, many Nigerians taking refuge in Niger Republic's 'Villages of Opportunity' seem to be rebuilding their lives as Nigeriens.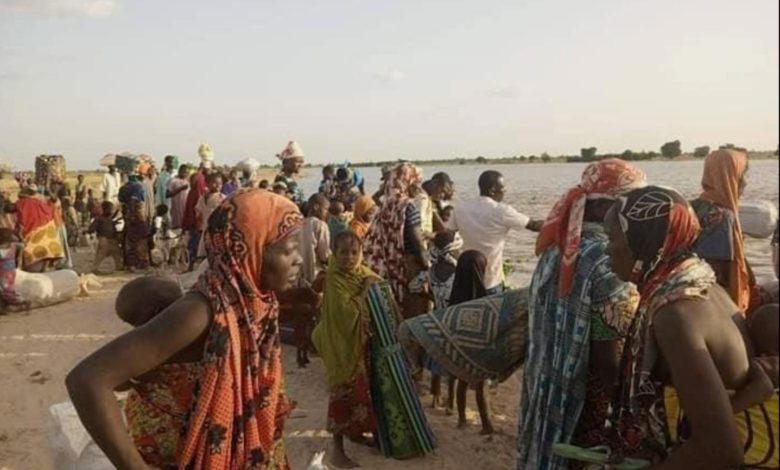 For Bilkisu, remembering an act of terror is as traumatising as the act of terror itself considering its consequences on victims.
The experience still agonises her but the mother of 11 struggles with emotion but must ere courage and calmness to recall the night she would permanently dread and wish to forget for the rest of her life – a night in April 2019 although she could not remember the exact day.
That night terrorists, in an unprecedented fashion, stormed Garin Bawa village of Isa Local Government Area of Sokoto State. They shattered the tranquillity of the night by shooting from all directions and murdering sleep in the semi-arid community.
Hundreds of residents fled in different directions; majority dispersed to neighbouring safe communities in Sokoto and Zamfara states as internally displaced persons (IDPs) and, subsequently, trickling to other states of Nigeria. A substantial number also surged across the border into communities in neighbouring Niger Republic.
Bilkisu, a widow, herded her children and fled among the scampering droves across the border to DanKano village, one of the UNHCR-named 'Villages of Opportunity' in the region of Tahoua in Niger Republic where she enjoys refugee status to date.
Armed violence, ignited by a familiar farmer-herder clash in Zamfara State in 2011, grew to an Australia-like bush inferno, incinerating five of the seven Northwest states – Zamfara, Katsina, Sokoto, Kebbi and Kaduna; and one North Central state – Niger, between 2017 and 2020.
The epicentre of this terror activity is Zamfara State
About 21 million people in these states are reportedly exposed to insecurity sequel to the terror unleashed by violent criminals.
Assuming the devastating dimension of a global-scale transborder terror, the armed groups over the last nine years has created a vast humanitarian crisis akin to the Boko Haram insurgency of the Northeast region of Nigeria.
Most attacks take place in remote communities that are practically inaccessible for timely reception of distress calls and subsequent reporting for prompt response.
No impeccable source can, therefore, provide exact figures of the casualties of the Northwest/transborder terror up to 2020, incurred by the civilian populace, the terrorists themselves and the security personnel combating them; but, by September 2019, no fewer than 8,000 lives were reported to have been lost to violence in the sub-region, most of them in Zamfara State.
By that date, the United Nations High Commissioner for Refugees (UNHCR) and Nigeria's National Commission for Refugees, Migrants and Internally Displaced Persons jointly reported that no fewer than 210,354 persons had been displaced from 171 towns and villages.
A traumatised former Governor of Zamfara State, Abdul-Aziz Yari Abubakar, during his tenure (2011-2019), said the armed groups in his state sacked over 500 communities.
Other dependable sources told HumAngle that between January and June, 2020 no fewer than 1,126 persons were killed and 380 others abducted by armed non-state actors across six states affected by the crisis.
In March, 2020, the National Emergency Management Agency reported that 105,463 people were displaced from Sokoto State.
Out of the displaced 210,354, no fewer than 60,000 were reported to have fled across the border to Niger Republic as refugees by September, 2019. Dependable sources, however, told HumAngle that this figure had climbed to no fewer than 70,000 by April 2020.
Having thronged to the francophone nation most notably between 2017 and 2020, the Nigerian refugees are hosted in what UNHCR calls Villages of Opportunity, apparently to afford them sufficient opportunity to receive international standard rehabilitation and resettlement to rebuild their lives and reboot their economic activities on the broad foundations of the international humanitarian law that guarantees refugees, migrants and asylum seekers freedom to live and thrive in the country of their choice.
The 1951 UN Refugee Convention (and its 1957 Protocol) protects refugees from being forced to return to countries where they risk being insecure.
This implies refugees have the freedom to live and thrive in their countries of refuge, albeit within the laws of their host countries.
International conventions encourage countries to receive refugees, migrants and asylum seekers for significant reasons:
People in grave danger should be allowed to rebuild their lives in safety; it is fair in a globalised world for countries to share global responsibilities for global issues.
Host communities derive from such refugees, asylum seekers and migrants new stimuli to enhance and refine their lives according to the imperatives of a fast-changing world; and refugees, asylum seekers and migrants from some of the best politicians, scientists, technologists and other professionals in their countries of refuge, asylum or migration.
These international conventions and practices have set the strong foundation for Niger Republic's Villages of Opportunity to guarantee the Nigerian refugees the safety and opportunity to rebuild their lives and prosper according to such globalisation imperatives and the desires of countries to develop and flourish according to the demands of the fast changing world.
A considerable population of the Nigerian refugees, according to the universal convention in the growth and prosperity of organised human societies, therefore seem set to rebuild lives as Nigerian-Nigeriens contributing to the wealth of Niger Republic.
Such Villages of Opportunity include Madaoua, Dankano, Garin Kaka and several others in Tahoua and Maradi regions.
Having arrived at separate times at their respective Villages of Opportunity, the refugees told HumAngle horrifying and pathetic tales of how they achieved, perhaps, the most historic feat of their lives – fleeing to refuge with the thinnest possibility of surviving.
"We managed to carry our children and started fleeing to safety, with no idea of where we were going," Bilkisu, savouring refuge in Dankano Village of Opportunity, recalled.
"Our men could not help us and did not know what to do. It was more tragic because this happened at night.
"It was a long and uncertain journey. We trekked for more than four hours in the bush until we arrived here, Dankano town, in Niger Republic.
"The men, in particular, could not wait to support anyone behind, whoever stopped did so at the high risk of losing his life, because the pursuing terrorists would shoot him," she narrated.
Musa Saleh, who fled Burugusuma community in Nigeria, was the only surviving person in his clan.
"All of us trekked to the border town. Some little children were discovered on the way to Niger, and some were found later when a group of young people volunteered to search for them," he recalled.
At the peak of the influx of these Nigerian refugees into Niger Republic, UNHCR opened a sub-office in Maradi to coordinate their registration, protection, education, health, housing and access to water, sanitation and hygiene services in a prompt response to the Villages of Opportunity away from the border to ensure their safety and lessen the pressure on the host population.
The longer Nigeria's Northwest banditry and terrorism persist, the more it would chase colossal crowds of its surviving victims to Niger Republic's Villages of Opportunity, where, while most of them surviving to the end of the terror might return home to Nigeria, a substantial population among them might find enough opportunities to rebuild their lives as Nigerian-Nigeriens.
Experts describe this as the universal trend with refugees since the beginning of violent conflicts among human societies.
---
Support Our Journalism
There are millions of ordinary people affected by conflict in Africa whose stories are missing in the mainstream media. HumAngle is determined to tell those challenging and under-reported stories, hoping that the people impacted by these conflicts will find the safety and security they deserve.
To ensure that we continue to provide public service coverage, we have a small favour to ask you. We want you to be part of our journalistic endeavour by contributing a token to us.
Your donation will further promote a robust, free, and independent media.
Donate Here