Development
Features
Anxious And Divided: The Human Impact Of Nigeria-Niger Border Tensions
Amidst escalating border tension, communities are divided, lives are disrupted, families are torn apart, livelihoods are endangered, and uncertainty rules the day.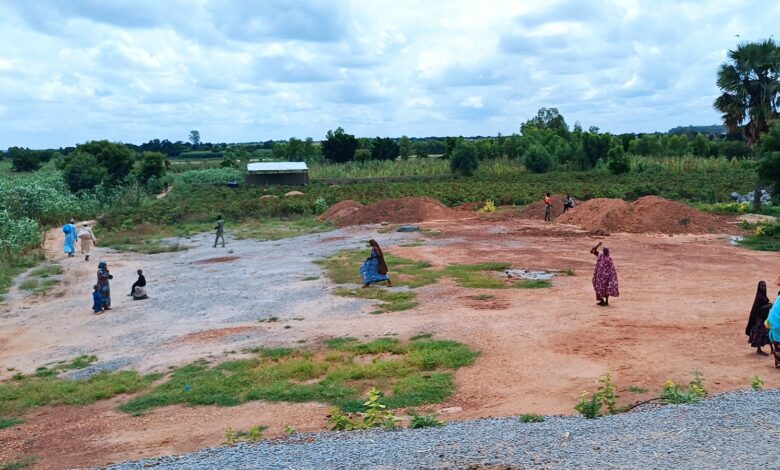 For over thirty years, Gambo Idris has lived and built his life in the heart of Jibia, a small Nigerian town at the edge of Katsina state along its porous border with the Niger Republic.
Jibia is a vibrant town known for its cross-border bustling weekly market that sees people from Niger trooping in to buy or sell products every Sunday. In 2022, the population of Jibia was projected to be about 299,000 people, most of them with close relatives in Niger Republic.
Idris's appearance bears the unmistakable stamp of Nigerien descent. His features, from the pointed nose to the rich brown of his skin, paint a vivid picture of his heritage. Yet, his accent has no trace of the Nigerien sands. Instead, he has the Nigerian Hausa accent known as Katsinanci.
"I was born in Niger, my parents are still up there," he told HumAngle, identifying with his cross-border origin.
Born in a village near Maradi, his life took an unexpected turn when his parents sent him to Jibia as an Almajiri at a tender age. It's a tradition in his family to send young boys to study the Quran at distant informal schools. When it came to his turn, his assigned destination was Katsina across the border in Nigeria.
He lived under a local Quranic Mallam (teacher). "It wasn't difficult living here because the people aren't alien to me, and whenever I feel like going home, it is not too distant from here," he said.
The people of Jibia welcomed Idris as their own as their lives intertwined harmoniously. They focused on their shared religious identity and blurred the colonial lines drawn between Niger and Nigeria to divide what used to be a large extension of Hausaland. After Idris grew old enough to marry, his family called him back and betrothed him to Mariya, who is also of Nigerien origin. But since Jibia has turned into his new home, he took her back to Nigeria to start a family there. They built a life together, and soon, their home echoed with the joyful sounds of their eight children.
"They're all Nigerians," he said with a sense of pride, "they were all born in this country."
Idris's story exemplifies how interconnected life is for people living in border communities between the two countries, bound by similar cultures and languages. Locals regularly shuttle from one side of the international boundary to another for different reasons: learning, marriage, business, farming, and so on. But recent geopolitical events are straining these prospects.
Tensions between Nigeria and Niger have disrupted family connections and the cross-border way of life. We learnt from multiple interviews how families have lost touch with one another, how conducting businesses has become difficult or impossible, how the developments are affecting food security, how border security officers have exploited the situation to extort travellers, and how residents are risking their lives to travel all the same.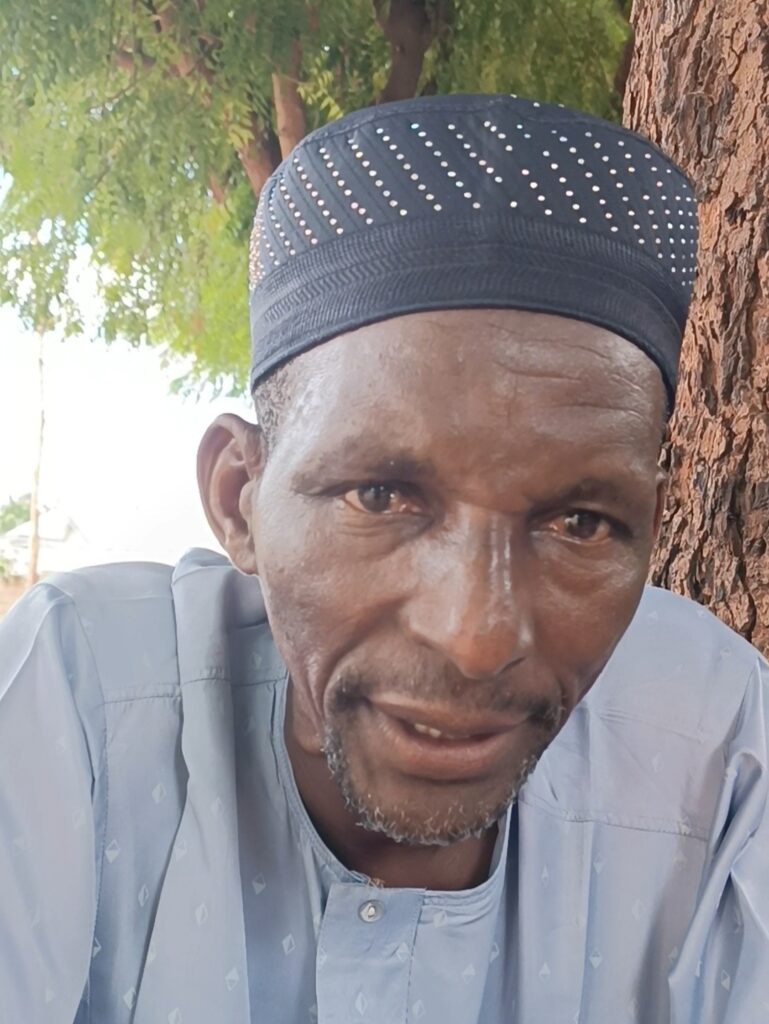 On July 26, political turmoil gripped the Niger Republic. A military coup was announced, shattering the nation's geopolitical relationship with neighbouring countries within the Economic Community of West African States (ECOWAS) bloc.
The presidential guard ousted and detained President Muhammad Bazoum and selected General Abdourahamane Tchiani, the proclaimed leader of the junta, as his replacement for a transitional government rule that will take three years.
On July 30, ECOWAS, under the leadership of Nigeria's president, Bola Ahmed Tinubu, gave the junta a one-week ultimatum to restore Bazoum or face international sanctions and use of force. The borders with Nigeria were immediately closed, and the option of a military intervention remains under consideration.
Videos that recently circulated on social media show the Nigerien forces trooping to the border of Benin in anticipation of military aggression. The junta accused Benin of allowing French forces to have an operational base within its borders for a possible intervention in Niger.
Families torn apart
At the beginning of the crisis, Idris's wife, Mariya, was in Maradi to visit her relatives. Suddenly, she heard the border had been closed. She started to worry about the situation of her family in Nigeria, including her husband and eight children. She wondered how she could get out and reunite with them.
"In the beginning, I thought it wouldn't be a serious problem, so I asked her to remain calm and stay with my parents there as normalcy could soon be restored," Idris said. But days passed with no sign that the border would be opened.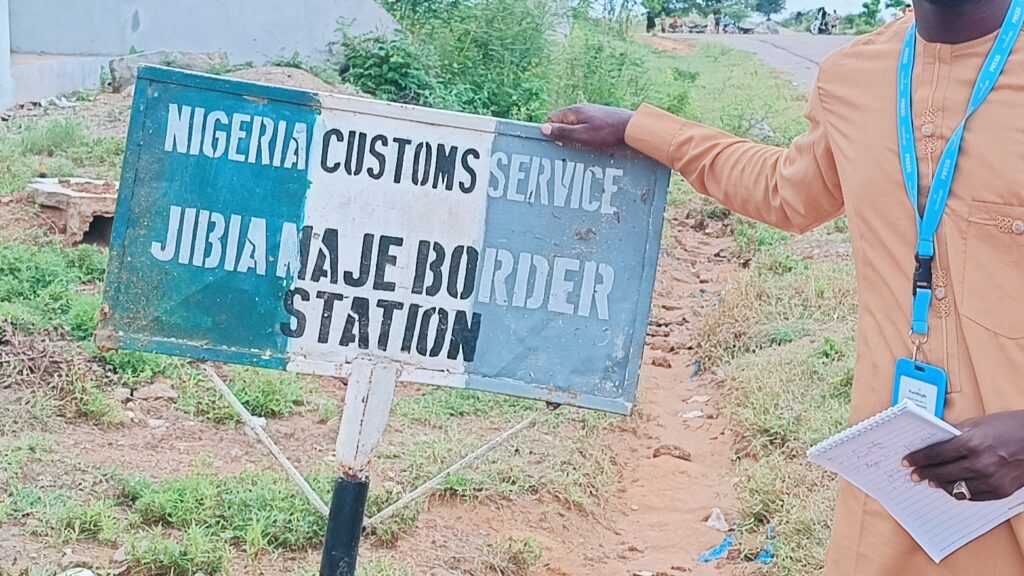 Mariya could return home by trekking through the insecure Jibia-Maje border between the two countries, but this path is infamous as a haven for terrorists.
The porous area is also believed to be the major route for smuggling illicit arms to Nigeria from Libya through Niger. Communities in those areas are scarcely policed and largely insecure, recording multiple cases of kidnapping for ransom. Residents have reported that terrorists in those areas force them to pay before they can allow them to farm their lands.
With all those dangers ahead, Idris still thought it was the best option, considering the heightened tension between the countries and how volatile the crisis seemed. He made arrangements and told her he'd wait for her on the other side of the border on his motorcycle.
Mariya's heart pounded with the fear of arrest or, worse, abduction as passed through the treacherous, bushy terrain — amid the darkness and between the farmlands. Finally, as promised, she met her husband, waiting on the other side.
Mariya and Idris's story had a happy ending despite the difficulty they faced, but it is not the same for all families.
Mallam Abdullahi Baban Auwalu, too, was faced with a daunting predicament. His heart has been divided between his two homes, one in Nigeria's Kano state and the other in Niger.
Baban Auwalu is originally from Nguru in Yobe state but settled in Kano. He was an adventurous young man, driving his now-rickety Range Rover Classic and moving to different African countries that require no visa, from Cameroon to Chad. Finally, he found love in Niger, where he married his first wife and had two daughters.
His constant travelling between Nigeria and Niger made him marry a second wife in Kano, a widow named Hajiya Lami. Together, they gave birth to one boy.
About a month before the announcement of the coup d'etat, Baban Auwalu had set for a journey to meet his family in Niger. He drove his old car and moved there with the intention of coming back after a few weeks, as he usually does. But this time, it didn't go as planned.
The military coup plunged him into uncertainty, with border tensions rendering his journey back to Nigeria impossible. His only connection to his beloved wife, Lami Abdullahi, was through WhatsApp messages filled with anxiety and longing. Weeks turned into months, but Baban Auwalu found himself stuck, unable to reunite with his family in Nigeria.
Lami, on the other side of the border, is equally tormented by the separation. Her heart aches for her husband. Every message from Mallam Abdullahi is a lifeline, a connection to the man she loves. But words on a screen or through speakers couldn't replace the warmth of his embrace or the reassurance of his presence.
"This is not the first time he spent a long time in a foreign land," Lami said. "But knowing that there is a reason, particularly a deteriorating diplomatic one between Nigeria and Niger, that forced him to stay there, made me feel as if he is stuck in a prison."
Lami explained that although he has another family in Niger, his livelihood is in Nigeria, and that means it's not only his family that are suffering in Kano but also his businesses. "He works to provide for his family both here and there, if he remains there, the future looks pretty bad for all of us," she said.
The coup in Niger has not only separated families but also tested bonds that have been forged over many years. In the midst of the political rifts and regional tensions, stories like those of Gambo and Baban Auwalu are echoed in almost every household in the Jibia-Maje border community.
According to Usman Salisu Na-Ikke, 30, a resident of Jibia whose grandparents and relatives are in Niger, from Jibia in Katsina to Yan Leman in Jigawa state, you can hardly find anyone with no connection with the Niger Republic who isn't agitated by the diplomatic uncertainties.
"The connection between the countries has been so deep that many people in Niger are using Nigeria's currency, and when you bring Nigerien currency into Nigeria, business people don't hesitate to accept them," he said.
But things have changed. The connection is getting weak and residents are concerned. Geopolitical tensions have left the state houses in Abuja and Niamey and are destroying the ties between friends and families.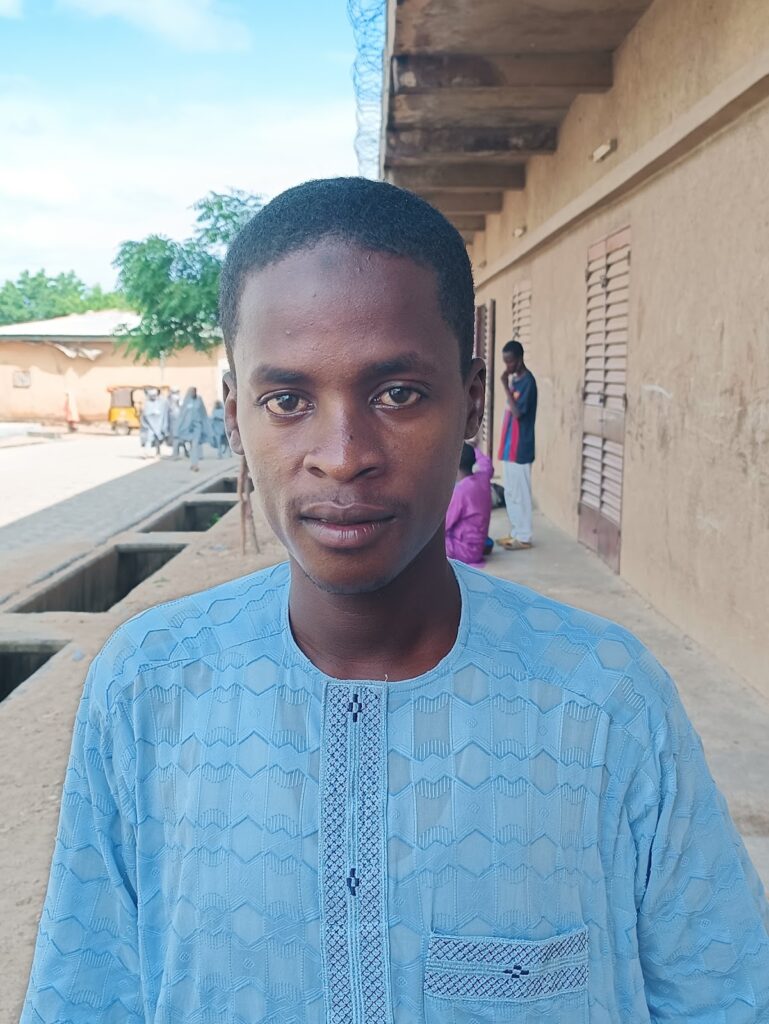 Dual citizenship, dual quagmire
Due to the close proximity between the two countries, many people in Jibia have gotten dual citizenship. Mukhtar Salisu is originally Nigerian, but he got Nigerian citizenship status. This made it easy for him to get an offer to teach English at a Nigerien school. He moved between Nigeria and Niger frequently to discharge his functions. But the movement between the countries, which used to be straightforward, is now extremely difficult.
Salisu used to go to work and come back to his family every day through the formal borders. He only had to show his Nigerian or Nigerien national ID, and he would get a free pass.
"Everything has changed now. Now, I only go once or twice a week as the daily journey has become really problematic," he said. He spends most of his days either away from his family in Niger or not going to work while staying in Nigeria.
Every time he embarks on the journey to work, he feels a growing sense of unease. The road he once travelled with ease has transformed into a treacherous path filled with danger and distrust.
"As you approach the border, you can see road barricades manned by stern-faced security men from both nations, signalling the beginning of an ordeal," he explained.
He hopes that his status as both a Nigerian and a Nigerien will protect him from the ever-watchful security officers, but he could never shake the feeling that his looks could make him a target.
Unable to bear the constant harassment and extortion by security officers at the formal border crossings, he opted for a perilous alternative – following the insecure and porous border that makes him vulnerable to kidnapping. With thorny bushes clawing at his vehicle, the uneven terrain testing his riding skills, and ponds filled with murky water and hidden rocks, the journey has made every mile a potential disaster.
Salisu feels he has little choice. The bushy border route allows him to evade the security officers who had made his life a living hell.
But the story is not the same for everyone. Mallam Lawal, a well-known preacher in Jibia, has earned respect from both sides of the border and is able to cross easily to get to Maradi, where he built an Islamic school. From his house in Jibia, he goes to his school in Maradi every time he wishes, even with the geopolitical tension.
"The men at the border have known me through my activities here and there, so I don't face any resistance entering or getting out of Niger," he said.
But people like him are one in thousands.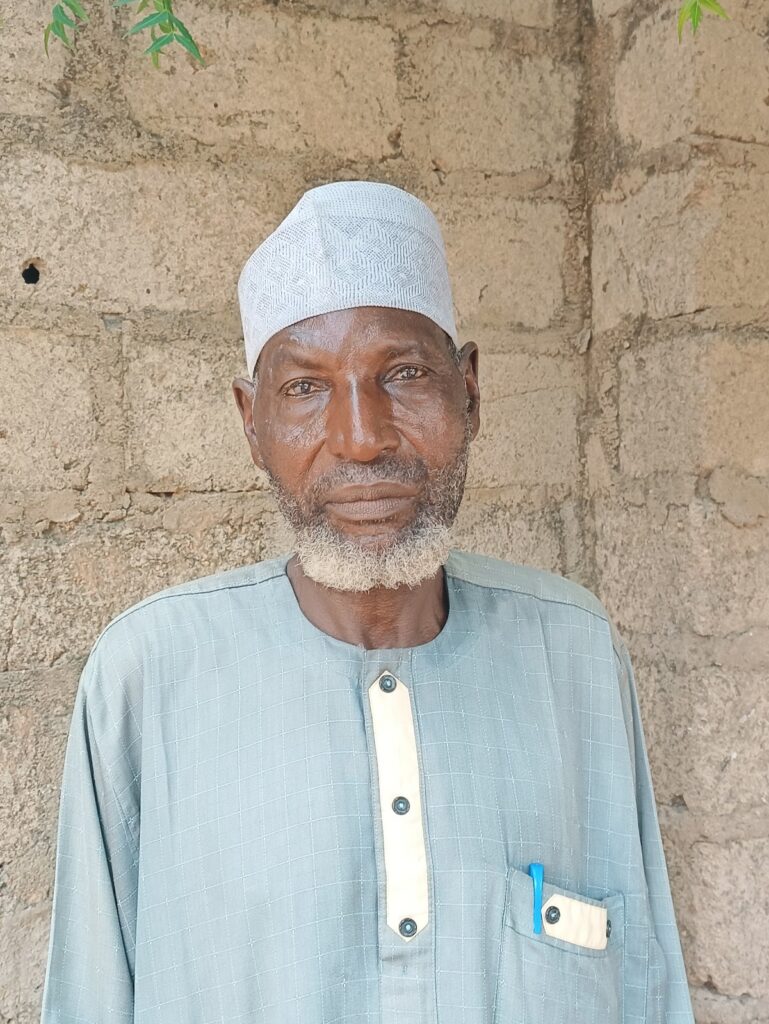 On farmers and their farms
Mai Unguwa Sabi'u, 55, is a respected traditional leader in Jibia. His mechanic workshop usually hosts a gathering of people who discuss different issues affecting them and find solutions from his wisdom.
But there is another facet to Sabiu's life that is equally important to him – his farm. In the vast expanse of Niger, just a few kilometres from his traditional seat in Jibia, lay his cherished piece of land, usually a fertile oasis where rows of corn sway gracefully in the wind as the earth bears promise of bountiful harvests.
For years, Sabi'u tended to his farm with dedication. It was not just a source of livelihood; it was a testament to his connection with the land and a symbol of the unity between Nigeria and Niger. Sabiu's farm was a bridge across the border, a place where friendships were cultivated, and bonds grew stronger. But even this wasn't safe from the diplomatic row.
In the past, he would freely traverse the border, his traditional title and membership in a cross-border mechanics association granting him access to his farm.
"We used to enter peacefully without any fear; sometimes not only to farm but to engage in ceremonial activities with our friends and relatives there," he told HumAngle.
But now, the security forces on the Nigerian side have become increasingly vigilant. They erected barriers, both physical and bureaucratic, that prevented Sabi'u from crossing into Niger. They cited national security concerns, but for Sabiu, it felt like a cage slowly closing in on his dreams.
"Initially, they didn't allow you to enter until you bribed them with some amount, and then they changed into charging a large sum of money when they arrested you while attempting to enter."
Sabi'u's words struck a chord with the gathering crowd, who nodded in agreement.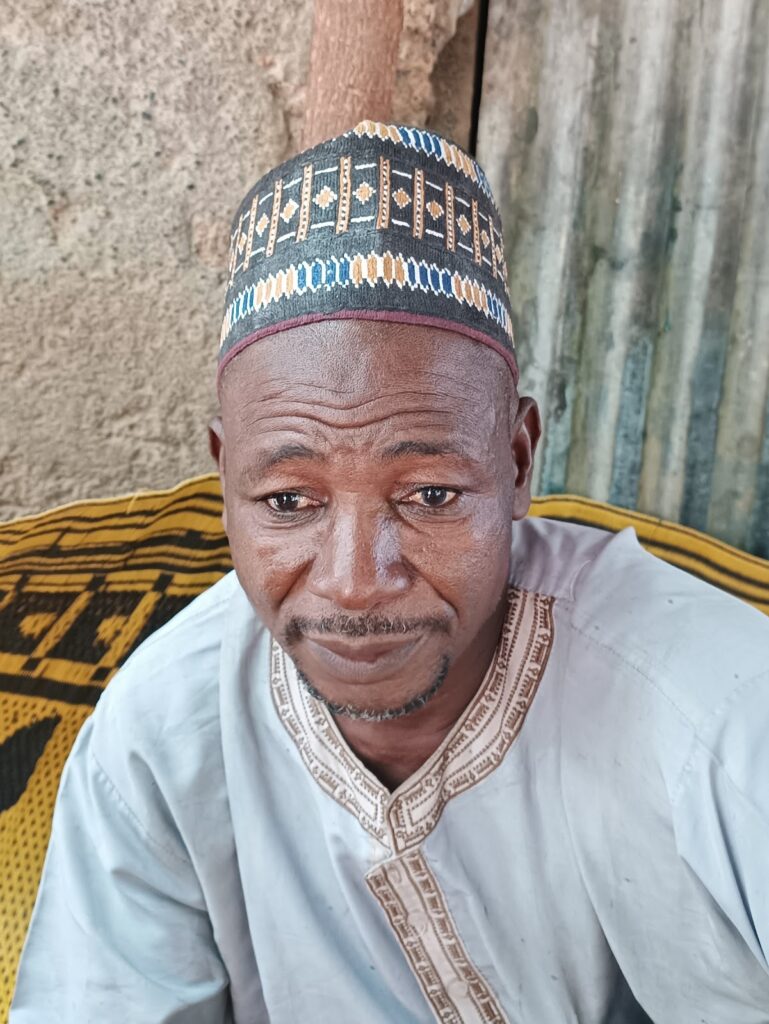 As the rainy season wears out, Sabiu Mai-Unguwa remains trapped, his nearly abandoned farm a silent casualty of political disputes beyond his control.
Still, whenever he finds an opportunity, he goes through the bushes and crosses the border to go to his farm while in fear that he may be arrested. But he fears that even that can't help him finish his work. His biggest worry is what will happen when it is time to harvest. "Maybe we have to be picking them in small quantities by our heads," he said, thinking out loud.
Escalating tension
As the diplomatic tensions between Nigeria and Niger continued to strain, a new player entered the stage, intensifying the situation at the border – the Transport Union workers in Jibia. They were the lifeline of cross-border trade, responsible for the movement of goods and people between the two countries.
Before the tensions escalated to this level, there was a tacit understanding; the border from the Nigerian end was somewhat open for emergencies, allowing for the free flow of people, especially Nigeriens who often crossed to access markets and healthcare coverage.
This extended to security forces, too. The Nigerien border patrol team used to buy fuel for their vehicles in the filling stations in Jibia due to the relatively lower price and proximity to their operational bases. But this has all changed.
The members of the Transport Workers Union in Jibia have accused the security officers in Niger of levying heavy charges on any Nigerian vehicle caught crossing the border, even during emergency situations.
"They charge hefty sums, over a million [naira] or two, for any vehicle they arrest trying to cross the border," Shafiu Gentle, a driver and resident of Jibia, lamented. "There are currently many vehicles arrested for attempting to cross the border and the drivers don't have such an amount to pay."
The situation has ignited a fervent response from the union workers. They felt compelled to help Nigerian security agents to close the border from various angles, blocking all avenues for cross-border trade, which, as Sabi'u said, "hurts the people in Niger more than Nigerians".
It was a drastic measure that could affect relations, but they believed it was the only way to protect their livelihoods and the interests of their countrymen. "Nigerians understand better that these diplomatic issues are between governments, not citizens, but many people in Niger think that it's a looming war between people of Niger and Nigeria," said Mukhtar.
During this reporter's visit, the Transport Workers Union in Jibia decided to be more strict in not allowing any vehicle from Niger to enter. A group of Nigerien soldiers attempted crossing into Nigeria to buy fuel, a practice that continued despite the official border closure. But the union workers took a stand against it.
As the soldiers approached the border, a Nigerian Civil Defence officer (who declined to comment for this report) refused to allow them entry, citing the closure of the border and the tolls imposed by Nigerien authorities on Nigerians crossing into their territory.
"The DPO has commanded that we shouldn't allow anyone entry anymore," he told them. "The new directive is strong and they [officers] warned us against violating it."
The soldiers stood for a few seconds while holding fuel jerry cans before turning back.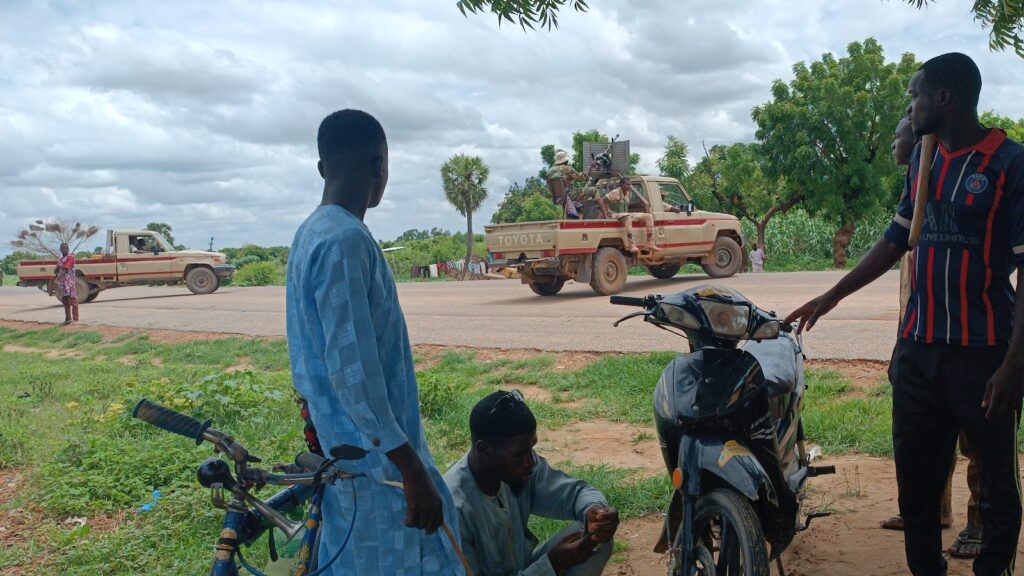 The grass between two fighting giants
The residents of Jibia find themselves trapped in a harrowing predicament. Their once-reliable source of sustenance, the food that had flowed freely from the markets of Kano and Lagos, hardly get to them now without additional scrutiny and hurdle.
Customs officers manning at least 16 checkpoints stationed between Katsina town and Jibia have become stumbling blocks to getting food.
According to Bashir Lawal, 62, secretary of Jibia People's Forum, the situation has plunged them into a difficult position as foodstuff is becoming scarce due to the fear that it could be exported to Niger.
"Trucks loaded with grain and other essentials are turned away or stopped at the Katsina-Jibia road with ruthless efficiency," he said.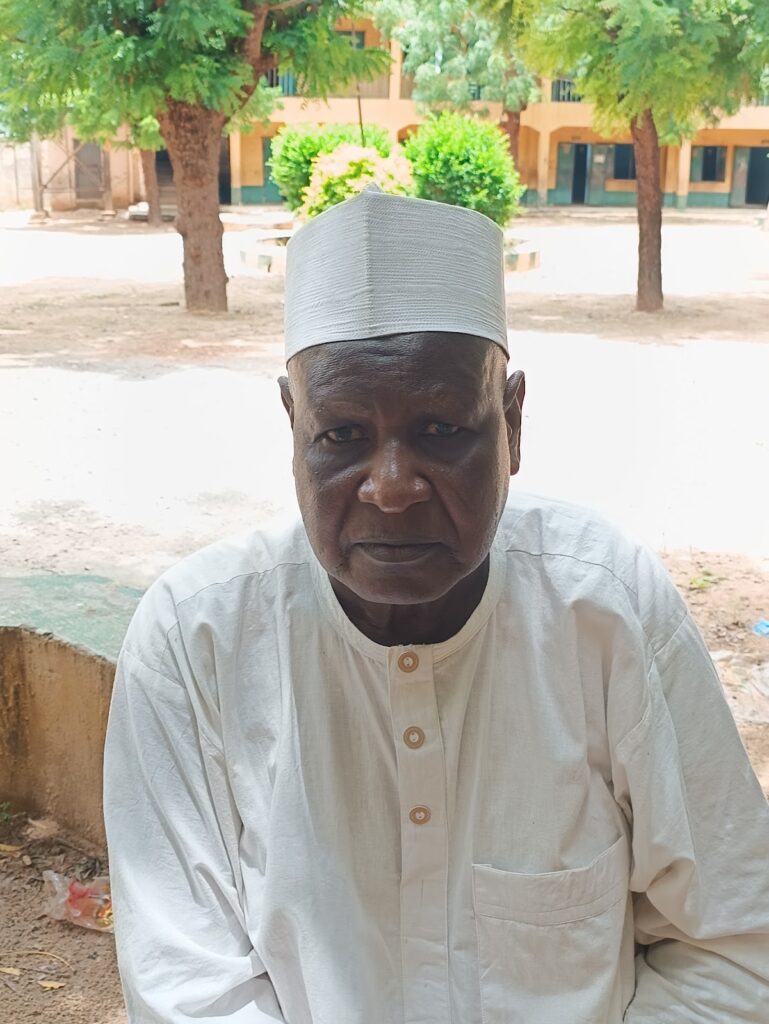 Anas Rabe, a resident, likened the situation to being treated as inhabitants of a "no man's land" by the security agents of both countries.
"Apart from the normal hardship that Nigerians suffer, the people of Jibia are getting more," he said. "Grains are becoming really expensive because we are eating the little that we have here and we are not getting more into the town."
The problem is not only with food but with fuel as well. Whenever there's no fuel in filling stations, security personnel in Jibia don't allow makeshift sellers, known locally as yan bunburutu, to sell due to the fear that it could be illegally exported.
"Whenever there's no fuel here, we buy it from makeshift sellers as if we are buying illegal substances at an inflated rate," one resident said.
Fear and uncertainty
The border community finds itself in the grip of uncertainty as the spectre of a looming conflict between ECOWAS and the Niger junta casts a shadow over their lives.
"The people of Niger think the looming war is to be headed by Nigeria because most meetings are being held in Abuja," said Mukhtar. According to him, the supporters of the junta in Niger always point fingers at Nigeria.
Videos circulating on social media have shown supporters of the junta mocking Nigeria's president and attacking ECOWAS as a way to show solidarity with the coup leaders.
The residents of Jibia are acutely aware of the potential repercussions of this geopolitical crisis. The fear of becoming collateral damage in a war not of their making permeates their daily existence, leaving them on edge and yearning for peace and stability.
"We are the first to be hit if this war starts; we are even closer to Niger than Katsina's capital," said Mukhtar.
This uncertainty underscores the far-reaching human toll of political conflicts that ripple across borders.
Residents of the border communities on both sides believe it's going to be a direct war against family and friends and, therefore, call for resolving issues diplomatically without resorting to violence.
"You can see, we are like brothers and sisters. Our names, Nigeria and Niger, are even somewhat similar. Any war is likely to jeopardise centuries of relationship," said Bashir of Jibia People's Forum.
---
Support Our Journalism
There are millions of ordinary people affected by conflict in Africa whose stories are missing in the mainstream media. HumAngle is determined to tell those challenging and under-reported stories, hoping that the people impacted by these conflicts will find the safety and security they deserve.
To ensure that we continue to provide public service coverage, we have a small favour to ask you. We want you to be part of our journalistic endeavour by contributing a token to us.
Your donation will further promote a robust, free, and independent media.
Donate Here