Armed Violence
News
Amnesty International Calls For Justice For Victims Of Mali Protests And Coup
A year later, justice is yet to be served for peaceful protesters killed or injured due to police brutality in a series of protests and coup in Mali.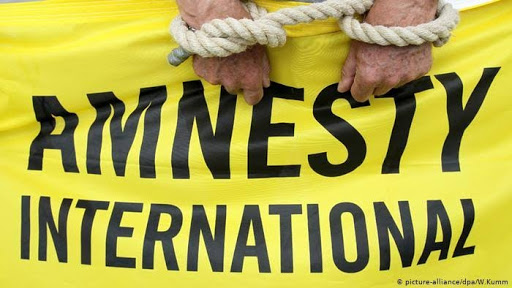 Human Rights Organisation, Amnesty International has called on the Malian authorities to get justice for the killings of at least 18 protesters and bystanders during the coup d'état that began in May 2020 and ended in August 2020.
Amnesty International in a new report "Killed, wounded, and forgotten?" released on Friday highlighted fatal shootings of 18 people despite claims by the Malian military of a bloodless coup.
"Malian authorities must deliver the truth and bring to justice all those suspected of criminal responsibility for the killings of at least 18 protesters and bystanders, and acknowledge and investigate the casualties during the day of the coup d'état," the rights organisation said in the report.
It also documents the deaths of four people from bullet wounds on 18 August, the day of the coup. 
The report investigated the deaths and injuries linked to the lethal use of force by the defence and security forces in the towns of Kayes (West), Sikasso (South) and the capital Bamako during anti-government protests during the period.
The findings of the report are based on interviews conducted on ground and remotely between May 2020 and February 2021 with 59 respondents, including victims, their relatives, civil society members, journalists, and members of the judiciary.   
"The fight against impunity is among the priorities of the roadmap of the transitional authorities in Mali. They must ensure that justice, truth and reparation are delivered to the victims and their relatives, by carrying out independent and impartial investigation on all cases of lethal and excessive use of force during the protests last year," said Samira Daoud, Amnesty International's West and Central Africa Director.
"Authorities must also investigate the circumstances of the deaths during the 18 August takeover and, if there is sufficient admissible evidence, prosecute all those suspected of criminal responsibility in fair trials before ordinary civilian courts."
Many victims hit or wounded in the chest
Amnesty International documented several instances of firearms use by security forces during anti-government demonstrations which led to 18 deaths and dozens of people suffering injuries, including gunshot wounds.
"Many were bystanders or people at work or at home, indicating that security forces were not firing in self-defence or in response to an imminent threat of death or serious injury – in contravention of international standards," the organisation revealed in the report.
"In Sikasso on May 6,  2020, a man was killed, and four other people injured during demonstrations following the announcement of parliamentary election results. Security sources said no shot was fired at protesters, but this was contradicted by witness testimonies collected by Amnesty International, and the United Nations Stabilization Mission in Mali (MINUSMA)."
Amnesty International expressed concerns that despite the evidence, the authorities have not investigated the use of firearms by law enforcement agents on demonstrators in Sikasso leaving the families of those killed without justice, truth, and reparation.
It added that in Kayes, on May 11, 2020, Seyba Tamboura, a 17-year-old boy, was killed around 9 p.m. while stunt driving with his cousin, by an off-duty police officer. 
The boy had been arrested and was fleeing the police officer when he was shot in the back, according to his cousin.
Mamadou Tamboura, Seyba's uncle who witnessed the aftermath, told Amnesty International: "The policeman ran after him [Seyba] but at one point drew his gun and fired. Seyba was hit but kept running for 25 metres before he collapsed near a tree."
The incident was swiftly condemned by authorities and the police officer was suspended and detained. However, Seyba's death sparked violent unrest in Kayes as protesters targeted police stations and government buildings.
Police responded by using force and firing live ammunition at the crowds, leading to the deaths of a 30-year-old man and a 12-year-old boy. Another man was seriously wounded. Medical sources said all deaths and injuries were caused by bullets. Even though many witnesses have been auditioned regarding this case, the sentiment that justice is delayed is strong among the relatives of the victims.
In August 2020, while coup leaders said it was bloodless, Amnesty International documented the deaths of at least four people, who died from bullet wounds allegedly fired by members of the security forces. It also established that 15 people were dispatched to the Bamako Gabriel Touré Hospital with gunshot wounds on the day of the coup.
"Adama," a 39-year-old father of five, was hit by a bullet while at home in Hamdallaye and died later in the hospital.
His brother told Amnesty International that "Adama" had gone to bed early on the day of the coup:
"The soldiers were driving around the streets on motorcycles and shooting in the air. This is how he was hit by a bullet… Five vital organs were affected…. He died five days later, on 24 August 24 at 6:50 p.m. in the hospital… I categorically deny any claims that there was no bloodshed. Those firing in the air were soldiers on motorcycles, wearing green berets. The responsibility lies with those who carried out the coup."
Lack of accountability for the deaths related to mass protests 
In Bamako, anger over disputed parliamentary election results, coupled with increasing dissatisfaction over governance in Mali, led to mass protests that began in early June 2020.
Protests on 10 and 11 July which turned violent were heavily repressed by the authorities, with security forces firing live rounds at demonstrators, causing at least 14 deaths and dozens of injuries.
Although some demonstrators threw stones at security forces, occupied public buildings and at times, refused to comply with orders given by law enforcement officials, it is clear from the cases documented by Amnesty International that most of the killings and serious injuries resulted from the excessive use of force by security forces.
Ibrahim Traoré, a 16-year-old schoolboy who did not take part in the protest was shot twice by the police and later died. 
His brother told Amnesty International: "His friends came back at around 4 p.m. with my brother's blood-soaked clothes to tell me that he was shot twice by the police in front of the National Assembly, in the thigh and stomach. It was only around 11 p.m. that we collected his death certificate and found his body at the mortuary at Gabriel Touré Hospital. "
"I know that an autopsy was done but when I returned there, they redirected me to the 7th district police station, where the police commissioner told me that he couldn't give me my brother's autopsy report."
According to information received by Amnesty International, official investigations were opened into the lethal use of force by law enforcement officials in Kayes and Bamako, but as of February 2021, these investigations were still at a preliminary stage.
Daoud however, charged the Malian authorities to show their determination to fight impunity by first acknowledging these killings. Victims of illegal use of force and firearms and their families must be provided with justice, truth and full reparations.
---
Support Our Journalism
There are millions of ordinary people affected by conflict in Africa whose stories are missing in the mainstream media. HumAngle is determined to tell those challenging and under-reported stories, hoping that the people impacted by these conflicts will find the safety and security they deserve.
To ensure that we continue to provide public service coverage, we have a small favour to ask you. We want you to be part of our journalistic endeavour by contributing a token to us.
Your donation will further promote a robust, free, and independent media.
Donate Here