Armed Violence
Featured
Features
Amid Terror: Travelling The 'Red Zone' From Kaduna To Birnin Gwari
A farmer and an architect narrate their experiences in a terrorist-infested part of northwestern Nigeria.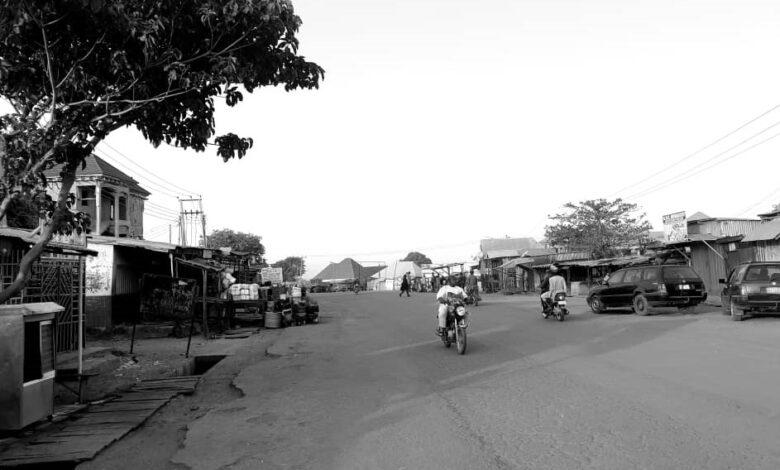 When he talks about his farm located at Birnin Gwari, Jibrin spits in anger: "Anyone who tells you there's security here is lying to you."
For example, anything or anyone coming to or going from Birnin Gwari in Kaduna, Northwest Nigeria, must travel through a strip of road travellers call "The Red Zone", a frequently attacked section centred on the village of Udawa, between Birnin Gwari and Kaduna.
Travellers meet at pre-arranged points and form convoys protected by military escorts.
The rest of the countryside has been left to the terrorists.
Jibrin, 38, grew up to master one occupation – farming. It was a way of life he enjoyed and one that has been able to more than meet his needs. Now he has been forced to drop the hoe and become a construction labourer in the town he used to take his farm produce for sale.
Jibrin's farm is at Shittu, located in a remote part of the local government area where there is no security at all. "We can't even access our farms," he tells HumAngle. Recently terrorists kidnapped 10 people, only releasing five after they were given ₦5 million ($11,480). "They presently hold only the women and insist they will only release them after the balance of another ₦5 million is paid," Jibrin says.
Birnin Gwari itself boasts three major military bases and direct attacks are infrequent. But getting to Birnin Gwari takes the traveller through a kidnapping "hotspot", as dangerous as the Abuja-Kaduna Highway but less well known.
On April 5, Channels reported how at least 10 soldiers were killed and several others wounded by terrorists who attacked an Army Forward Operational Base in the Polwire area along the Kaduna-Birnin Gwari Road.
Before then, Yashim was working at the General Hospital in Birnin Gwari, where his team constructed a maternity centre. Throughout his stay, he had never experienced an actual scare in the town. "I strongly believed the terrorists feared the vigilantes even more than the army," he said.
But he has witnessed the pain and agony of those directly affected.
Many locals he worked with had been kidnapped or survived an attempt. And because it was a hospital environment, he saw a flood of injured vigilantes and military personnel almost daily.
"You would see vigilantes bring their wounded from gunshots," he continues. "Those pronounced dead aren't even brought to the hospital but immediately prepared for burial. The military, too, brought their wounded."
No more farming
In the most dejected tone one can imagine, Jibrin says, "Terrorists don't let us go to our farms. If we start working and see them, we run. If they catch you, you pay up to ₦300,000 or ₦500,000 ($1,166) before they let you go."
This has been going on for about four years. It intensified in 2021 when feeding his family became a hefty task. As far as he is concerned, he cannot return to farming, "except some type of miracle happens" and life returns to normal.
His voice quakes when he reminisces. "We used to farm and trade, but we can't do both now. We would farm maize, guinea corn, and so on. I used to get between 20 and 30 bags of grains. We sell in Birnin Gwari market. But even the market is dwindling now. We used to have cattle, but you can't find them anymore. If they are brought, they are only in small pickups."
Doing business in the local government area is made more difficult because the telecommunication network is terrible. "We only have one [telecoms company] here because of insecurity," he explains. "The rest don't function anymore."
He has heard of one or two farmers who, determined to remain independent and reap the fruit of their labour, rebelled against the terrorists. But the consequences can be terrible.
"There was a friend of mine who made a video of his farm where locals were working for him," Yashim said. "He showed me the video and said that the people I see working in it were already dead. They [terrorists] took one of the dead persons' phone and recorded everything, sending a message to him, the farm owner, to heed their warning or face their wrath. They went on to describe the way and manner they carried out the killings. It was very heartbreaking."
A story and an encounter
While Yashim worked in Birnin Gwari, something happened that he says he will never forget. A mason he worked with and his two brothers were abducted as they took their father's body to Birnin Gwari for burial. The terrorists took them into the forest and tied their hands. It was raining, and they all shivered from the biting cold.
The mason was bitten by a snake. "This was after they had been flogged," Yashim said. He didn't even realise he had been bitten until seconds later when the pain became intense. He shouted, and the terrorists saw the snake and killed it. By then, he was vomiting. Then their captors called someone up on the phone who told them what to do. So, they went deeper into the woods and brought some leaves for him to chew, but he carried on vomiting.
"They were there for about four days, after which his situation worsened. Then they walked him towards the road. He was very weak. Eventually, they [his family] had to pay money for his brothers to be released."
Another instance was when Yashim, while travelling to deliver some materials in Birnin Gwari, encountered a stranger at Mando Roundabout in the Kaduna metropolis. "He was looking very tattered and begged to be taken to Birnin Gwari. I asked him what happened and he said bandits abducted his brothers and asked for ₦1.2 million ($2,800). When he took it to them, they held him hostage for 70 days. They had to pay ₦1 million to release him. The driver who took him allowed him to sit in the boot of his golf. Very sad situation."
HumAngle has reported how Ansaru, an Al-Qaeda affiliate group, is exploiting the absence of security in some parts of Birnin Gwari to recruit its youths. To achieve this, they protect the people against local terrorists who usually kill, rape, and kidnap for ransom. During the last Eid festival, the group "preached against democracy and formal education, and made other anti-government rhetoric in the villages of Damari, Unguwar Gajere, Kakini, Kuyello, and Kwasa Kwasa".
An Aug. 5, 2022 publication of the Vanguard Newspaper reported the "mass exodus" in parts of the LGA as the rival terror groups battled over one of the villages – Damari. Also, other reports suggest that intermarriages are taking place between locals and the Ansaru terrorists, a situation Jibrin says is true.
The convoy
"If you're not plying the road with a convoy, it's a suicide mission," says Yashim, who relied on the convoy when working there. Cars and small vehicles pay ₦500, and trucks and lorries ₦1,000.
Both commercial and private vehicles wait at a spot in Buruku, at a deserted filling station (Buruku is 25 km away from the Kaduna State capital). Before then, they had converged further ahead, but the terrorists had attacked people waiting, thereby forcing commuters to depend on security personnel much early in their journey.
In the convoy, there are several security vehicles that include the police and vigilante. Then a third category of the police who escort VIPs. "These ones don't collect the usual ₦500 or ₦1,000," he explains. And, of course, the army who are not as regular. Yashim only met them once.
Every day, a stream of private and commercial vehicles waits until a police or vigilante convoy returns from Udawa, then they follow it from Buruku to Udawa again. These two areas make up the "red zone". Between them are mainly ghost settlements raided by terrorists. Udawa is about an hour and 20 minutes drive from Birnin Gwari town.
When they get to Udawa, Yashim says, most cars speed off towards Birnin Gwari while the security vehicles return to Buruku.
But life was not always like this in the LGA. "The peak of the banditry was sometime in 2018 and 2019 when the road was very unmotorable. That's the closest route to Lagos, so it was very busy for transporters then. I also have friends who schooled there and people who worked there and returned to their base every weekend. Then you need not travel with security, unlike now," Yashim recalls.
Jibrin, on the other hand, still reminisces about his childhood and a few years back when he could go into the bush without fear.
Asides the danger of getting killed or kidnapped while commuting, other locals are also affected. One example is how the risks of travelling have led to a spike in the price of goods and services as transporters from places like Abuja and Niger add money as compensation.
"If there is any award for the most resilient and defiant people in Nigeria or Kaduna State, it has to be Birnin Gwari residents because they ply the roads every day," Yashim says.
"There are a lot of farmers there because it's an agricultural area. Their market days are on Thursdays, so people ply from Kaduna to Birnin Gwari every day, and they know the dangers. If you're not killed, you will be abducted. This happens on a daily basis. If you're lucky, you get to run away. If you're a car owner who leaves it behind, they [terrorists] would set it on fire. That's what they do. Despite this, people still travel."
---
Support Our Journalism
There are millions of ordinary people affected by conflict in Africa whose stories are missing in the mainstream media. HumAngle is determined to tell those challenging and under-reported stories, hoping that the people impacted by these conflicts will find the safety and security they deserve.
To ensure that we continue to provide public service coverage, we have a small favour to ask you. We want you to be part of our journalistic endeavour by contributing a token to us.
Your donation will further promote a robust, free, and independent media.
Donate Here