Armed Violence
Features
Amid Terror: Playing 'Hide And Seek' With Terrorists In North-central Nigeria
In part 2 of the Amid Terror series, a teacher in Niger state, North-central Nigeria, makes the bike ride to and from work with the hope his school will not be the next target for terrorists. Not too far away, a farmer strives to keep his one source of income afloat by all means…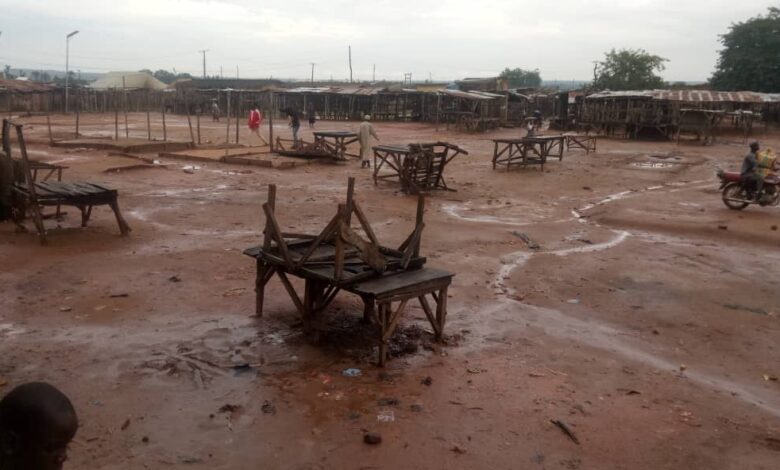 It is one thing to live in terror and completely another to know that you are surrounded by it. This is 40-year-old Yunusa Abdullahi's state of mind as he rides to and from work at a Government Girls Secondary School in Kuta, Niger State, North-central Nigeria.
Things are worse for Danladi Salau, 55, who is the village head of Rafin Gora in Rafi LGA of the same state. Terrorists had chased him and his family away from their farmlands, and this after he had lost nine loved ones. His voice trembles when he says: "from 2021 till date, it is suicide mission for anyone in my village to go to farm because there is the likelihood that he may not come back alive."
Two different scenarios, both frightening. This is the plight of many Nigerians living in Niger State's terror hotspots.
Like a ticking time bomb
The Salaus had cultivated crops for more than three decades on farmlands Salau had inherited from his late father. But years later, he would abandon those vast lands and flee to another village to continue his occupation, leaving locals he once called "my people" behind. In this new settlement, he, once a leader, would subject himself to another village head.
In recent times, as reported by HumAngle, Nigeria's North-central region has also become a hotbed of terror like the country's northwestern states of Kaduna and Zamfara, as terrorists once popularly called bandits reportedly joined forces with Jihadis, most likely Boko Haram. Many people have been killed, with others raped or kidnapped for ransom.
A recent report by Community of Practice Against Mass Atrocity and the Action Civil Society said 397 people were killed by terrorists in Niger State between January and April 2022.
Living in fear
"We are surrounded by villages that have witnessed several terrorist attacks, so we are also vulnerable," Abdullahi the teacher tells HumAngle. "My school is along Gijiwa-Madaka road. These are villages with terrorists' presence, and we are not far from them. The terrorists can attack us at any time, so everybody is living in fear."
He continues: "Our school has no perimeter fence and that further exposes us to danger. We know the terrorists can come at any time, but we keep faith in God and we are always extra vigilant. We put God first; and that is what I do in my class before I commence teaching. And I think that is what is keeping us alive. Whenever I am in school, I restrict myself within the environment, and I advise my students to do the same, to avoid being kidnapped."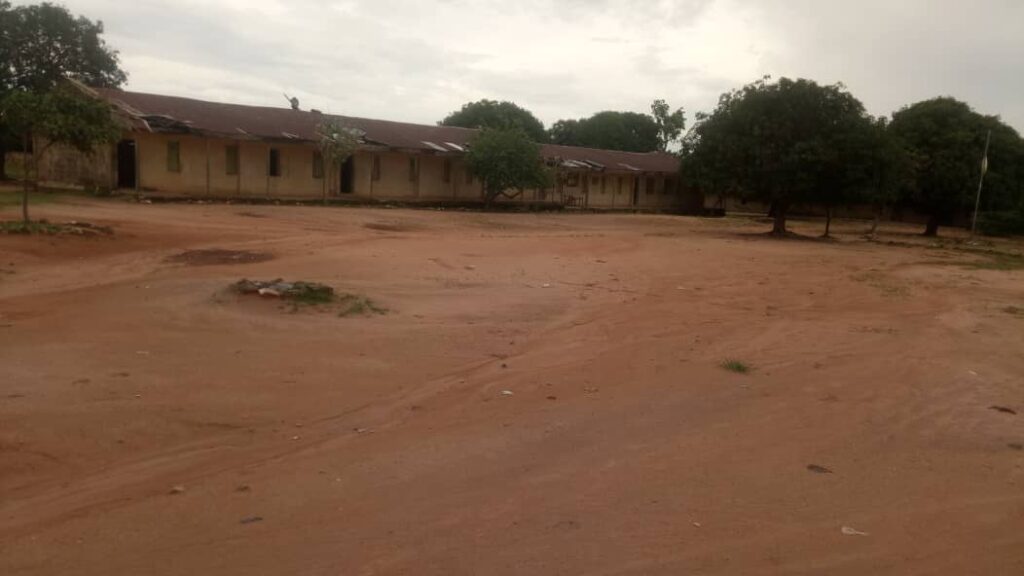 But Abdullahi's vigilance is not restricted to his school. He is extra vigilant anywhere he goes. This is how deep the situation in the state has affected him.
"My house is about two kilometers to the school. I am always vigilant whenever I am on the road to school. Aside from exchanging greetings with people, I hardly offer anybody a lift on my motorcycle, because you can't trust anybody."
"Many of my people were killed on their farms," Salau narrates. They also paid millions to get others released. "No one goes to farm in my area anymore."
From the beginning though, they had tried a tactic that appeared to work for a while. Something similar to what the locals of Maigu in Shiroro LGA of the same state employed. At that time they still had access to their farms, so the strategy was to make use of lookouts and get information on the movement of terrorists.
"People in Ma'anga and Anawanga villages will call us that the terrorists or bandits are on their way, so we'll quickly get our things and run away. Sometimes, the terrorists will inform the people beforehand that they were coming, and the people tell us, so we will know when to go to farm."
Daring the terrorists
In 2021, some communities in terror-prone areas of the state had some kind of peace deal with terrorists. This enabled them access to their farms and homes after staying in Internally Displaced Persons (IDP) camps for months. The agreement entailed payment of not less than ₦3 million – depending on the size of the community – and also the supply of motorcycles, foodstuff, and medical items to the terrorists.
"But Rafin Gora was not one of them," Salau, who plants maize, guinea corn, yam, and rice on his farmlands, explains. "We didn't go into agreement with them even though they continued to torment us.
"I still have some crops on my farms in Rafin Gora as I speak, but I can't go there to harvest them because it is very risky. I prefer to abandon them than going to have any peace deal. And anybody in my village who goes into peace deal with the terrorists will leave Rafin Gora for me permanently."
Worse, Salau adds, even with the presence of security operatives in the area, the terrorists still have a field day.
"Our security personnel are overwhelmed. The kinds of weapons the terrorists use are even more sophisticated than those used by our security personnel. The terrorists can move at any time and nobody can stop them, but as residents of the area you have to calculate your movements."
No social life
Before the terror scare, Abdullahi visited friends and relations at anytime, but things are different now. People restrict their movements once it is dusk.
"Once night falls, I stay in my compound. And if there is any reason for me to go out at night, I don't go beyond the roundabout within the village. I can't remember the last time I went out at night," he says.
Abdullahi has relatives in communities such as Rafin Sayin and Jata aboki. But, to get there, he usually follows a bush path where he believes is safer to get to the villages without being attacked.
"The road that I usually follow is the Baha side, which has no presence of security personnel, but is safer compared to Shiroro hydro dam road. Even with their [security personnel] presence, terrorists still launch attacks on the dam road.
"During my journey, the first thing I do is pray to God for safety. That is the only thing I can do, because I don't have anything to fight the terrorist. Prayer is my only weapon."
On the business side, there used to be regular movement of people and goods between Minna and Kuta. Of course, this was good for his community, which had one of the most vibrant markets in the state. But that has reduced drastically.
However, "now that security along Minna-Kuta road has improved, people bring goods through Minna," he adds with hope in his eyes. "But that wasn't the case some months ago when bandits used to block the road and kidnap people."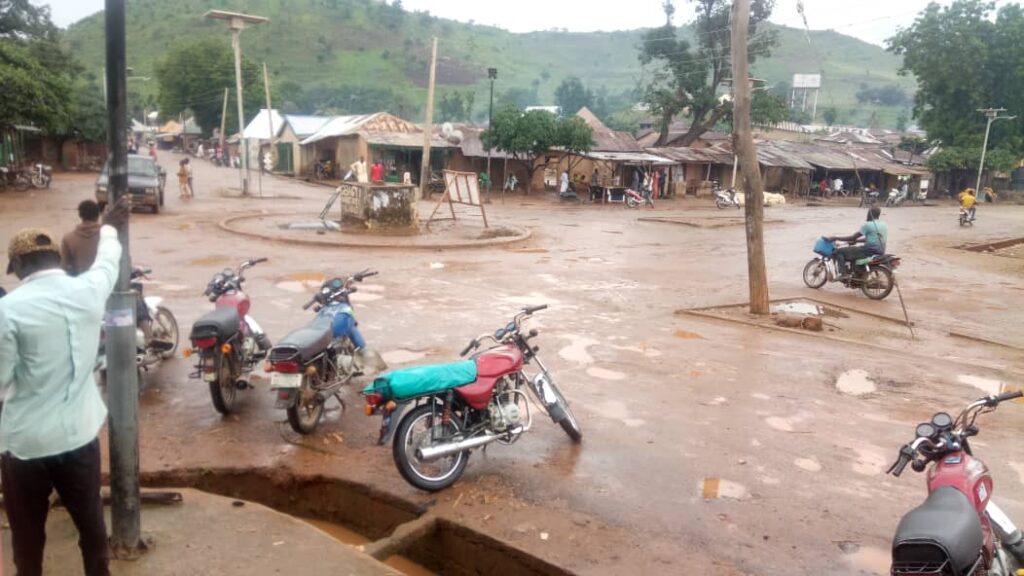 Moving away
As the insecurity worsened in Rafin Gora, in 2021, Salau took a drastic decision. He left his farms and moved southward.
"For me it was a difficult decision," Salau says. "But at a point I told myself we can't continue to live like this, doing hide and seek with terrorists. So, for safety reasons I decided to move to where I believe is safe from terrorists."
He and some other locals moved to Katcha LGA of Niger State where they leased farmlands. Others from his village relocated to villages in Kwara State, Southwest of the country.
But there are those who, determined to stay within Rafin Gora, continue to farm and engage in trade. "But they do so with extreme fear, as there is no total security, because sometimes they and some vigilantes who protect them are being killed by terrorist," Salau explains, adding that in remote villages where terrorists operate, there is a lack of telecommunication services, which makes it difficult for people to call for help.
In April 2021, the state government confirmed that 50 villages across five LGAs were deserted due to terrorist attacks. Salau says this number is growing by the day as terrorists continue to torment rural communities.
"Although we may be farming far away from our ancestral home, we have not completely abandoned our farmlands," he added. "We occasionally visit our village to see the situation of things, so that the terrorists will not take advantage of our absence."
---
Support Our Journalism
There are millions of ordinary people affected by conflict in Africa whose stories are missing in the mainstream media. HumAngle is determined to tell those challenging and under-reported stories, hoping that the people impacted by these conflicts will find the safety and security they deserve.
To ensure that we continue to provide public service coverage, we have a small favour to ask you. We want you to be part of our journalistic endeavour by contributing a token to us.
Your donation will further promote a robust, free, and independent media.
Donate Here