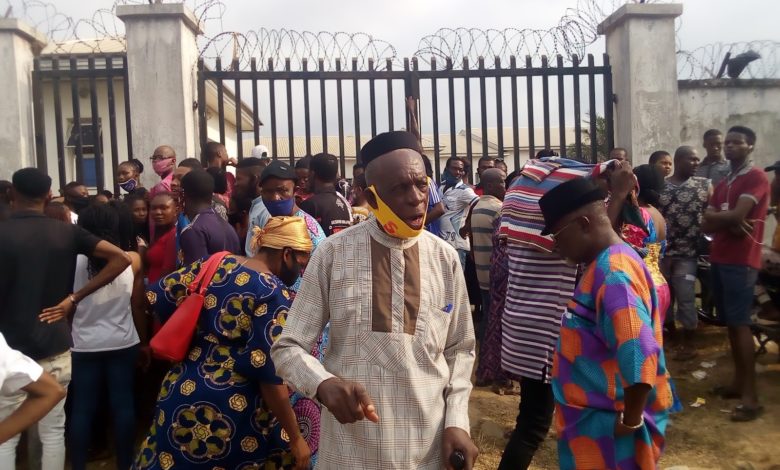 "I have taken a decision that if for any reason I am not able to get attended to today, I will go home. If they like, let them cut off my phone line, I will use the time I put into making phone calls and pressing the phone to serve my God and preach His kingdom to people.
"I got here at 4.15 a.m. and was the 43rd person on the list while my wife was the 44th.," Chief Ichie Clement Nwiyi, an 81 year old man, who was at the National Identity Management Commission (NIMC) office in Anambra State, Southeast Nigeria, on Friday, said.
Nwiyi was at the centre like many others to obtain his National Identification Number (NIN) to integrate the data with his SIM card as mandated by the Federal Government.
The Federal Government through the National Identity Task Force had set Jan. 19 as the deadline for every telephone user to link their SIM card with NIN and given Feb. 9 for every Nigerian to register, obtain and get them linked.
Nwiyi said he was not going to register afresh but to give his name or phone number to NIMC officials so that they could search and give him his NIN.
He said he had made several attempts in the past to obtain the information from the bank, MTN office and NIMC office without success.
The octogenarian said that the government was subjecting Nigerians to undue stress and that the welfare of the elderly was not being considered in the process.
He said he had registered for NIN many times in the past, including the recent one which commenced in 2014 but was unlucky to have misplaced his card.
"I was at the bank earlier in the week but they said they had stopped, they said I should go to the MTN office. The next day I got there at about 5 a.m. and when they started around 9:30 a.m., they said they had also closed and that we should go to NIMC headquarters or the local government office.
"I am a responsible and disciplined citizen, these are my previous cards, this one was issued by Gen. Sani Abacha, this one was by President Olusegun Obasanjo and this one was by former Gov. Peter Obi.
"I also did this in 2014, I have the card but I don't know how I misplaced it.
"What I am here to do is to give them my name or my phone number so that they can give me the number.
"The problem is that we are not organised, if not, I am not supposed to be here for more than 30 minutes, mine is just input my name or number and give me my number.
"By the grace of God, I am 81 years and I have been standing here all day, for God's sake, you don't buy age with money," Nwiyi said.
Mr Okechukwu Okeke, another elderly man in his 70s, said he was worried that people were being subjected to registration for national identification at every dispensation in spite of their having done so in the past.
Okeke also said he had other cards but was at the enrolment centre to make a fresh registration because the ones he had were no longer valid.
He said the elderly were not supposed to be queuing with young people because some of them were not healthy and there was no medical team to attend to emergencies around the registration office.
"This exercise has not been planned to be easy for anybody, they are supposed to categorise it such that elders can be on one side. As I am standing here, I am not too well.
"I have been to Amawbia, the Local Government Secretariat, but I could not stand the crowd. They should have a way of attending to elders.
"This is my third time of coming here and it is really embarrassing because I don't know how this registration came about. When it was started in 2003 under President Olusegun Obasanjo, I registered but after some time, they said it had expired. 
"Why should national identification card expire, does it expire because I am no longer the person there or because I am no longer a Nigerian? Have I become a citizen of another country?" he asked.
The septuagenarian said it would be impossible to get every mobile telephone user to enrol on the national identification scheme and link their NIN with their SIM cards.
Patience Ani, a woman in her 80s, said she was afraid that her phone line and bank account could be suspended if she failed to obtain NIN and link it with the SIM card.
Ani said her children were no longer with her and that losing her phone line meant she would not be able to receive money from them.
She said she had visited a number of times and regretted that applicants who offered money to officials got preferential treatment over those who came on time and obeyed the rule of waiting for their time.
"The first time I came, they said they were on strike, the second time, they said I did not come on time, so today I came as early as 6:30 a.m.
"I am the only one in the house, nobody brings me here because all my children are not with me, some of them are abroad.
"They said if I do not have NIN, they would suspend my phone, my bank account and these are the avenues I get my money from my children.
"Government should look into the practice where these people collect money from people and abandon those who have spent time and energy because they don't have money," Ani pleaded.
HumAngle reports that as of 10 a.m. officials had not started attending to the large crowd most of who had no form of protection, such as the face mask against COVID-19.
The list of those wishing to be captured had reached 455 at about 10:20 a.m. when an official of NIMC addressed the crowd and said only those for fresh registration would be attended to.
The official who did not identify himself also advised that only those who fell within the first 50 names on the list should wait while others should go home or check other registration points.
He said only the 50 applicants would be attended to in the light of logistics constraints at the office.
Businessmen, civil servants and private sector workers go through similar experiences at the registration centres daily as they struggle to beat the deadline set by the government for the integration of the data.
A senior federal civil servant, who gave his name simply as Ola, said he could not abandon his duty and spend the entire day at a NIN enrolment centre.
Ola, who has a large number of subordinate staff to coordinate, said if he and other workers yet to get NIN should leave their duty post for enrolment centres, the job in the office would suffer.
He said there was a need to enhance the capacity of NIMC for the workers to cope with the pressure, adding that there might be a need to declare some work-free days for civil servants to go and enrol.
Ola said he had the driver's licence, voter's card and bank verification number and that he had his biodata and vital information on the various identity cards.
"I don't know why this NIN should be different, our information has been captured in all these means of identification.
 "I just hope they don't carry out their threat of suspending our lines because many Nigerians would be cut off and that will be very risky for our economy in this age of information communication technology.
"There should be a more phased and systematic approach to do this so that every Nigerian can be captured," Ola said.
Onyekachukwu Ejim, a trader in Onitsha,  said the registration should be taken closer to the markets as traders were losing so much money by shutting their businesses and going to NIN enrolment centres.
Ejim said he had not been able to register after visiting the Onitsha Local Government Area and Idemili North Local Government Area centres and that the story had remained the same at the NIMC state office in Amawbia, near Awka.
He said his phone was very important to his business and that he would not like to lose it hence his effort to obtain NIN.
Ejim said it was becoming frustrating and that he was beginning to condition his mind to the possibility of losing his mobile phone number as his business was suffering.
Many NIN applicants in Anambra State are of the opinion that in the light of the second wave of COVID-19 in the country, the government should extend the deadline in order to reduce the anxiety among the people and stop officials from taking undue advantage to extort them.
They said the designated decentralised centres should be made effective with functional machines and adequate manpower as well separate the services which include fresh registration, change of name or date and information retrieval from each other for better service delivery.
---
Support Our Journalism
There are millions of ordinary people affected by conflict in Africa whose stories are missing in the mainstream media. HumAngle is determined to tell those challenging and under-reported stories, hoping that the people impacted by these conflicts will find the safety and security they deserve.
To ensure that we continue to provide public service coverage, we have a small favour to ask you. We want you to be part of our journalistic endeavour by contributing a token to us.
Your donation will further promote a robust, free, and independent media.
Donate Here