Analyses
Armed Violence
News
Aftermath Of Abuja's Dei Dei Violence And Why It May Happen Again
On May 18, 2022, a motorcycle incident led to violent clashes in Abuja's building material market.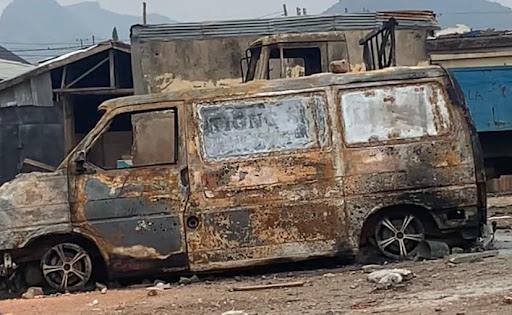 On Wednesday, May 18, an accident involving a motorcycle and a trailer led to the death of five persons, vandalisation and destruction of properties worth over 500 million at Dei Dei international market, located in Abuja, North-central Nigeria.
What happened?
Jonah (not real name), a teenager of about 17 years old, is an apprentice for a shop owner in the market. He was at his spot when the commotion started.
According to him, the trouble was set in motion when a trailer hit a commercial motorcycle (Okada).
"The woman died instantly while the Okada man (commercial motorcyclist) sustained some injuries; Hausa people came and quickly took him to the hospital and that was when the real trouble started.
"Angry at what had happened, Igbo people who arrived at the scene of the incident set the motorcycle on fire and in retaliation, the Hausas started vandalising vehicles and any property in sight."
Jonah was present when the violence ensued. He could not take to his heels like some others as he had to guard his master's shop.
"I went there to protect my Oga's property with one other man who also owns a shop there. It was because of us that the shop was not destroyed. My Oga's other shop was destroyed in the violence as there was no one there to protect it," he said, resignedly.
Chaos
"The type of weapons I saw yesterday, I have never seen such weapons since I was born," Jonah said, gesturing with his hands.
The manner in which weapons materialised surprised Jonah. He did not expect to see such brandished that day, at least, not that fast. There were different types of cutlasses and daggers wielded by people who went about destroying properties. But he was most surprised by one man's weapon and how he concealed it.
"One man brought out a dagger from his walking stick. I thought this man could not walk well, so I was really surprised to see him bring out that dagger to join in the violence that was going on," he narrated.
While Jonah spoke, he threw furtive glances across the road where a group of people were. He declined to let HumAngle get videos or even a picture of him because he did not want to appear to be "siding with a particular side."
"See, I stay with these people a lot and I saw some of them destroying things yesterday, even this small boy that is passing now," he said, trying to point at a particular person without being obvious.
Jonah was seated with a group of men numbering about nine. The number increased and decreased from time to time but they kept talking to each other, lamenting at the level of destruction that had taken place at the market the previous day.
They took pictures of smoke rising from the shops and properties which had been set ablaze; they paced about, visibly frustrated because they could not go into the market to assess the level of damage that was done – they were not allowed to, according to the police. Even this reporter was not allowed to go into the market.
"You cannot go in," one of the police operatives manning the entrance had said. They had orders not to let anyone in.
"An investigation is going on. Unless you can call the DPO or any person of authority to speak with us, then I will let you in," he explained, walking away.
Another man who declined to give his name told HumAngle that he was not at the market when the commotion ensued but his shop was affected regardless. "What I do is wood work, filing and finishing. I went to do a job outside of the market and I came back to see my shop up in flames," he said, looking into the market where smoke still billowed. "That is my shop there. Look at my shop. They set it on fire," he said, pain evident in his voice.
His account of the incident that led to the crises was the same as Jonah's. In his own case, he had heard it from others who were present.
"What I am thinking about right now is how I am going to recover everything that they destroyed inside my shop. Where will I start now?" he wondered aloud before he joined other men to talk about the tragedy that had befallen the market.
The group spoke about another man who was not there at the time. Apparently, the man had bought and offloaded three trailer-loads of building materials on Monday, only to lose it all to the madness on Tuesday.
"Do you know how much it costs to buy back-covers, reel boards and marine boards?" one of the men asked. The man had cried profusely.
Not the first time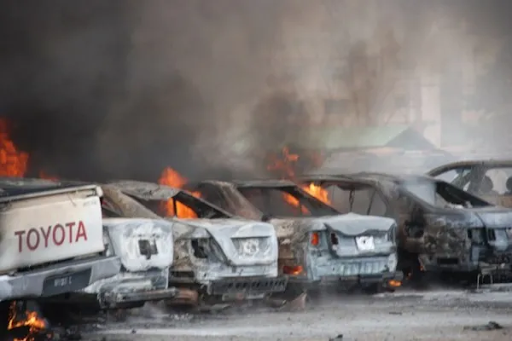 One of the traders by the entrance of the market told HumAngle that the market had experienced a crisis akin to the Wednesday chaos.
"It has happened before and it was the same issue; a woman on top of an okada was killed," he said. A 2014 news article corroborates his claim; "About five persons have been killed and over 35 vehicles destroyed in Dei Dei, Abuja. The violence is reported to have been caused by a minor motorcycle accident," it was reported.
"A motorcycle was said to have knocked down a woman by the roadside in which she sustained serious injury. This led to a heated argument among onlookers and sympathisers," the article read.
A worker who has been in the market for 15 years equally attested to previous occurrence of such chaos. According to him, it had happened in 2015 as well.
We cannot really stop people from fighting – FCT Police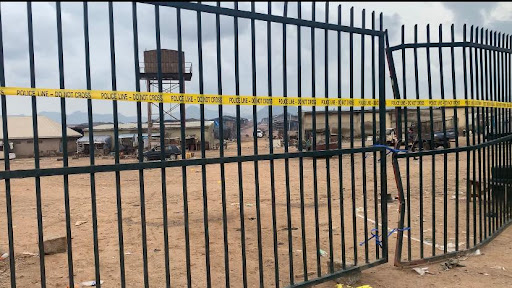 When HumAngle reached out to the Federal Capital Territory (FCT) Police to enquire if it had any long term plan to stop the reoccurring crises, its spokesperson, Josephine Adeh said that the Force cannot do much to intervene.
"Can police stop people from fighting?" she asked, without providing an answer to the question posed to her.
When informed that eyewitnesses have blamed the police's slow response to the escalation of the incident, she faulted their claim, explaining that the police did all that it should have.
"We have police and police station and everything you can think of deployed there and that is why when it happened, we were able to control it," Adeh said.
"As at the time they called, the police were there; DPOs all round that share boundaries with Dei Dei were all deployed. Massive deployment, not only police but also the military were there. It is not true that we responded late," she explained, adding that the police is doing its best to ensure that the FCT is crime free.
Security expert says otherwise
Murtala Abdullahi, a researcher and security expert at HumAngle said that the FCT Police can, in fact, reduce the possibility of another violent clash at the Dei Dei market, emphasising that the clashes would happen repeatedly if the Police and other concerned parties do not intervene.
"I absolutely think that the police should have a long term plan specially tailored to handle this issue, and it is not just the police.
"What we have here is a gun-powder scenario where a little spark can cause mindless destruction, so it is not just the Police at this point," Abdullahi said, stressing that the Federal Capital Territory Authority (FCTA) has to intervene and ask important questions such as "if they are going to stop the activities of motorcycles in that area, what exactly is driving the tension?
"They also need to consider if the market is supposed to be there in the first place. This, in addition to what keeps triggering the clashes, such that it escalates to an ethnic issue." He emphasised that the police and all parties concerned have roles to play in "diagnosing" the cause of the recurring clashes.
Abdullahi said that the clashes could be caused by heavy presence of touts in the market, considering that touts have been known to possess a knack for causing mayhem wherever they are found.
He also cited the presence of touts at the Jabi market as "a recipe for disaster," emphasising that it could have a replica of the Dei Dei clash at some point.
Current government efforts
On the night of the incident at Dei Dei International Market, Muhammed Bello, Minister of the FCT, ordered the indefinite closure of the market as well as a full scale investigation into the incident while insisting that "the community and market leaders must fish out the hoodlums and bad eggs among them.
"The FCT Police alongside sister agencies have restored normalcy to the area and have maintained surveillance in and around the market."
Meanwhile, a civil society group, Human Rights Writers Association Of Nigeria (HURIWA), has faulted the FCT Minister's decision to close the market.
The group said that it agrees with the minister's order for a full scale investigation but maintains that the Minister must open up the market, rebuild all that was destroyed "or ban the operation of commercial motorcyclists in Dei Dei and Kubwa for justice, equity and fairness."
Instances motorcyclists have started clashes
In 2021, Ahmadu Hassan, a resident of Abuja was beaten by a mob consisting of motorcyclists after he had a misunderstanding with one of them.
In 2019, a man, Tosin Abikoye was killed by "a gang" of motorcyclists who traced him to a hotel after a misunderstanding with one of them.
The FCTA long before, banned motorcycles from operating within the capital city except for satellite towns such as Dei Dei. But the recent clashes at the market has made people call for a complete ban.
Motorcycles are sometimes preferred by commuters, especially because they can navigate bad roads, flooded places and remote areas.
---
Support Our Journalism
There are millions of ordinary people affected by conflict in Africa whose stories are missing in the mainstream media. HumAngle is determined to tell those challenging and under-reported stories, hoping that the people impacted by these conflicts will find the safety and security they deserve.
To ensure that we continue to provide public service coverage, we have a small favour to ask you. We want you to be part of our journalistic endeavour by contributing a token to us.
Your donation will further promote a robust, free, and independent media.
Donate Here