Armed Violence
Extremism
Features
News
After IPOB Members Threatened His Life, His Only Choice Was To Run
If it ever came to it, Nduka said that he would not plead with the IPOB members because he knows that they would have made a video of him begging for his life before killing him. He did not want that to be the last memory people would have of him.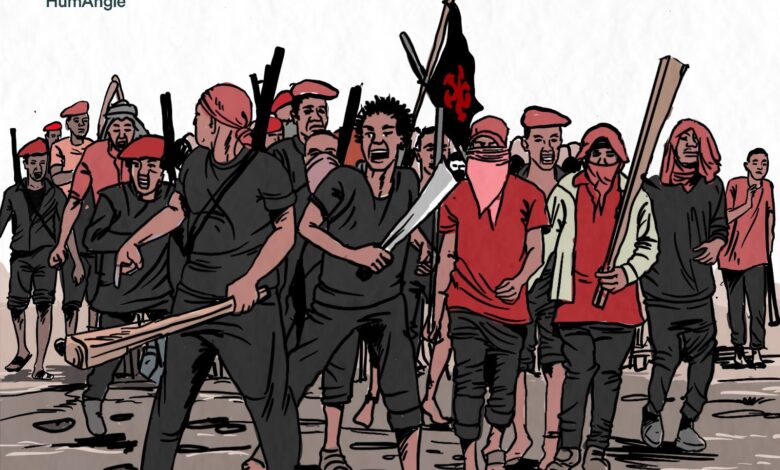 When Nduka took a one-month leave from his civil service job in Owerri, it was not because he wanted time away for leisure. It was because his life was on the line. A separatist group had declared him wanted.
To preserve his life, Nduka left his home in Owerri, Southeast Nigeria, for the capital city, Abuja, 570km away from home. This was after a threat was made to his life via a Facebook post. He was declared wanted, dead or alive.
The subject of our story has been so named for two reasons: because he wishes to be kept out of harm's way, and because of the meaning which the pseudonym carries: When translated to English, the Igbo name, Nduka means life is the most precious.
The threat against Nduka's life was posted on a page handled by supporters of the Indigenous People of Biafra (IPOB), the proscribed separatist group agitating for an independent state of Biafra.
He shared a screenshot of the post while pleading and emphatically stating that no part of his identity is let out, to protect him from harm. In the screenshot, the pro-IPOB page (name withheld), after addressing him by his full name, attached clear and identifiable photographs of him, saying that he is guilty of making posts criticising IPOB and its members and so must pay for it in life or in death.
The post also contained intimidating references to excruciating pain, a lot of exclamation marks, and emojis suggestive of violence and death.
"What I said was just the normal thing that everyone has been saying," Nduka tells HumAngle. "My only mistake was that I posted the things that I would normally post on Twitter, to Facebook. They are more vile over there [Facebook]. I made that mistake and just like that, they took my pictures, posted them and declared me wanted."
The scariest thing, Nduka says, is that the post had already been up 24 hours before it was brought to his attention by a colleague.
In a minivan to Abuja
It was his boss who told him to run. She saw the post and immediately decided that he must take a leave of absence.
"I hadn't taken one in a long time. After she approved the leave, I packed my things and left Owerri for Abuja."
Nduka made sure to delete social media applications where he was critical of IPOB activities. Then he boarded a Sienna minivan that took him to Abuja, where he had never been before and to stay with a host who had not the slightest inkling as to his visit's purpose.
It was too risky to tell his friend why he was coming over because he would have asked him to stay back in Owerri. It was, in fact, in the middle of a conversation, one week later, that Nduka would tell him that he had fled to Abuja because his life had been threatened by IPOB supporters.
"I could have stayed with relatives in Lagos but I did not want to. You can call it selfish of me to protect them and put another person in danger," he says.
Even his parents did not know. He did not want to alarm them. But Nduka would inform them too, after spending a week in Abuja. For them, however, he still could not reveal the entire situation. To keep at bay every possible inquiry that may emanate from his absence, he told a necessary lie.
"If I had not called them at the time that I did, they might have asked more questions because there is no way that I would be in Owerri without stopping by in nearly a month. I just called and said that I would be going to Abuja tomorrow for an interview, and they said 'God bless you' and 'good luck' to me," Nduka recalls.
By the time Nduka spoke with this reporter, he had already been in Abuja for three weeks. Within that time, he contacted his parents as often as he normally would, so they would suspect nothing. He was comforted by the knowledge that he was in the capital of Nigeria where 'no harm would come to him'.
Between then and now
In those first days after he saw the Facebook post, written so angrily on the page, with his pictures attached and his full name glaringly written atop, Nduka says he was truly afraid, yet not panicky.
He would go through the comments section of the post, scrolling up and down with his smartphone, reading the violent thoughts being expressed by IPOB supporters against him.
"As I read those comments, I said Chineke! [God], these people want to kill me for nothing," Nduka recalls with a small laugh.
For each comment that he read, he would tap on the profile of the person who had made the comment, so that he would gauge the possibility of the person carrying out their threats. He also looked at the location on their profiles to know if they were within reachable distance to cause him immediate harm.
"I exclaimed when one of them said that he was close to Owerri," he remembers.
He also made sure to check if those who commented are the fighters who own weapons, or the ones who are a part of the IPOB social media army.
But that was a few weeks ago. Now, Nduka's fear has reduced because he has realised that IPOB members do not have the reach that they think they do. What they had done was to intimidate him by instilling fear in him to shut him up. Yet, he is still guarded.
Only four people know his whereabouts and the true reason behind his travel: His colleague who had first brought it to his attention, his director at the state civil service who told him to take a leave, his friend (and host), as well as another colleague whom he describes as responsible.
But has the threat taken any financial toll on him?
"It has o!" he replies. "But ah, Ndu ka mma nau [life is the most important thing]."
Nduka's bone of contention with IPOB
HumAngle has done several reports on IPOB in the past, covering their agitation for an independent state of Biafra, the arrest of their leader Nnamdi Kanu, their often violent sit-at-home protests to secure his release, as well as their disinformation campaigns on social media. In all of these, their operations remain underreported.
Nduka agrees. He confirms that there are others like him who have left the southeastern region due to different reasons connected to the IPOB agitation and violent campaign. There are also others who could not leave and were either killed by members of the group or the Nigerian military.
"They are underreported. That army couple that got killed in the East recently obviously did not know that the road they travelled through is a dead zone, otherwise they would not have passed through there," he said, referring to Master Warrant Officer (MWO) Audu M Linus (rtd.) and his bride to be, Private Gloria Matthew, who were brutally murdered and beheaded by members of IPOB on their way to Imo State for their traditional wedding ceremony.
"Nobody talks about it. This was what I did or tried to do and they threatened my life," Nduka explains. "Luckily for me, the place is not in the rural area because they thrive well in all these rural areas like some of the villages that they attack in Anambra State."
IPOB has disassociated itself several times from some of the attacks which Nduka speaks of, including the beheading of the army couple, but like many Nigerians, he too is not convinced.
He blames the group for some of the crimes committed in their name because he believes that they laid the foundation. "It is deep but I know that if the government wants to tackle it, they will. Our people, first of all, are too scared because this type of thing normally would not happen, but why I would always put it on IPOB is that they have created this atmosphere and it has caused many people to commit crimes in the name of Biafra."
Issues like this are the reasons why Nduka told HumAngle that he would never stop criticising IPOB, regardless of how they try to absolve themselves of the crimes committed by their members and those committed by other criminals in their name.
Would they have killed Nduka?
There is no way to know for sure if the persons who threatened Nduka would have made good their words, had he not fled. There is equally no concrete way to determine if he is still in danger of bodily harm, or possibly death.
Going through the Facebook page where the threat had been posted, HumAngle noted that any anti-IPOB post made by any other person would likely be met with the same hostility as Nduka's.
IPOB members on the page are also fond of exalting notorious IPOB fighters belonging to some factions of the group. One of such fighters had, in fact, made a video not too long ago, challenging and threatening a man who had criticised the group's leader.
The post about Nduka itself had been taken down with someone's help, so there was no way to get a proper look at all the people who had threatened to kill him.
When HumAngle spoke to Nduka, he had been in Abuja for three weeks. In those three weeks, he was comforted by the knowledge that he was in the capital of Nigeria where no harm would come to him.
---
Support Our Journalism
There are millions of ordinary people affected by conflict in Africa whose stories are missing in the mainstream media. HumAngle is determined to tell those challenging and under-reported stories, hoping that the people impacted by these conflicts will find the safety and security they deserve.
To ensure that we continue to provide public service coverage, we have a small favour to ask you. We want you to be part of our journalistic endeavour by contributing a token to us.
Your donation will further promote a robust, free, and independent media.
Donate Here